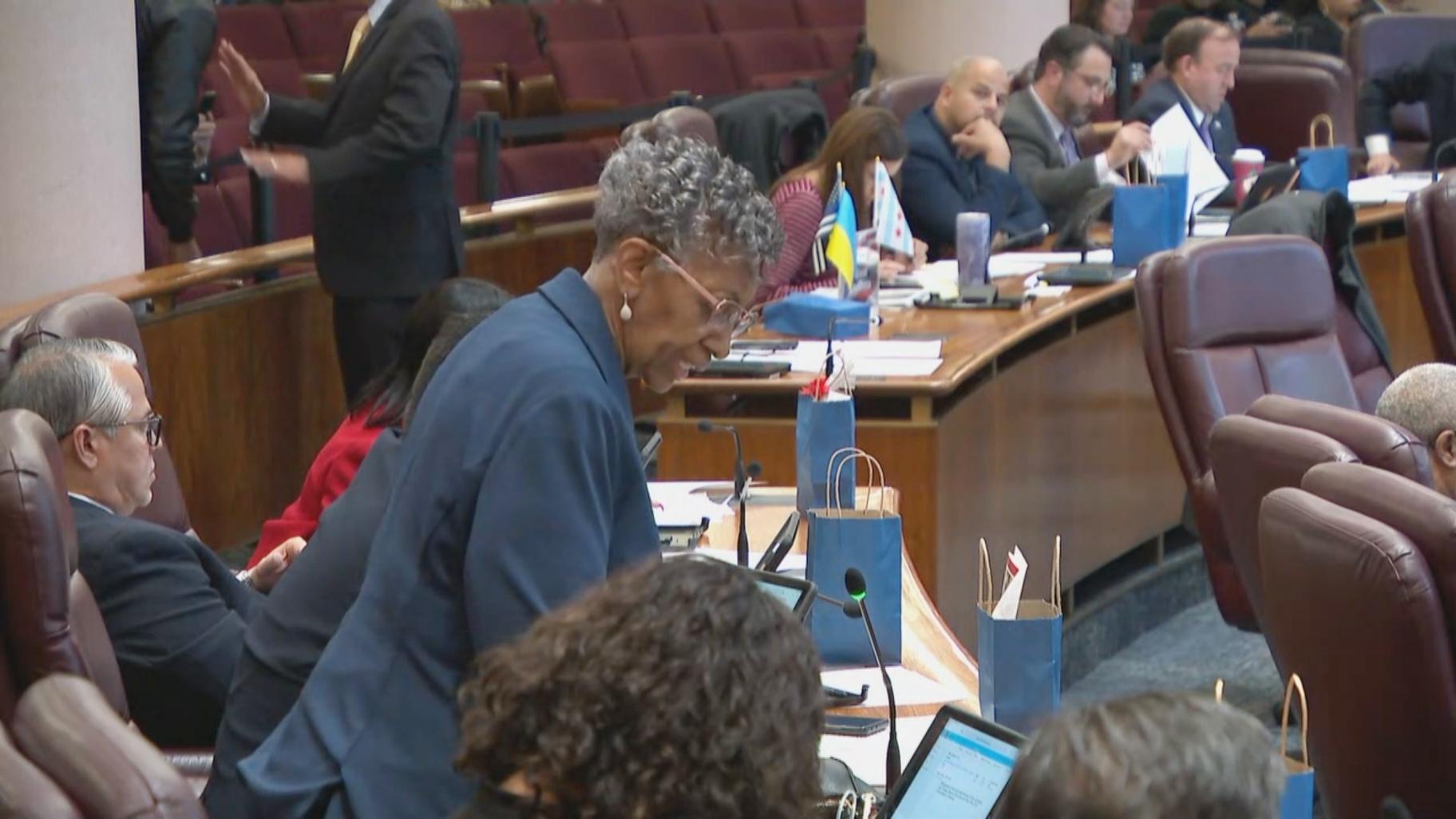 Ald. Carrie Austin (34th Ward) stands to speak at the Dec. 14, 2022, Chicago City Council meeting. (WTTW News)
Indicted Ald. Carrie Austin (34th Ward) officially resigned Wednesday from the Chicago City Council, four months after she told the judge presiding over her federal corruption trial that she was too ill to face a jury.
Austin, 73, who did not seek a seventh term on the Chicago City Council, stepped down the day after Chicago voters went to the polls to pick a new mayor and City Council. 
Austin had been the second-longest serving member of the City Council, earning more than $142,000 annually. In July 2021, Austin was charged with accepting bribes from a developer, including bathroom tile and a sump pump, and lying to FBI agents. 
Austin has pleaded not guilty, and is due in court for a hearing on May 25, according to court records.
Federal prosecutors believe Austin is healthy enough to stand trial after surveillance conducted by FBI agents in November showed Austin is "not gravely ill," but has a busy schedule and is "alert, lucid and responsive" and able to move about on her own without assistance.
Thirty-seven members of the City Council have been convicted of a crime since 1969.
Appointed by Mayor Richard M. Daley to represent the 34th Ward on the Far South Side after the 1994 death of her husband, Ald. Lemuel Austin, Austin began her first full term in 1996, and was reelected to a sixth term in February 2019 with 54% of the vote. 
After taking office, Mayor Lori Lightfoot ousted Austin as chair of the powerful Budget Committee, which she led since 2007 and throughout former Mayor Rahm Emanuel's two terms in office. 
Austin resigned as chair of the Chicago City Council's Committee on Contracting Oversight and Equity in August 2021 after WTTW News reported that the committee spent more in 2020 than nearly all other City Council committees while meeting only three times and not advancing a single piece of substantive legislation.
Tuesday's election was the first to reflect the ward map drawn by members of the City Council to reflect the results of the 2023 census.
That map moved the boundaries of the 34th Ward from the Far South Side, which has seen an exodus of residents, to the area around the booming West Loop. Bill Conway had a comfortable lead over Jim Ascot in the 34th Ward race, according to early returns.
Austin's former ward is now part of the 21st Ward, where three candidates — Ronnie Mosley, Cornell Dantzler and Preston Brown, Jr., were locked in a battle to advance to an April 4 runoff.
Mayor Lori Lightfoot, who conceded to Paul Vallas and Brandon Johnson in the mayor's race, has 60 days to appoint a replacement for Austin, who would serve out the remainder of her term, which ends on May 22.
In her resignation letter, dated Nov. 11, Austin told Lightfoot that she wanted to finish out her sixth term in office but was unable to do so because of her worsening health. Austin's most recent public appearance as an elected official came at the Dec. 14 Chicago City Council meeting, where she urged her colleagues to fund the $3.6 billion extension of the CTA's Red Line from 95th to 130th streets with property taxes generated downtown before saying she needed to cut her remarks short so she did not "run out of oxygen."
Austin did not attend the Jan. 18 or Feb. 1 City Council meetings, and her office did respond to questions from WTTW News about who would handle service requests from 34th Ward residents after her resignation. Through her attorney, Austin declined an interview request from WTTW News.
Austin's chief of staff Chester Wilson, Jr., was charged along with his boss, and faces bribery conspiracy, two counts of using interstate facilities to promote bribery and one count of theft of government funds. Wilson, who is still employed by the city, earned approximately $128,000 annually.
Contact Heather Cherone: @HeatherCherone | (773) 569-1863 | [email protected]
---