The union representing Chicago Police Department officers paid to send a flyer to voters showcasing that Jessica "Jessie" Fuentes, who is running to represent the 26th Ward on the Chicago City Council, was arrested for battery in September 2008 as a 17-year-old.
The Fraternal Order of Police Lodge No. 7's political action committee made an in-kind contribution of approximately $10,000 to the campaign of Julian "Jumpin'" Perez, who used those funds to pay for the flyers, said Officer Michael Cosentino, field representative and political director for the union.
Cosentino told WTTW News the Perez campaign obtained Fuentes' records through a Freedom of Information Act request, and the union agreed to pay to send the flyer to 26th Ward voters after verifying the authenticity of the court and arrest records that are all at least 13 years old. 
"You don't know where someone is going until you know where they have been," Cosentino said.
Approximately a month after her 18th birthday, in March 2009, Fuentes was also charged with stealing less than $300 from the movie theater where she worked, according to police department records. In April 2010, Fuentes was arrested on an outstanding warrant after being stopped by police and cited for driving without a license, without insurance and for not wearing a seat belt.
In a video she posted to her campaign's Instagram page, Fuentes did not dispute the accuracy of the records but said she was the product of a family that suffered from "historical and generational trauma" caused by having parents who were incarcerated and suffered from substance abuse disorders.
"I have had my fair share of trauma and inability to cope with the anger and sadness that comes with growing up in those social conditions," Fuentes said, adding that her "lived experience" makes her the best candidate to represent the 26th Ward on the City Council and ensure that schools and violence prevention programs are fully funded. "I've been honest about who I am and where I come from."
In a statement to WTTW News, a spokesperson for the Perez campaign said "it is critical that voters have access to complete and accurate information about their candidates before making decisions that impact their community's future."
However, the Perez campaign did not acknowledge it was responsible for mailing the flyer to voters or creating the website, saynotojessie.com, listed on the flyer. Both the mailer, which says it was paid for by the police union and the website — which does not identify who paid for it — depict a grim-faced Fuentes behind bars, with illustrations of handcuffs and Fuentes' mug shot.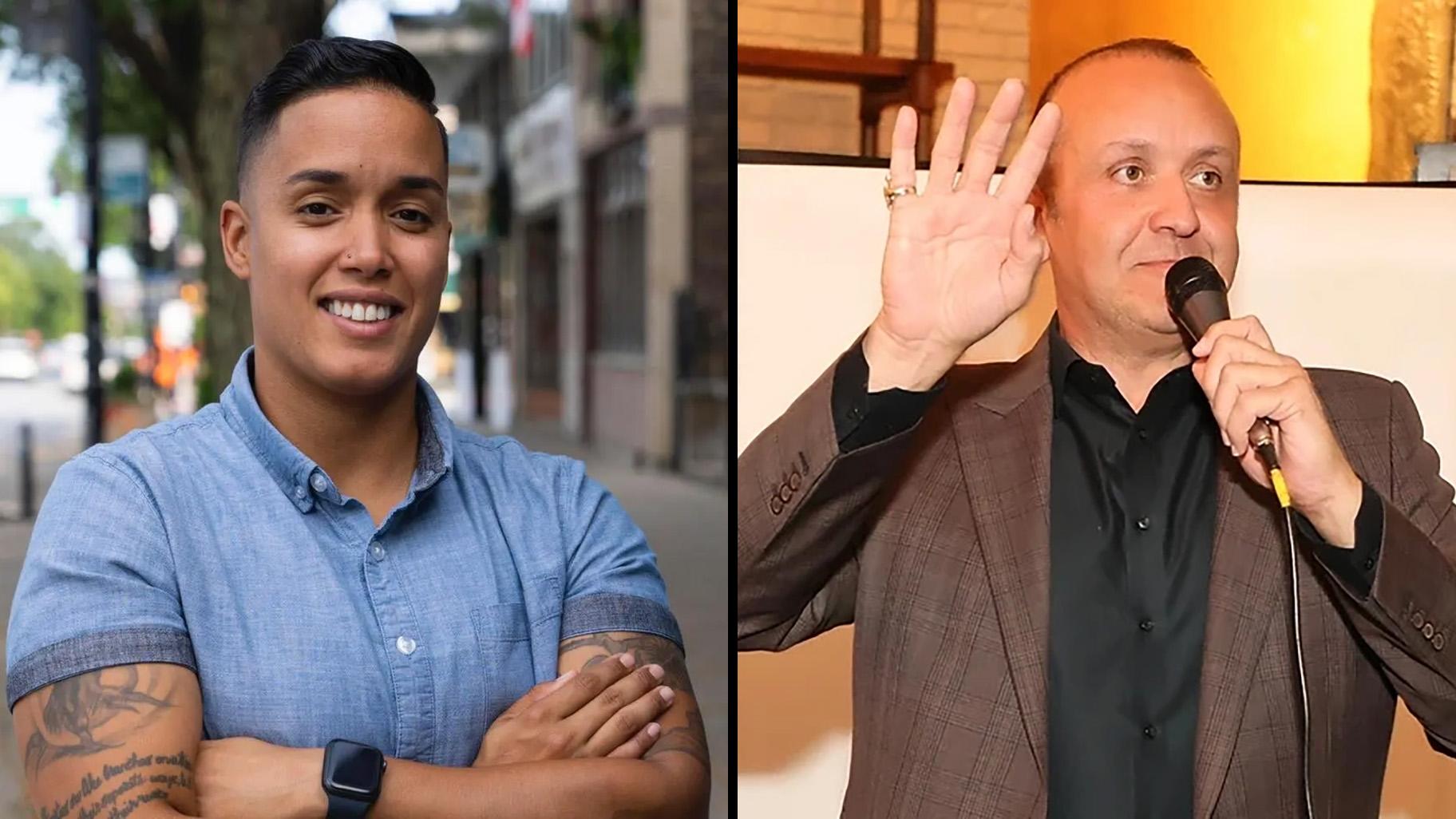 Jessica "Jessie" Fuentes, left, and Julian Perez are running to replace retiring 26th Ward Ald. Roberto Maldonado. (Provided)
Perez retired as a well-known Chicago DJ before running for the City Council with the endorsement of the Fraternal Order of Police, Lodge 7, which represents approximately 12,000 police officers. Fraternal Order of Police President John Catanzara resigned from the Police Department while the Chicago Police Board was weighing whether to fire him for violating nearly a dozen rules stemming from his inflammatory social media activity and false police reports he filed against a supervisor and former Supt. Eddie Johnson.
In addition, Catanzara initially defended the insurrectionists who stormed the U.S. Capitol on Jan. 6 and compared Chicago's vaccine mandate for all city employees to Nazi Germany.
Catanzara initially denied the police union was responsible for the flyers in response to a request for comment from WTTW News before acknowledging several hours later that his group paid to send them to voters. However, he said the police union was not responsible for the website featuring the flyers.
Fuentes, 32, the director of policy and youth advocacy for the Puerto Rican Cultural Center and the co-chair of the Puerto Rican Agenda, would be the first queer Latina to represent the 26th Ward, which includes Humboldt Park and parts of Hermosa and Logan Square. Fuentes has the endorsement of Ald. Roberto Maldonado, who is retiring after 14 years on the City Council.
Maldonado said he knew about Fuentes' arrest record before he endorsed her, and warned Perez that those who live in glass houses should not throw stones.
"Jessie had a very challenging childhood, and has dedicated her life to helping people who grew up like her," Maldonado said, adding that the revelations may ultimately help Fuentes' campaign making her more relatable to voters living on Chicago's West Side.
Maldonado said he was disappointed in Perez for making "something out of nothing."
"It is a farce," Maldonado said.
U.S. Rep. Delia Ramirez, state Sen. Cristina Pacione-Zayas and state Rep. Lilian Jimenez, whose districts include the 26th Ward, accused Perez of "using tired Chicago-machine tactics of intimidation and threats."
"To vilify Jessie (Fuentes) is to vilify the thousands of young people across our city struggling to overcome trauma, community violence and intergenerational poverty," according to a statement from the three progressive lawmakers.
Police Union PAC Focuses on City Council Races
Perez is one of 26 City Council candidates endorsed by the police union as part of a push to defend its supporters on the City Council from challengers supported by progressive groups and to defeat their opponents.
The Police union has given more than $121,000 to 10 candidates since Feb. 1, according to records filed with the Illinois State Board of Elections. Three candidates – Ald. Nicholas Sposato (38th Ward), 6th Ward candidate Barbara Bunville and 11th Ward candidate Anthony Ciaravino -- reported contributions of approximately $20,000 on Friday.
Perez has yet to report the in-kind contribution from the police union tied to the flyer to his campaign committee.
State law requires candidates to report contributions of $1,000 or more from a single source within two business days of receipt if it is 30 days or fewer before an election.
The union has endorsed 19 candidates in Police District Council races, and spent $35,000 in legal fees as part of an unsuccessful effort to knock candidates supported by progressive groups off the ballot.
Cosentino said the police union planned to spend approximately $20,000 to send mailers touting their picks in the Police District Council races. Most candidates running in those first-ever races have not created campaign committees.
As of Dec. 31, the police union's PAC had more than $708,000 in cash on hand.
The police union also contributed $26,125 in two separate contributions to Ald. Anthony Napolitano (41st Ward) in late January and early February. However, that exceeded the limits on contributions to elected officials from Political Action Committees, and Napolitano returned the funds.
In addition, Ald. Silvana Tabares (23rd Ward) returned $25,000 to the police union PAC after its contributions to her campaign exceeded the state-imposed limits.
Napolitano and Tabares authored the measure that would have rolled back the COVID-19 vaccine mandate imposed by Mayor Lori Lightfoot.
Although the police union endorsed former Chicago Public Schools CEO Paul Vallas, it has yet to contribute any funds to his campaign, according to state records.
While the police union has ample funds to make a splash in the last days before the Feb. 28 election and before likely runoffs in the race for mayor and dozens of City Council races on April 4, it has been outspent by the Chicago Teachers Union.
The Chicago Teachers Union has boosted Cook County Commissioner Brandon Johnson's bid for mayor with approximately $1 million, and spent more than $523,000 to back 15 City Council candidates. 
Between July and December, the police union political action committee took in about $600,000, according to records filed with state officials.
In October, Catanzara told City Council members who supported the vaccine mandate that "we are coming for every one of your damn seats."
To fund that effort, the union's board approved Catanzara's proposal to raise member dues by $240 annually. Catanzara told the Sun-Times he would us those funds to turn the union's political action committee into a "powerhouse."
Catanzara told WTTW News the police union PAC is functioning "as intended."
"How we choose to spend the money is entirely our decision," Catanzara said. "Just because you have money doesn't mean you have to spend it. City and state budgets should take a cue and we'd be in much better financial shape."
This story was updated at 3:30 p.m. Friday with additional spending by the Fraternal Order of Police, Lodge 7, and the Chicago Teachers Union.
Contact Heather Cherone: @HeatherCherone | (773) 569-1863 | [email protected]
---