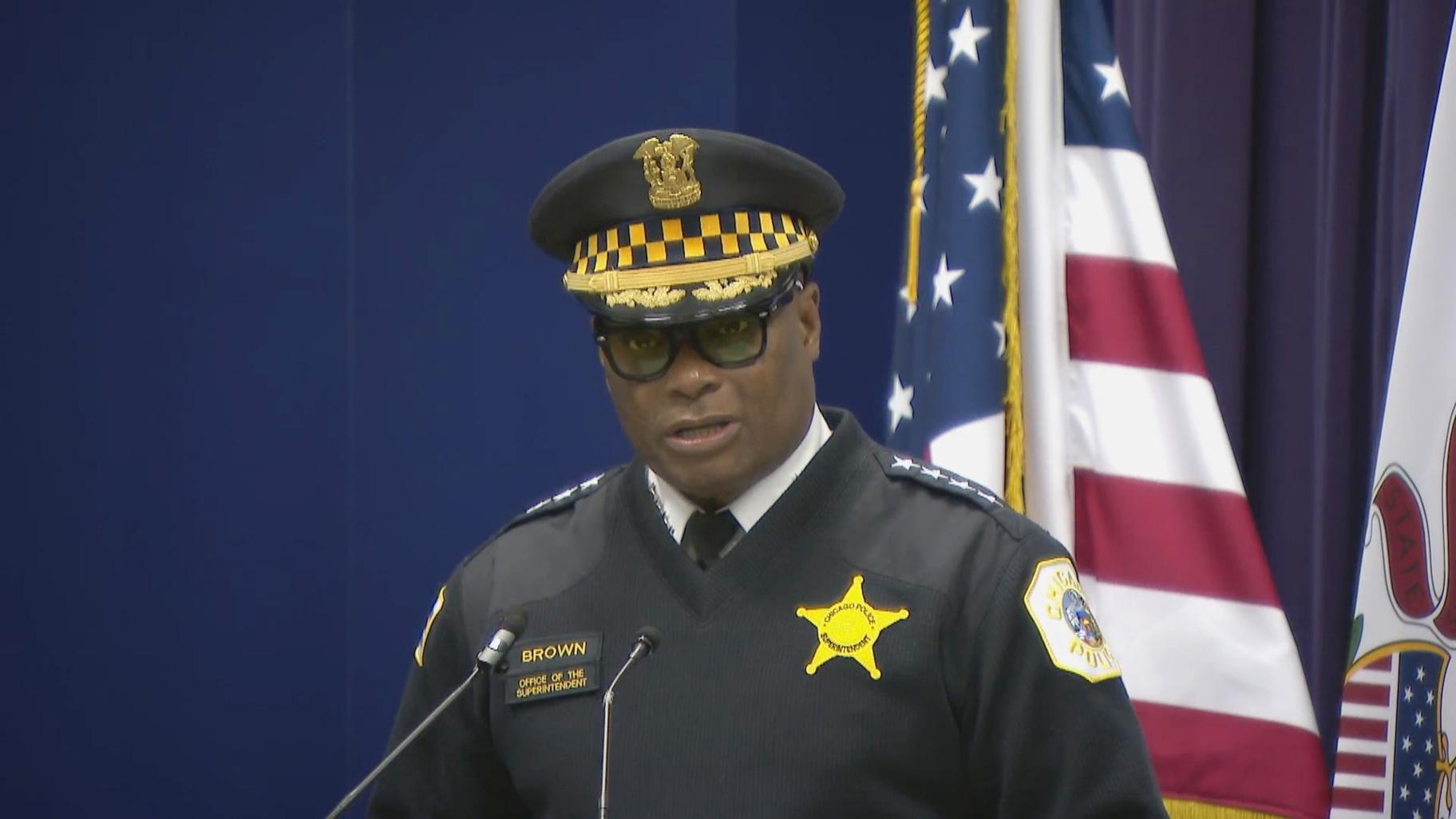 Police Superintendent David Brown addresses the media after officers shot and killed a man outside an Irving Park bar on Feb. 8, 2023. (WTTW News)
Chicago police Superintendent David Brown will be resigning his position, nearly three years after he took over the position as the city's top cop.
Mayor Lori Lightfoot — who nominated Brown for the position in 2020 and will be leaving office herself after failing to make April's mayoral runoff election — announced Brown will be leaving the department effective March 16.
"I personally want to thank him for his service to our city," Lightfoot said in a statement.
First Deputy Eric Carter will serve as interim superintendent until a permanent replacement is sworn into office.
Brown, a Dallas native who previously served as chief of the police department there from 2010 to 2016, was already rumored to be considering an exit from the CPD. Both Paul Vallas and Brandon Johnson, who will face off in the April runoff election to become Chicago's next mayor, had pledged to remove Brown from his post.
In a statement, Brown said he'll be returning to Texas, where he's accepted a position as chief operating officer of the personal injury law firm Loncar Lyon Jenkins. He said he made the decision to allow either Vallas or Johnson to "begin the process as soon as possible to hire the next superintendent."
"It has been an honor and a privilege to work alongside the brave men and women of the Chicago Police Department," Brown said in his statement. "I will continue to pray that all officers return home to their families safe at the end of their shift. May the Good Lord bless the city of Chicago and the men and women who serve and protect this great city."
Lightfoot in her statement lauded Brown's leadership, pointing to record numbers of illegal gun recoveries, consent decree progress and an increase in the number of women promoted to senior leadership positions.
But during Brown's tenure, the number of shootings and homicides steadily increased over pre-pandemic totals, as gun violence became one of the key issues in Tuesday's mayoral election.
Weeks after he became superintendent, Brown set a "moon shot" goal of getting Chicago below 300 homicides per year. Instead, Chicago more than doubled that number in each of the past three years, topping out at more than 800 homicides in 2021 — the deadliest year for the city in decades.
Lightfoot said Brown helped lead Chicago to a double-digit reduction in violent crime in 2022, but that year still closed with nearly 700 homicides.
Brown was also under fire repeatedly from Chicago's largest police union — the Fraternal Order of Police Lodge 7 — for his record on officer wellness. The FOP said Brown didn't do enough to support police and regularly canceled days off, leading to additional strain.
According to the Chicago Sun-Times, more than a dozen CPD officers have died by suicide since 2018.
Brown defended his decision to cancel days off at specific points throughout the summer, saying last year it was necessary to ensure there are enough officers working each shift to protect the public and their colleagues.
"Would you rather have officers coming to help you when you're being shot at? Or not enough officers at work and no one coming to help you," Brown said during a press conference in July 2022. "That's the really tough, tough, tough decision that superintendents have made for the last 30 years. And they all have made similar decisions that I made."
Once Brown exits office, the city's Community Commission for Public Safety and Accountability will work to develop a list of possible candidates it will present to the new mayor. The mayor can then choose one of those candidates or request a new list. Once a finalist is selected, that person must be confirmed by the City Council before the new superintendent officially takes office.
In her statement, Lightfoot asked the commission "to immediately begin the search for a new Superintendent so that the new Mayor will be able to make a selection as soon as possible."
Johnson, who finished second in Tuesday's race, said his preference is to promote from within the department, but added that the next superintendent must be "the right person for the job — someone who is collaborative, competent and compassionate, and who truly cares about protecting and serving the people of our city."
Vallas said he too would promote from within the CPD ranks, and wants to find a superintendent who will "prioritize community policing, end the failed friends and family promotion system and invest in building trust between the police and our communities."
Contact Matt Masterson: @ByMattMasterson | [email protected] | (773) 509-5431
---