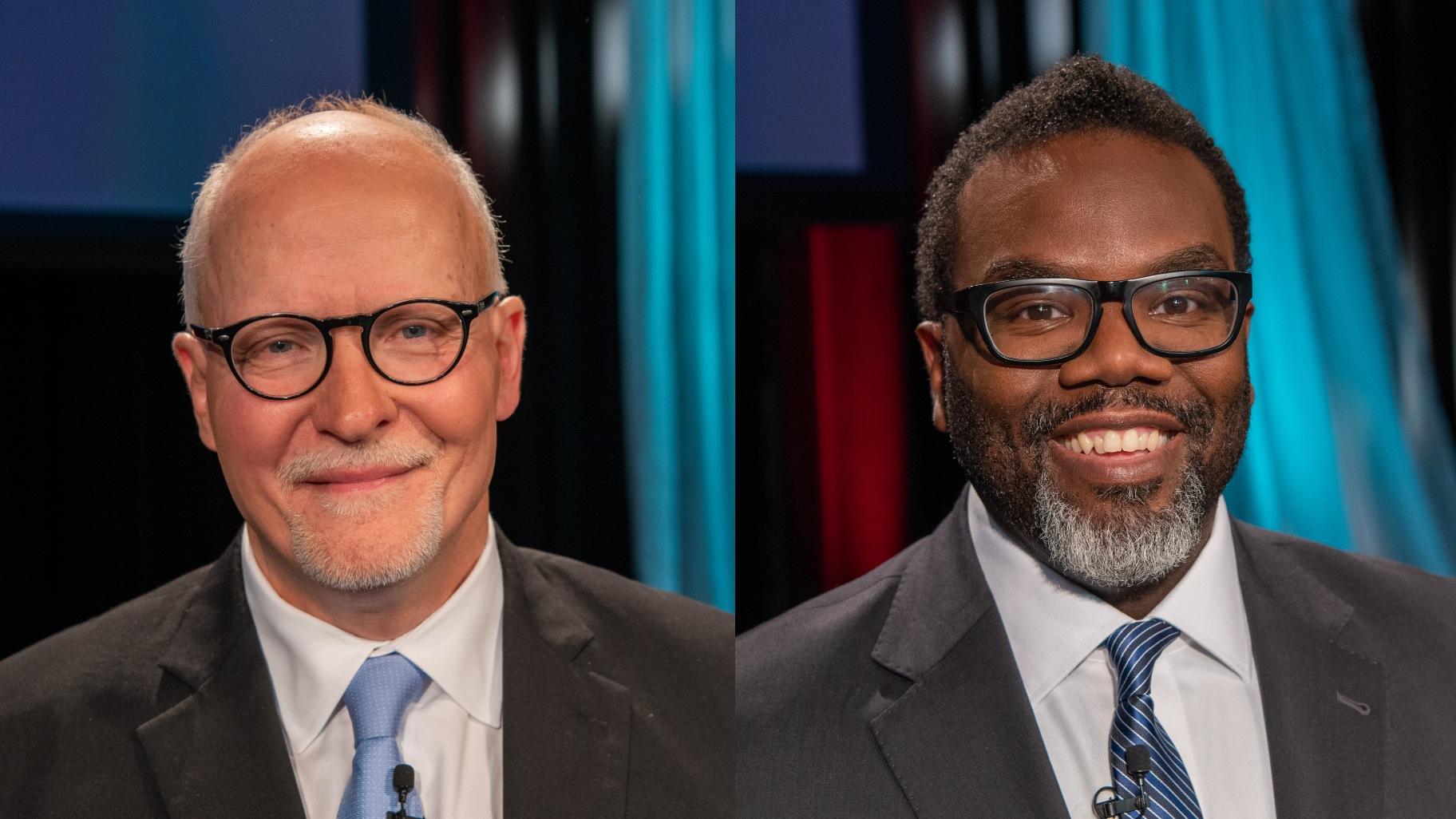 Paul Vallas and Brandon Johnson will compete in the mayoral runoff. (WTTW)
Lori Lightfoot lost her bid for a second term as Chicago mayor Tuesday, as former Chicago Public Schools CEO Paul Vallas and Cook County Commissioner Brandon Johnson advanced to a runoff on April 4.
Lightfoot conceded just before 9 p.m. Tuesday, acknowledging she had fallen short in her bid to add one more first to her resume: the first woman to be reelected as Chicago mayor. In 1983, Jane Byrne, the city's first female mayor, was the last incumbent mayor to lose her bid for reelection.
"It has been the honor of a lifetime to be mayor," said Lightfoot, the first Black woman and gay person to be elected Chicago mayor.
Lightfoot spent much of the campaign asking voters to give her a chance to finish the work she started before the COVID-19 pandemic, and the economic collapse it triggered, staggered Chicago.
But Lightfoot was unable to overcome the serious headwinds caused by the surge of crime in Chicago that began as the pandemic swept the city and shut down schools and businesses. 
With about 99% of precincts reporting, Vallas led with 34%, Johnson is at 20% and Lightfoot stands at 17%, according to the Chicago Board of Election Commissioners data. One-time front runner Jesús "Chuy" García won just under 14% of the vote, followed by Willie Wilson at almost 10%, according to early results.
Ja'Mal Green, Sophia King, Kam Buckner and Roderick Sawyer — combined — appeared to be winning around 5% of the vote, according to early returns. 
More: Live Updating Election Results for All Chicago Races
Addressing a packed house at his Austin campaign event, Johnson told supporters, "We have shifted the political dynamics in this city."
"We are finally going to retire this tired tale of two cities," Johnson said to loud cheers. "Paul Vallas is the author of the tale of two cities."
In his victory speech, Vallas touted his record leading school districts across the nation and vowed to restore "true public safety" in Chicago by restoring residents' trust in the Chicago Police Department.
"We will make Chicago the safest city in America," Vallas said, echoing a promise made by Lightfoot throughout the campaign. "I'm running to be the mayor of all Chicago."
By the time polls closed at 7 p.m., the total citywide turnout for voters stood at more than 32%, according to data from the Chicago Board of Election Commissioners. Approximately 97,500 mail ballots had yet to be returned by Tuesday, and will be counted as long as they are postmarked by Tuesday and arrive by March 14, officials said. 
The race for mayor was defined by crime and public safety. 
Although murders declined approximately 14% in 2022 as compared with 2021, violence in Chicago has yet to return to pre-pandemic levels. There have not been fewer than 700 murders in Chicago since 2019, which included Lightfoot's first seven months in office.
That surge in crime spilled from the South and West sides — where violence has been a part of daily life for residents for decades — into downtown and parts of the North Side, where many residents were unaccustomed to coping with the regular threat of shootings, carjackings, robberies and burglaries.
While acknowledging that Chicago voters are concerned about public safety, Lightfoot declined to shift her public safety strategy — and has steadfastly supported Chicago Police Supt. David Brown, her hand-picked choice to serve as the city's top cop. That left the mayor vulnerable to criticism from both the left and right, closing off her path to a second term.
Both Vallas and Johnson said they would immediately fire Brown, saying he has not kept Chicagoans safe, and he has failed to implement the reforms required by the federal court order spurred by a probe that found officers routinely violated the constitutional rights of Black and Latino Chicagoans.
As the consent decree prepares to enter its fourth year, the city is in full compliance with just 3% of its requirements, according to data released by the Chicago Police Department.
An hour after polls closed Tuesday, Lightfoot supporters gathered at her campaign event at the Mid-America Carpenters Regional Council headquarters in River North.
Ald. Scott Waguespack (32nd Ward) said he did not regret backing Lightfoot.
"When I look at the last four years," Waguespack said, "we tried to transform a lot of institutions and a lot of programs that had been lingering and stale for many years."
After Lightfoot conceded Tuesday night, Ald. Water Burnett (27th Ward) said he's "still with her no matter what." He said Lightfoot was dealt a bad hand, coming into office as the COVID-19 pandemic also hit the city and the rest of the world.
"If the mayor had two more years, we would have seen her flowers blossom," Burnett said. "She planted a lot of seeds."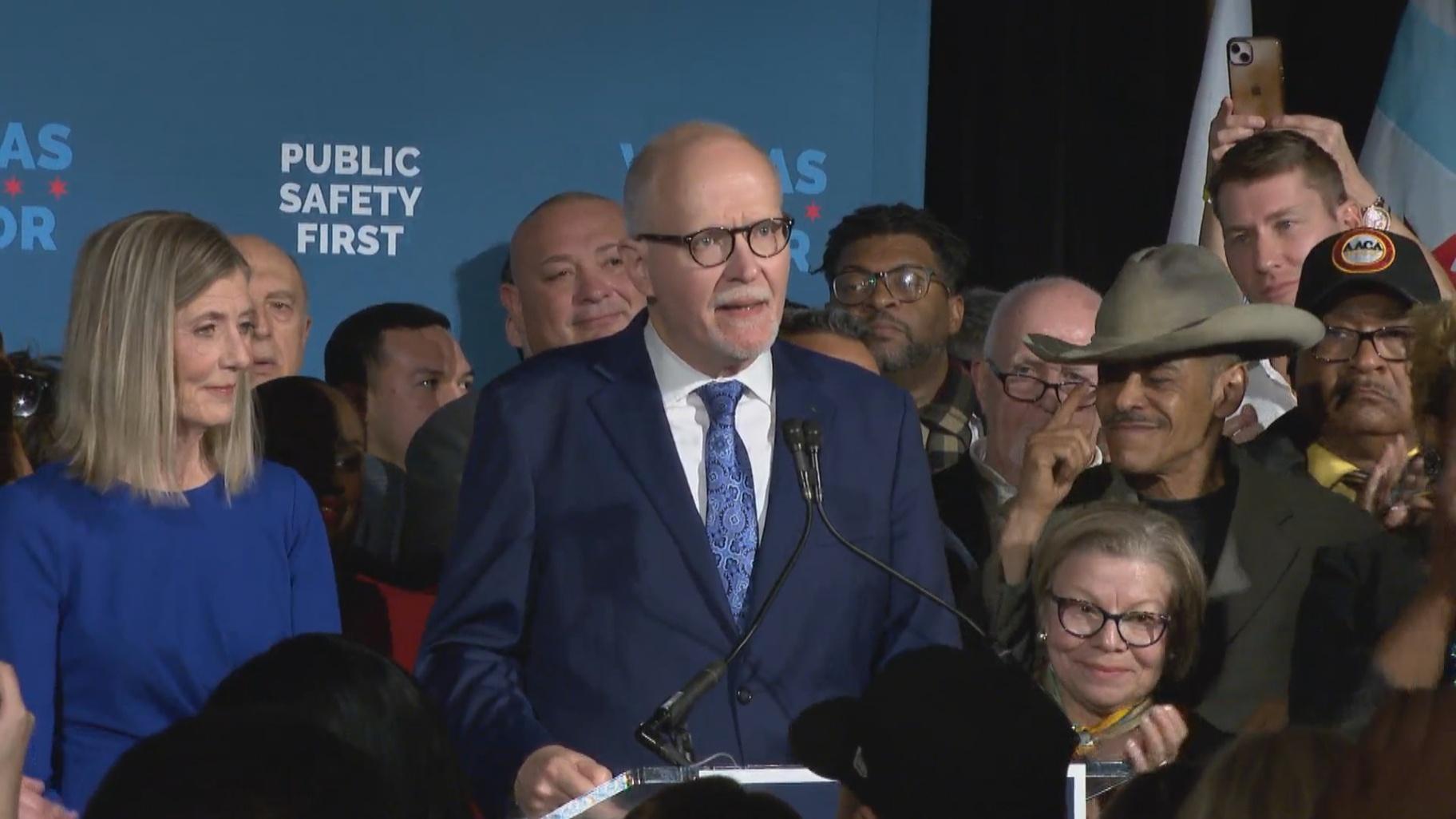 Paul Vallas addresses supporters after making it to the runoff election on Feb. 28, 2023. (WTTW News)
Vallas, the former CEO of the Chicago Public Schools, separated himself from the crowded field of candidates by focusing on efforts to reverse rules that have "literally handcuffed" officers, "demoralizing" them and making "proactive policing" impossible. That will help fill the department's more than 1,000 vacant positions by making the Chicago Police Department a more attractive place to work, Vallas said.
That enforcement-focused approach won Vallas the endorsement of the Fraternal Order of Police, Lodge No. 7, which is led by John Catanzara, who has repeatedly blasted the federal court order as an impediment to public safety. Vallas served as an unpaid adviser to the police union during contract negotiations in 2021.
Lightfoot has called Catanzara a "bigot" and accused Vallas of "blowing the ultimate dog whistle" when he told a Southwest Side crowd that his "whole campaign is about taking back our city, pure and simple."
Vallas campaign supporters were gathered Tuesday night just after polls closing at City Hall, an event space in the West Loop. With posters on the wall and cocktails at the bar, supporters were awaiting the arrival of their candidate as he gathered with his team.
"Paul is well-experienced. He's fiscally responsible when it comes to budgets . ... I am proud of his school reform accomplishments, and I think he's going to bring tranquility to our city which is in a chaotic state," said Jamal Mahmoud, a volunteer for Vallas and CPS teacher.
Johnson, a Cook County commissioner, is the only candidate not to promise to hire as many new police officers as quickly as possible after taking office.
Instead, Johnson has said he would invest in programs designed to address the root causes of crime, including a lack of affordable housing, while adding 200 detectives to the Chicago Police Department's ranks. Johnson has said he would "maintain" the Chicago Police Department's budget, which totaled $1.94 billion in 2023.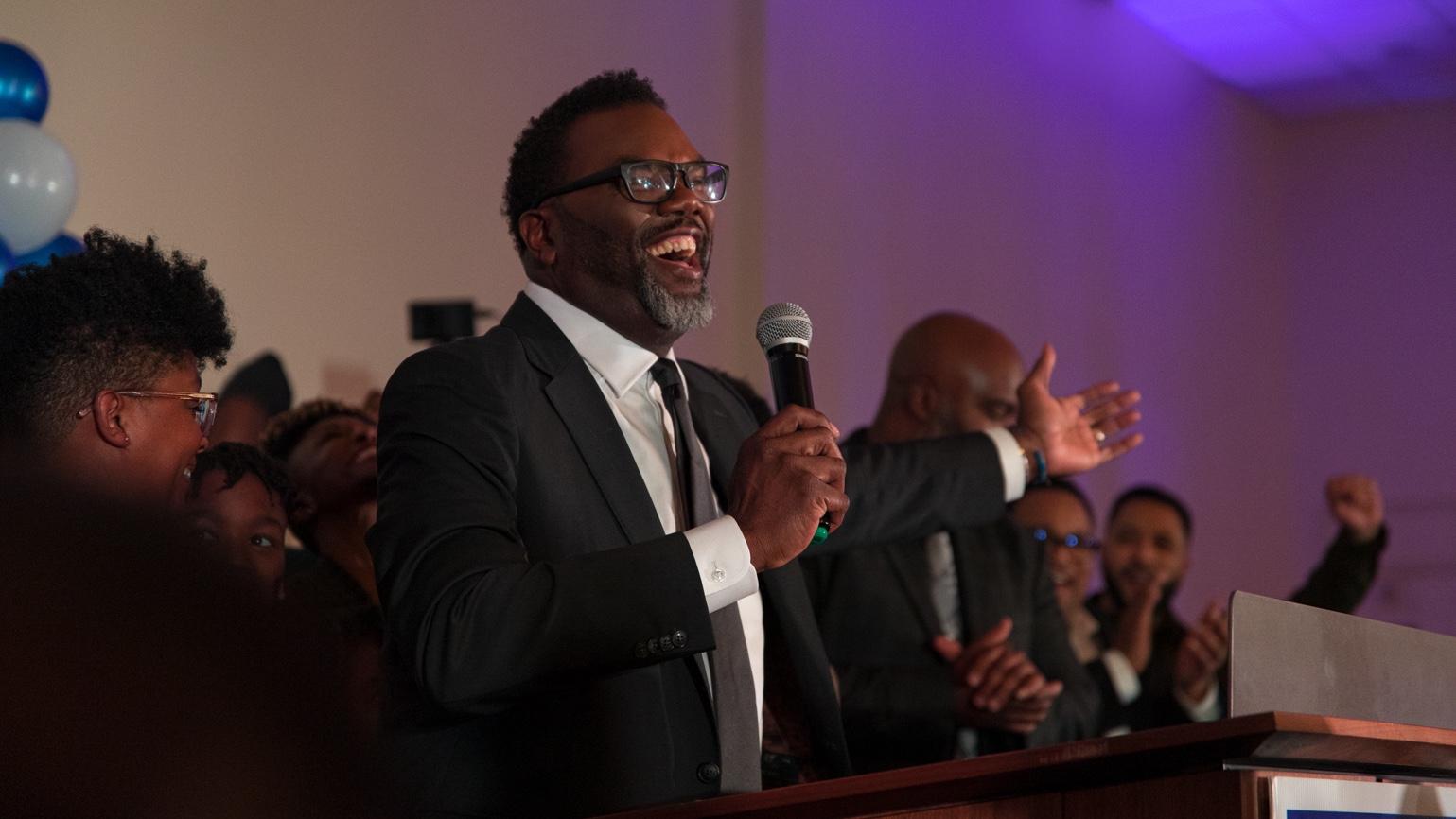 Brandon Johnson addresses supporters after making it to the runoff election on Feb. 28, 2023. (Michael Izquierdo / WTTW News)
Johnson authored a nonbinding resolution in the summer of 2020 that called for county officials to "redirect funds from policing and incarceration to public services not administered by law enforcement that promote community health and safety equitably" after the police murder of George Floyd touched off a wave of social justice protests and unrest.
Johnson has also endorsed the "Treatment not Trauma" plan authored by Ald. Rossana Rodriguez Sanchez (33rd Ward) that calls for publicly run mental-health clinics to be reopened and for social workers, not police officers, to respond to 911 calls for help from those experiencing a mental health crisis.
From young voters to seniors, a large crowd gathered at Johnson's campaign headquarters at an Austin banquet hall Tuesday night. People hugged, cheered, high-fived and danced. A large projector screen displayed the Chicago Board of Election's municipal results as they came in live.
"I wanted to be here this evening to hopefully usher in a new mayor," Ald. Pat Dowell (3rd Ward) said at Johnson's party. "I spent the day out at the polls within my own ward. From what I can see, the turnout has been low, but I'm seeing high turnout among my seniors and middle-aged people."
"I want to see a change in Chicago," supporter Brie Whitfield said. "He spoke more to integration between county, state and city, which I think is critical for the state of Illinois. Aligning these goals can only help us progress as a city."
Transportation was one of the marquee issues in the race, and Johnson earned the backing of the advocacy group Better Streets Chicago Action Fund.
"We found him to be very responsive and collaborative very early on," co-founder Kyle Lucas said at the campaign event. "We had some feedback on his transportation platform, and he was very receptive to it. … It's a sea change from what we've experienced the last four years. The prospect of someone we can collaboratively work with instead of fighting against them is really exciting."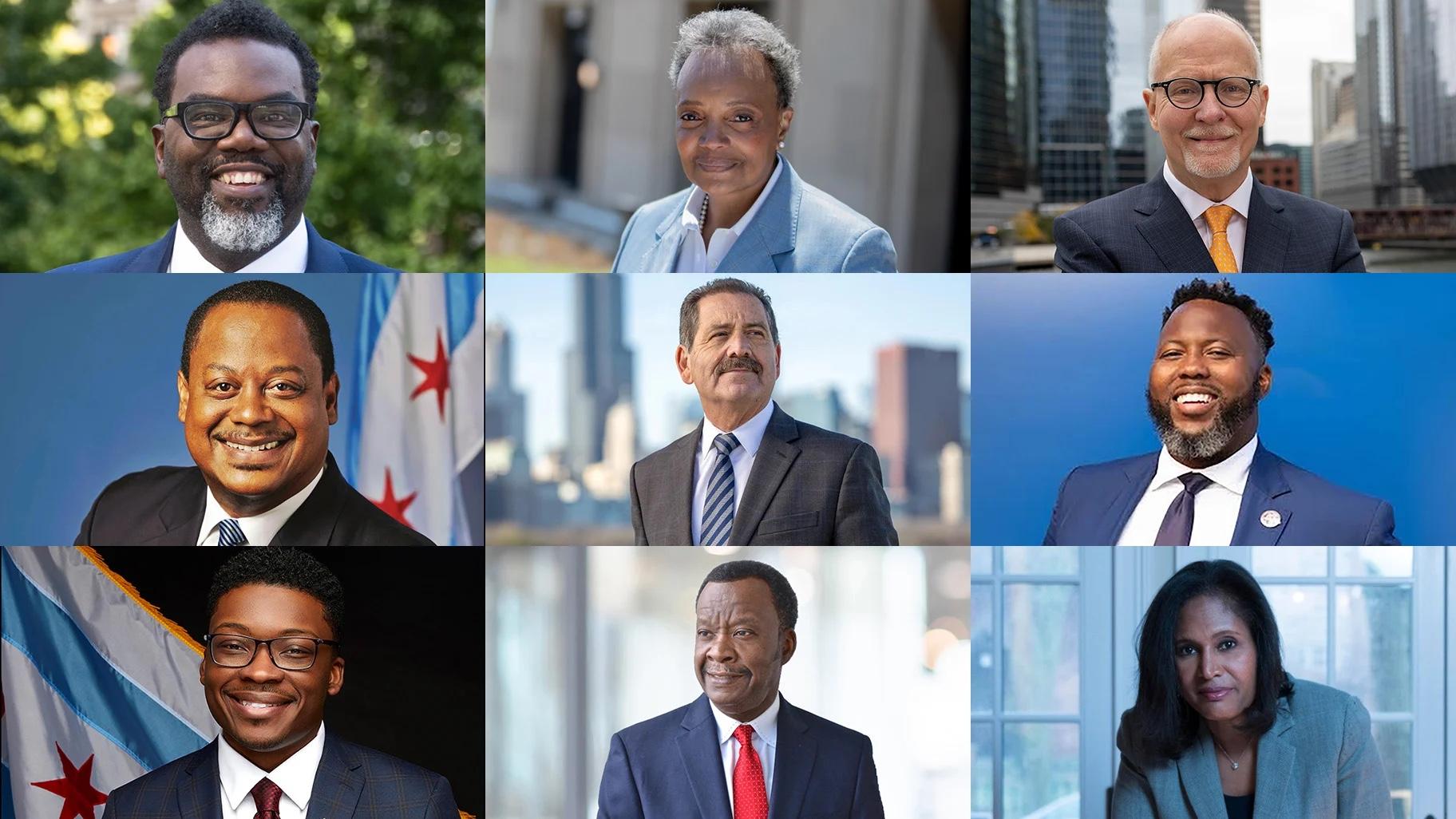 The nine candidates who ran for Chicago mayor. (Campaign photos)
At his campaign event at Swissotel Chicago, Wilson at about 9 p.m. Tuesday said the race was "still too close to call." He thanked his wife, campaign team and community supporters.
"With over 100,000 mailed in ballots that still have to be gone through, I'm not making any concessions tonight," Wilson said. "But I did congratulate Vallas for taking the No. 1 spot."
Supporters expressed confidence in Wilson, who was described as both relatable and generous. Earlier in the evening, pastors in attendance led several supporters in prayer.
"While I don't understand much about politics, I do know that Dr. Willie Wilson is the man for the city because he's done so much good for the city without even being mayor," supporter Heloise Harrison said. "Unfortunately, since Lightfoot has taken office, she's been focused on her agenda. But Dr. Wilson, he doesn't need anyone's money, so doesn't have to meet anyone's agenda but his own. He funded his own campaign. … Regardless of the outcome, his impact will continue."
At an election party at Apollo's 2000, García addressed supporters after 9 p.m. Tuesday, firstly thanking his wife for her support. More than 200 people had gathered at the venue, where a mariachi band played.
"It's because of all of these neighborhoods that I believe in this city," García said, "and tonight I still believe that Chicago has more of a future than ever before. … While we came up short, we know that together we can move Chicago forward. I have no regrets. I left it all on the field. We left it all on the field."
Ald. Mike Rodriguez (22nd Ward) is one of the local political figures who supported García.
"Chuy has been a mentor leader and someone I had looked up to decades," Rodriguez said. "I have been following Chuy since I was kid, and I remember meeting him at restaurant and seeing this the guy with the mustache. … Chuy has taught me how to be a strong public servant."
The runoff election will take place April 4. 
WTTW News reporters Heather Cherone, Amanda Vinicky, Eunice Alpasan, Blair Paddock, Paris Schutz, Nick Blumberg, Acacia Hernandez, Angel Idowu, Joanna Hernandez and Erica Demarest contributed. 
Contact Heather Cherone: @HeatherCherone | (773) 569-1863 | [email protected]
---