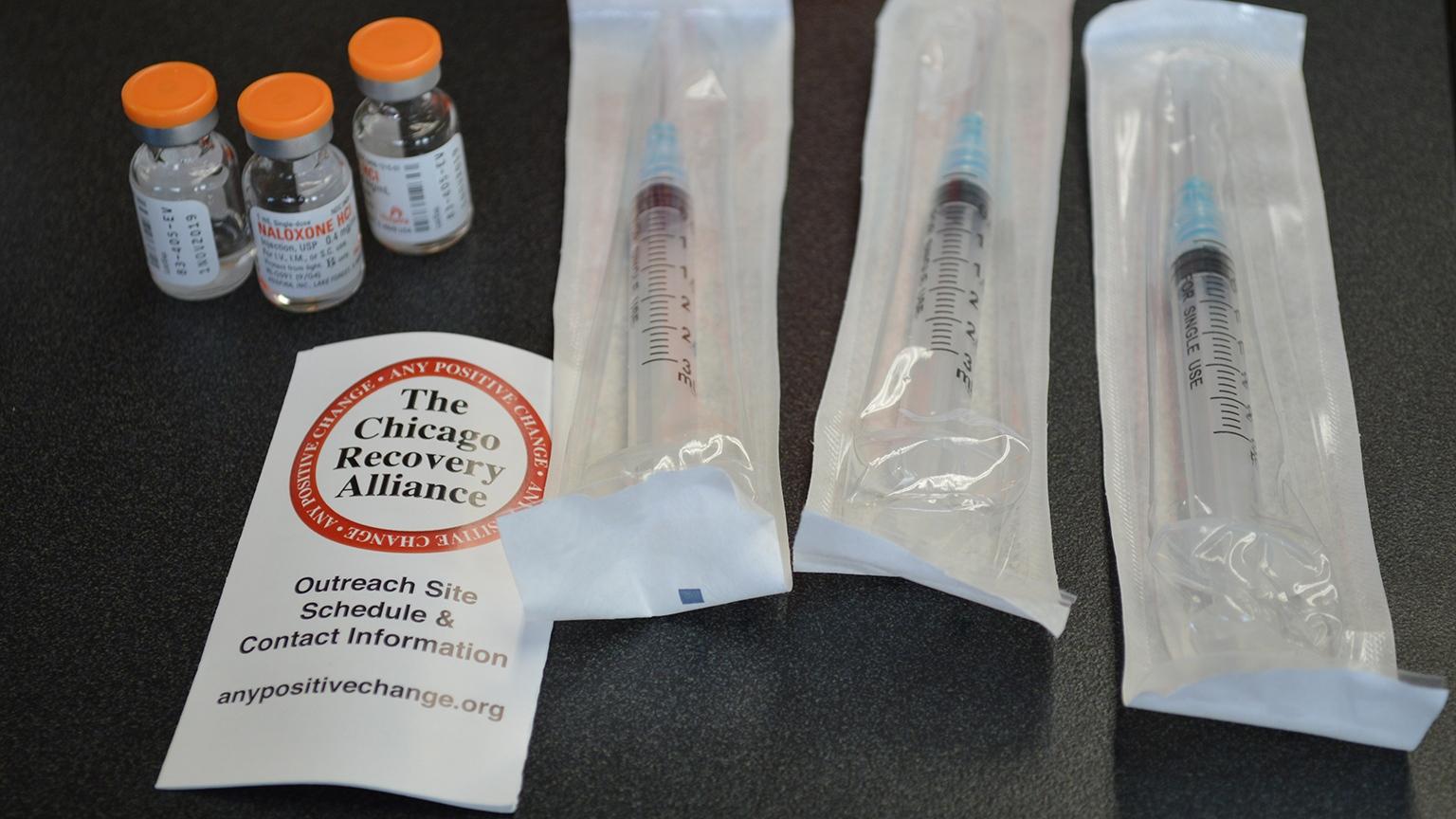 A naloxone kit from the Chicago Recovery Alliance is pictured in a file photo. The organization is among those working to deal with an influx in xylazine. (Kristen Thometz / Chicago Tonight)
The Food and Drug Administration announced an action Tuesday that requires specific labeling, and allows divisions of the FDA to detain a veterinary drug when it is imported into the United States.
Xylazine, a veterinary tranquilizer and painkiller used in horse, deer and other large animal surgeries, is commonly found in the illegal drug supply alongside fentanyl in many parts of the country, including Illinois.
"The FDA remains concerned about the increasing prevalence of xylazine mixed with illicit drugs, and this action is one part of broader efforts the agency is undertaking to address this issue," said FDA Commissioner Robert M. Califf. "We will continue to use all tools at our disposal and partner with the Drug Enforcement Administration and other federal, state, local agencies and stakeholders as appropriate to stem these illicit activities and protect public health."
In January, WTTW News reported on the rising level of deaths involving xylazine reported by the Cook County Medical Examiner in 2022.
Wounds from injecting the drug can lead to amputations if not treated properly. Local harm reduction organizations encounter the drug regularly.
The Cook County Medical Examiner's Office identified 18 additional xylazine deaths since the publication of the WTTW story. There have been 367 deaths with xylazine listed as a primary cause since 2018.
"We recognize the public health effects of xylazine tainting these illicit drugs and are continuing to ensure that legitimate product is restricted to veterinary use only," said Tracey Forfa, director of the FDA's Center for Veterinary Medicine.
The FDA and its Office of Criminal Investigations will focus its investigations on xylazine-related activities that could be subject to criminal prosecution, including online and in-person conduct. Additionally, the agency is coordinating with animal health stakeholders to ensure that drugs containing xylazine are available to veterinarians for legitimate use.
---