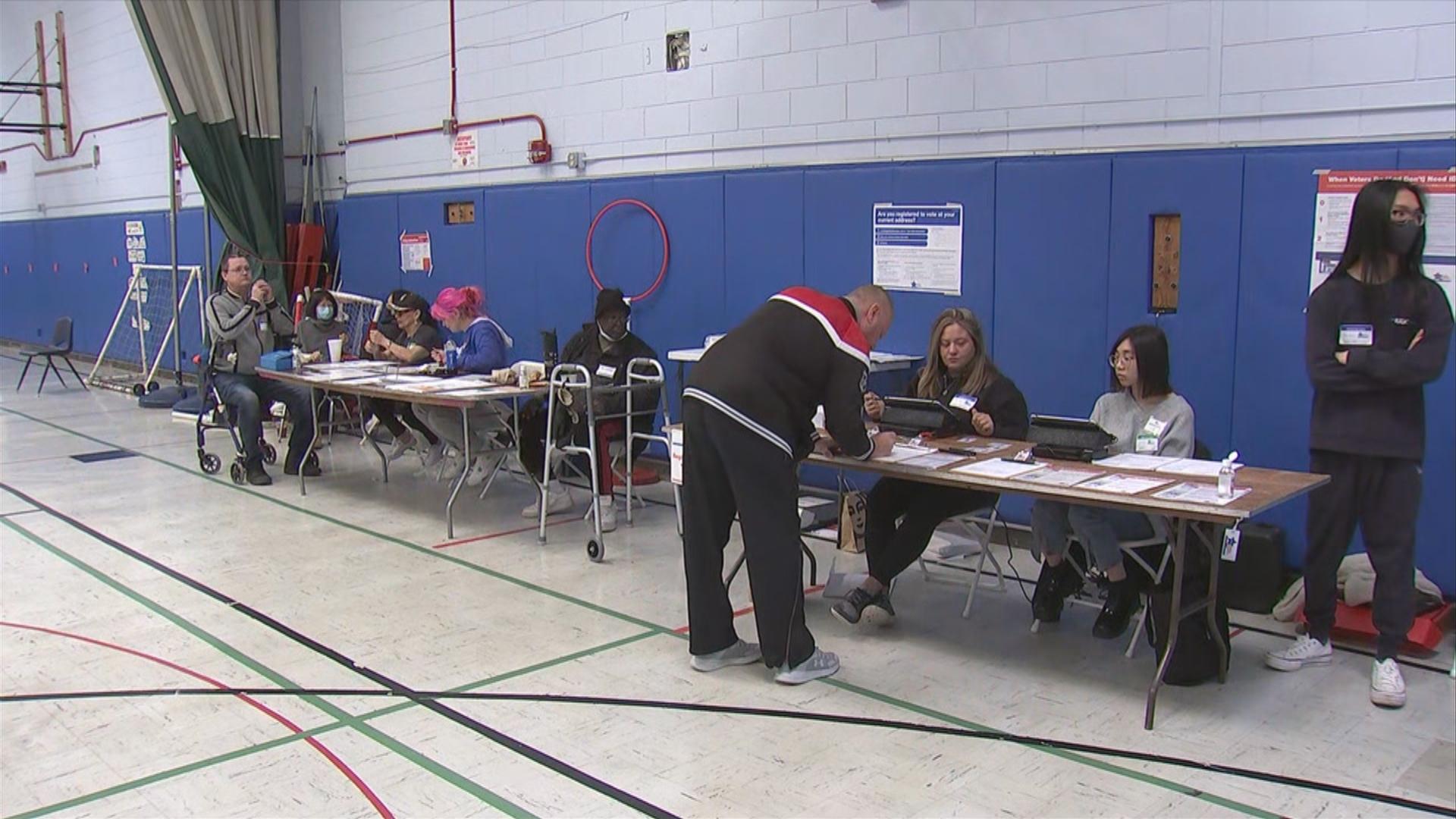 Voters cast their ballots on Election Day on Feb. 28. 2023, at Healy Elementary School, 3040 S. Parnell Ave. (WTTW News)
Early voting numbers for Chicago's municipal election were up this cycle compared to previous years. As the minutes pass Tuesday, will the same enthusiasm translate to polling places on Election Day?
The mayor, clerk, treasurer, aldermanic and police council races are on the ballot Tuesday. The winners of these races may take some time to sort out, but voters will have to be in line by the time the polling places close at 7 p.m. for their ballot to be counted.
There were 507,852 total ballots cast by 7 p.m. on Tuesday, and the total citywide turnout for voters stood at 32.1%, according to the Chicago Board of Elections. 
"It looks like Election Day turnout has, unfortunately, been pretty sluggish these morning hours, especially when compared to 2019," Max Bever, director of public information at the Chicago Board of Elections, said Tuesday afternoon. "It looks like we are about 8,000 votes behind each hour."
The latest numbers from the Chicago Board of Elections show that early and vote-by-mail options are up about 48.2% from the 2019 election. The Chicago municipal election registered 244,580 total early votes by Monday night. Turnout was slightly higher for early in-person early voting than for vote by mail.
"It looks like more voters may have made up their minds earlier and may have chosen early voting, but especially vote by mail, to make their choice," Bever said. He said there were about 100,000 mail ballots outstanding.
The early voting numbers slightly edged the in-person totals at slightly less than 51%. The highest number of both in-person and early votes came from the 19th Ward. That ward had the highest overall turnout figure in a district with the second biggest number of registered voters.
Bever expected eyes to be on the outstanding mail ballots and how they could affect the aldermanic and police council races.
The Chicago Board of Elections identified at least 14 precinct locations that did not open at 6 a.m., including three precincts in the 36th Ward. Officials were not aware of any additional delays. There have been no court orders to keep polling locations open later.
About 51% of all ballots came from voters who were 55 or older, according to figures provided by the Chicago Board of Elections. The last hour of voting was been the busiest, with 28,204 ballots cast.
"This election so far has been driven by older voters, but especially 65 and up," Bever said. 
The largest early in-person voting figures were from the 19th Ward on the Southwest Side, where incumbent Ald. Matt O'Shea faces off against Mike Cummings and Tim Noonan; and in the 41st Ward on the Northwest Side, where Ald. Anthony Napolitano is running against Paul Struebing.
As of Monday afternoon, 127,729 early in-person votes were cast. The busiest location was the 191 N. Clark Street supersite in the Loop.
The 47th Ward, which includes parts of Lincoln Square, Ravenswood, North Center, Uptown, Andersonville and Lakeview, and the 44th Ward, which includes East Lakeview, Northalsted and Wrigleyville, were the wards with the highest total of vote-by-mail ballots.
The alderpeople in both those wards are running unopposed.
The 47th, 44th and 43rd wards had the highest number of vote-by-mail ballots returned. As of Monday afternoon, 113,318 total vote-by-mail ballots were returned. The overall return rate was 53.5%.
The wards with the highest return rates on vote-by-mail ballots were the 13th, 19th and 41st wards.
Vote-by-mail ballots will need to be postmarked by Tuesday to be counted. March 14 is the last day the Board of Elections will accept a postmarked ballot.
About 0.5% of all returned mail ballots were rejected. 
Unregistered voters can still vote on Election Day at their assigned polling place with two forms of ID, one with their address. Voters can locate their polling place online.
The Chicago Board of Elections operates an Election Central hotline at 312-269-7870. Voters can use it if they need help accessing legal or language services.
---