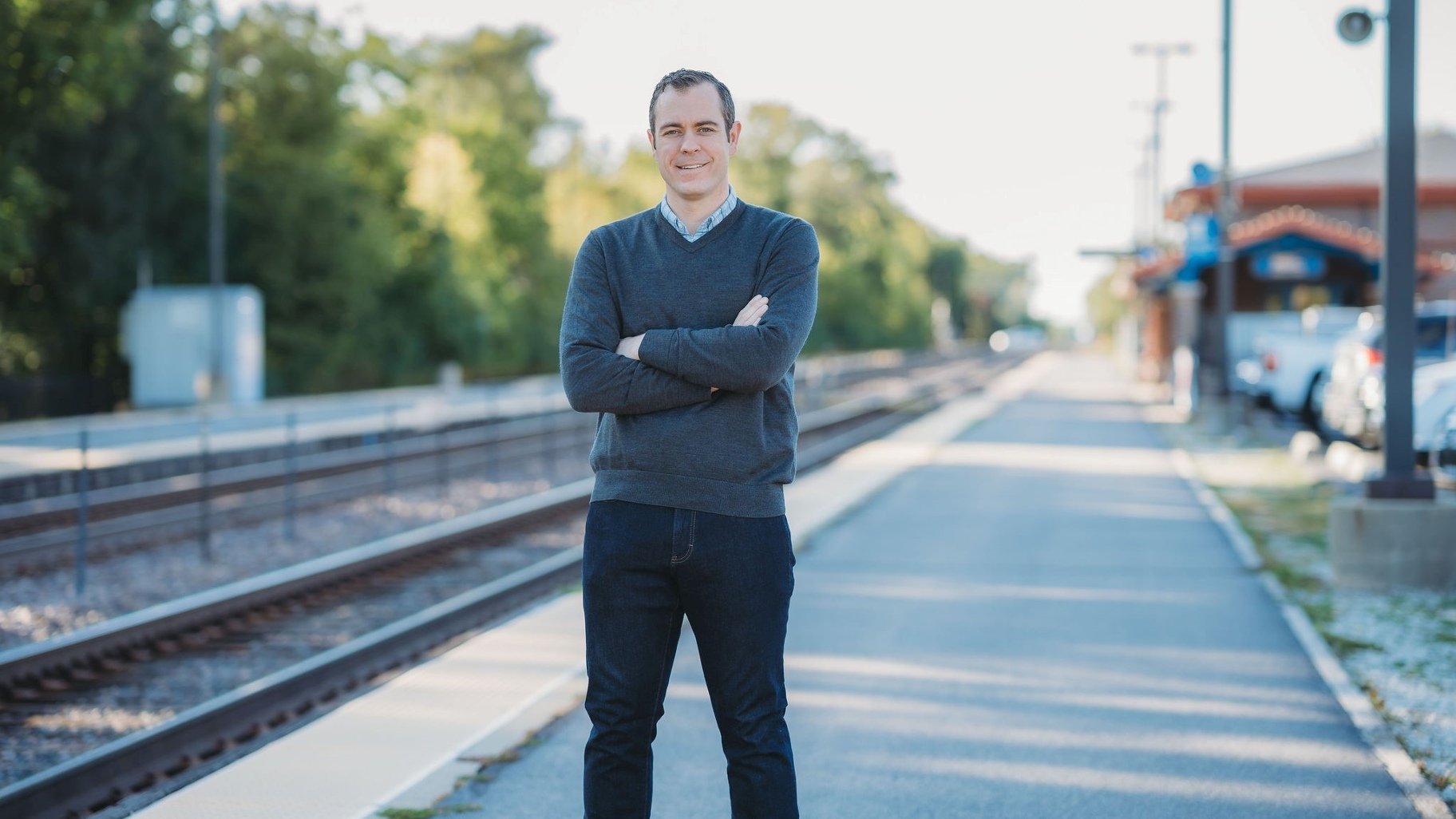 About the Candidate
Name: Paul Struebing 
Date of Birth: Oct. 6, 1987
Occupation: Attorney at Amundsen Davis LLC
Political Experience: 2020 through present: Ebinger Elementary Local School Council community representative
Political Party: Democrat
Website: www.paulfor41.com
Candidate Q&A
Why are you running?
I want to be the Alderman for the 41st Ward because over the past 8 years, our ward has been left behind. Business vacancies have increased. Property crime has skyrocketed. Ward residents are indisputably less safe than they were when the current alderman was elected. Despite ever rising taxes, the services we receive, the roads that we drive on, the parks our children play in, and the business districts that anchor our communities have deteriorated.
Despite our current alderman's steadfast opposition to change of any kind, our neighborhoods are changing for the worse.
I am running for alderman because I believe that we need new leadership and a new vision for the future of the ward. Leadership that brings desperately needed resources to the ward to revitalize our parks, repair our roads, and address longstanding problems like flooding. I am running to bring common sense solutions to the problems we face, to improve services, and to actually accomplish things that improve our neighborhoods, better prepare our business districts to compete in today's economy, and ensure that the 41st Ward and the city of Chicago continue to be a great place to raise a family, build a business, and grow old.
What does this office do well, and what needs fixing? 
I think the current alderman's office does the bare minimum of what would be expected: Picking up trash, well. Anything beyond this, even showing up for required meetings, seems to be a struggle. Since being reelected in 2019, the alderman has missed at least 70 scheduled meetings and has repeatedly failed to show up for and deliver results to ward residents. 
Our streets remain covered with snow, sometimes a week after a storm, and are riddled by massive potholes. Communication and collaboration with community members and interested stakeholders is substandard. The alderman's office stands as a bulwark against improvements that could positively impact the lives of ward residents and an impediment to changes, like lead service line replacement, banning flavored tobacco products, and enforcing speed limits that would make ward residents safer. In addition, the current alderman has proven largely incapable of achieving results for ward residents and passing legislation at City Council. The office needs to be more responsive to constituent concerns, more available, and more willing to put in the work to bring resources back to the 41st Ward.
What is the most pressing issue facing your constituents and how do you plan on addressing it?
The most pressing issue facing the 41st Ward is rising crime and declining public safety. To make Chicago safer, it is imperative that the City Council take a multipronged approach that focuses on improving policing and addressing long standing issues facing at-risk communities.
In this campaign, I have called for the city to fill officer vacancies and fully staff the police department as quickly as possible. This would increase deterrence, improve response times, and ensure appropriate staffing citywide while decreasing the need for mandatory overtime, which has overburdened officers and their families in recent years. Additionally, more officers should be promoted to detectives, lessening caseloads and increasing clearance rates by allowing sufficient time for investigation. The department should invest in technology, like license plate readers, to assist in the tracking and arrest of carjackers and other violent criminals.
I also support improving officer training, improving mental health services city wide, and to the extent possible, safely transitioning mental health crisis response to mental health providers and multidisciplinary teams that can connect people in crisis with appropriate services while allowing officers to focus on deterring and solving crime.
Policing alone cannot solve this problem, however, as the city also needs to address the longstanding issues that fuel violence by appropriately funding violence interruption programs; improving employment opportunities for young residents of underserved communities; providing CPS students with the education and training necessary to compete in the 21st century economy without a college degree; and ensuring that sustainable job opportunities can be accessed from any neighborhood through reliable, safe, and affordable public transportation.
What specific steps would you take to ensure your office is accessible and responsive to your constituents?
I will make my office accessible by always showing up and making myself available. My opponent has missed nearly a quarter of required City Council meetings, and I am seeing and hearing the repercussions of his absence across the ward. At the same time, his office is unresponsive to constituent concerns.
Decisions are still being made at City Hall, the only difference is that our neighborhoods are not getting a say. The 41st Ward needs an alderman who will show up, is responsive to, and will do the  work to address constituents' concerns and to build a better future for our neighborhoods.
Do you believe in the tradition of aldermanic prerogative, which gives each City Council member the final say on issues in their ward?
The current system of aldermanic prerogative is broken and is too often used by members of City Council to try to score political points rather than achieve results for ward residents. I do, however, believe that each alder knows his or her ward better than anyone else can be expected to, as such their voice should remain as a strong signal to other members of the City Council and to the Mayor about projects within their wards.
Should the $1.9 billion budget for the Chicago Police Department increase, stay the same or decrease?
The Police Department should be provided with necessary resources to ensure that the department is fully staffed, that officers are properly trained, have sufficient time off, and are not required to spend their summers working mandatory overtime. I also support funding necessary technology to assist in the investigation of crime, safely moving mental health crisis response to multidisciplinary teams trained in responding to mental health crises so officers have more time to focus on the task of solving crimes, and ensuring that officers have prompt access to quality mental health services when they are needed, rather than months later as is too often the case.
Should the city raise the Real Estate Transfer Tax on properties sold for more than $1 million to fund programs to help unhoused Chicagoans?
Homelessness is a moral issue and something that we will likely have to raise revenue to address. To that end all potential revenue streams should be considered, particularly those that are progressive, and do not add to the tax burden of working class Chicagoans and average Chicago homeowners. Any revenue decisions, in this, or any other area should be made with a fine toothed comb to make sure that the burdens of additional taxation do not outweigh the benefits that any additional revenue could create. 
Should the city open and operate mental health clinics to provide free care to Chicagoans?
Yes. Unaddressed mental health issues underlie many of the problems that our city is facing, including chronic homelessness and rising crime. Opening and operating responsive mental health centers can provide necessary care to those who need it.
How should Chicago build the 120,000 homes it needs for low- and moderate-income Chicagoans?
We should consider all potential options for increasing housing stock with a focus on those options that do not significantly change or disturb the fabrics of our neighborhoods, such as the accessory dwelling unit pilot program.
What do you see as potential solutions to address the number of shootings in Chicago?
To address violence and particularly shootings in Chicago, we need to take an all-of-the-above approach. A major driver of gun violence in Chicago is easy access to guns from nearby Indiana. Given the current makeup of the United States Supreme Court it is likely that easy access to guns from Indiana will continue to pose challenges for the city. As such, it is imperative that we as a city do what we can to address these issues within Chicago. This starts with providing the resources and manpower necessary to allow for adequate investigation into, improved clearance rates on, and hopefully increased convictions for gun crimes.
However, policing alone cannot solve Chicago's problem with gun violence. The city also needs to address the longstanding issues that fuel violence by appropriately funding violence interruption programs like CRED and READI, improving employment opportunities for young residents in underserved communities, providing CPS students with the education and training necessary to compete for good high paying jobs without a college degree, and ensuring that well paying jobs can be accessed from any neighborhood through safe, reliable, and affordable public transit.
Should city employees continue to be required to live in Chicago?
Yes.