For the fifth year running, the Chicago Bulls rolled out their BMO Artist Hat Series in December: six limited-edition hats featuring local artists' spins on the team's iconic logo. Hats are then given away to fans at select games and sold as a set with proceeds going to charity.
Among this year's hats was a Mexican-tinged design created by photographer, artist and Chicago native Abel Arciniega.
"The Bulls in the '90s — if you're a Chicagoan, you know what it was if you were lucky enough to be around," Arciniega said. "I was lucky enough to see Michael Jordan play two games as a kid, and both games I remember him hitting that game-winning shot and it was just obviously incredible."
Arciniega said that a lifetime of Bulls fandom inspired him to enter a submission to this year's contest.
"You pretty much submit your art and hope they call you back," Arciniega said. "And I got the call from the Bulls directly that they really liked the piece. I was like, I've loved the Bulls forever. So to have my little grain of sand in the history of the Bulls is amazing."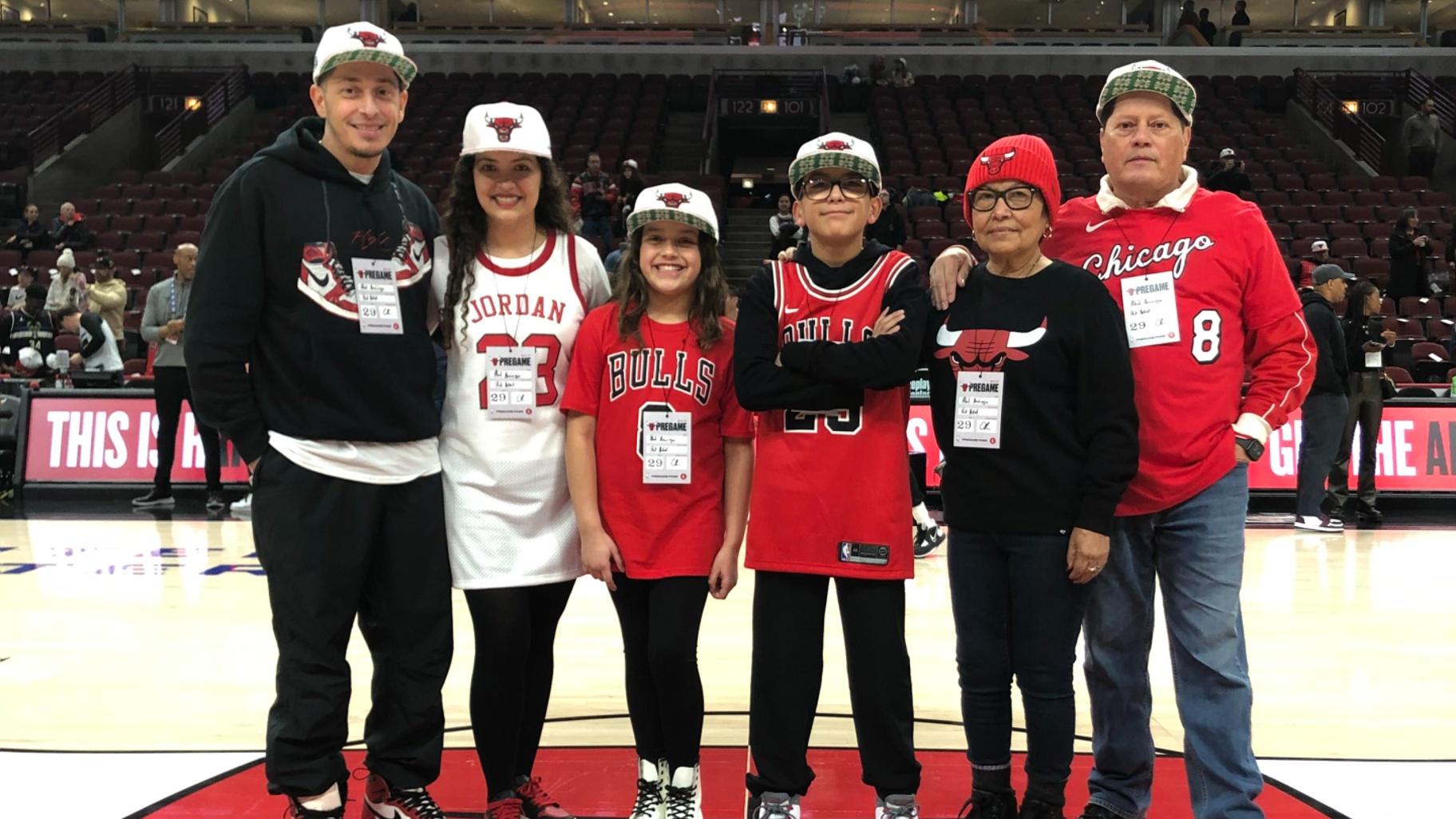 (Courtesy of Abel Arciniega)
His design features a graffiti-styled "Los Toros" on the cap's side, which he said came from another lifelong love.
"I grew up in the '80s, I was born in '75," Arciniega said. "In the early '80s, it was Beat Street, Breakin', Wild Style — the three movies that I think shaped who I was going to be in my life. So I think it's been in me since I was a kid."
The classic Bulls head logo and the underside of the hat's brim are adorned with distinctly Mexican embellishments.
"Chicago is a beautiful city," Arciniega said. "There's so much Mexican culture here. Anywhere you go, there's influence of Mexico — the food, the art, the culture, the people. Los Toros, the Bulls, have been big in Hispanic community, especially after the '90s when Jordan and Rodman were running the show. The Chicago Bulls logo, the actual head, is one of my favorite logos. It's just so clean, and I'm not being biased because I'm from Chicago, but it really is a beautiful logo. So I didn't want to change too much of the logo. I just wanted to kind of incorporate some of the illustrations that I do, which are Mayan and Aztec, … to spice it up a bit."
The "Los Toros" hats were given to fans attending the Bulls game on Feb. 16, an event Arciniega said was "something out of this world" to experience.
"It was really nice to see kids rocking the hats," Arciniega said. "The beauty of seeing all races wearing an Aztec Mayan-driven hat was something that I will always remember. To see it come to life and out in the world is super cool."
---