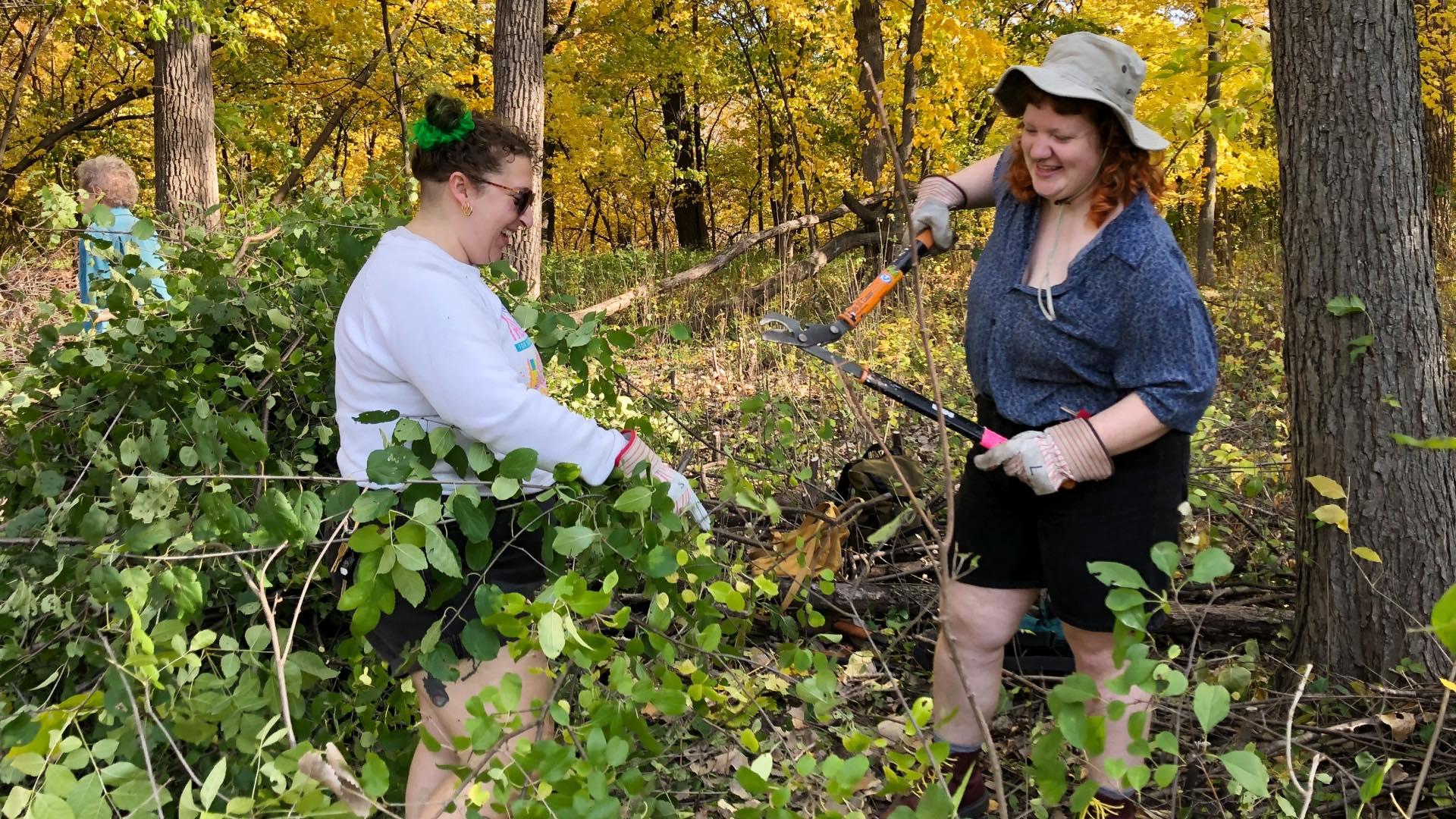 Volunteers at LaBagh Woods help remove invasive buckthorn. Chicagoans might be surprised to learn which other popular ornamental plants are invasive. (Patty Wetli / WTTW News)
It's National Invasive Species Awareness Week. Think you would know an invasive species if you saw one?
Sure, sea lampreys are pretty hard to mistake for anything other than a nightmare. But plenty of other invasives are hiding in plain sight.
Like this one.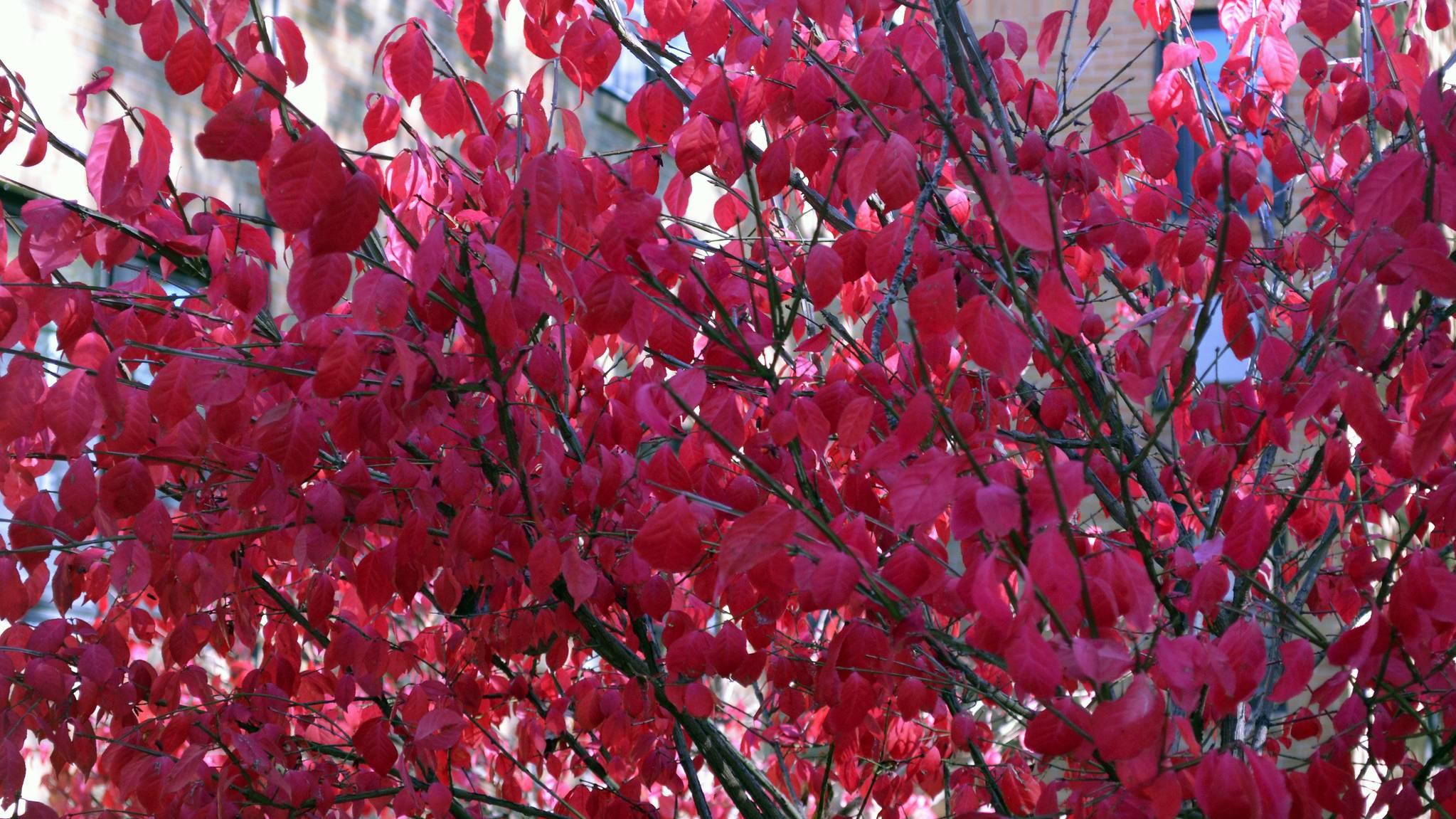 Burning bush has already been outright banned in some states. (U.S. Fish and Wildlife Service Midwest Region)
That's right. Burning bush, beloved by landscapers and homeowners for its blazing scarlet color, is invasive, increasingly spreading to natural areas in Illinois.
Minnesota has already declared the plant a noxious weed, giving growers until this year to phase it out. Though burning bush is still available in Illinois — heck, there's even a variety dubbed Chicago Fire — experts say to avoid it.  
Here's another surprise.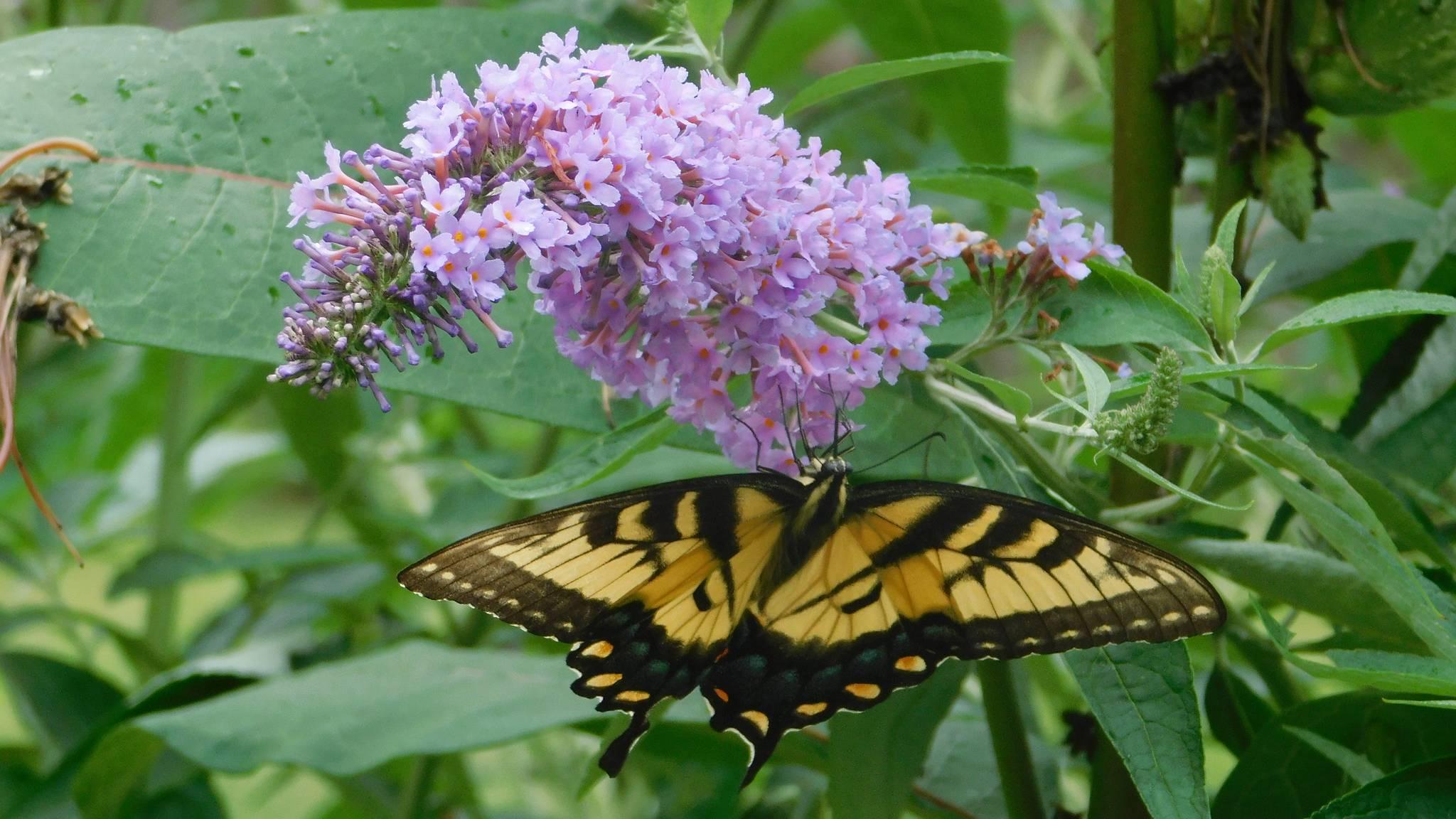 Butterfly bush seems eco-friendly. Don't be fooled. (jeannetteyvonne / Flickr Creative Commons)
Like a lot of ornamentals, butterfly bush readily makes the jump to natural areas, where it has a negative impact on wildlife.
"How can that be?" you ask. "It's called butterfly bush," you say. 
True, adult butterflies will dine on the nectar of the bush's admittedly lovely flowers. But the plant is of no use to their larvae, and if larvae have nothing to eat — no more butterflies. The better choice would be to plant natives like joe-pye weed, hyssop or milkweed. 
OK, one more: How about this guy?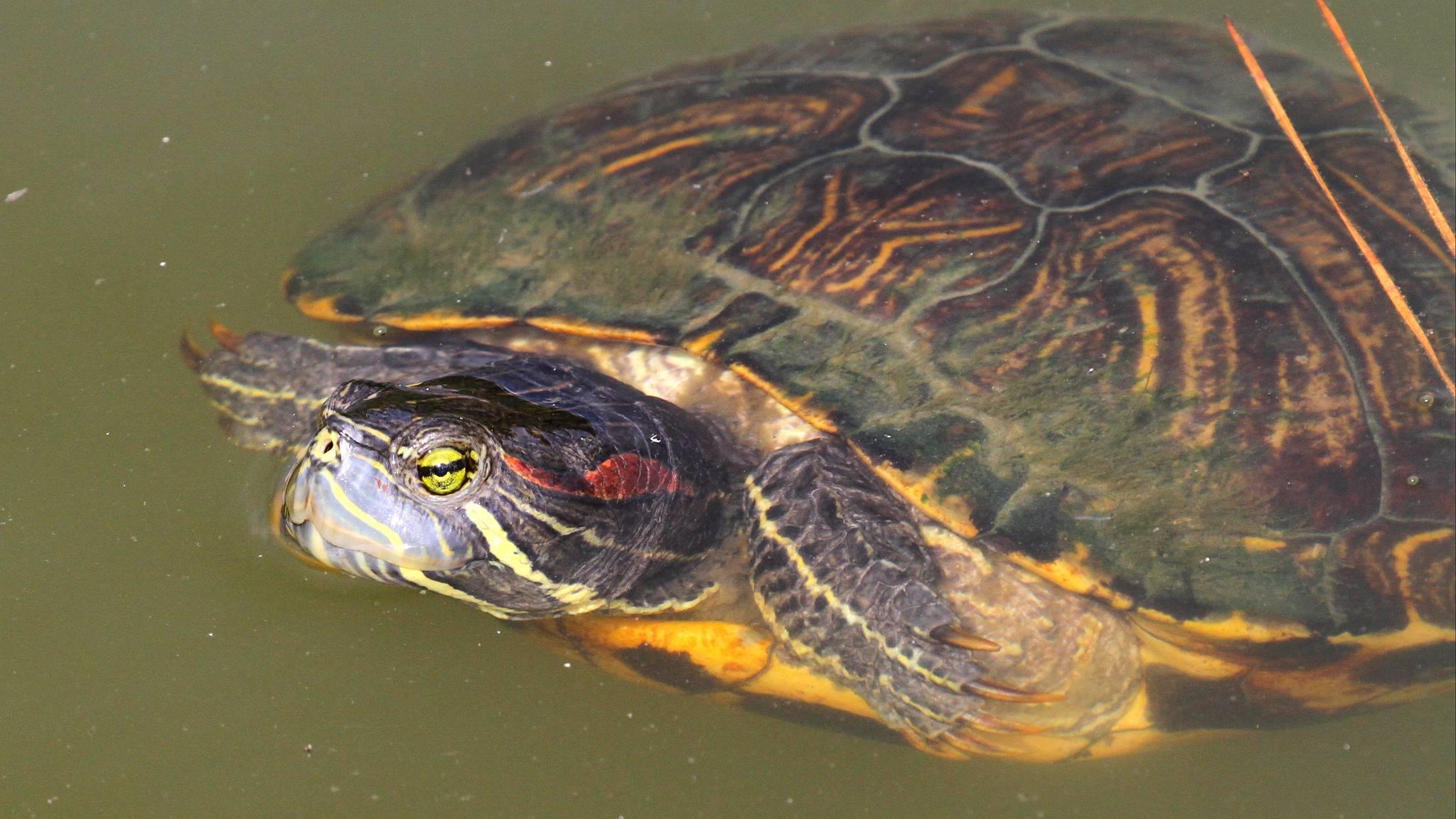 The red-eared slider turtle is on international "least wanted" lists. (abbeyprivate / Flickr Creative Commons)
Trick question! The red-eared slider turtle is native to the Mississippi River valley, from Texas to Illinois. But it's a disaster in other parts of the country and around the globe, where it's been labeled one of the world's 100 most invasive species. So how did these turtles wind up on the "least wanted" lists of countries like India and Canada?
The pet trade. Red-eared sliders are popular as pets, until they grow to full size, become more difficult to care for and wind up getting dumped into ponds, streams or even storm sewers.
For more information about invasive plant species in Illinois, check out this guide developed by Southern Illinois University, Morton Arboretum and the University of Illinois Extension campus.
And just as a reminder:
Today for National Invasive Species Awareness Week, we highlight the invasive sea lamprey, which entered the Great Lakes through shipping canals and has decimated economically important fish populations. #NISAW https://t.co/NMBD8NRoy4
Photo USFWS pic.twitter.com/vudTQBhzcD

— USFWS Fisheries (@USFWSFisheries) February 24, 2023
---
Here's what else caught our attention this week on the nature and environment beat.
Wildlife
New Yorkers are supposed to be a jaded bunch, but they've totally lost their cool over Flaco, the Eurasian eagle-owl who escaped (some would say was liberated from) his long-time enclosure at Central Park Zoo earlier this month.
Savvier than his keepers gave him credit for being, Flaco managed to elude recapture and is now living his best life hunting rats in Central Park, where daily crowds gather to document his every move (like the time he coughed up a pellet, below).
Yeesh, you'd think these people had found an alligator in a lagoon or something.
While Flaco's flight to freedom has been the feel-good distraction many were clearly desperate for in these ever-anxious times, the resulting photo frenzy has also fanned the flames of the ongoing debate within the birding community over owl watching.
Flaco the owl coughs up a pellet in front of his followers @BirdCentralPark pic.twitter.com/tBQEzl0F8E

— Oliver Gruber (@OlivertGruber) February 20, 2023
---
Pollution
The "forever chemicals" known as PFAS have been detected in hundreds of species of wildlife across the globe, from a ringed seal in Greenland to a pink-eared duck in Australia.
A new interactive map released by the nonprofit advocacy organization Environmental Working Group (EWG) reveals the extent of the spread of PFAS. The map draws on more than 100 peer-reviewed studies and compiles the results in a single location.
The U.S. is a glaring hotspot, but EWG President Ken Cook advised against jumping to the wrong conclusion that PFAS — found in products including food packaging, waterproof clothing and firefighting foams — are largely an American problem.
"There are still countless locations and species across the globe that are likely contaminated but have not yet been tested," Cook said. "PFAS pollution is a global problem. This map is just the beginning."
---
Alternative Energy
Oil rig platforms in the Gulf of Mexico could soon be joined by wind turbines.
This week, the Biden administration announced a proposal to open up areas off of Louisiana and Texas for offshore wind development, according to a report by CNN.
Wind power poses a conundrum for environmentalists who on the one hand promote its adoption in order to wean the U.S. off fossil fuels, but also acknowledge its threats to wildlife, particularly birds.
According to the Audubon Society, the Gulf Coast supports nearly half of North America's migrating birds — including the endangered Great Lakes piping plovers, which have become so beloved in Chicago. (Monty was a Texan.)
"Offshore wind leasing must fully consider habitats and the wildlife that rely on them to avoid significant impacts on bird populations across the U.S.," the Audubon Society said in response to the recent White House announcement.
---
Water
Recent downpours in California offered the state a chance to replenish its aquifers, but the opportunity slipped away in a sea of red tape, according to this report from The New York Times.
Critics say the state's water officials are overly cautious about allowing the rerouting of floodwater out of concerns it will deprive people downstream.
Said one engineer: "We're beyond that time when you can just fiddle around. I really do think the sky is falling."
---
Tweets of the Week
Enjoy this social media double shot, in keeping with this week's theme. 
During National Invasive Species Awareness Week we'd like to remind you to help keep zebra mussels where they truly belong. pic.twitter.com/xdrnhzS9q8

— Oklahoma Department of Wildlife Conservation (@OKWildlifeDept) February 22, 2023
---
Invasive plants and animals are SNOT a joke!
Find out what #InvasiveSpecies are,
how they threaten ecosystems, &
how you can help: https://t.co/Y82ahmAjuv#NotMiSpecies #NISAW #GreatLakes #InvasiveSpeciesAwarenessWeek pic.twitter.com/hgZZLlILcQ

— Michigan EGLE (@MichiganEGLE) February 23, 2023
---
Contact Patty Wetli: @pattywetli | (773) 509-5623 |  [email protected]