Eco-restoration projects come in all shapes and sizes, from healing tens of thousands of acres charred by wildfires to converting patches of non-productive farmland back to wetland. But a common problem shared by those doing the work, regardless of the form it takes, is the lack of available native seeds.
For a sense of scale, a restoration project at Orland Grassland in the south suburbs called for 5,000 pounds of native seed; Orland measures just under 1,000 acres. 
The native seed shortage has become enough of an issue that the U.S. Bureau of Land Management, which oversees 245 million acres, asked the National Academies of Science, Engineering and Medicine to study ways to develop a more sustainable seed supply.
Kayri Havens of the Chicago Botanic Garden — operator of the largest native seed collection program in the U.S. — was a member of the committee formed by the academies to tackle the seed challenge.
The group — officially the Committee on an Assessment of Native Seeds and Capacities — recently released its report, detailing a supply-and-demand conundrum that will require give and take from both landowners and seed growers to resolve.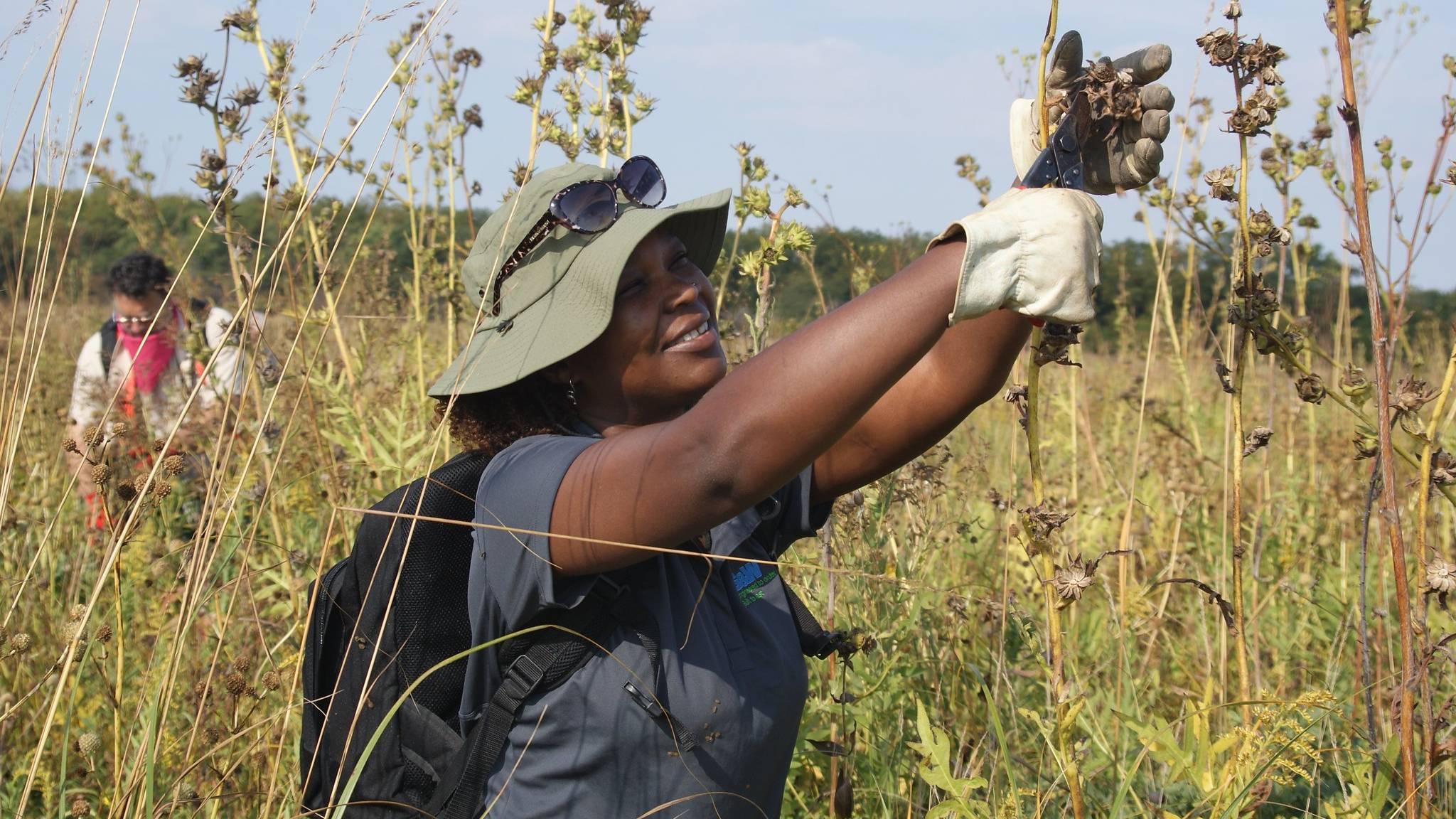 Volunteers harvest native seed at Midewin National Tallgrass Prairie. (U.S. Forest Service)
Restoration ecology is still a relatively new discipline, said Havens, so it's not surprising that it's suffering from growing pains. 
The biggest challenges that need to be addressed: The native segment of the commercial seed production industry is comparatively small and highly specialized, and volatile demand creates an uncertain market for the companies that are engaged in this sector.
Currently, wildfires drive a significant amount of demand for native seed, she explained, but there's no way to predict from one year to the next how many acres will burn. According to the National Interagency Fire Center, 4.6 million acres burned in 2019, a figure that soared to 10.1 million acres in 2020.
"Some of the things we looked at were 'How do we even out demand?'" Havens said.
One recommendation from the committee is for public land managers to commit to restoring a specific number of acres, even in non-fire years. That way, seed producers can ramp up supply without worrying they'll be stuck with excess seeds, Havens said, while at the same time, there's no shortage of degraded land that could benefit from restoration. (Indeed, it's the spread of an invasive species called cheat grass that's fueling wildfires in western states.)
On the suppliers' end, the committee said they need to expand the diversity of plant species included in their offerings. Too often, buyers have to make do with substitutions or with having key species perpetually unavailable, and that can affect the success of a restoration project. 
Admittedly, the recommendation is a tall order. Some natives are incredibly tricky to grow and harvest at scale. Violets, for example, are a vital host plant for the threatened regal fritillary butterfly. While violets "spread like crazy" in nature, attempting to grow them in a controlled setting for seed has been nearly impossible, Havens said.
To assist growers, the committee suggested the creation of a system much like the Department of Agriculture's in-house research agency, the Agricultural Research Service, which operates on a billion-dollar annual budget.
The service runs plant material centers that investigate how best to grow and harvest agricultural species. "We need something focused like that for native seed," said Havens. "Federal agencies need to share the risk with growers and help grow new crops of seeds."
These same agencies are already sitting on the primary source of seed — native plants in the wild. Setting aside acreage as seed reservoirs, and judiciously collecting and sharing seeds with growers to form "starter" stock would form the basis of a sustainable, public-private native seed industry, Havens said.
Such a program already exists, on a smaller scale, she said. It's called Seeds of Success, and the Chicago Botanic Garden is one of six non-federal partners. 
Agencies and growers have the knowledge to increase and improve the supply of native seeds, but too much work takes place in silos and there's a lack of consistent messaging, the committee said.
If there is an over-arching recommendation, it's for a national, interagency structure that could coordinate decisions about things like seed storage facilities as well as funding. 
Any improvements made at the national level will eventually trickle down to home gardeners, whose backyard native plantings also support biodiversity.
"If we can crack the nut for big federal agencies, it will work for all of us," said Havens.  
Contact Patty Wetli: @pattywetli | (773) 509-5623 |  [email protected]
---