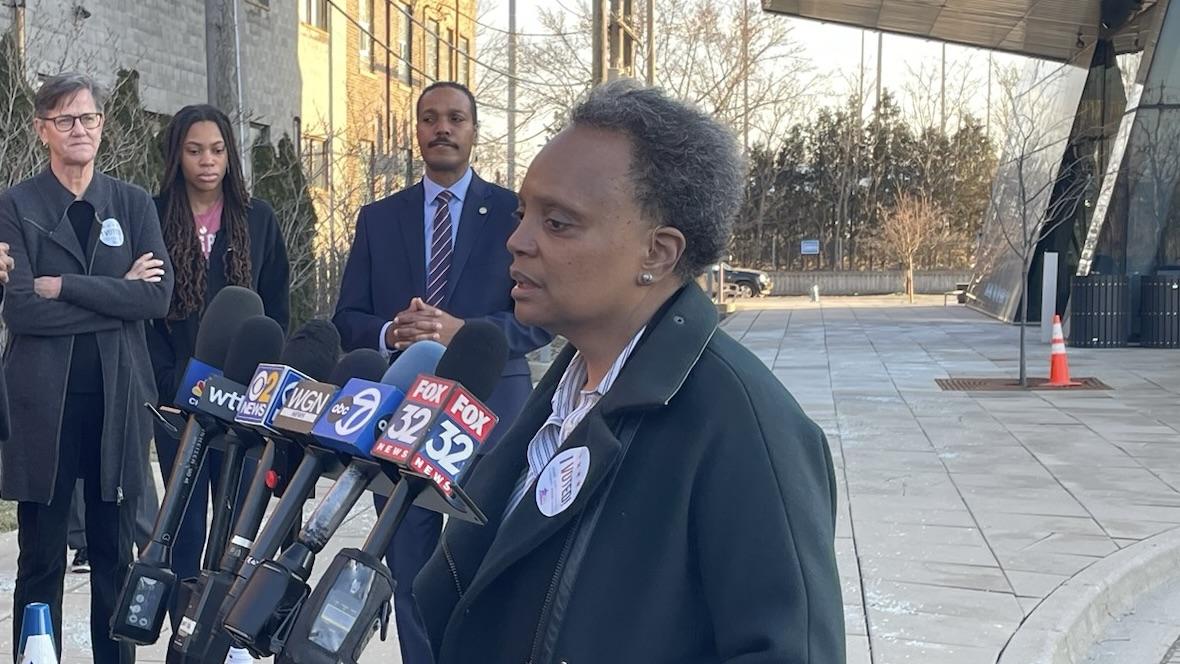 Mayor Lori Lightfoot fields questions from the news media on Feb. 20, 2023, after voting at Northeastern Illinois University. (Heather Cherone/WTTW News)
Chicago's history of racially divisive politics took center stage Monday, as Mayor Lori Lightfoot accused former CPS CEO Paul Vallas of "blowing the ultimate dog whistle" when he told a Southwest Side crowd that his "whole campaign is about taking back our city, pure and simple."
Lightfoot's remarks came after she cast her ballot at Northeastern Illinois University alongside her wife, Amy Eshleman, and daughter, Vivian, eight days before she asks Chicago voters to make her the first woman to be reelected Chicago mayor.
Vallas' remarks were first reported by the Chicago Tribune. 
"Four years of failure are catching up to Lori Lightfoot and she's desperately lashing out in every direction to cling to a spot in the runoff, even going as far as to suppress the vote if it helps her politically," a spokesperson for the Vallas campaign told WTTW News.
"Frankly, what it feels like, is it harkens back to the days of Bernie Epton, 'vote for Epton before it is too late," Lightfoot said. "We don't need that in our city."
Epton, a Republican, ran in the racially charged 1983 general election for mayor of Chicago, and nearly defeated Harold Washington, Chicago's first Black mayor.
"Take our city back, meaning what? To what time? And take our city back from whom?" Lightfoot asked.
Although her campaign and allied campaign funds have focused their attacks on Cook County Commissioner Brandon Johnson in recent days, Lightfoot said she believed the Feb. 28 contest had narrowed to a two-person race between her and Vallas.
While Lightfoot told reporters on Jan. 23 that she hoped to face Vallas in the runoff, Lightfoot said Monday that she was the "only candidate that saves us from Paul Vallas' right-wing dalliances" with people like Fraternal Order of Police Lodge 7 President John Catanzara and Florida Gov. Ron DeSantis, who is weighing a bid for the Republican nomination for president in 2024.
Lightfoot said it was a "certainty" that she would beat Vallas in a runoff on April 4 that will take place if none of the nine candidates for mayor get more than 50% of the vote.
Lightfoot's closing pitch to voters centers on her response to the COVID-19 pandemic, economic catastrophe, civil unrest and a nationwide increase in crime.
"I'm pleased we're trending in the right direction," Lightfoot said, again saying that Chicago emerged from the pandemic stronger than any other big city and vowing to work tirelessly to make Chicago the "safest big city in America."
Lightfoot acknowledged Monday she misspoke at a Saturday campaign event when she told people who don't support her not to vote. Every Chicagoan should vote because "our Democracy depends on it," Lightfoot said on Monday.
However, Lightfoot once again urged Black Chicagoans to support her campaign for reelection or risk losing the seat to Vallas, the only White candidate in the race, or U.S. Rep. Jesús "Chuy" García, the only Latino candidate in the race. The other six candidates in the race are Black.
Lightfoot dismissed a question from WTTW News about whether suggesting that a mayor who is Latino or a mayor who is White would do a poor job representing the Black residents on the West and South sides risked exacerbating racial tensions throughout Chicago.
"There is no other candidate that's on the ballot that has a shot at winning," Lightfoot said. "Dividing up the vote, as many have expressed concerns about, makes no sense. The only viable candidate of the Black candidates that are on ballot is me. I'm the only one who is in City Hall, I'm the only one who is going to stay in City Hall."
However, recent polls show Johnson, who is Black, neck-and-neck with Vallas, Lightfoot and García.
Despite her campaign's focus on Johnson, Lightfoot dismissed his chances of finishing first or second on Feb. 28.
Contact Heather Cherone: @HeatherCherone | (773) 569-1863 | [email protected]
---