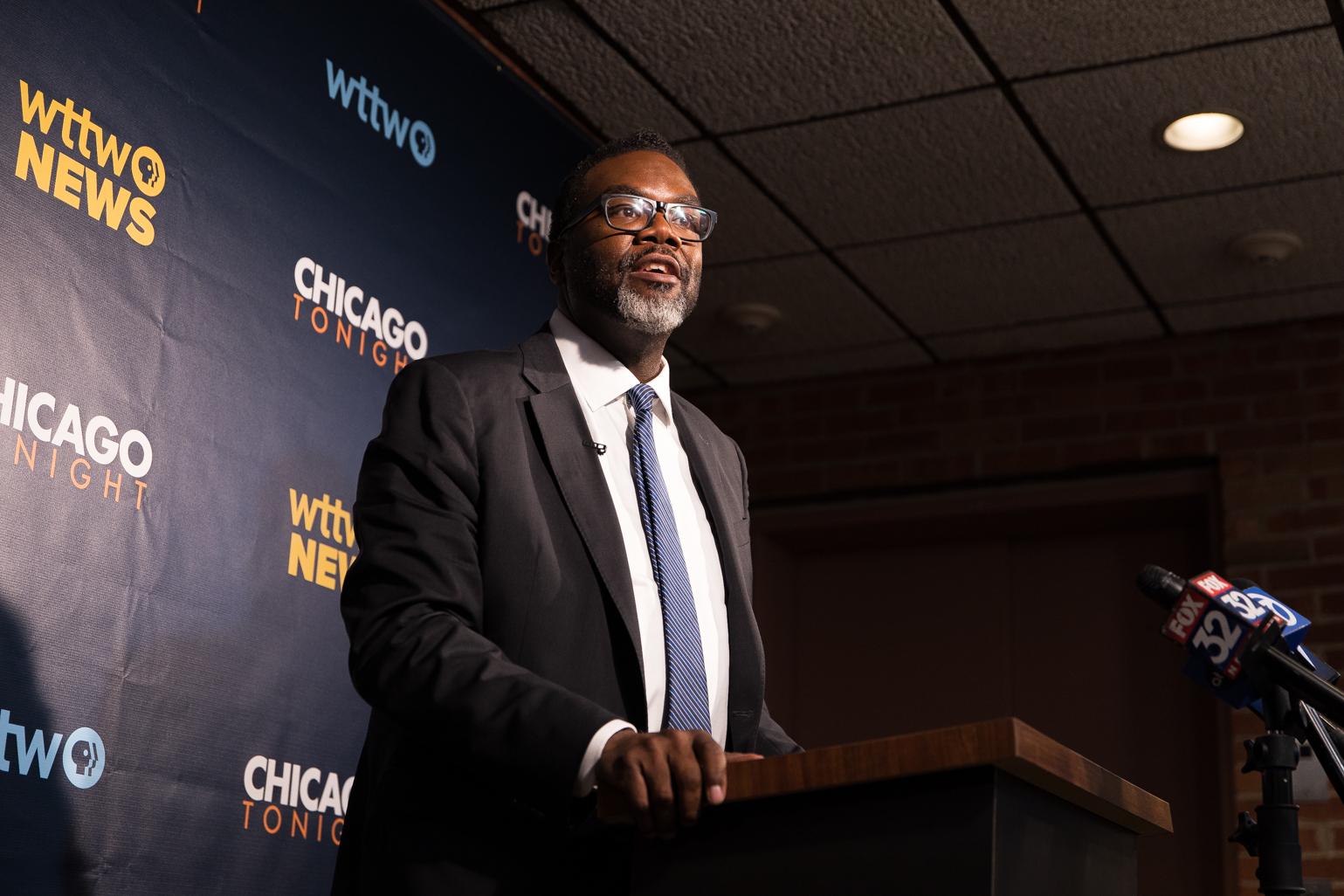 Cook County Commissioner Brandon Johnson fields questions from the news media on Feb. 7, 2023, after the WTTW News mayoral forum. (Michael Izquierdo / WTTW News)
With less than two weeks before Chicago voters head to the polls, Cook County Commissioner Brandon Johnson has found himself the focus of attacks not only from Mayor Lori Lightfoot, but two other progressive candidates for mayor: state Rep. Kam Buckner and activist Ja'Mal Green.
The attacks from Lightfoot represent a shift in her campaign strategy during the past three weeks. In late January, Lightfoot was publicly dismissive of Johnson's chances, telling a gathering in Wrigleyville that the Chicago Teachers Union's pick would not be mayor of Chicago.
But Lightfoot focused on Johnson during Monday's debate hosted by NBC5 and WVON, the last to feature all nine candidates for mayor, repeatedly saying that Johnson's plan to invest in programs to reduce crime without increasing the size of the Chicago Police Department would make Chicago less safe. Lightfoot has called Johnson, the son of a pastor, a "false prophet."
"If he's not willing to commit to not defunding the police, he's going to have less officers on the street, and our communities are going to be less safe," Lightfoot said.
Throughout his campaign, Johnson has disputed Lightfoot's premise that more police officers will directly translate into safer communities. Instead, Johnson has said he would expand the number of detectives by promoting 200 officers as part of his plan to "enact major policy shifts on day one of my administration for a more efficient approach to stopping violent crime."
Johnson, who lives in Austin, has repeatedly said that no other candidate for mayor has "more of an incentive for the city of Chicago to work for Black people than someone who is married to a Black woman, raising Black children on the West Side," and emphasized his lived experience as someone who lives in one of the city's most violent neighborhoods.
That triggered a broadside from Green during the NBC5 debate, who called Johnson a "fraud." On Wednesday, Green launched a separate website to drive that message home. Buckner's campaign has also frequently attacked Johnson, most recently during the debate for engaging in what Buckner called "the unhelpful game of division as though he's the only one who's been impacted by racism and inequities."
The attacks on Johnson come as his standing has steadily risen in polls released by rival campaigns and civic organizations, even as the race remains fluid. According to recent polls, any combination of Vallas, Lightfoot, García or Johnson could finish first and second on Feb. 28, but fail to get more than 50% of the vote and head to a runoff on April 4.
Johnson, who has represented Cook County's 1st District on the Cook County Board of Commissioners since 2018, said he welcomed his turn in the spotlight, telling the crowd at the debate that it was clear evidence he was now the race's front runner.
"I'm happy to have a multi-generational, multi-cultural movement that has obviously prepared me and has propelled me into front-runner status," Johnson said. "I appreciate the attacks because it's going to make Chicago stronger."
Lightfoot's attacks on Johnson have been amplified by approximately $100,000 worth of digital and mail advertisements paid for by a political action committee created by close allies of Lightfoot and fueled with cash from firms doing business with the city of Chicago, as first reported by WTTW News.
Lightfoot is neither the first Chicago mayor nor the only candidate in this year's race to benefit from unlimited campaign cash raised and spent by outside groups. But this year's race for mayor is the first contest that outside political funds making what are known as independent expenditures have played such a prominent role.
In 2015, allies for former Mayor Rahm Emanuel formed a political fund like the one helping Lightfoot. The millions the group spent helped Emanuel turn back a bid from former Cook County Commissioner Jesús "Chuy" García. Now a member of the U.S. House of Representatives, García is running to oust Lightfoot.
In this year's race, the Chicago Leadership Committee is boosting Vallas' campaign. That group appears to be funded by a group registered in Philadelphia, according to Crain's Chicago Business.
A newly formed group called New Leadership for Chicago has spent approximately $200,000 on digital advertisements boosting García's candidacy. The committee's sole donor is New Leadership for Chicago Ltd., but it is not clear where the funds originated. The committee was created by Adam Gypalo, the vice president of Chicago-based Resolute Public Affairs, which worked for Emanuel.
The U.S. Supreme Court's decision to lift most limits on campaign spending in the Citizens United decision opened the door to these types of committees, according to campaign finance experts.
Contact Heather Cherone: @HeatherCherone | (773) 569-1863 | [email protected]
---