No matter where you celebrate the holiday before Lent or what you call it — Paczki Day, Fat Tuesday or Mardi Gras — it's usually a day celebrated by eating. And in New Orleans, where Mardi Gras is observed in high style, the Cajun-Creole classic po'boy sandwich is a must-have.
"A po'boy is a sandwich born out of New Orleans. It's been around roughly for about 100 years," said Chef Erick Williams, whose restaurant Daisy's Po-Boy and Tavern opened in Hyde Park last August. "The tale is that the original po'boy was a French fry po'boy. The story is really old — I couldn't nail down the exact origin of the name po'boy, but the statement that would be made in a pretty historic restaurant in New Orleans was as [striking] rail car workers would walk to get something to eat, … [restaurant workers] would yell, 'Another po'boy's coming up!'"
At Daisy's, Williams and his team serve traditional po'boys — a meat or seafood filling on a French roll with mayonnaise, lettuce, tomato and a pickle — as well as some with a twist.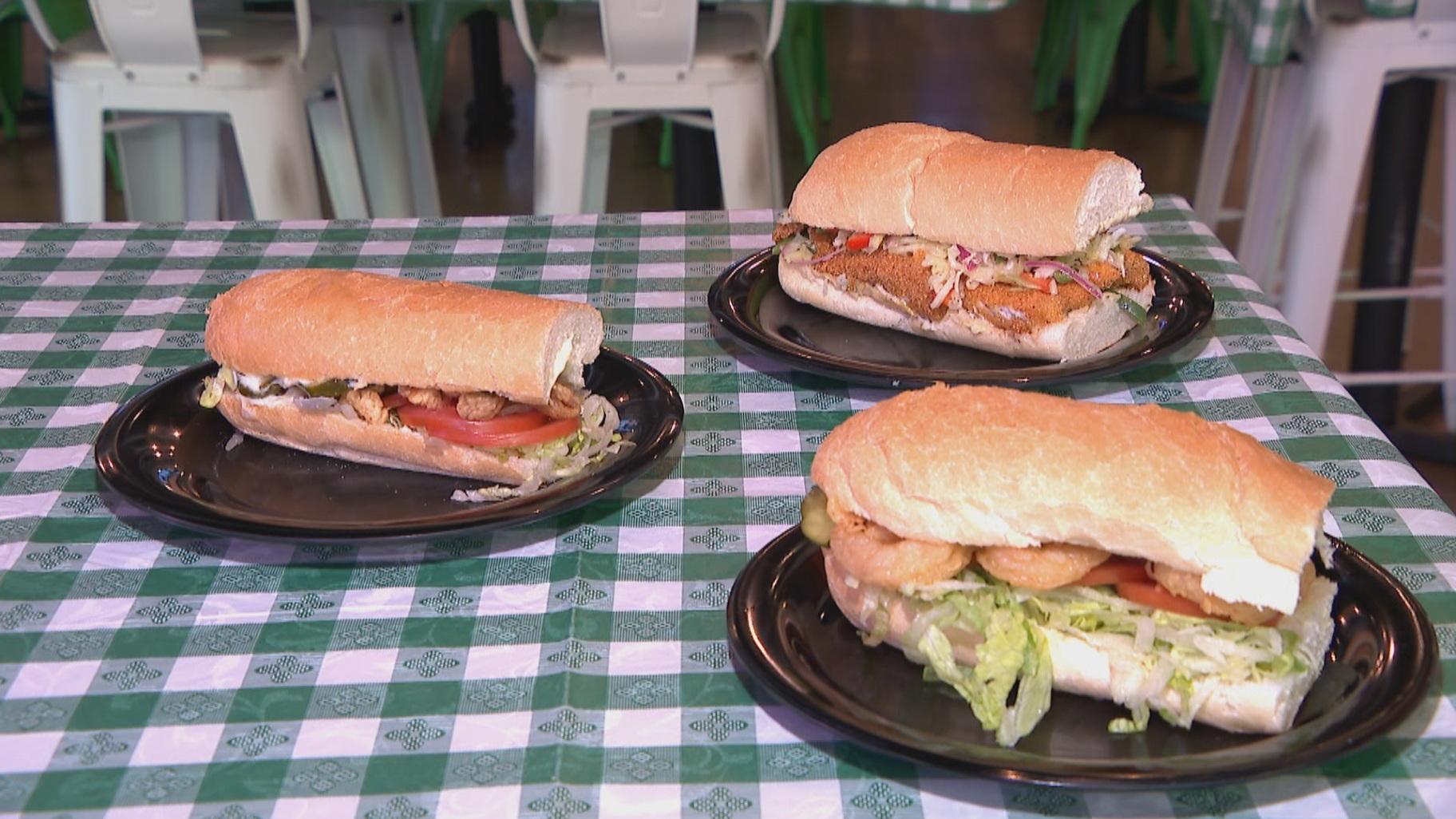 Po'boy sandwiches at Daisy's Po-Boy and Tavern in Hyde Park. (WTTW News)
"We do a number of traditional po'boys," Williams said. "They're predominantly seafood: shrimp po'boys, alligator po'boys. We do one that's not so traditional, which is a catfish po'boy, where the dressed version of it is with slaw."
The fast casual Daisy's Po-Boy is just around the corner from Williams' acclaimed Virtue Restaurant, where he offers Southern cuisine in a refined environment. Daisy's namesake was also the inspiration for Williams' interest in Cajun-Creole cuisine, he said.
"Daisy's came from my late aunt — that was her name — and she married a New Orleans man about five decades ago," Williams said. "We just thought [Daisy's] was a fun and beautiful way to pay tribute to some of the foods that are fast and festive and things that bring us joy. This will be our first Mardi Gras season. … We're going to serve a lot of hurricanes and a lot of great food and play the music loud and have a lot of fun."
---