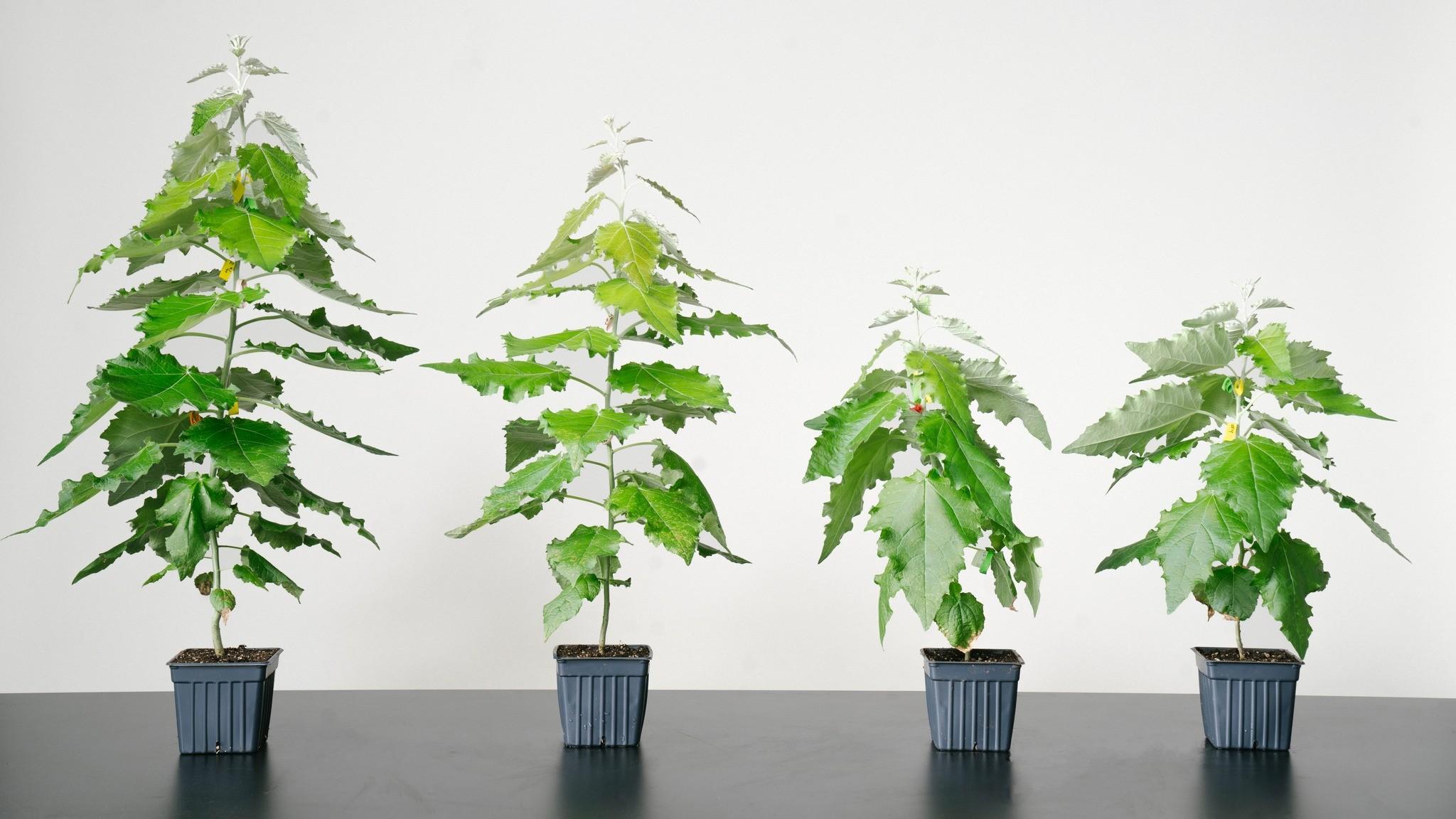 (Living Carbon)
A San Francisco-based tech startup has announced the launch of the latest tool in the fight to stave off the worst of climate change: genetically modified trees.
The company, Living Carbon, has begun planting its GMO poplar saplings in Georgia, using a "gene gun" to shoot foreign genes into the trees' chromosomes, the New York Times reported.
Living Carbon said its altered trees grow faster, and hence capture more carbon than trees working with what nature gave them.
The science is based on a breakthrough first reported by researchers at the University of Illinois, who borrowed genes from pumpkins and algae to get tobacco plants to grow bigger.
What the U of I team achieved in a lab is one thing; growing entire GMO forests is another. Plenty of skepticism exists within the scientific community about Living Carbon's process and chance of success.
Among those taking a wait-and-see approach: Donald Ort, leader of the U of I experiment, who called Living Carbon's lab results — which haven't been peer-reviewed — "encouraging, but they're not overwhelming."
Here's what else caught our attention this week.
Climate Change
Scientists have long theorized that mountain climbing may save certain plants from climate change. With just a slight shift upward in elevation, plants that grow in mountainous regions can find the cooler temperatures to which they've been accustomed.
Results of a recent study by researchers at Brown University found that plants are indeed migrating to higher ground, but not quickly enough. An analysis of mountain ranges in the U.S. showed that the movement of vegetation in New Mexico and the Sierra Nevada is keeping pace with temperature change, while movement is lagging in Colorado, Utah and Wyoming.
The downside for vegetation that's staked a claim to the highest elevations is these plants could face competition for their rarefied habitat from upwardly mobile neighbors.
---
Contamination
In the wake of the Norfolk Southern train derailment in Ohio on Feb. 3, people are paying more attention to vinyl chloride, the hazardous chemical residents of East Palestine are now concerned is poisoning their water and air.
If vinyl chloride, which is used to make PVC plastic, sounds familiar, that's because the chemical was at the center of a controversy in Crestwood, Ill., where it was found to have been contaminating drinking water for decades. Lawsuits ensued, and a settlement was reached in 2015.
The volatile compound can leach from landfills into groundwater — which is what happened in Crestwood — but also poses a danger to people who experience prolonged exposure to the chemical as it enters the air surrounding plastic manufacturing plants.
---
Great Lakes
A border crossing has just opened between the U.S. and Canada, but cars and trucks are banned from the route. That's because it's an ice bridge.
The 12-mile span connects Drummond Island in Michigan to St. Joseph Island in Canada. As of Feb. 13, U.S. Customs and Border Protection officials said the ice is thick enough to safely cross via snowmobile, sled, bike, skis or snowshoes.
Residents from both islands set out from from their respective end points, burying pine trees as they go to mark the bridge, until they meet in the middle. How this isn't already a Hallmark movie is beyond us.
---
Tweet of the Week
Maybe you heard something this week about the "Doomsday Glacier" and global sea-level rising, but didn't quite catch the gist of the news. Here's a 60-second recap, courtesy of oceanographer Peter Davis, who conducted the research and is an authority on the subject even if he does pronounce glacier like "glassy-air."
"Despite small amounts of melting there is still rapid glacier retreat - so it seems it doesn't take a lot to push the glacier out of balance."

Dr Peter Davis gives a rapid rundown of what the new #ThwaitesGlacier science means.

Read the full story https://t.co/eD1fnZgcnC pic.twitter.com/wbPlG11sPK

— British Antarctic Survey (@BAS_News) February 16, 2023
Contact Patty Wetli: @pattywetli | (773) 509-5623 |  [email protected]