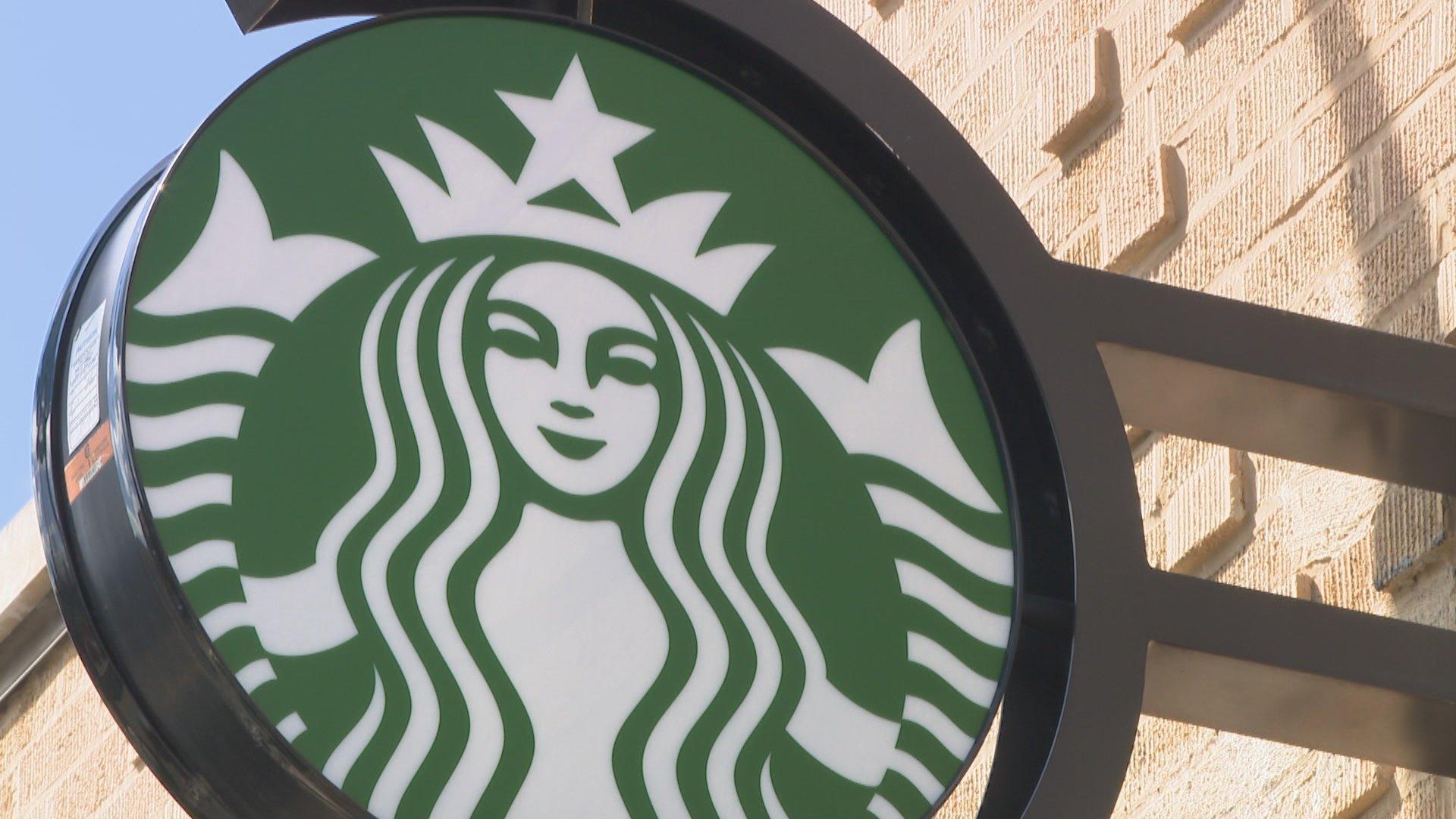 (WTTW News)
Workers at the Greektown Starbucks located at Monroe and Halsted streets announced their intent to unionize Tuesday, the latest Chicago-area location to join a nationwide push that's been ongoing for more than a year.
"It's a collective effort to make our workplace, and our entire community, better for all of us," said employee Russell Dahlman. "Our store motto is to be a safe, connected part of the community where everybody is welcome, and that has not been the case up until now."
Dahlman said company management told workers several months ago that they should discourage people who aren't paying customers from using the restroom or spending any time in the store — an issue Dahlman said affects many community members who are living with homelessness, as well as disabled people and people of color.
"That is creating more confrontation and also withholding a vital resource to that person," Dahlman said.
The Greektown workers' announcement comes on the heels of Starbucks workers at Old Orchard Mall in Skokie and the location near Main Street and Chicago Avenue in Evanston voting last month in favor of joining Starbucks Workers United, an SEIU affiliate.
Those two successful union elections bring the total number of unionized Starbucks coffee shops in the Chicago area to 11. Within the city, two locations in Edgewater and one each in Bucktown, Hyde Park, Lakeview and North Park have voted for union representation. In addition to the locations in Skokie and Evanston, Starbucks stores in northwest suburban Cary, west suburban Elmhurst and north suburban Glenview have also unionized, as have downstate coffee shops in Carbondale and Peoria.
A third Starbucks location at Bryn Mawr and Winthrop avenues in Edgewater voted to unionize but was shuttered by the coffee giant in October. A Starbucks spokesperson said it was due to ongoing safety issues, but organizers and their supporters said it was a tactic to weaken the union.
Unionization votes have failed at Starbucks coffee shops in Logan Square, the Loop, Willis Tower and west suburban La Grange.
Starbucks locations in 36 states have voted to unionize, according to the National Labor Relations Board. The NLRB has administered 356 elections, 80% of which went in favor of unionizing.
The NLRB has also charged Starbucks with a slew of labor law violations. Organizers said the company has pushed back aggressively against unionization, and accuse Starbucks of harassing, intimidating and illegally firing organizers. The company has consistently denied claims of union busting.
"I think that as long as we are supportive of one another that we can power through," Dahlman said. "Starbucks only works because we work."
Union backers have for months accused the company of failing to bargain in good faith with locations that have voted to organize.
Madison Lisle, an organizer with Workers United, said the company has refused to allow employees — known as partners — to join bargaining sessions via Zoom.
"As unionized partners, they have the right to choose who's in those bargaining sessions," Lisle said.
Organizers have filed charges with the NLRB accusing the company of failing to bargain.
"At those stores where our partners have chosen to petition for union representation, we have fully honored the process laid out by the NLRB and have worked to ensure that partners can trust the process is fair, their voice is heard, and that the outcome is accurate," a Starbucks spokesperson told WTTW News in a statement. "Counter to the union's claims, Starbucks has come to the table in-person and in good faith for more than 85 single-store contract bargaining sessions since Oct. 2022. At each contract bargaining session with Workers United, we have been met by representatives who insist on broadcasting them to unknown individuals not in the room and, in some instances, have posted excerpts of the sessions online."
"Partners are continuing to fight on the shop floor and to coordinate nationally to act in lockstep with each other," Lisle said. "Nobody assumed that this was going to be an easy fight. Luckily, the partners in Illinois are extremely strong."
---