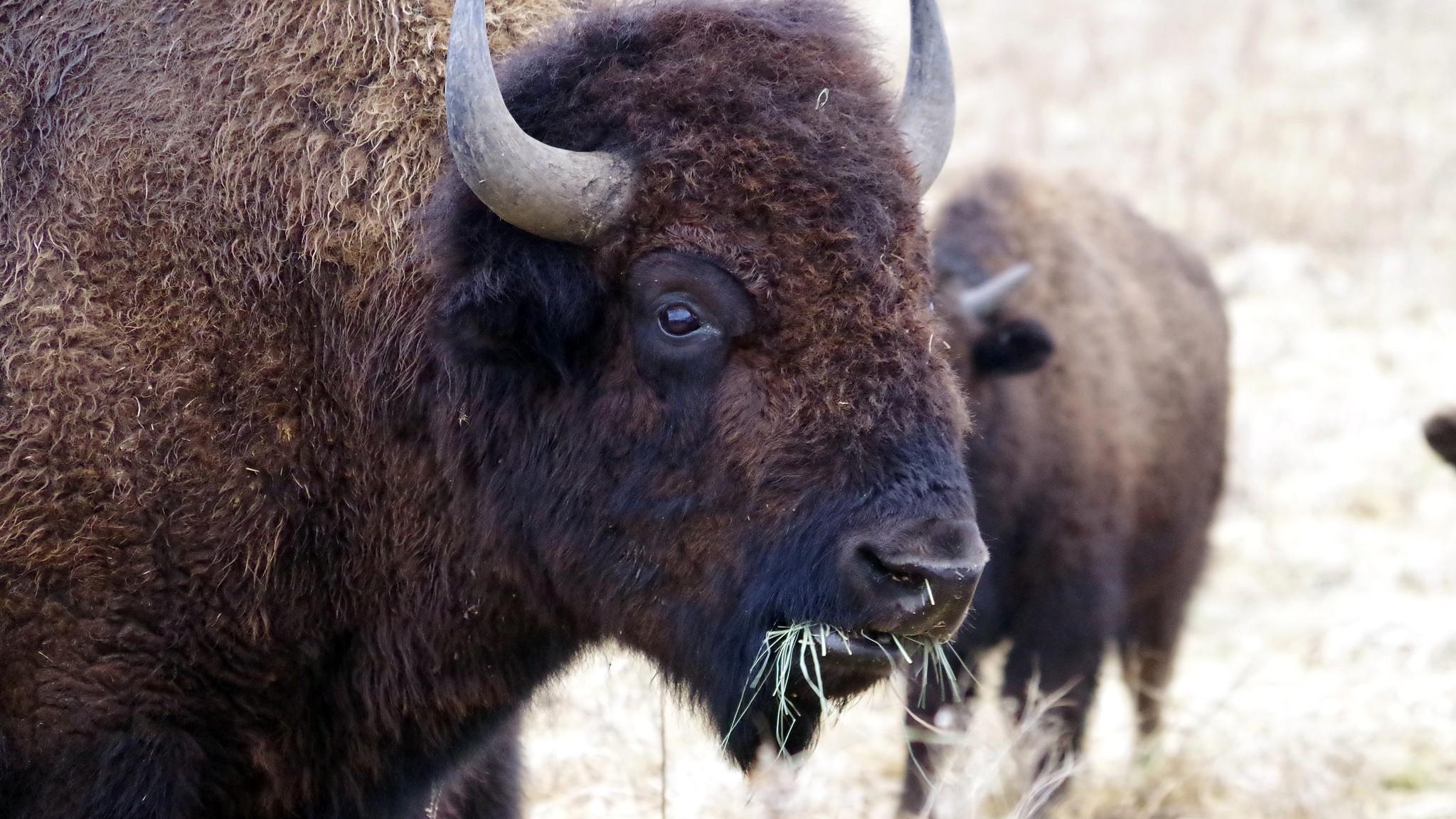 Bison are the largest land mammal in North America. (U.S. Fish and Wildlife Service Midwest Region)
Herds of bison have been reintroduced to great fanfare at several eco-restoration sites in the Midwest.
You know who's not jumping for joy? Mice.
New research published in the journal Ecology focused on the herd at Nachusa Grasslands in Franklin Grove, Ill., and discovered an unexpected consequence of the bisons' presence. Namely, that it leaves smaller mammals like mice and voles with nowhere to hide. 
As the bison chow on prairie vegetation, which is beneficial for prairie plant ecosystems, they are letting in more light — not just during the day but also at night. And night is when prey species like mice prefer to come out and eat, under the relative safety of darkness. 
The study, carried out by Northern Illinois University Professor Holly Jones' lab, showed that less vegetative cover equals more moonlight. And more moonlight markedly decreased the movement of mice. 
Deer mice were four times more active outside the bison unit, where plants are denser, during nights with peak moonlight, according to the research. 
"These megaherbivores thus create a big change from the perspective of small mammals," Jones said.
We feel ya, mice.
There's no hiding from climate news. Here's what else caught our attention this week.
Climate
The Biden Administration appears close to approving a plan by ConocoPhillips to drill for oil on federal land in Alaska, a decision activists have compared to dropping a "climate bomb."
Alaska Public Media has been following the controversy, which hasn't generated as much public outcry as previous proposals to drill in the Arctic National Wildlife Refuge. Because the drilling would take place in the National Petroleum Reserve.
"And if we can't produce oil resources within the National Petroleum Reserve — it causes one to question: Where?" Alaska Sen. Lisa Murkowski asked.
The project, dubbed "Willow" by ConocoPhillips, would encompass 219 wells and extract up to 600 million barrels of crude oil. Proponents, which include many residents of the region, say the project will bring jobs and potentially $1 billion to a state that depends on oil and gas operations for 80% of its revenues.
Opponents counter that the land may not be an official refuge, but it's still important habitat for migratory birds and caribou. They've also criticized President Joe Biden for reneging on a campaign pledge to end new federal oil and gas leases. There's also the matter of the 278 million metric tons of carbon dioxide the project is expected to emit over its 30-year life — equal to 66 new coal-fired power plants.
Flashback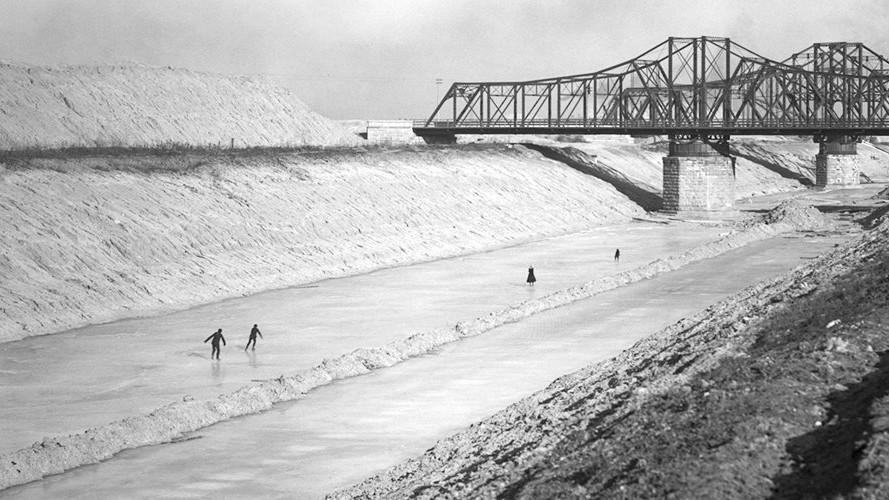 (MWRD)
Ah, remember the good old days when Chicagoans skated on the city's waterways like some Midwestern version of Amsterdam? We don't either.
The above photo is just one of the gems kept in the archives of the Metropolitan Water Reclamation District — an excellent source of historical images. The picture was snapped Dec. 30, 1899, and it captures skaters taking advantage of ice on the bottom of the not-yet-completed-and-flooded-with-wastewater Sanitary and Ship Canal. To orient yourself, that's the Kedzie Avenue bridge in the background.
---
Pollution
Pollution is even worse for the air than we thought.
According to new research coming out of the University of California-Riverside, pollution caused by gas-powered machines can change the composition of dryland soil to the point that it releases carbon.
Dryland soil, for what's it worth, covers 45% of the planet's land area and stores a lot of the world's carbon.
Here's what happens, according to researchers: Extra nitrogen expelled by cars, manufacturing plants and agricultural processes, among other producers, gets absorbed into the ground.
Nitrogen increases acidity, and soils attempt to compensate and achieve balance by releasing calcium. The trouble is, carbon hitches a ride with the calcium as it escapes.
Future studies are needed to determine how widespread this phenomenon is, researchers said.
But in the meantime, they noted, "We have to get a handle on air pollution."
---
Tweet of the Week
Pure Michigan. Sing it with us: "Snowman shark doo-doo doo-doo doo-doo...."
Forget snowmen...
Make me snow sharks. pic.twitter.com/5I4Wqva7vH

— Dzintra - Author (@DzintraSullivan) January 31, 2023
---
Contact Patty Wetli: @pattywetli | (773) 509-5623 |  [email protected]