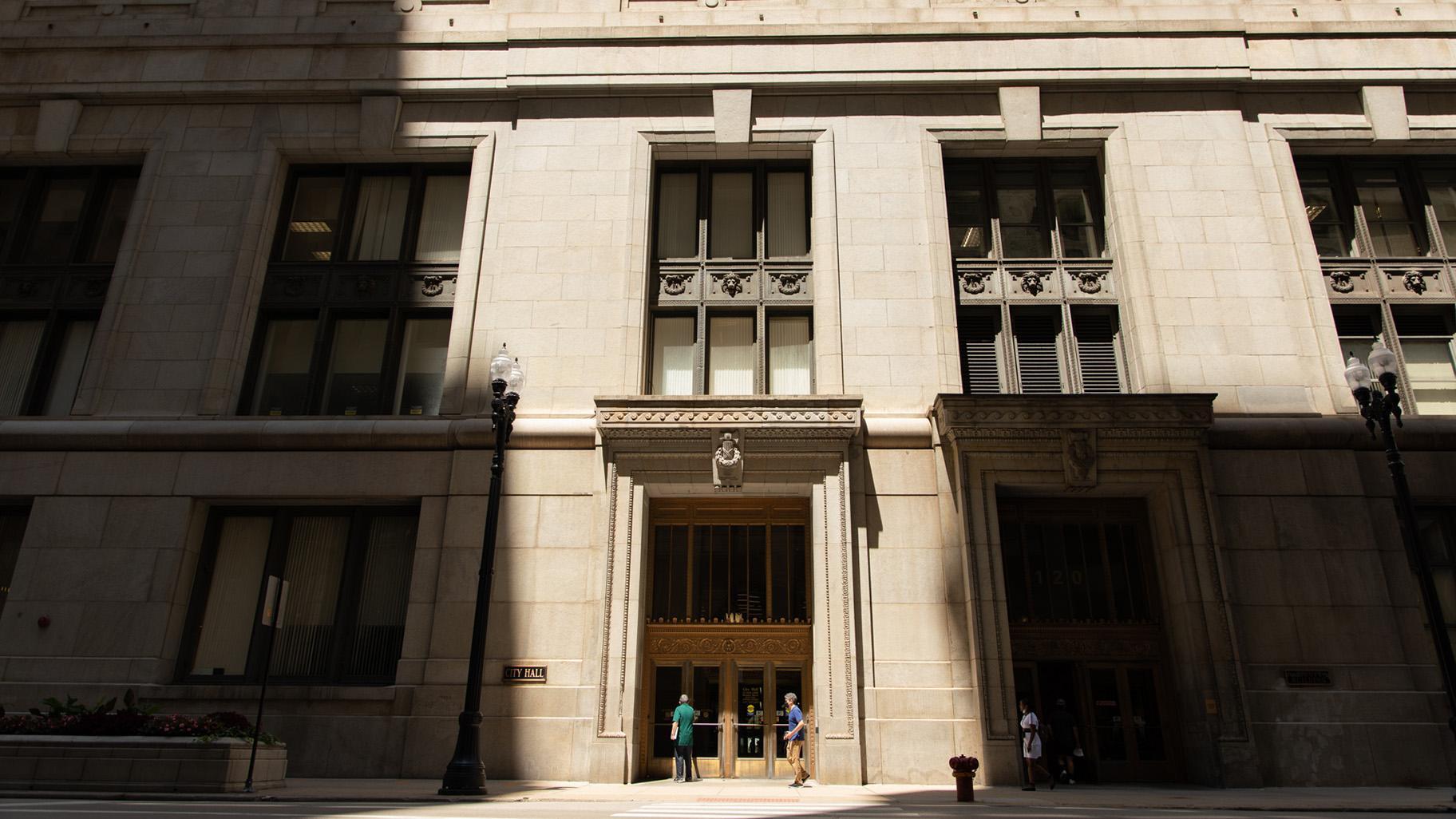 Chicago City Hall. (Michael Izquierdo / WTTW News)
Voters will have nine candidates for Chicago mayor to choose from when they head to the polls in less than two months, as the race for the city's top job enters its final phase.
The Chicago Board of Election Commissioners removed Frederick Collins from the Feb. 28 ballot on Friday, ruling that the Chicago police officer had not collected at least 12,500 valid signatures from registered Chicago voters to qualify for the contest. 
The board also removed consultant Johnny Logalbo from the ballot, ending his campaign.
That leaves nine candidates for mayor, including Lori Lightfoot, who is running to be the first woman reelected Chicago mayor. She faces activist Ja'Mal Green, Ald. Sophia King, state Rep. Kam Buckner, businessman Willie Wilson, Cook County Commissioner Brandon Johnson, former Chicago Public Schools CEO Paul Vallas, Ald. Roderick Sawyer and U.S. Rep. Jesús "Chúy" García.
Lightfoot appeared at a candidate forum for the first time on Saturday, fielding questions about issues facing Chicagoans with disabilities alongside García, Green, King, Buckner, Wilson, Johnson and Vallas at an event hosted by Access Living.
The format of the forum did not allow candidates to question each other, and all of the candidates spent the bulk of the event touting their own policies and introducing themselves to a packed room.
Vallas' candidacy got a boost late Friday with the endorsement of the Fraternal Order of Police, Lodge 7, the union representing more than 8,000 rank-and-file officers in the Chicago Police Department. Wilson and Vallas were the only candidates to seek the union's nod, union President John Catanzara said in a video posted to the union's Facebook page.
Catanzara said Vallas's experience, which includes a stint as budget director under former Mayor Richard M. Daley, gave him a "leg up" and would help him "lead this city out of the disaster it has become over the last four years."
Vallas said he welcomed "the endorsement of Chicago's finest, men and women of the FOP who sacrifice their lives to make our city safer. Reducing crime and making Chicago safer are my top priorities."
Vallas has said his approach to public safety would center on efforts to reverse rules that have "literally handcuffed" officers, "demoralizing" them and making "proactive policing" impossible. That will help fill the department's vacant positions by making the Chicago Police Department a more attractive place to work, Vallas said.
"It is really time to make criminal activity illegal again," said Vallas, calling for the city to "toughen" its approach to crime. "It seems that people can simply commit crimes with impunity."
While Vallas said his plan could be achieved while complying with the consent decree, his statements echo those of Catanzara, who has repeatedly blasted the federal court order as an impediment to public safety. Vallas served as an unpaid adviser to the police union during contract negotiations in 2021.
Catanzara resigned from the Police Department while the Chicago Police Board was weighing whether to fire him for violating nearly a dozen rules stemming from his inflammatory social media activity and false police reports he filed against a supervisor and former Supt. Eddie Johnson.
In addition, Catanzara initially defended the insurrectionists who stormed the U.S. Capitol on Jan. 6 and compared Chicago's vaccine mandate for all city employees to Nazi Germany.
Vallas said the consent decree is too often used as "an excuse" to avoid "proactive policing."
Vallas also called the department's policy limiting foot pursuits "convoluted" and an overreaction to "one incident." The policy was drafted after a police officer shot and killed 13-year-old Adam Toledo on March 29, 2021, and 22-year-old Anthony Alvarez on March 31, 2021.
Vallas also proposed exempting officers from the requirement that they live in the city of Chicago until after they complete their probationary period with the department, and also told reporters that some veteran officers should also be allowed to live outside the city limits.
Chicago police officers should also not be required to be vaccinated against COVID-19, as mandated by Lightfoot, Vallas said.
 "I don't want to punish public servants who have elected not to be vaccinated," said Vallas, accusing the mayor of "picking on Chicago police officers."
The surge of crime and violence that peaked during the COVID-19 pandemic but has yet to recede has imperiled Lightfoot's reelection bid.
More than 70% of voters rated crime and public safety as their No. 1 or No. 2 most important issue, with no other issue coming close, according to a recent poll paid for by the International Union of Operating Engineers Local 150, which has endorsed U.S. Rep. Jesús "Chuy" García.
In other action, the Chicago Board of Election Commissioners removed a number of candidates for City Council from the ballot, including all of the challengers running in the 7th and 44th wards. That means Ald. Greg Mitchell (7th Ward) is unopposed in his bid for reelection, and Bennett Lawson will replace his boss, 44th Ward Ald. Tom Tunney, who is retiring.
In the 42nd Ward, Ald. Brendan Reilly now has a clear path to a fifth term in office. Chris Cleary, his only opponent, withdrew from the race.
Contact Heather Cherone: @HeatherCherone | (773) 569-1863 | [email protected]
---