Mayor Lori Lightfoot halted plans on Friday to turn a shuttered school in Woodlawn into a shelter for immigrants bused to Chicago amid an uproar that has roiled the race for 20th Ward alderperson and exacerbated tensions between Black and Latino Chicagoans.
The mayor's office told WTTW News that officials "have not determined a firm date on when this space will open for shelter" but remains "committed to carefully balancing the needs of both our residents and new arrivals."
Since Aug. 31, 2022, a total of 3,854 immigrants have been bused to Chicago from Texas, with an additional 1,400 immigrants coming from other states, officials said. Since then, the city has set up 11 emergency shelters across the city. Lightfoot has asked state officials to send $54 million in emergency funding to the city to care for the immigrants.
The announcement came three days after Lightfoot defended her plan to open a shelter for some of the 1,500 immigrants in the city's care at the former Wadsworth Elementary School near 64th Street and University Avenue during an interview on WTTW's "Chicago Tonight," while acknowledging that Woodlawn residents had raised "legitimate concerns" about the plan.
Those concerns boiled over at a rally that took place outside the school on Thursday, where neighbors of the school said the immigrants should be sheltered in a predominately Latino neighborhood, not in Woodlawn, where the majority of residents are Black.  
That rally was organized by Jennifer Maddox, who is running against Ald. Jeanette Taylor to represent the 20th Ward on the Chicago City Council.
Taylor said her office will host a community meeting about the proposal at 6 p.m. Thursday at the Apostolic Church of God, 6320 S. Dorchester Ave. Taylor also said her office will meet privately on Monday with members of the Chicago Police Department to develop a safety and security plan around the proposed shelter.
Woodlawn residents are not anti-immigrant, but angry that Lightfoot's administration decided to open a shelter in a shuttered school without consulting them or developing a plan to ensure the safety of everyone in the area, Taylor said.
"The administration dropped the ball," Taylor said, calling the mayor's attempts to communicate with Woodlawn residents and her office "half ass."
"We asked them to do this with us and not to us," Taylor said. "We need sanctuary for all, not some."
Maddox, a former Chicago police officer honored for her work to create after school programs, said she blamed both Taylor and Lightfoot for the conflagration.
"I'm not against the migrants, but for the community," Maddox said, adding that she was concerned that the immigrants would face a language barrier and experience "culture shock."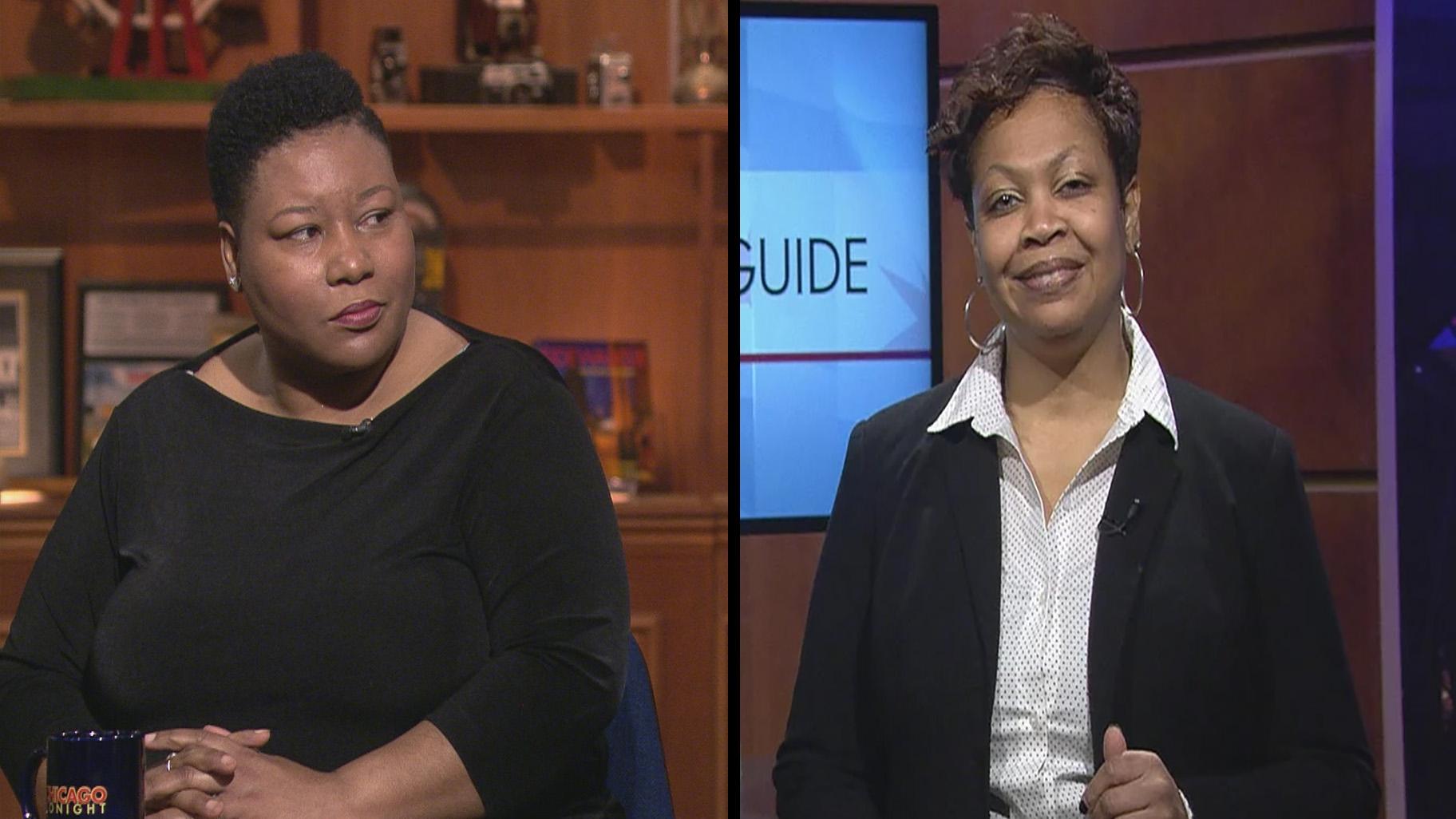 Ald. Jeanette Taylor, left, and Jennifer Maddox. (WTTW News)
Many of those who expressed anti-immigrant sentiment at the rally were speaking "out of emotion" after having been "backed against the wall," Maddox said.
Maddox said that many people resented the fact that city officials have spent $1.5 million to renovate the school, even as the mayor's office denied officials planned to use it as a temporary shelter for immigrants beginning in October.
"This is not a dictatorship," Maddox said, calling statements from representatives of the mayor that the shelter would open regardless of their concerns at a Dec. 28 community meeting "a slap in the face."
Taylor should have stopped the work to transform the school into a shelter, or at least informed the community, Maddox said.
"Where is the transparency?" Maddox said.
Taylor said she was prepared to "outraise and out organize" Maddox and defeat her for the second time in a row to win reelection, but acknowledged that the controversy would hurt her campaign.
"I'm not going to be the fall guy," Taylor said.
Representatives of the mayor did not respond to a question from WTTW News about whether Lightfoot was concerned about rising tensions between Black and Latino residents as a result of her proposal to transform a closed Chicago Public Schools building in a primarily Black neighborhood into a shelter for immigrants who came to America seeking asylum.
Taylor said the mayor is fully responsible for the racial tension now engulfing her community, and urged residents to focus their ire on Lightfoot and her administration, rather than each other.
"We can't allow this situation to divide us," Taylor said. "It shouldn't be Black against Brown. It should be all of us against the administration."
Contact Heather Cherone: @HeatherCherone | (773) 569-1863 | [email protected]
---