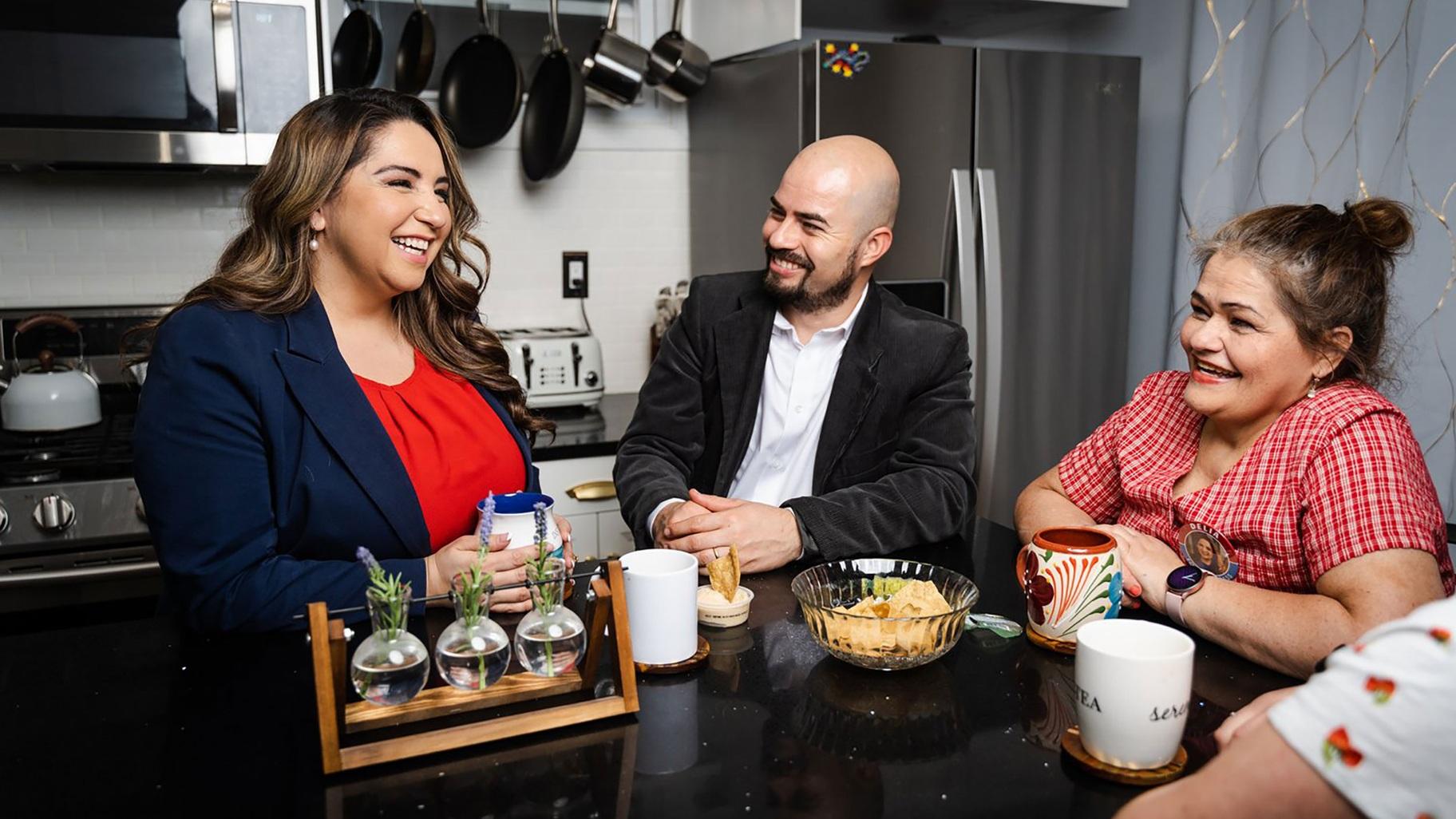 Delia Ramirez, left, with her husband, Boris Hernandez, center, and Ramirez's mother. (Credit: Raul Juarez / Congresswoman-Elect Dlia Ramirez)
(CNN) — Delia Ramirez walks toward the microphone determined to make her message heard.
"It is time — it is past time that we deliver on the promise that we have made to our Dreamers," she says.
On a crisp morning in early December, Ramirez is standing steps away from the US Capitol, with its white dome gleaming against the blue sky behind her. This is a rallying cry we've heard here time and again — but Ramirez hopes when she says it, the words will carry even more weight. This isn't merely a talking point from her campaign platform.
"This," the Illinois lawmaker says, "is very personal for me."
It's personal because if Congress doesn't act, Ramirez's husband could be among hundreds of thousands of people facing possible deportation. And it's personal because Ramirez herself is about to become a member of Congress.
She's called this news conference, flanked by several of her fellow incoming freshmen lawmakers and Congressional Progressive Caucus Chair Pramila Jayapal, a Washington state Democrat, to push for members of Congress to pass several key pieces of legislation while Democrats still control the US House. Among them: the DREAM Act, which would give a possible pathway to citizenship to some 2 million undocumented immigrants who were brought to the United States as children.
"I am the wife of a DACA recipient. I am the daughter of Guatemalan working immigrants. I know firsthand the challenges and constant fear our families live every single day," Ramirez tells reporters. "We have to end this."
That's far easier said than done, as decades of debate over immigration reform on Capitol Hill clearly show.
But Ramirez says no matter how many obstacles pop up in her path, she'll keep pushing.
She Draws Strength From Her Family's Story
As constant and controversial as conversations around immigration in Washington have become, many lawmakers weighing in don't have direct personal connections to the issues they're debating.
Ramirez, 39, has lived them her entire life.
Her mom was pregnant with her when she crossed the Rio Grande — a detail Ramirez made a point to include in a candidate bio on her campaign website, which notes that her mom went on to work "multiple low-wage jobs to give her children a fighting chance to escape poverty."
Ramirez says over the years some of her political opponents have tried to use details like this from her background against her, accusing her of being in favor of open borders and speaking dismissively about her family during debates. But Ramirez sees her family's story as a strength that's helped her connect with voters and better understand the issues that matter to her constituents.
"I didn't have to shy away from the fact that I'm working class and my husband's a DACA recipient, that I'm worried about how I'm going to pay for housing. That is the reality of so many people," she says. "And I want men and women, young and old, to see me and think, 'That was my m'hija, That was my daughter.' Or … 'I'm an intern somewhere and I don't feel seen. But if she could do it, so can I.'"
Ramirez says the story of her mom's journey from Guatemala to the United States infused her childhood in Chicago, where Ramirez was born.
According to the story Ramirez grew up hearing, when her mom crossed the Rio Grande, strong currents nearly swept her away. She'd hidden her pregnancy from others on the journey, but in that moment she called out in desperation, "Help! Help! Save me! Save my daughter!" A man did, Ramirez says, but after that day, her mom never saw him again.
As she struggled with depression as a teenager, Ramirez says her mom would frequently invoke this part of her past, saying, "I nearly died so that you could be born. Now I have to fight to keep you alive."
That struggling teen, Ramirez says, would never have imagined that she'd run a homeless shelter and other successful nonprofits, go on to become a state lawmaker and one day be on the cusp of entering US Congress.
"But that is the journey, right?" Ramirez says. "Maybe not the Congress part as often as it should be, but the journey of so many people and so many children of immigrants who contribute and do so much for this country."
How does her family's journey shape her view of what's unfolding now at the border?
"I am clear that anyone willing to risk dying, starving or even being raped in the long journey through desert, cold and tunnels is crossing because they feel like there is no other solution to their situation. Their migration is the only way they see themselves and loved ones surviving deep poverty and, in some cases, persecution," Ramirez says.
"My mother wouldn't have risked my life or hers had it not been the only option she saw for her unborn child to have a chance at a life and childhood better than hers."
She Called Her Mom After Bill Passed
As Ramirez shares these and other details from her past with CNN in the Longworth House Office Building one evening in early December, an aide steps in with her phone in hand.
"It's time," he tells her.
Ramirez is still an Illinois state legislator for a few more weeks, and she needs to vote on a measure that might not pass if she doesn't.
She holds the phone in one hand and looks into the camera.
"Representative Ramirez votes yes," she says, then hands the phone back to her aide.
"Done," she says with a triumphant smile.
It's the latest in numerous bills Ramirez has helped pass since her 2018 election to the Illinois General Assembly.
In that way alone, she knows it will be an adjustment to work as a lawmaker in Washington, where partisan fights often get in the way of passing laws.
She still remembers the first state bill she sponsored that passed in March 2019 -- a measure to expand homelessness prevention programming, a top concern for Ramirez, who previously directed a homeless shelter.
"It was a very emotional moment," she says. And the first thing she did after the bill passed, she says, was call her mom and share the news.
"I said, 'Mom, in three months I was able to do more (to prevent homelessness) than I had done in almost 15 years,'" Ramirez recalls.
Her mom responded that she was proud but reminded Ramirez that her work wasn't finished.
"Go hang up, and do more," she said, according to Ramirez. "And don't forget where you come from."
It's with that mantra in mind, and with memories of growing up as the daughter of immigrants who worked multiple jobs to support their family in Chicago, that Ramirez is heading to Washington.
Both her parents are US citizens now, but Ramirez says they're still struggling to make ends meet.
"I am the daughter of a woman who at 61 has given so much to this country and is a minimum-wage worker that can't afford health care, so she's on Medicaid, and diabetic," Ramirez says. "I am the daughter of a man who spent 30 years working in an industrial bakery, a union busting company, and the day he retired, he got a frozen pie. He didn't get a retirement pension and he struggled with Medicare supplemental, covering the cost."
Husband Could Face Deportation
Ramirez's newly redrawn Illinois congressional district is nearly 50% Latino and heavily Democratic, spanning from Chicago's Northwest side into the suburbs. She won more than 66% of the vote in the general election, defeating Republican mortgage company executive Justin Burau.
After Ramirez's election, her background landed her on many lists of firsts. She will be the first Latina elected to Congress from the Midwest.
She's also helped set another record as part of the largest number of Latinos ever in the House of Representatives.
There's another notable detail about her background that Ramirez has pointed to regularly in interviews since her election: She has a "mixed-status family."
More than 22 million people in the United States live in mixed-status families, according to immigrant advocacy group fwd.us, meaning at least one family member is an undocumented immigrant and others are US citizens, green card holders or other lawful temporary immigrants. But it's rare to hear a member of Congress use the term to describe themselves.
Because of her family's experience, Ramirez knows many of the people who supported her candidacy see her as a voice who will speak out for them, and for so many immigrants who are in the shadows and rarely heard.
Ramirez married Boris Hernandez in October 2020. They met earlier that year in what she describes as "one of those pandemic loves."
She's best friends with his cousin. Hernandez is originally from the same town in Guatemala as her parents. He came to the United States when he was 14. And for years, like hundreds of thousands of other people, he's relied on the Obama-era program known as DACA, short for Deferred Action for Childhood Arrivals, which granted certain young undocumented immigrants who were brought to the United States as children work permits and protection from deportation.
On her campaign website and social media feeds, Ramirez has shared photos of Hernandez. And she's invoked her husband's story in recent speeches and conversations with constituents.
Hernandez often stood by her side at campaign events. He occasionally took photos, too (he's a photographer, in addition to also having worked in nonprofits and early childhood development). He accompanied Ramirez as she voted on Election Day, even though he couldn't cast a ballot.
Ramirez acknowledges that she's privileged compared to many loved ones of DACA recipients. She's a US citizen, and because of that, Hernandez has a pathway to citizenship no matter what Congress decides. But still, she says, they could end up in a precarious position.
If a federal judge's ruling ends DACA -- something many immigrant rights advocates warn is likely to happen in the next year -- and her husband's paperwork to adjust his immigration status is pending, Ramirez knows she could have a lot more to worry about in addition to her busy schedule as a first-term congresswoman.
"I'm going to be fighting to keep my husband here," she says, "and I'm a member of Congress. .... What happens to the other 2 million (undocumented immigrants that the DREAM Act would protect)? What happens to his brother? What happens to my best friend from high school? What happens to all of them who have no pathway, who don't have a citizen husband or wife or partner?"
Ramirez says that question keeps her up at night.
Vows to Fight for Immigration Reform
Standing beside Ramirez outside the Capitol on that morning in December, Congressman-elect Robert Garcia of California praises her for bringing the group of freshmen lawmakers together even before they've taken office.
"She's been leading on issues of immigration, on DACA for Dreamers, to ensure that our country's taking care of those who really need our help," Garcia says.
Helping Dreamers isn't the only topic on the agenda during this December news conference; Ramirez and the others are also pushing for extensions to the child tax credit and the earned income tax credit, and more funding for early childhood education programs.
In her interview with CNN, Ramirez said her plans to fight for policies that help immigrants extend beyond immigration reform. One key issue she wants to work on while in office: housing, an area that she says is critically important to immigrant families and working-class families in general
The progressive policies she champions, she says, would benefit immigrants and US citizens alike. "It's an and," she says, "not an or."
Ramirez's voice cracks with emotion as the news conference ends and she makes her closing argument.
"It is time to deliver for our Dreamers," she says. "It is time for Boris Hernandez to finally have a pathway to citizenship."
Ramirez says she feels overwhelmed by gratitude that her constituents have given her this chance to represent them, and a strong sense of urgency to deliver the results she knows so many people desperately need.
Weeks later, the 117th Congress adjourned without taking most of the steps Ramirez and her fellow incoming freshmen had been pushing for.
And with the balance of power shifting, she knows the battles to come will be even tougher. But for Ramirez, the words she proudly proclaimed in that first news conference outside the Capitol still hold true. She and other new members of the House Progressive Caucus have only just begun to make their voices heard.
"We're rooted," she says, "and we are ready to help with this fight. ... Let's get to work."
The-CNN-Wire ™ & © 2023 Cable News Network, Inc., a Warner Bros. Discovery Company. All rights reserved.
---