The blizzard conditions and dangerously cold weather have scrambled some Chicagoans' plans just before the holidays.
Local leaders are advising people to avoid travel when possible, and to check in on friends, family and neighbors who may need a helping hand. In Chicago's North Park neighborhood, people are adjusting quickly during a busy holiday season while bearing in mind vulnerable community members. 
Megan Backes made sure to get a trip to the grocery store crossed off her list just in time. Because of the storm, her mother in law drove up from Kentucky a day early to avoid dangerous conditions on the roads.
"We were really glad she could make it, but that left us scrambling to prepare the house. This is my regular grocery store and during the week day especially it's usually pretty dead but I think everyone had the same idea as me to go Wednesday and beat the rush," Backes said. "Everybody's here."
Interactive map: More from our community reporting series
At nearby Swedish Hospital, Dr. Ben Flagel, chair of emergency medicine, echoed a common refrain this week: limit time outdoors if you can and keep your skin fully covered in multiple layers if you can't.
Hypothermia and frostbite are a big concern. Another worry is what can happen if you're not cautious when venturing out in treacherous conditions.
"Falls and car accidents are one of our most common visits and fractures and trauma that happen from accidents like that. The biggest thing there is to be slow. Be cautious when walking and slow and careful when driving, with lots of extra distance," Flagel added.
Even before extreme conditions hit, the winter weather has already brought with it an uptick in cold-weather illnesses. 
Public health officials are urging everyone to mask up in public places as hospitals have already been hit with RSV, COVID, and influenza spikes.
"The flu is the biggest thing bringing people into the emergency department. Not severely sick for most people, but it's miserable. Several days of fever, body aches and just no energy at all is typical… it's a miserable couple of days. So if you haven't gotten your flu shot yet, get your flu shot," Flagel said.
Meanwhile, city leaders have been working all week to get the word out about this storm. 
The Department of Family and Support Services said it made a series of robocalls urging older residents to pick up their groceries and medicine early in the week before the weather took a turn. They also made an early delivery for their prepared meal program.
The department has also increased its outreach teams for unsheltered Chicagoans making sure they know about city resources. The department runs six warming shelters, plus city buildings like libraries and parks are also open to keep people warm. 
Commissioner Brandie Knazze said the city and nonprofits have also been working to add capacity at overnight shelters.
"We've asked our shelter problems to expand. If they're 12 hours, to go to 24 hours. Shelters that, 'can you squeeze in a couple more beds?' We've had a number of providers that have raised their hands and said we can do anywhere from three to five, up to 20 and so that's just really important. We also have a low-barrier shelter that has fewer rules and so we reserve beds for the unsheltered to take part of those beds, as well as hotel rooms that we use as part of our contingency plans and we've increased the number of hotel rooms that we have for this storm that's upcoming," Knazze said.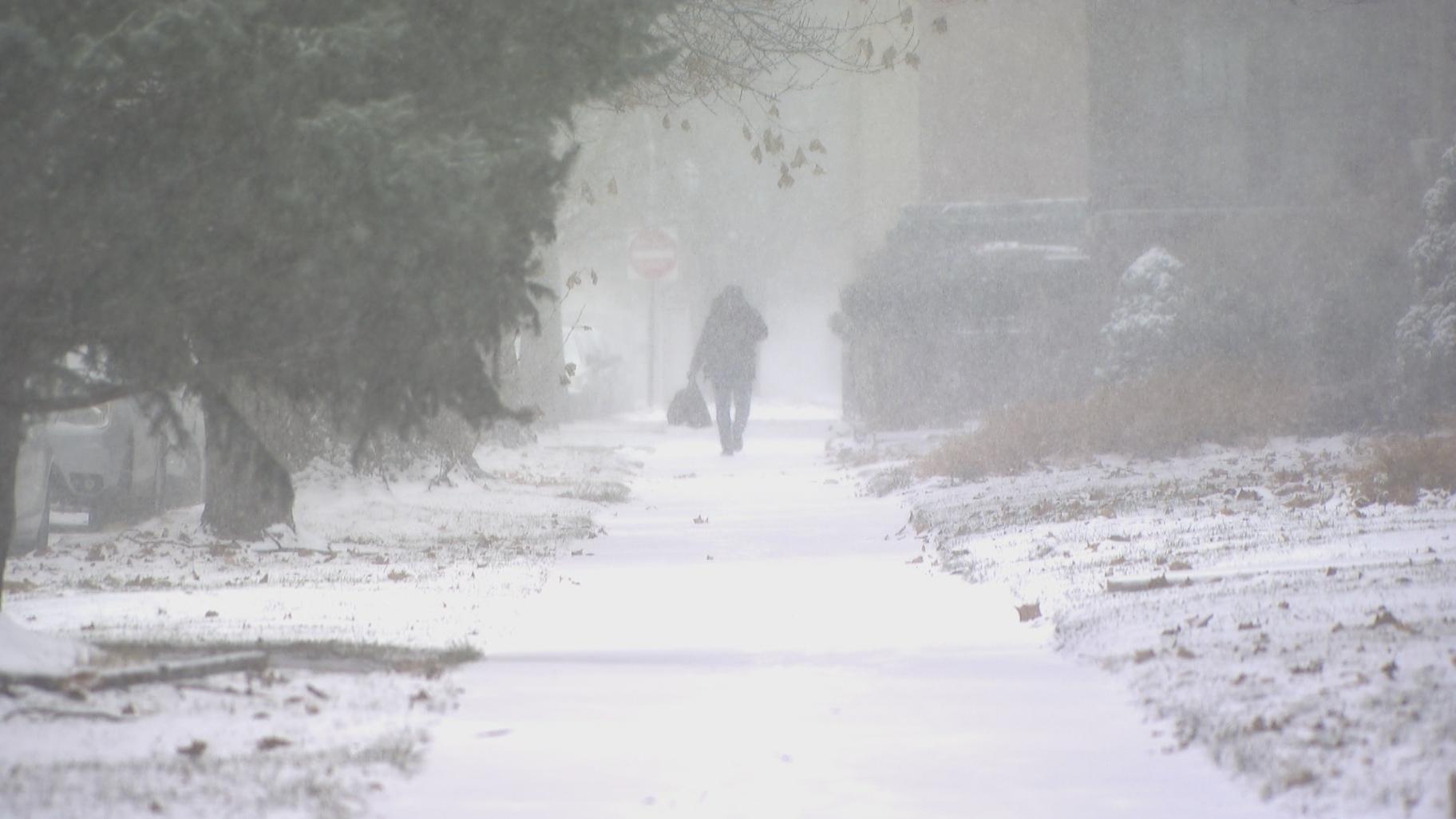 A resident walks down a snowy sidewalk in the North Park area on Dec. 22, 2022. (WTTW News)
The city's Office of Emergency Management and Communications has been deep in planning mode too, bringing city departments together to create a coordinated response to big weather events like this one.
As of Thursday afternoon, OEMC Executive Director Rich Guidice said hundreds of plows were out working to clear and salt the city's 9,600 miles of arterial streets. 
But he cautions it's not the few inches of snow that'll be the problem, it's the high winds and dangerously cold temperatures. 
Guidice said two of the biggest keys to staying safe: communication and preparation.
"If you do need to be on the road in the next couple of days, just make sure you have a full tank of gas, some supplies in your car, if you do indeed get stranded. Most importantly, stay in touch with people, communicate where you are going," Guidice advised. "It is the holiday season and people have a variety of emotions when it's getting up and getting through the holiday season so this might be a good reason to reach out and just make sure everybody's doing OK."
As crews are working to keep streets clear, there's also a growing push to mandate that the city should also clear sidewalks. It's currently up to property owners who can be fined if they don't shovel. But many still don't, or aren't able. 
Backes said city workers clearing sidewalks like they do streets would be "common sense."
"I walk on Lawrence Avenue a lot and a lot of businesses don't or can't get out to clear those," Backes said. "It is so hard getting to the train in the morning, so I believe what they're advocating for should be a city service. Just like clearing the streets because so many walk and bike, and utilize the sidewalks."
Serving Vulnerable Residents
While Swedish Hospital is handling an influx of cold-weather illnesses, the hospital's community relations program is also working to help folks through the winter in other ways, too. 
They just held a donation drive, collecting more than 500 pieces of winter clothing that they distributed to two nearby nonprofits.
"It's critical to be able to provide these donations, whether it be coats, scarves, gloves…These are folks that we work with in the community that maybe don't have those resources. They might be new immigrants to this community area and really we're helping give them a new start. If this is the first time they've experienced this weather, it's really up to us to help support and lift up our neighbors," said Jenise Celestin, director of community relations at Swedish Hospital. 
Heather Duncan is another North Parker working to help vulnerable people around the city. 
An associate professor of nursing at North Park University, she's also a family nurse practitioner with Lawndale Christian Health Center's mobile health program. 
She's spent the last 30 years working with homeless Chicagoans.
"The concerns are numerous," Duncan said, in reference to the winter storm that's approaching. "One of them is [homeless people] having exposure to their skin, not having enough clean, dry clothing. A lot of people might only have one pair of socks and they're wet because it's been snowing and that can increase the risk of hypothermia … we see a lot of frostbite."
If you or someone you know is looking for shelter, the city said to call 311, and during this extreme weather, the city's community service center at 10 S. Kedzie Ave. in Garfield Park will be running 24 hours.
To sign up for weather alerts from the city, visit www.NotifyChicago.org.
Video: Watch our full interview with Heather Duncan.
---
Community Reporting Series
"Chicago Tonight" is expanding its community reporting. We're hitting the streets to speak with your neighbors, local businesses, agencies and leaders about COVID-19, the economy, racial justice, education and more. See where we've been and what we've learned by using the map below. Or select a community using the drop-down menu. Points in red represent our series COVID-19 Across Chicago; blue marks our series "Chicago Tonight" in Your Neighborhood.
---