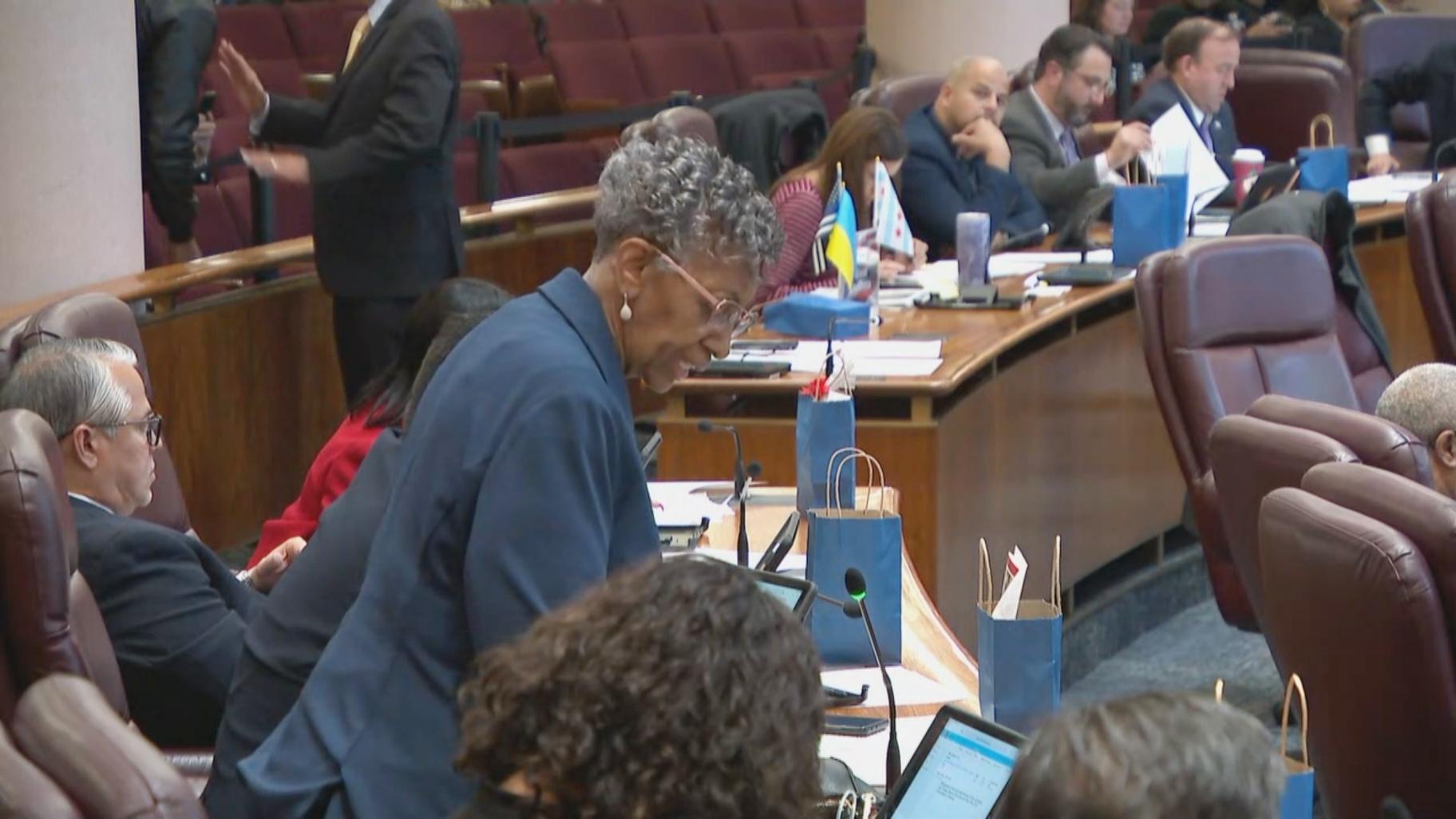 Ald. Carrie Austin (34th Ward) stands to speak at the Dec. 14, 2022, Chicago City Council meeting. (WTTW News)
---
Indicted Ald. Carrie Austin (34th Ward) is healthy enough to stand trial on charges that she accepted bribes from a developer and lied to FBI agents and there is no evidence a trial would amount to a death sentence as she has said, federal prosecutors asserted Friday.
Surveillance conducted by FBI agents in recent weeks shows Austin is "not gravely ill," but has a busy schedule and is "alert, lucid and responsive" and able to move about on her own without assistance, representatives of the U.S. Attorney's Office for the Northern District of Illinois told the judge overseeing the criminal case against the second-longest serving member of the Chicago City Council.
On Nov. 19, Austin visited the drive-thru of a fast-food restaurant and spent three hours at a hair salon, walking out of the business without assistance or supplemental oxygen therapy, according to the surveillance. On Nov. 21, Austin dined at a South Loop restaurant, according to the surveillance.
Austin's attorneys told Judge John Kness in a Nov. 18 filing that she planned to retire from the Chicago City Council on March 1 — one day after the next Chicago City Council election — because of her rapidly declining health. Austin has pleaded not guilty.
Austin's attorneys told Kness she has a "long history of heart problems," including a heart attack and coronary artery disease that required heart bypass surgery in the early 2000s. In addition, Austin underwent a double mastectomy in February 2021 after being diagnosed with breast cancer in 2015.
In April 2021, Austin had another surgery connected to a long history of life-threatening gastrointestinal bleeding, according to the filing.
Austin attended Wednesday's City Council, and received supplemental oxygen therapy during the session. Austin spoke to urge her colleagues to support the extension of the CTA's Red Line from 95th to 130th streets but said she needed to cut her remarks short so she "didn't run out of oxygen."
"The court should reject Austin's transparent effort to dodge the public corruption charges lodged against her," prosecutors told the judge.
Video: Ald. Carrie Austin speaks during the Dec. 14, 2022, Chicago City Council meeting. 
Austin, who earns $130,248 annually as a member of the City Council, attended a town hall meeting in her ward on Oct. 15.
"In the videos, Austin can be seen giving brief speeches and answering questions during a 90-minute session, all without any assistance or oxygen support," according to proscecutors.
Indicted in July 2021, Austin, 73, has never appeared in person before Judge John Kness because of her ill health and restrictions put in place to stop the spread of COVID-19. 
Despite suffering from ill health and serious ailments for the past three decades, Austin has continued to seek elected office and participate in civic life, according to federal prosecutors.
"She has campaigned; she has participated in elections; she has attended meetings and events as an elected alderman in this city; and she has repeatedly dealt with complex and stressful situations that arise from serving as an elected representative in a major American city," according to the filing. "Even now, she insists that she will continue to work as an alderman for the next three months. Despite her claim about the need to avoid undue stress, this evidence indicates stress will not negatively impact her health to such an extent as to necessitate nullifying the indictment against her."
Thomas Durkin, Austin's attorney, told WTTW News he was "struck by the cavalier attitude of the government that completely and callously ignores the voluminous medical records we provided."
"We also are bemused that the FBI saw fit to conduct surveillance on Ms. Austin's recent comings and goings," Durkin said. "Do they have nothing better to do?"
Federal prosecutors argued that if Austin is capable of serving as the elected representative of the nearly 50,000 people who live in the Far South Side's 34th Ward, she can stand trial on charges of public corruption.
"It stretches the imagination to believe that Austin cannot sit through meetings with counsel but can sit through myriad lengthy meetings as an alderman and make important decisions for this city in the process — and will continue to do so for several more months," according to prosecutors.
Prosecutors also pushed back against assertions made by Austin's attorneys that the allegations that she received "household items such as bathroom tiles, sump pumps, and a dehumidifier, in exchange for aldermanic acts that purportedly benefitted the developer — rather de minimus allegations in the annals of federal court political prosecutions in Chicago."
Thirty-seven members of the City Council have been convicted of a crime since 1969.
"It is hard to overstate the importance of cases like this one," prosecutors wrote. "The residents of this city care deeply — as they must — about honesty in their public officials. Nullifying the indictment against Austin would frustrate the public's right to a just and speedy resolution of this case."
Contact Heather Cherone: @HeatherCherone | (773) 569-1863 | [email protected]
---