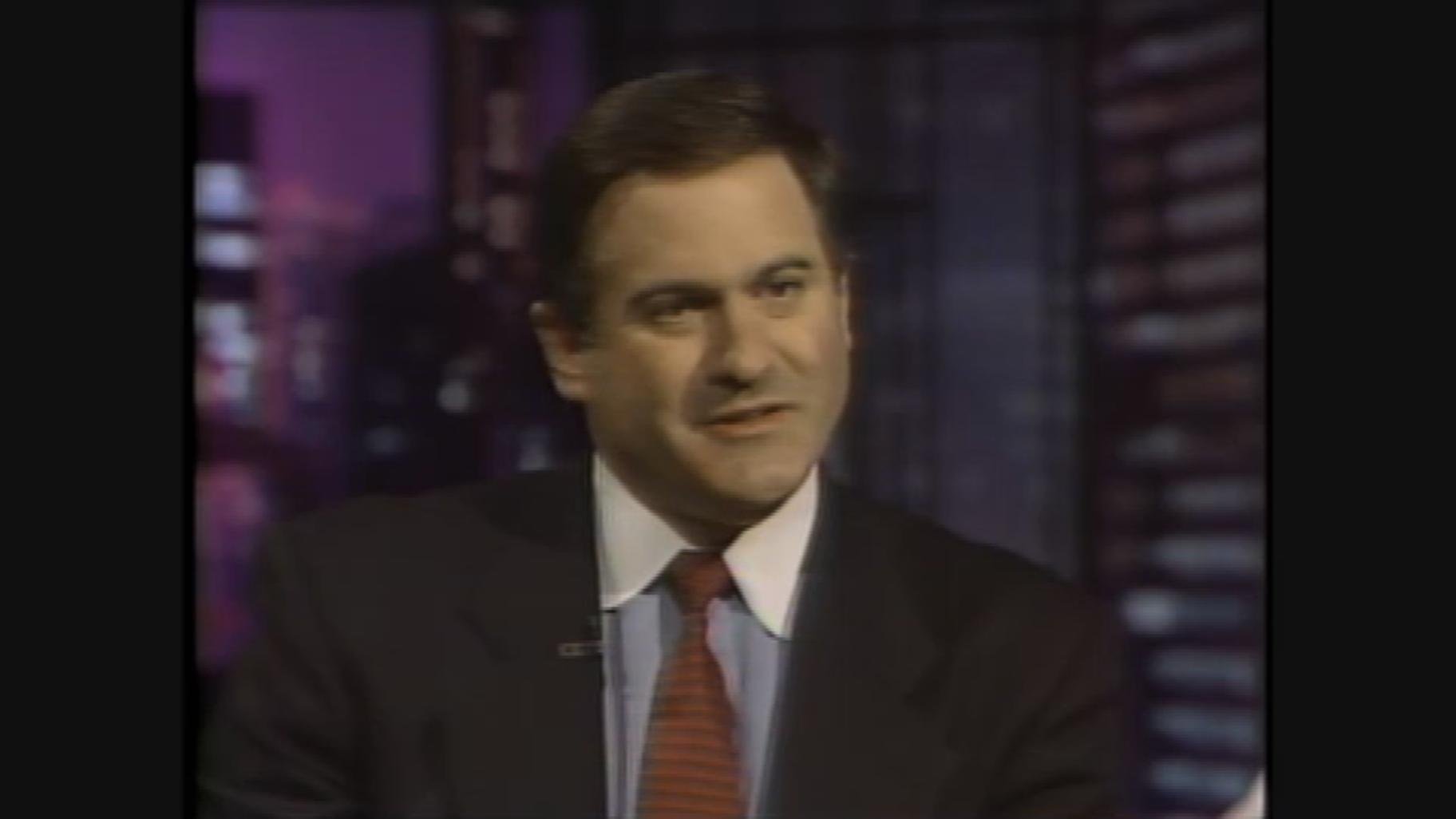 Gary LaPaille appears on "Chicago Tonight" on Jan. 28, 1998. (WTTW News)
Democratic state representatives who next month will be inaugurated into a historically large super majority in the Illinois House may not realize it, but the chamber still carries the fingerprints of Gary LaPaille, who died Thursday at 68 from complications of amyotrophic lateral sclerosis, or ALS.
LaPaille lived his later years in the Washington, D.C. area, where he worked as a lobbyist and political consultant.
But he was born and bred in Chicago, "the son of a Chicago 13th Ward alderman" who, according to a 1992 article in the now-defunct Illinois Issues magazine, "cut his political teeth as a teenager while an office clerk to Ward Committeeman (Michael J.) Madigan."
The 1992 article stated, "LaPaille and Madigan to this day live only blocks away from each other, and LaPaille considers Madigan not only as an employer, but also as a mentor, confidant and even the older brother he never had. Madigan is godfather to LaPaille's only son, Joseph."
LaPaille would go on to serve as Madigan's chief of staff in the early '80s when Democrats were the minority party in the House, helping Madigan in 1983 first secure what would become his own historic turn as speaker of the Illinois House.
In 1990, LaPaille unseated state Sen. Vince Demuzio of Carlinville to become the youngest chair of the Democratic Party of Illinois. His role as DPI chair carried through 1998 and via that position he was also elected to serve as vice chair of the Democratic National Committee.
According to LaPaille's LinkedIn page, he led the Illinois Democratic Party through the 1990s, which included "historic victories" of President Bill Clinton in 1992 and 1996, organizing the election of U.S. Sen. Carol Moseley Braun, who became the first African-American woman elected to the U.S. Senate in 1992; as well as slating and helping elect the first statewide elected Hispanic, Ada Lopez to the University of Illinois Board of Trustees in 1992. LaPaille also said he was a "driving force" in bringing the National Democratic Convention to Chicago in 1996, spearheaded the endorsement and election of U.S. Sen. Richard Durbin in 1996, and "(carried) Illinois for President Bill Clinton's reelection, as well as many state and local victories throughout his tenure," according to his LinkedIn page.
In 1993, he served a term as a state senator.
"LaPaille says that he learned from Madigan that a leader has to manage the issues and not let the issues manage him," the 1992 article by then-statehouse reporter Jay Fitzgerald reads, quoting LaPaille as saying, "I think that is what the Democrats have got to do in the future, start talking about managing money better and use it better.... But at the same time, while we try to move the party back towards maybe more of the middle, you can't lose some of the base of support you've always had: unions, women's issues, minorities. So it's a delicate balance you have to do."
A Caring Bridge website is littered with memories from prominent Democrats, including Madigan who wrote "Dear Gary, I am very proud of you today, as always. You have enjoyed great personal and professional accomplishments. You and Chris have raised three wonderful and outstanding children. Love, Mike."
Madigan's wife, Shirley Madigan, posted that "you have been like a son. I smile and laugh as I think of all the blessed and fun events we have shared as a family."
Others reflected on LaPaille's political savvy and connections, from Chicago lobbyists Bill Filan who credits LaPaille with introducing him to then-candidate for president Bill Clinton for drinks at the Palmer House, to retired teachers union lobbyist Gail Purkey.
"Each member of that original crew (you, me, Jenifor Klindt, Bill Filan, Gary Strell) was hired by Mike Madigan and the House Democratic leadership to help members meet the challenges of being the minority party, of redistricting, and to prepare for single-member district elections in 1982. As our boss, you led the ever-expanding team as we executed Madigan's vision to provide support for House Democrats in this new landscape," Purkey posted. "What you helped create during those years was a foundation for a legislative and political staff operation that was unparalleled, and you should be so proud of that work. You pushed and encouraged the hundreds of staff you supervised over the years to work harder and smarter, to pay attention to the details, and to never forget to have fun!"
House Democrats' structure still relies on the "issues" staff created by LaPaille.
According to posts on the Caring Bridge journal, LaPaille had lived with ALS for two-and-a-half years.
His wife, Christine LaPaille, wrote that he died Dec. 1 "at peace and surrounded by his family."
"He was the most generous guy I ever met; he was the life of the party; he took care of everyone on the block; I owe my career to him.  That is the Gary we all knew. I am blessed beyond measure that through him I also experienced the joy of knowing all of you," Christine LaPaille wrote.
Per an obituary in the Washington Post, LaPaille is survived by his mother, Dolores, and three children, Joseph, Samuel and Grace.
The family asks that those wishing to honor LaPaille with a donation contribute to Team Gleason, a foundation founded by former New Orleans Saints player Steve Gleason that pays for wheelchairs and other assistive technology that helps people with ALS "live purposeful and productive lives."
A visitation will be held Thursday and a funeral mass on Friday, both in Maryland.
Follow Amanda Vinicky on Twitter: @AmandaVinicky
---