VIDEO: The Spotlight Politics team breaks down the biggest stories of the week. (Produced by Alexandra Silets)
---
The odds were in Ja'Mal Green's favor Tuesday morning, allowing the activist to nab the top spot on the Feb. 28 ballot — if he can withstand a challenge to his nominating petitions filed by an aide to rival candidate Willie Wilson.
Green, one of the six candidates for mayor who filed at 9 a.m. Nov. 21, won a lottery for that coveted pole position on the ballot, one that many people believe could offer a boost in a crowded race.
Green called the first spot on the ballot a "clear advantage" for his campaign — and vowed to increase voter turnout to 85%, which would be the highest since 1983, when Harold Washington was elected Chicago's first black mayor. In 2019, 35.2% of Chicago voters cast a ballot in the first round of voting.
"Our policies to excite disengaged voters will win this election," said Green, who did not attend the lottery that took place at the Chicago Board of Election Commissioners super site at Clark and Lake streets in a repurposed Walgreens.
But to make it on to the ballot, Green will have to defend the approximately 30,000 signatures he filed with the Chicago Board of Election Commissioners from the challenge filed by former state Sen. Rickey Hendon, who told reporters Tuesday morning he was confident that Green would once again fail to make the final ballot for mayor, just as he did in 2019.
Green dropped his bid for mayor in 2019 after a challenge brought by Hendon and Wilson revealed he had not collected at least 12,500 signatures from registered Chicago voters — the minimum to qualify for the ballot.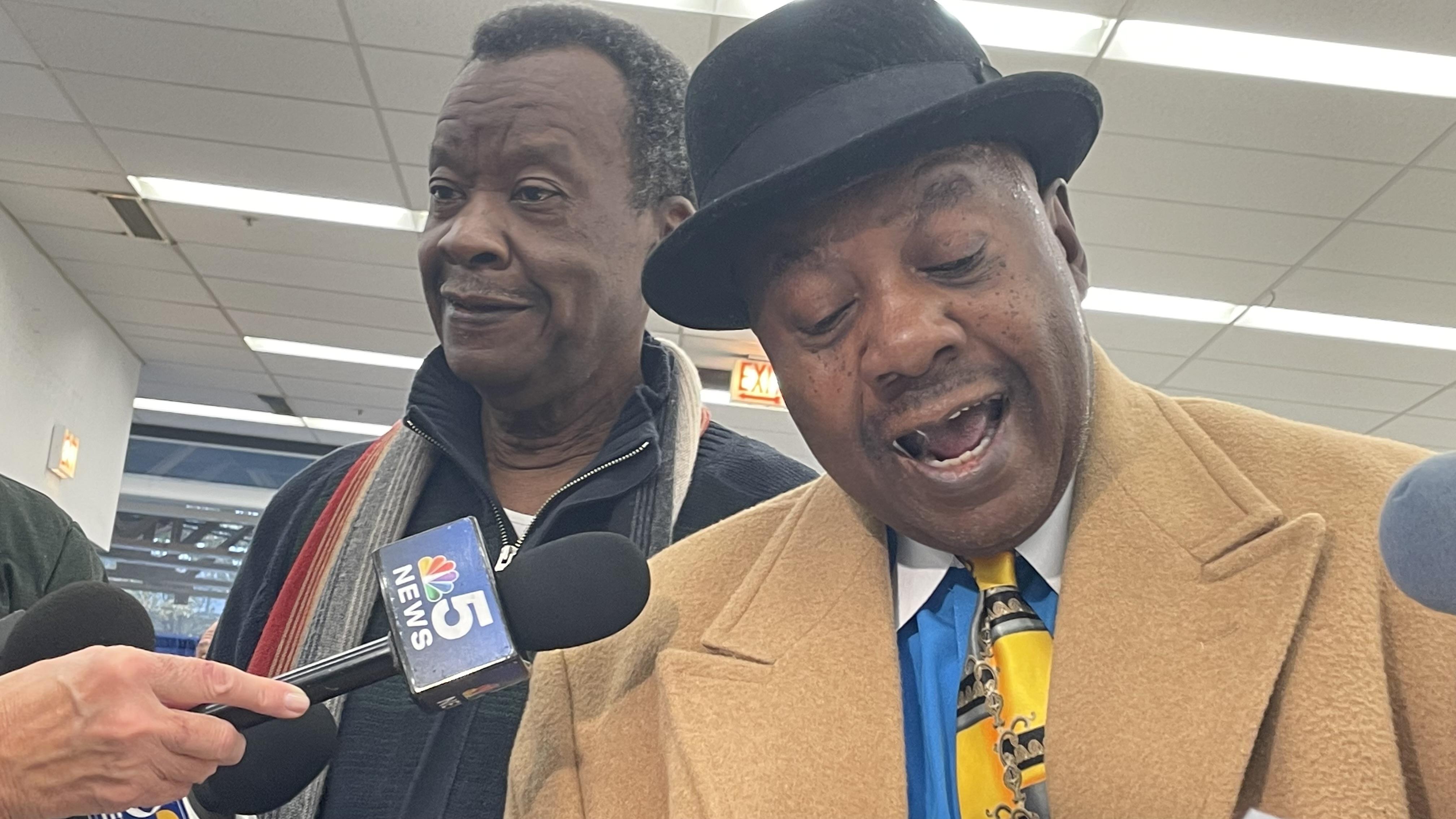 As mayoral candidate Willie Wilson looks on, former state Sen. Rickey Hendon tells reporters why he challenged Ja'Mal Green's nominating petitions. (Heather Cherone/WTTW News)
That led to an intense personal feud between Green and Hendon, complete with personal insults.
Ald. Sophia King (4th Ward), whose petitions were not challenged, finished second in the lottery. King told reporters she was pleased with the results — and ready to move up to the top spot if Green is removed from the ballot.
Wilson won the fourth spot in the lottery, behind Green, King and state Rep. Kam Buckner, D-Chicago. However, Wilson will have to withstand a challenge filed by Green to make the ballot.
Wilson, who told reporters he submitted more than 60,000 signatures to qualify for the ballot, said Tuesday he was not worried about Green's challenge, which alleged many of the petitions were fraudulent and that Wilson is not a Chicago resident. Wilson said his home is Chicago, although he owns a home in suburban Hazel Crest.
In turn, Wilson challenged the petitions filed by Ald. Roderick Sawyer (6th Ward). Sawyer declined to tell reporters how many signatures he filed to qualify for the ballot, but Wilson said the South Side alderperson and son of former Mayor Eugene Sawyer filed just 17,000 — far below the amount considered safe by political experts.
Sawyer called Wilson's challenge "the height of hypocrisy."
"This is a real insult to the thousands of people who did sign our petitions and to the volunteers who helped us," Sawyer said in a statement. "This is an example of a wealthy man, who has no path to victory, denying a more experienced, qualified candidate the chance to run."
Sawyer is set to be 10th on the ballot.
Wilson has contributed $6 million of his own fortune to his run for mayor of Chicago, making him the best funded candidate in the race.
After Wilson on the ballot are Cook County Commissioner Brandon Johnson, Paul Vallas and Mayor Lori Lightfoot. None of their petitions were challenged.
Both Chicago Police Officer Frederick Collins and freelance counselor Johnny Logalbo are facing challenges to their petition signatures. While supporters of Vallas challenged Logalbo, it was not clear if Collins was being challenged by a rival.
U.S. Rep. Jesús "Chuy" García, D-Chicago, won the final spot on the ballot by being the only candidate for mayor to file at the deadline on Nov. 28.
Early voting is set to start Jan. 19, with Election Day set for Feb. 28. If no candidate gets more than 50%, the winner will be determined by a runoff on April 4. 
---
Contact Heather Cherone: @HeatherCherone | (773) 569-1863 | [email protected]