Six candidates seeking to deny Mayor Lori Lightfoot a second term each filed tens of thousands of signatures Monday to officially get on the Feb. 28 ballot, waiting in line for hours among aspiring alderpeople, staff members, lawyers and candidates for other offices.
Willie Wilson, Ja'Mal Green, state Rep. Kam Buckner, Paul Vallas, Cook County Commissioner Brandon Johnson and Ald. Sophia King (4th Ward) played their role in the quadrennial political extravaganza that moved this year from the pedway beneath the George W. Dunne Cook County Office Building to the Chicago Board of Election Commissioners super site at Clark and Lake streets in a repurposed Walgreens.
But neither Lightfoot nor U.S. Rep. Chuy Garcia, D-Chicago, joined the festivities — ceding the spotlight on Monday to their lesser-known rivals, as well as a chance to be listed first on the ballot, since they were all in line by 9 a.m. Monday. 
Conventional wisdom holds that the candidate listed first on the ballot gets a bump, and in a crowded race, no one was willing to write off that possibility.
Any remaining candidates — including Lightfoot, Garcia and Ald. Roderick Sawyer (6th Ward) —  have until 5 p.m. Nov. 28 to file their petitions. Those who file at the deadline will be entered into a lottery for the last spot on the ballot — perhaps less valuable to veteran politicians with high name recognition.
Lightfoot told reporters on Wednesday she would file on the last day, while denying persistent rumors that she was having trouble collecting enough signatures. Former Mayors Richard J. Daley, Richard M. Daley and Rahm Emanuel always filed as soon as possible with tens of thousands more signatures than necessary as a show of force.
"There's no magic to it," Lightfoot said.
Wilson — whose team was second in line behind Cleopatra Watson, who is running for 9th Ward alderperson — said he submitted more than 61,000 signatures.
Wilson, Vallas and King suggested that Lightfoot's failure to file on Monday was a terrible omen for her campaign.
"I think she from Ohio, right? We want her to go out of town, back to Ohio," said Wilson, who was born and raised in Gilbert, Louisiana.
While her rivals waited in line, Lightfoot prepared to welcome U.S. Transportation Secretary Pete Buttigieg to O'Hare International Airport, to celebrate progress in the $8.5 billion makeover of the airport.
As soon as candidates turned in their petitions, Chicago election officials began scanning the sheets of signatures, preparing to make them available to the public as soon as possible — which will allow their rivals to go through them with a fine-tooth comb. If they find enough questionable signatures on their opponents' petitions, they can challenge them — in the hopes of tossing them off the ballot.
Johnson said he filed approximately 42,000 signatures, followed by Vallas, with 41,000 signatures, King, with 37,000 signatures, Green, with 30,000 signatures and Buckner, with 24,000 signatures.
Mayoral candidates must submit at least 12,500 signatures from registered Chicago voters. Those who filed less than three times the required amount could find themselves in the crosshairs — and facing weeks of wrangling over hundreds — if not thousands — of signatures.  
But the big news of the day came before a single petition sheet was filed, with the decision by Ald. Raymond Lopez to abandon his bid for mayor and run instead for a third term representing the 15th Ward, which includes parts of Back of the Yards and Englewood — even after he said he collected 26,000 signatures in the race for mayor.
Chicago "will not survive another four years with this mayor chasing headlines to cover up her nonstop bouncing from bad decision to bad decision," Lopez said, adding that he did not want his candidacy to make it more likely Lightfoot would advance to the April 4 runoff — or win outright.
Lopez, first elected in 2015, has been one of Lightfoot's most frequent critics, blasting her approach to public safety, the COVID-19 pandemic and protections for undocumented immigrants.
Lopez will likely face Victoria Alvarez in the race to represent the 15th Ward. Alvarez, who would join the City Council's Progressive Caucus, has the endorsement of United Working Families, a political organization closely aligned with the Chicago Teachers Union.
Vallas welcomed Lopez's decision to drop out, an indication that the two conservative politicians were battling for many of the same voters.
Wilson, the other major candidate who has been campaigning for support among conservative voters, said he did not think Lopez's decision to drop his campaign for mayor would have any impact on his race.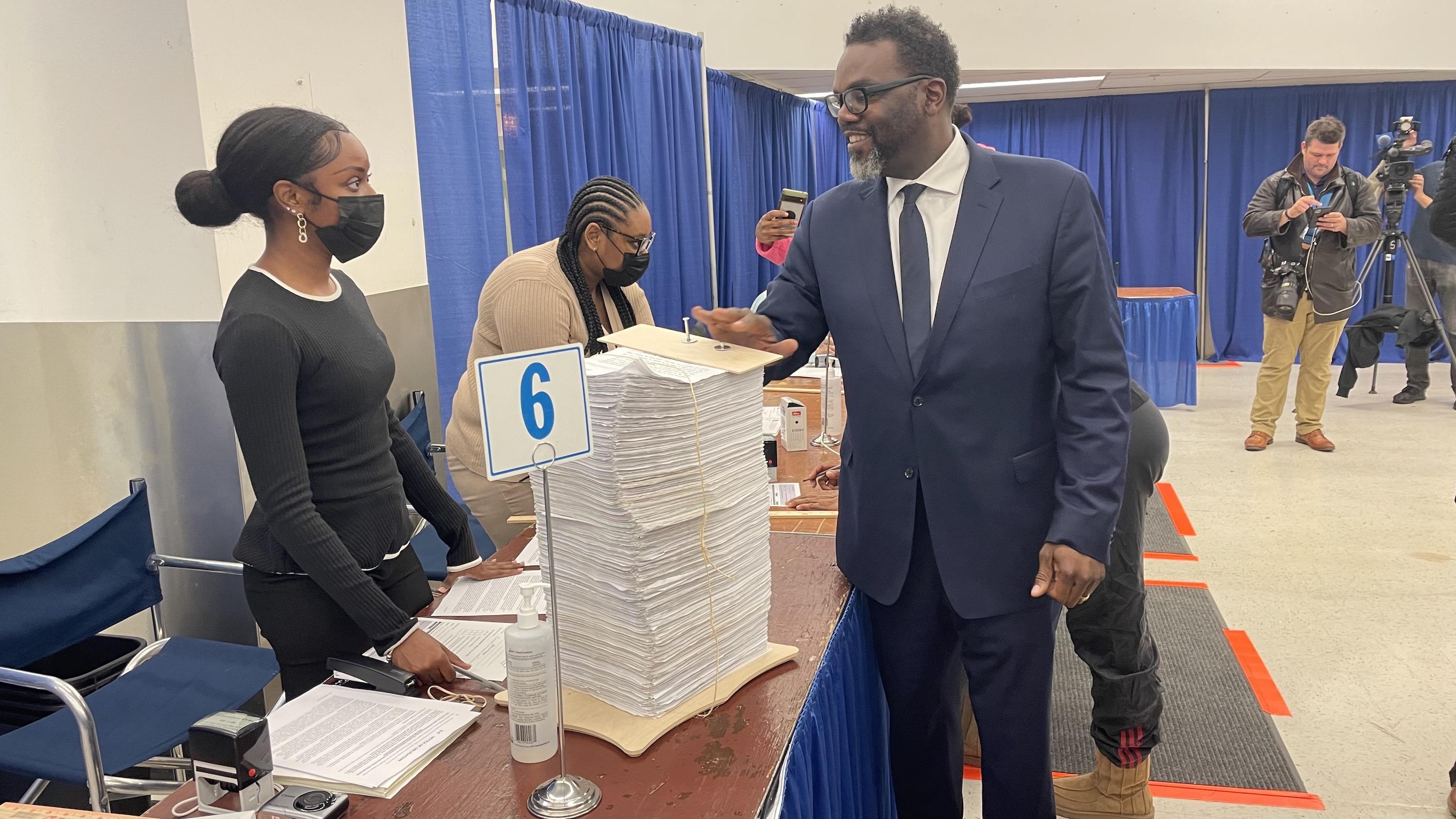 Cook County Commissioner Brandon Johnson files petitions with nearly 42,000 signatures to become an official candidate for mayor of Chicago. (Heather Cherone/WTTW News)
On the other side of the political spectrum, Johnson said he was confident that progressive voters would cast their ballot for him — after four years of frustration with Lightfoot.
"The mayor of Chicago has been an incredible disappointment," Johnson said. "She has broken nearly every single promise."
Johnson will face fierce competition from the other self-proclaimed progressives in the race — which include Lightfoot, García, Buckner and Green, who would be the youngest person elected as Chicago mayor if successful.
"We need young leaders who are not tainted like the rest of these politicians who have failed us for so long," Green said. "Don't underestimate the folks who have been dying for a voice in politics."
Also in line were dozens of City Council candidates, including former 1st Ward Ald. Proco Joe Moreno, who is running to reclaim the seat he lost to Ald. Daniel LaSpata (1st Ward) after being charged with multiple felonies for falsely reporting his car stolen. 
While awaiting trial, Moreno was charged with drunken driving and reckless driving after crashing into eight parked cars on a Gold Coast street, police said.
Moreno pleaded guilty in both cases, and was sentenced to probation, community service and court supervision. His candidacy could be challenged, since state law prohibits those convicted of "a felony, bribery, perjury, or other infamous crime" from holding public office. 
It was not clear late Monday whether indicted Ald. Ed Burke would run for a 15th term representing the 14th Ward on the city's Southwest Side — unlike in years past, he was not in line at 9 a.m. to file his petitions.
Burke is set to stand trial on Nov. 6, 2023, on 14 counts of racketeering, bribery and extortion, more than four years after federal prosecutors first alleged the powerful politician repeatedly — and brazenly — used his elected office to force those doing business with the city to hire his private law firm.
Jeylu Gutierrez, who is running to represent the 14th Ward, was in line to file her petitions at 9 a.m. Monday, alongside Ald. Mike Rodriguez (22nd Ward) and with the backing of García.
After filing ends on Nov. 28, the deadline for objections to be filed is Dec. 5. Early voting is set to start Jan. 19, with Election Day set for Feb. 28. If no candidate gets more than 50%, the winner will be determined by a runoff on April 4. 
---
Contact Heather Cherone: @HeatherCherone | (773) 569-1863 | [email protected]