Hiring bonuses, retention bonuses and a raise for new employees are all part of the CTA's plan to attract and keep bus and train operators and mechanics as the agency claws its way out of a huge staffing shortfall.
As WTTW News previously reported, the agency's use of overtime has spiked as the COVID-19 pandemic and so-called "great resignation" upended the CTA's workforce. In 2021, dozens of bus and train operators were paid for average workweeks of 80 hours or more, with three operators paid for average weeks of more than 100 hours.
In an effort to tackle its staffing gap, the agency just announced all new bus operators and mechanics will get a $1,000 hiring bonus and be eligible for retention bonuses through the end of next year. Starting rates for new hires are also on the rise. And the agency's been holding job fairs throughout the year. But with hundreds of positions still vacant and big gaps in bus and train service, many CTA riders have been venting their frustrations.
"It seemed like an hour to me that we waited for that Stony Island bus to come, and I was very heated about that," said Denise Simmons on a recent Wednesday in Woodlawn.
Her complaints about CTA delays have been echoed by passengers around the city, and by members of the City Council.
"Our constituents depend on CTA like their life depends on it," Ald. Jeanette Taylor said at a recent City Council hearing on CTA service. "There's a domino effect when CTA is not at its best."
At that hearing, CTA President Dorval Carter laid out in stark terms just how short staffed the agency is.
"We have a lot of employees leaving. That mass resignation really started at the beginning of this year," Carter said. "We are having a difficult time hiring new operators."
Hundreds of Operator Openings
Right now, the CTA has 100 to 200 openings for train operators, and 600 to 700 openings for bus drivers.
"I have never experienced anything like the ever-evolving and unprecedented challenges that I'm dealing with today," Carter said.
The agency also partnered with Olive-Harvey College to help potential new hires get their commercial learner's permits and driver's licenses. And they've done away with a requirement that bus operators first start as part-timers – instead, allowing recruits to start work full-time.
"When I came in in 1998, I came in part time," said Keith Hill, who leads the union representing drivers. "Part time to me was a rough part of my life. … We're working on a full-time workforce right now, and I think that would better suit the average worker."
Since 2015, that workforce has lost hundreds of bus and rail operators. Hill says the CTA can go further in changing its hiring practices – for example, relaxing rules on people whose commercial licenses were suspended for things other than a moving violation, like missing child support payments. He also suggested creating an apprenticeship program for bus cleaners.
"Everybody is not college material. When you get to the age of 21, then maybe see if they want to drive a bus," Hill said. "That'll bring more people and keep the pot growing."
Hill isn't just worried about how to bring in more drivers. He's also worried about what people who stick with the job face right now.
"They don't know if that person's been waiting 20 minutes or 30 minutes. When you see your bus driver, don't attack them," Hill said. "We're just here to simply do a job."
Because driving a bus can be such a tough job, transit leaders say current employees and potential applicants are looking elsewhere. Jobs like delivering packages for UPS or FedEx also require a commercial drivers license – but don't require the driver to interact with passengers.
"Those jobs offer competitive wage rates and benefits equal to what transit does in many cases, perhaps sometimes better without the rigidity," said Paul Skoutelas, president and CEO of the American Public Transportation Association.
That group surveyed transit agencies around the country, and found that 96% said they're experiencing a serious workforce shortage.
"Of those, 84% indicated that the shortage is affecting their ability to provide daily service," Skoutelas said. "It hampers their both the reliability of service, and also hampers them in their climb back to claiming ridership gains again."
That shortage isn't just driven by people lured to other transportation jobs.
"Agencies are reporting retirees are making up about 24% of all workers who are moving on," Skoutelas said.
And replacing those workers isn't always simple.
"There's surely been a decline in job quality over the years," said Chris Van Eyken of the nonprofit group TransitCenter.
That organization dug into the issue facing drivers in a report called "Bus Operators in Crisis." Among the reasons people are leaving or avoiding the job – increased cost of living, tensions between workers and management, the increase in assaults on drivers, and: "younger operators get the worst routes to drive at the worst times."
"They have the hardest jobs to do despite having the least experience and being the least prepared to deal with difficult situations," Van Eyken said.
Van Eyken says it'll take a holistic approach to attract and retain drivers – everything from making workers part of the decision-making process to providing better facilities for drivers to connecting workers with child care and other services.
"I think ensuring that folks can live fuller lives while becoming a bus operator is a huge factor here," he said.
"These are the workers that have been on the front lines of the pandemic," said Susan Hurley of Chicago Jobs With Justice. "I'm sure workers are feeling very stretched and under stress."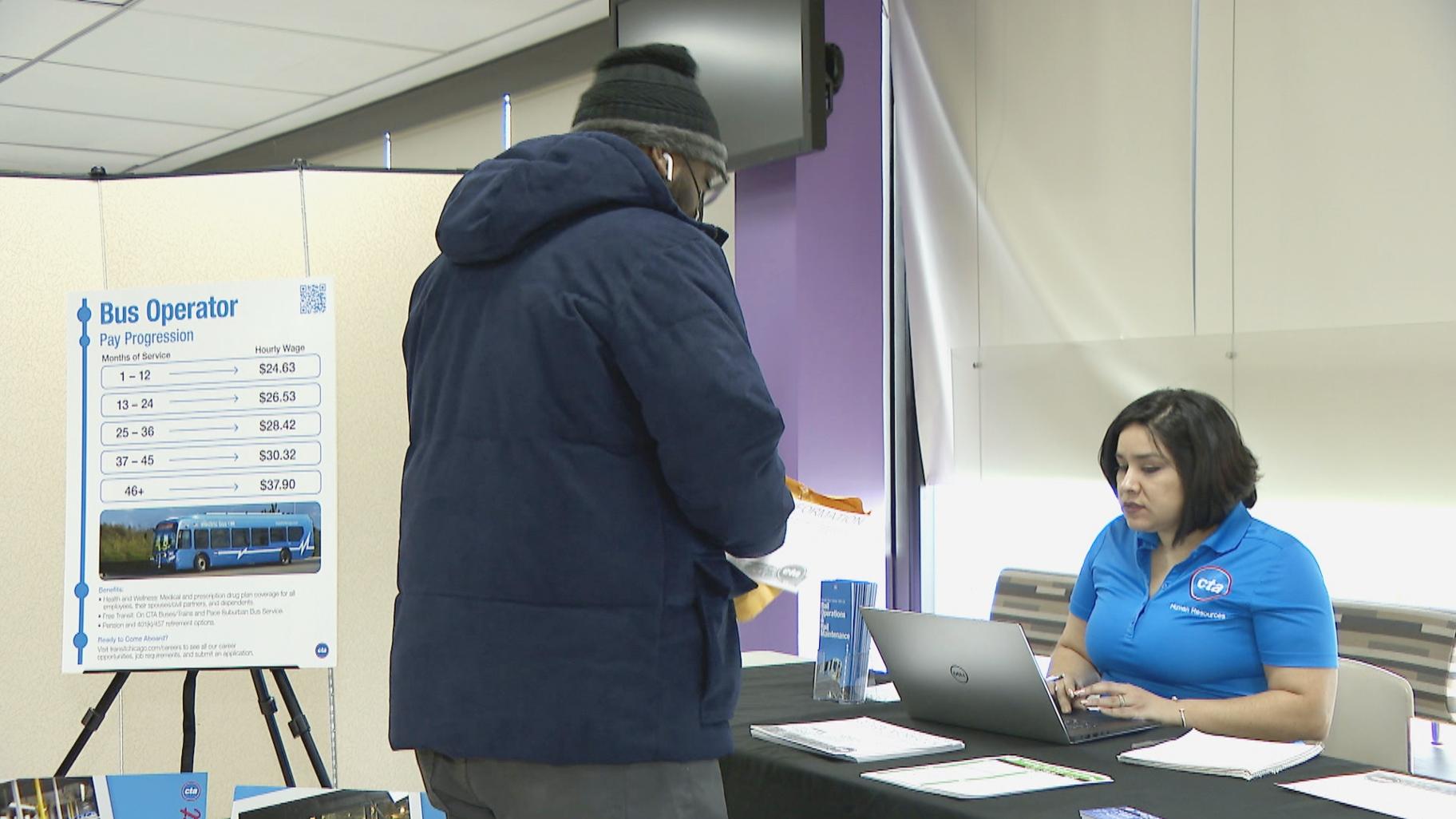 The Chicago Transit Authority holds a job event to recruit workers. (WTTW News)
Hiring Push Continues
Hurley says it's important the CTA hire the staff it needs, both to reduce the strain on current workers and provide the service passengers rely on. Her group's working to organize CTA riders to advocate for the best service possible.
"Our priorities are accessibility, equity, affordability, safety and reliability," Hurley said. "It's become clear that the number one priority right now needs to be hiring more workers."
As the CTA works to do just that, it's also making adjustments to its schedules to reflect the service it says it can actually provide.
"All that sounds to me like service cuts and longer waits," said Hill. "I hope not, because if that's the case, then the repercussion is going to come on my driver."
"I am not doing service cuts," Carter said at the Chicago City Council hearing. "There is nothing in my budget, there is nothing in my plans that suggest anything around cutting service. In fact, I'm looking at ways that I can extend and enhance service."
But part of the reason the CTA can run buses at trains at its current service level is because of federal stimulus funding. That money's being used to make up for lost fare revenue, since ridership isn't back to pre-pandemic levels.
If the agency can't hire staff, improve service and lure back riders before the money runs out in 2025, Northwestern University professor Andy Crosby says the CTA could face tough choices.
"You could see service cuts, you could see fare increases. One of the things with fare increases, yes, we can increase the price we charge people, but that also tends to then drive down ridership," Crosby said. "We've seen this before. The CTA's had previous budget crises … a lot of the (train) lines were 24 hours. Now that's no longer the case. Could we see more of that in the future? We certainly have with other transit agencies."
As of last month, the CTA says it's hired 390 bus operators this year, with a goal of 450 by year's end. The agency just held another career fair this past Friday.
Contact Nick Blumberg: [email protected] | (773) 509-5434 | @ndblumberg
---