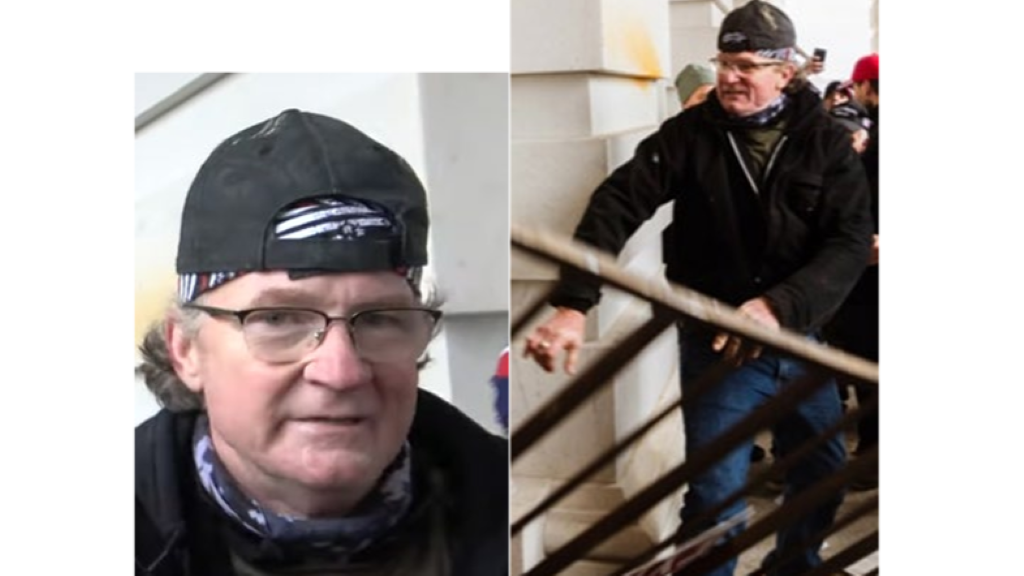 James McNamara, 61, of Chicago, allegedly swung at police and used a bike rack to ram doors during the riot at the U.S. Capitol. (U.S. Attorney's Office)
A Chicago water heater repair specialist, referenced online under the name "#Railmixer," is facing more than a half-dozen charges stemming from his alleged role in the Jan. 6, 2021, riot at the U.S. Capitol, where he allegedly swung at police and used a bike rack to ram doors.
James McNamara, 61, was charged in federal court in Washington D.C. this week with felony counts of assaulting, resisting, or impeding law enforcement officers and interfering with law enforcement officers during a civil disorder, as well as five other misdemeanor charges.
He made an initial court appearance Wednesday in Chicago and was released pending further court proceedings in D.C.
According to a statement of facts document from federal prosecutors, McNamara was identified in videos at the Capitol during the riot, where he was allegedly seen "lunging forward, swinging his arms in the presence of law enforcement officers, and picking up a railing and ramming it at the door several times."
He then allegedly attempted several more times to enter the building before being pepper sprayed by law enforcement, who also used rubber bullets to stop him.
Investigators trying to identify the man seen in riot videos noted that he'd been referenced in various open-source channels under the moniker "#RailMixer," according to prosecutors. Images from those videos were later matched to McNamara's Illinois driver's license photo.
The FBI in June 2022 interviewed known associates of McNamara, and on June 27, they received a phone call from an attorney indicating that he represented McNamara, who "wanted to speak with the FBI concerning his involvement in the events of January 6, 2021."
McNamara was interviewed on July 1, at which point investigators confirmed "that McNamara was AFO-471 a/k/a #RailMixer," prosecutors said.
According to the feds, nearly 900 people have been arrested for crimes related to the Capitol breach, including over 275 individuals charged with assaulting or impeding law enforcement.
Contact Matt Masterson: @ByMattMasterson | [email protected] | (773) 509-5431
---