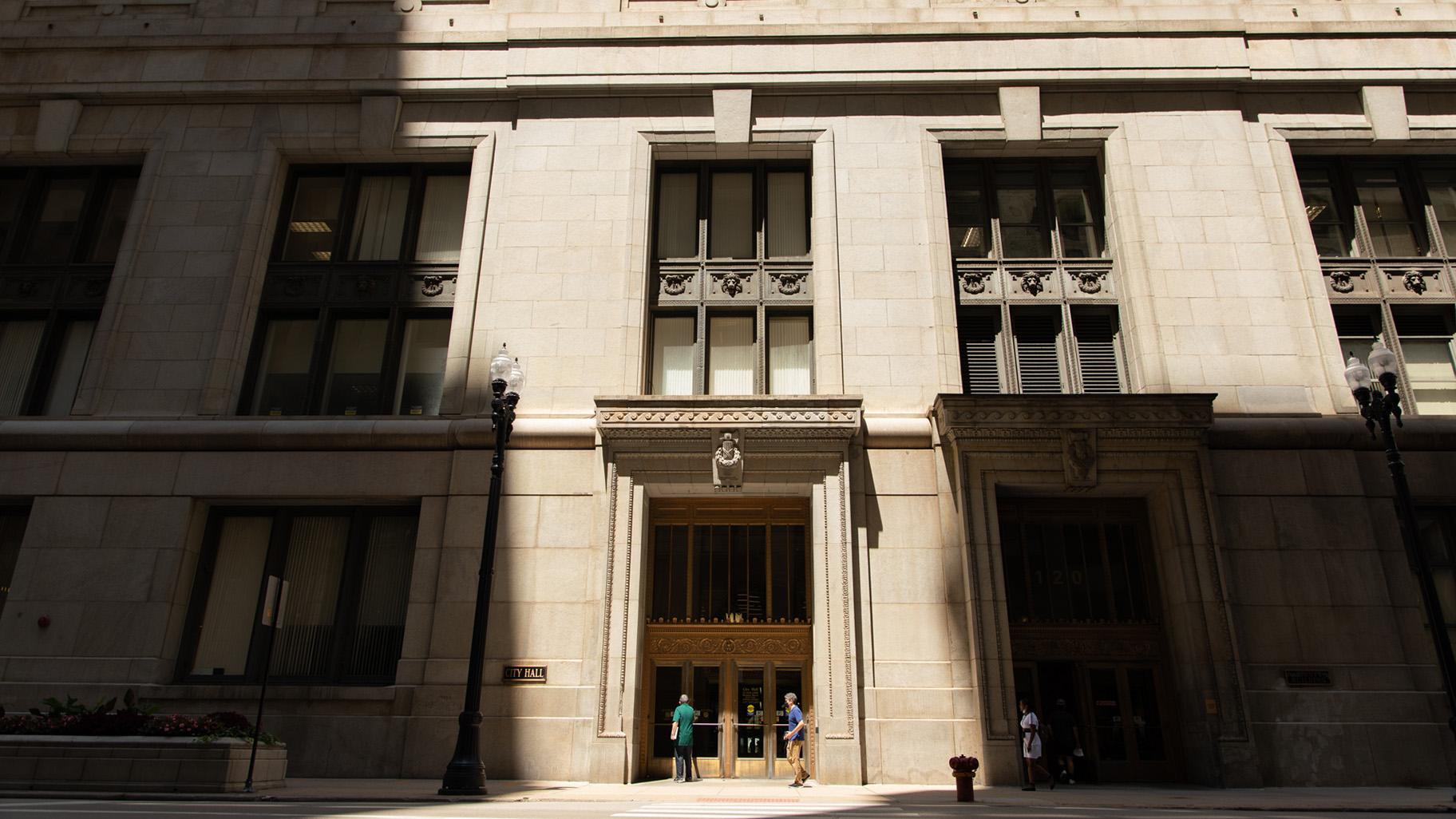 Chicago City Hall. (Michael Izquierdo / WTTW News)
As Ald. George Cardenas prepares to step down from the Chicago City Council, Mayor Lori Lightfoot will have little input from residents to consider as she picks the first new 12th Ward alderperson in two decades.
A survey designed to determine what residents of the Southwest Side's 12th Ward, which includes McKinley Park and parts of Little Village and Brighton Park, think should be the highest priority for their new alderperson received just 25 responses, according to results posted on the city's data portal on Monday.
Cesar Rodriguez, Lightfoot's spokesperson, told WTTW News the mayor's office could not determine why so few responses were received.
That lack of engagement stands in stark contrast to the response that a similar survey conducted before Lightfoot tapped Ald. Timmy Knudsen to replace former 43rd Ward Ald. Michele Smith in September.
The survey of Lincoln Park residents received nearly 800 responses. Most residents of the North Side ward encouraged Lightfoot's pick to focus on public safety, amid a spike in violent crime, including carjackings, in and around downtown.
Cardenas' replacement will be Lightfoot's fourth appointment to the City Council.
Residents of the 11th Ward, which includes Bridgeport, and the 24th Ward, which includes North Lawndale, were not asked to complete a survey before Lightfoot picked new City Council members. Both Ald. Nicole Lee (11th Ward) and Ald. Monique Scott (24th Ward) are running for full, four-year terms in February's election.
Rodriguez told WTTW News in August that the survey of 43rd Ward residents was conducted in response to feedback from residents of the 11th and 24th wards.
Lightfoot has until Jan. 29 to name a replacement for Cardenas — one month before his replacement could be elected.
Four people applied to fill the 12th Ward seat: Anabel Abarca, Cardenas' former chief of staff and a candidate in the Feb. 28 election; Robert Abeldano, who works for a firm that leases properties for wireless communications companies; Lydia Arroya, a member of the parish council at Blessed Sacrament Catholic Church; and Anthony Wojtal, a budget manager for the Chicago Public Schools.
Cardenas, who will leave the City Council on Wednesday after being elected to the Cook County Board of Review, has endorsed Abarca in the February election.
Julia Ramirez, the other announced candidate in the 12th Ward race, did not apply to finish Cardenas term, which ends in May. Ramirez has been endorsed by United Working Families, a progressive political organization closely aligned with the Chicago Teachers Union.
Hours after Lightfoot announced the members of the three-person committee she asked to recommend a replacement for Cardenas, one member bowed out.
The mayor's office initially listed Claudia Rodriguez of Noble Charter Schools as a member of the committee, but she told WTTW News she would not join the committee, while declining to tell WTTW News what prompted her decision.
Claudia Rodriguez was replaced by Donna Hubble, whom the mayor's office erroneously identified as also being affiliated with Noble Charter Schools. Hubble is president of the Wolcott Block Club.
The mayor's office did not respond to a question from WTTW News about what prompted the change and how the error was made.
"Claudia Rodriguez decided to step down and we are pleased that Donna Hubble will help with the important selection process by providing a slate of qualified candidates for the mayor to make her selection," said Cesar Rodriguez.
Contact Heather Cherone: @HeatherCherone | (773) 569-1863 | [email protected]
---