These are trying times for big tech.
For the first time in two decades, America's major technology companies appear to be on the back foot.
A wave of layoffs at tech giants like Facebook parent Meta, Amazon and Twitter — along with falling share prices — seems to signal a changed environment for big tech.
According to Layoffs.fyi, this month alone some 35,000 tech workers have lost their jobs, adding to the more than 100,000 layoffs that have already hit the tech sector this year.
Meanwhile, Elon Musk's $44 billion takeover of Twitter — followed by a series of erratic decisions — has advertisers fleeing and even Musk himself questioning the future viability of the platform.
Adding to advertiser concerns, over the weekend Musk reinstated former President Donald Trump's account on the platform following a Twitter poll on Friday night. Trump was kicked off the platform following the Jan. 6 attacks on the U.S. Capitol and a series of incendiary tweets.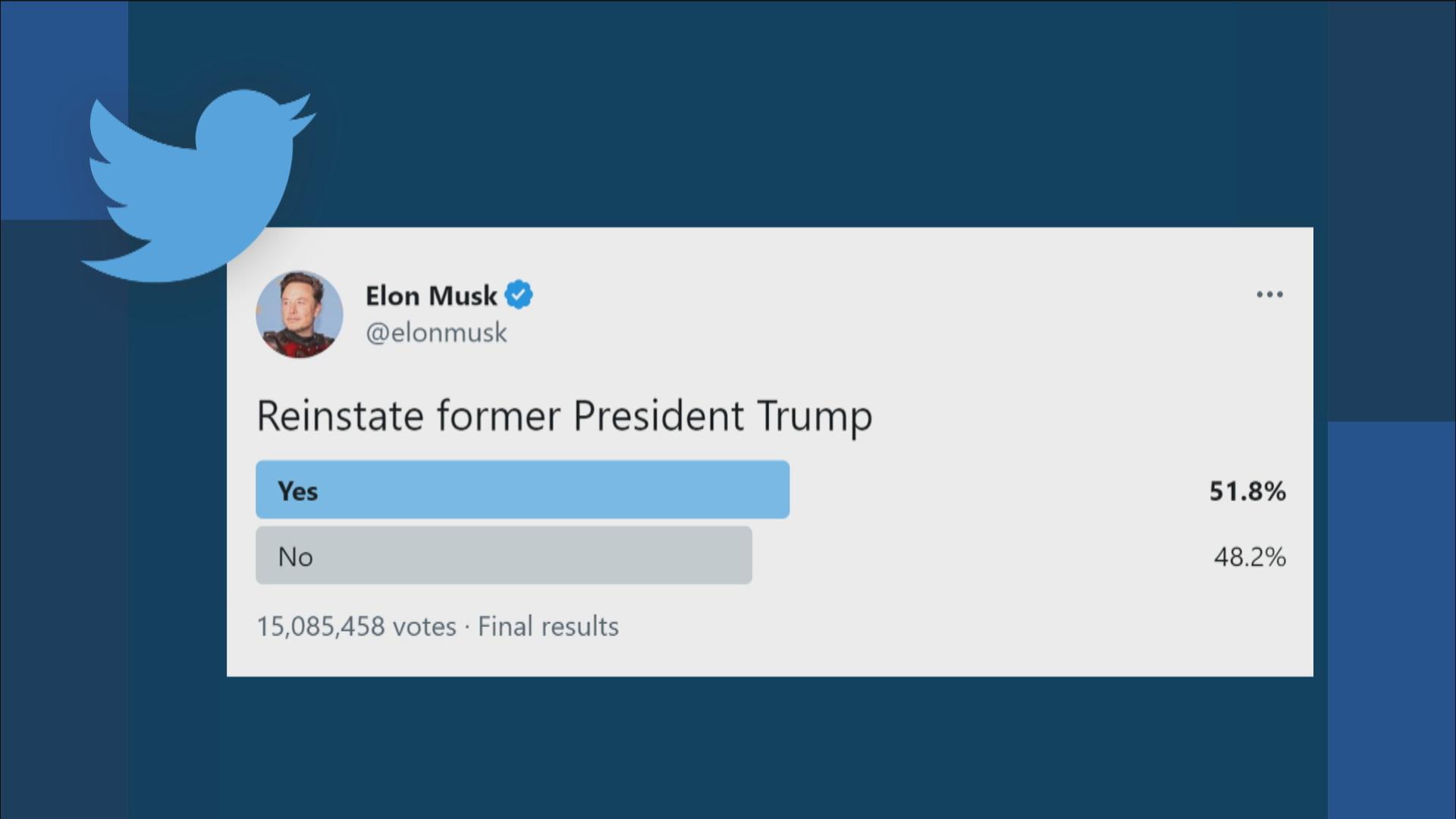 A Twitter poll taken by Elon Musk on whether Donald Trump should be reinstated on the platform. (Twitter)
Kanye West – who now goes by the name Ye – also had his Twitter account restored after his account was suspended last month for a series of antisemitic posts.
Ben Zhao, professor of computer science at the University of Chicago, says the tech industry layoffs are a "natural part of the economic cycle" after a period of frenzied hiring. He says Meta's announcement earlier this month that it was laying off 11,000 people – 13% of the workforce – was a signal to other tech companies to downsize after a period of "euphoric" hiring.
"It's staggering just how fast the turnaround is right now and how sentiment is changing," says Zhao. "I think a lot of companies saw (the Meta layoffs) as an opportunity to really follow suit and to effectively take advantage of the opportunity to really trim some fat and reduce their expenses."
Rising interest rates means the era of cheap money is over and also translates into less investment and less support for sky-high stock prices.
"I think in some sense it's a pause," says Ben Jones, an economist and professor of entrepreneurship and strategy at Northwestern University. "These companies are not going out of business necessarily; they're just having to shore up their finances. I think it's a kind of downshift returning to a lower level of growth."
Zhao doesn't believe the wave of layoffs is a sign of broader systemic issues in the tech sector and says some of the issues of concern are company specific. He is particularly worried by Musk's takeover of Twitter and the impact of his policies on the platform in terms of facilitating the spread of misinformation and disinformation.
Musk's attempt to monetize Twitter's blue check verification system by simply allowing users to buy the verification stamp for an $8 monthly fee has also backfired.
Pharmaceutical giant Eli Lilly's share price recently took a hit after a parody account tweeted that insulin was now free.
"It's just one of many examples of how using money to provide or buy authenticity seems like a ginormous misstep," says Zhao.
And such real world impacts of misinformation on the platform may strengthen demand for greater regulation of what is effectively the digital town square.
"Twitter is almost unique in its influence," says Zhao. "It has surpassed traditional news media as the primary form of information for many, and so for it to be entirely controlled for all intents and purposes by a single person seems to beg for regulatory action. It would be akin to having an entire large TV network that was the primary source for millions to be owned by a single person with no oversight."
Jones, who previously served on President Barack Obama's White House Counsel of Economic Advisers, thinks the regulatory framework for big tech needs to be overhauled.
"I think that generally the history of technology moves ahead of institutions and decisions (and regulation) have to catch-up," says Jones. "The lack of truth on these platforms and the promotion of the rapid wildfire spreading of falsehoods and conspiracies – it's all very problematic."
Problematic too, says Zhao, is a Silicon Valley culture that puts too much faith and control into the hands of archetypal "genius founders" such as Mark Zuckerberg at Meta.
Meta's stock is down nearly 70% in the last 12 months as investors appear unconvinced by Zuckerberg's $10 billion investment in the metaverse that has produced underwhelming results so far. However, the company's structure means that Zuckerberg effectively has veto-power over the other shareholders even though he only actually owns 13.5 of the stock.
"Silicon Valley is very unique culture where the influence of venture capitalists and the abundance of resources can really create a unique sort of ecosystem where people can have enormous freedom that they wouldn't have elsewhere," says Zhao.
"It's really more of a testament to the VC culture and what they have allowed to happen," says Zhao. "(They) have promoted this image of the all-powerful founder knowing what's best and allowing for simply greed to drive what policies are acceptable."
---