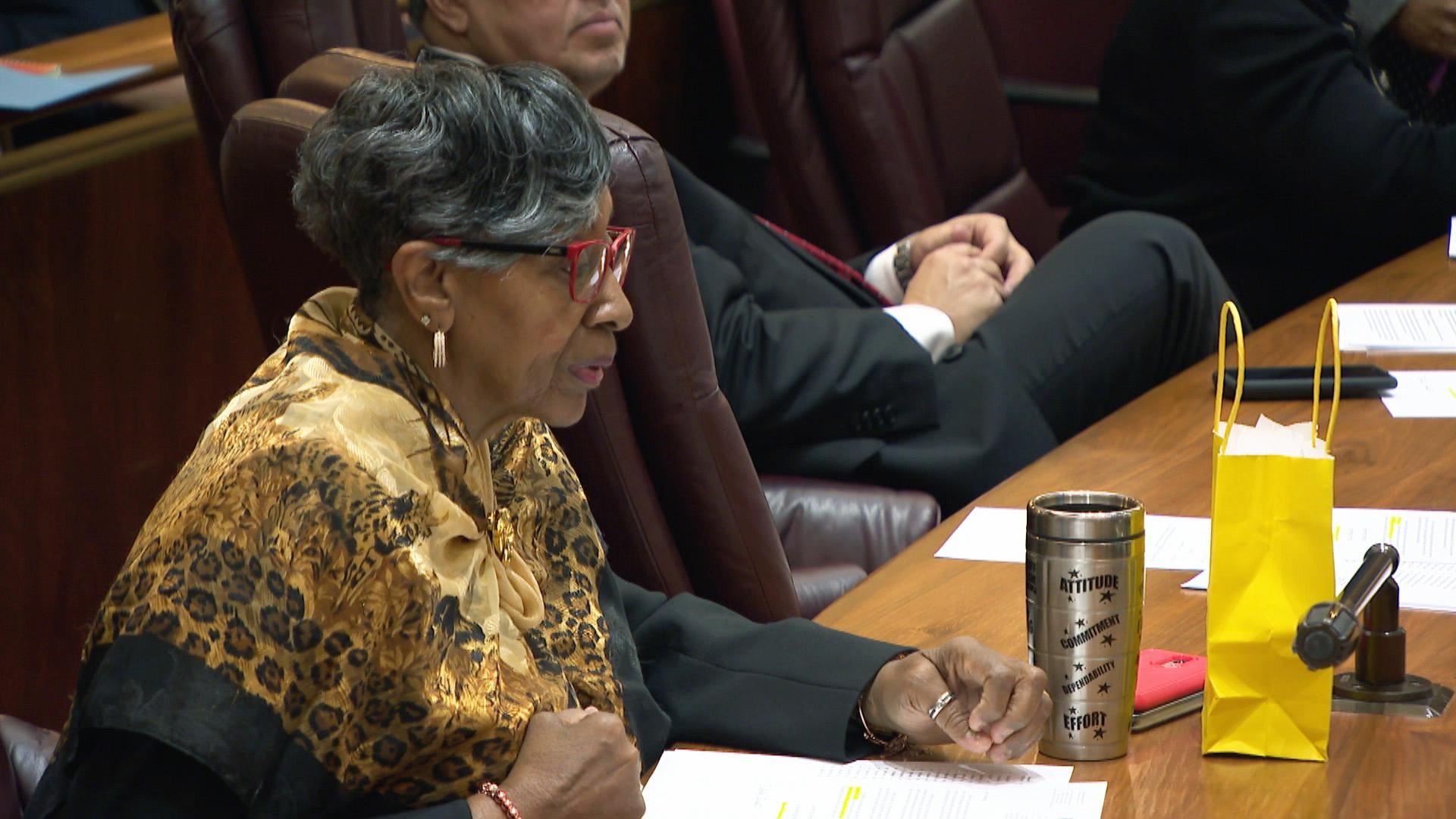 A file photo shows 34th Ward Ald. Carrie Austin at a Chicago City Council meeting. (WTTW News)
Indicted Ald. Carrie Austin (34th Ward) told a federal judge on Friday that she is too ill to stand trial. She also informed Mayor Lori Lightfoot she plans to retire from the Chicago City Council on March 1 — one day after the next Chicago City Council election.
Austin, 73, pleaded not guilty to charges that she accepted bribes from a developer and lied to FBI agents. Indicted in July 2021, Austin has never appeared in person before Judge John Kness because of her ill health and restrictions put in place to stop the spread of COVID-19. 
In her resignation letter, dated Nov. 11, Austin told Lightfoot that she wanted to finish out her sixth term in office but was unable to do so because of her worsening health. Austin has represented the Far South Side's 34th Ward since 1994, and her term is set to end May 22. 
The letter became public as part of a motion filed Friday by Austin's lawyers asking Kness to declare her medically unfit to stand trial. A spokesperson for Lightfoot did not immediately respond to questions from WTTW News about Austin's resignation and whether it was appropriate for someone so ill to represent the 34th Ward for at least the next 100 days. 
Austin said in her letter her health has yet to recover after she collapsed during the Dec. 15 City Council meeting. Austin was last seen publicly at City Hall on Nov. 7, when she voted for Mayor Lori Lightfoot's $16.4 billion spending plan while receiving supplemental oxygen therapy.
Since her collapse, Austin told Lightfoot it has been a "continual struggle to keep up with my responsibilities" and attending City Council meetings has become "a very exhausting and strenuous ordeal."
After being revived by Ald. Anthony Napolitano (41st Ward), Austin was rushed to the hospital, where she was diagnosed with a partial collapse of the lungs.
"It is simply not sustainable for me to continue to properly serving as the 34th Ward alderman while dealing with these continuing health problems," Austin wrote.
Austin announced months ago she would not run for reelection to the City Council, and the boundaries of the 34th Ward were moved from the Far South Side, which has seen an exodus of residents, to the area around the booming West Loop.
Austin's attorneys — Thomas Durkin, Joshua Herman and Elisa Yee — call the allegations that Austin received "household items such as bathroom tiles, sump pumps, and a dehumidifier, in exchange for aldermanic acts that purportedly benefitted the developer — rather de minimus allegations in the annals of federal court political prosecutions in Chicago."
Thirty-seven members of the City Council have been convicted of a crime since 1969.
The filing details Austin's "long history of heart problems," including a heart attack and coronary artery disease that required heart bypass surgery in the early 2000s. In addition, Austin underwent a double mastectomy in February 2021 after being diagnosed with breast cancer in 2015.
In April 2021, Austin had another surgery connected to a long history of life-threatening gastrointestinal bleeding, according to the filing.
Those ailments have made it impossible for Austin to help prepare her defense, according to her attorneys.
"Thus, as should be rather obvious, Ms. Austin has only been minimally able to assist counsel in the review of the voluminous discovery materials in this case," according to her attorneys. "Nor has she been able to participate in in-person or Zoom conferences for much more than an hour or two at most."
In a footnote included in the filing, her attorneys admonished the news media for questioning whether Austin was medically fit to serve as a City Council member if she was unable to stand trial. City Council meetings routinely last for four or five hours, and Austin is a member of several committees.
"Aside from the blatant rhetorical foolishness in trying to equate a periodic City Council meeting to a federal jury trial, the truth is Ms. Austin reduced her schedule due to her health issues," Austin's attorneys wrote. 
Austin, who earns $130,248 annually as a member of the City Council, never publicly announced that she had scaled back her official duties.
Austin was determined to complete her sixth term in office, which she won in 2019 with 54% of the vote, and not resign, which would have allowed Lightfoot to appoint a replacement, according to the filing.
"While Ms. Austin had confidence in the mayor exercising that customary prerogative, she regarded such a course as shirking her own oath and sense of duty to the constituents who re-elected her in 2019," according to the filing, which anticipates that the newly elected alderperson of the 34th Ward would be appointed to finish out her term. "Again, while it may have been a better health decision for her to resign in December 2021, she should not be chided for opting for one alternative in the Hobson's choice that confronted her. Rest assured, had she resigned in December prior to the approval of the new ward map and the recently approved city budget, the same press scribes would have been criticizing her for allowing the mayor to make an important appointment at such a critical time."
Austin was lauded by her colleagues on the City Council's Black Caucus for not opposing efforts to essentially absorb the 34th Ward into what is now the 21st Ward during the otherwise bitter remap debate. Austin's decision not to fight the elimination of her ward prevented a fight between members of the Black Caucus scrambling to hold on to their positions on the South Side, which has seen an exodus of Black residents.
Contact Heather Cherone: @HeatherCherone | (773) 569-1863 | [email protected]
---