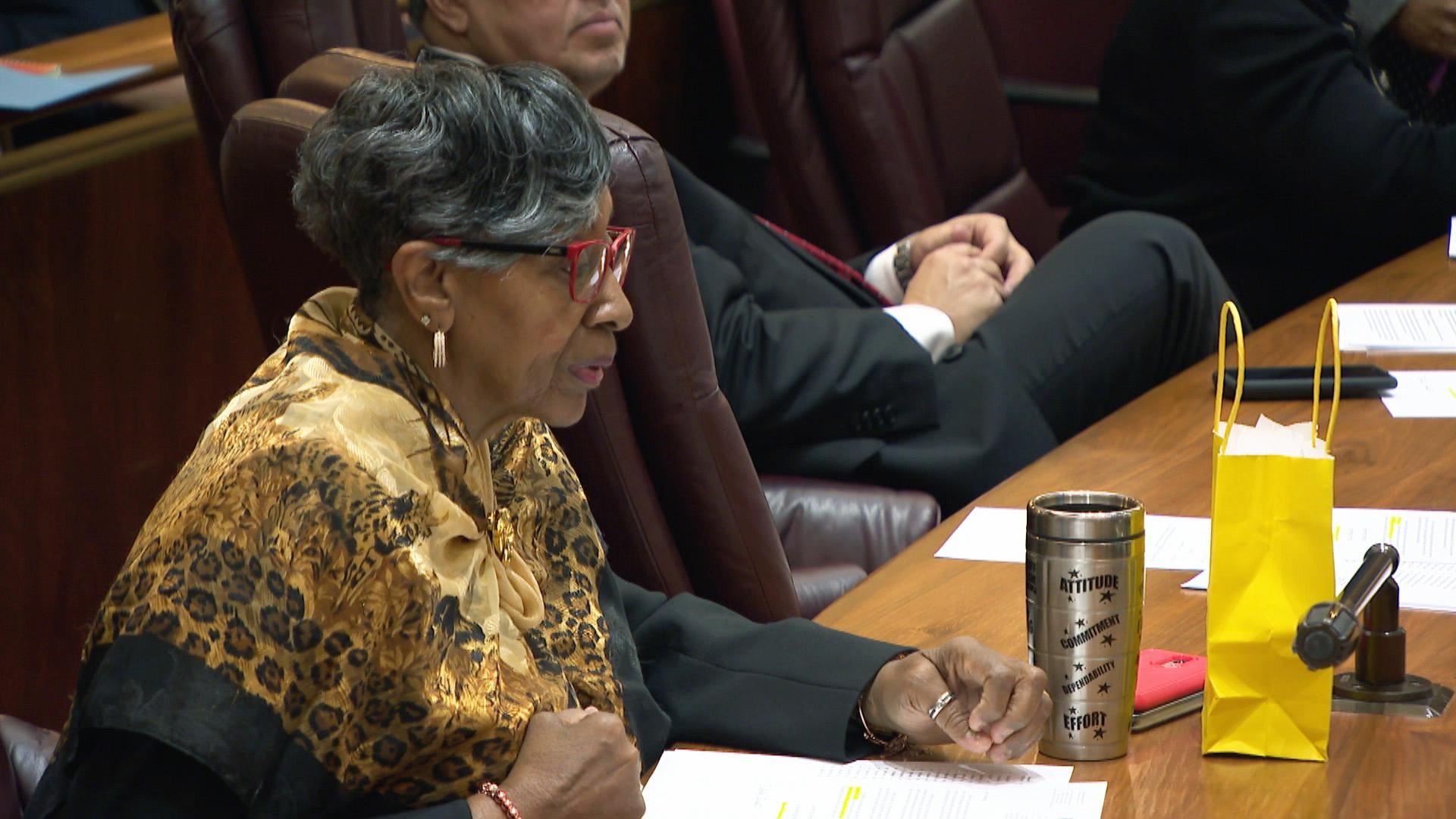 A file photo shows 34th Ward Ald. Carrie Austin at a Chicago City Council meeting. (WTTW News)
Indicted Ald. Carrie Austin (34th Ward) collapsed during Wednesday's City Council meeting and was treated by former firefighter Ald. Anthony Napolitano (41st Ward) before reviving and being taken out of the Council Chambers on a stretcher.
Mayor Lori Lightfoot declined to provide an update on Austin's condition after the meeting, but said she was praying for Austin, 72, the second longest-serving member of the Chicago City Council.
The members of the City Council were debating a procedural matter when Austin appeared to slump in her chair in the center of the City Council chambers, prompting several of her colleagues to sound the alarm. Lightfoot recessed the meeting, and ordered the news media and members of the public removed.
When members of news media were allowed to return to the chambers, Ald. Emma Mitts (37th Ward) said Austin had experienced pain on the side of her body but was conscious and resisted being taken to the hospital for an examination.
Mitts praised Napolitano for assisting Austin until the paramedics arrived. Napolitano declined to speak to reporters after the incident.
Before the City Council resumed its meeting, Mitts led the City Council in prayer for Austin.
"At times like these, we take life for granted. We don't know when and where anything can happen to any one of us," Mitts said. "So, right now Lord, we're asking for your blessings for our colleague, Ald. Austin, as she goes in and lets the doctors do the work that they do to make sure that her health is good and she's good. You say, 'Ask and it shall be given.' We're calling upon you because you are the one who has all of the power. All of the medicine. Everything she needs to be able to be healed."
After the City Council meeting, Lightfoot said she was pleased the members of the City Council rallied to assist Austin, who has suffered a number of health problems during the past several years.
Austin confirmed to reporters earlier this month that she does plan to run for a seventh term on the City Council in 2023.
Appointed by Mayor Richard M. Daley to represent the 34th Ward after the 1994 death of her husband, Ald. Lemuel Austin, she won her first full term in 1996, and was reelected to a sixth term in February 2019 with 54% of the vote.
Austin pleaded not guilty to charges that she accepted bribes from a developer and lied to FBI agents.
In October, Austin's attorney told U.S. District Court Judge John F. Kness that Austin is suffering "several complicated health problems, one of which is cardiac." Another hearing in the case is scheduled for Friday.
Austin was diagnosed with COVID-19 in July 2020, and was hospitalized.
In August, Austin resigned as chair of the Committee on Contracting Oversight and Equity nine days after WTTW News reported that the committee spent more in 2020 than nearly all other City Council committees while meeting only three times and not advancing a single piece of substantive legislation.
Contact Heather Cherone: @HeatherCherone | (773) 569-1863 | [email protected]
---