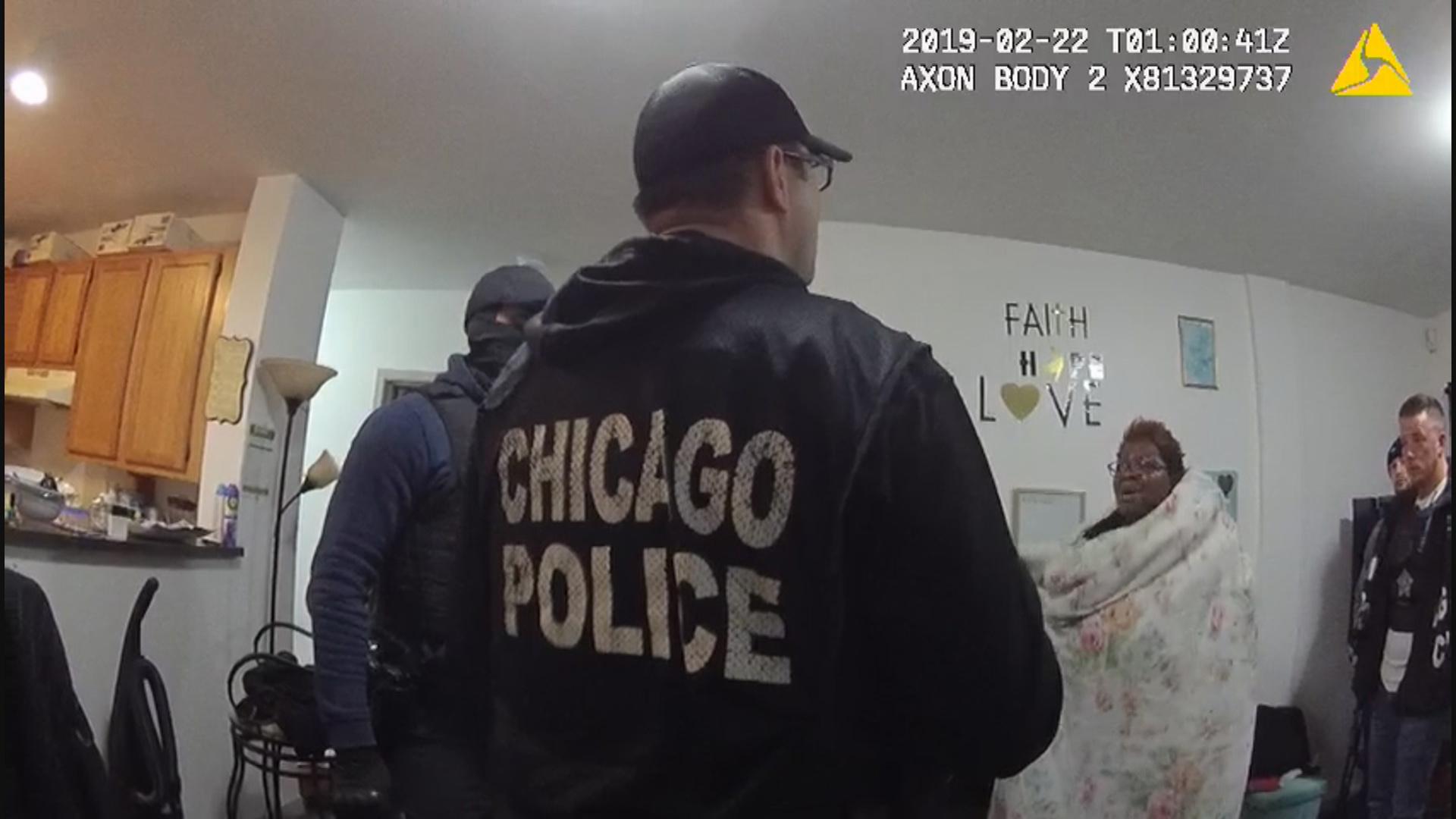 A still image from a Chicago Police Department body camera video shows a police raid at the home of Anjanette Young in February 2019. (WTTW News via Ja'Mal Green)
A key city panel rejected a proposal Thursday to ban no-knock warrants and restrict how Chicago police officers can raid homes that was backed by Anjanette Young, the Chicago woman who was handcuffed while naked by officers who ignored her pleas for help during a botched raid in February 2019.
The Chicago City Council's Public Safety Committee voted 4-10 to reject the proposal introduced by Alds. Maria Hadden (49th Ward) and Pat Dowell (3rd Ward) eight months ago.
Deputy Mayor for Public Safety Elena Gottreich told committee members that changes to the way the Chicago Police Department serves search warrants and conducts raids after the video of the raid on Young's home created a political firestorm were sufficient.
The department's policy now requires that bureau chiefs sign off on any no-knock warrants. It also adds steps before, during and after the execution of a search warrant, such as requiring officers to account for the possible presence of children or vulnerable parties and mandating a lieutenant or higher-ranking official is on the scene.
Since the Chicago Police Department is operating under the oversight of a federal judge after a probe by the Department of Justice found that officers routinely violated the constitutional rights of Black and Latino Chicagoans, Gottreich said codifying department policy into law would be "sticky and duplicative."
Hadden accused Mayor Lori Lightfoot's administration of spreading "misinformation" about the authority of the City Council to set policy for the Chicago Police Department.
Young testified during Thursday's meeting that she is still struggling to recover from the trauma caused by the botched raid. To settle the lawsuit Young brought against the city, the City Council agreed to pay her $2.9 million.
Chicago Police Superintendent David Brown told members of the Chicago City Council the officers who conducted the raid had violated Young's human rights. Brown has asked the Chicago Police Board to fire the sergeant who led the raid.
"Imagine in that moment that, maybe, I was someone that you cared about. Imagine it was your mother who was standing there," Young said. "None of us would have wanted our mother to have that type of experience. Well, guess what? I'm someone's mother. See me as your mother. Someone who deserves dignity and respect, regardless of the situation."
The Chicago Police Department's policy restricts no-knock warrants to situations in which "there is a reasonable suspicion that knocking and announcing would be dangerous to the life or safety of the officers serving the warrant or another person."
A probe by the Civilian Office of Police Accountability found evidence that officers committed nearly 100 acts of misconduct during the botched raid. And a report released by the city's inspector general found that approximately 72% of all search warrants served by the Chicago Police Department in homes during the past four years targeted Black men.
The policy now requires that officers "treat all persons with the courtesy and dignity which is inherently due every person and will act, speak, and conduct themselves in a courteous, respectful, and professional manner" while serving search warrants. 
Officials must also conduct an independent investigation in order to verify the information used to develop a search warrant prior to its execution. Warrants based on information provided by an anonymous informant also require the approval of a bureau chief.
The proposal rejected Thursday would require officers conducting a raid to use "tactics that are the least intrusive to people's home, property and person and least harmful to people's physical and emotional health." 
In addition, the rejected proposal would have banned officers from pointing guns at children or others while children are present. Officers are only required to document incidents in which they point their guns while serving a search warrant.
Lightfoot has refused to release former Inspector General Joseph Ferguson's probe of the botched raid, which he said uncovered a nearly complete failure of city government that was "exceedingly harmful," to Young.
Contact Heather Cherone: @HeatherCherone | (773) 569-1863 | [email protected]
---