U.S. Rep. Jesús "Chuy" García (D-Chicago) Thursday launched a bid for Chicago mayor, scrambling the already large field of candidates running to deny Mayor Lori Lightfoot a second term and touching off what promises to be a bruising contest among progressives in Chicago.
In a video posted early Thursday morning, García said he was running for mayor because "Chicagoans are calling out for help" after suffering though a pandemic and experiencing a "racial reckoning that underscored our painful history of inequity."
García formally launched his campaign at Navy Pier, saying he chose the date to honor the 40th anniversary of former Mayor Harold Washington's announcement that he would run to be the first Black mayor of Chicago.
"We can bring a new dawn to Chicago," García said. "Chicago, I'm coming home … to turn our city around."
García and Washington were close allies and friends, and García's announcement video includes an image of Washington at City Hall — with García looking on.
García's election to the Chicago City Council 1986 helped Washington end the so-called Council Wars, and prevent a group of white alderpeople led by now-indicted Ald. Ed Burke (14th Ward) from blocking the mayor's initiatives and appointments. Washington died in 1987.
---
Read More: Race for Chicago Mayor: Who's In and Who's Out for 2023 Election
---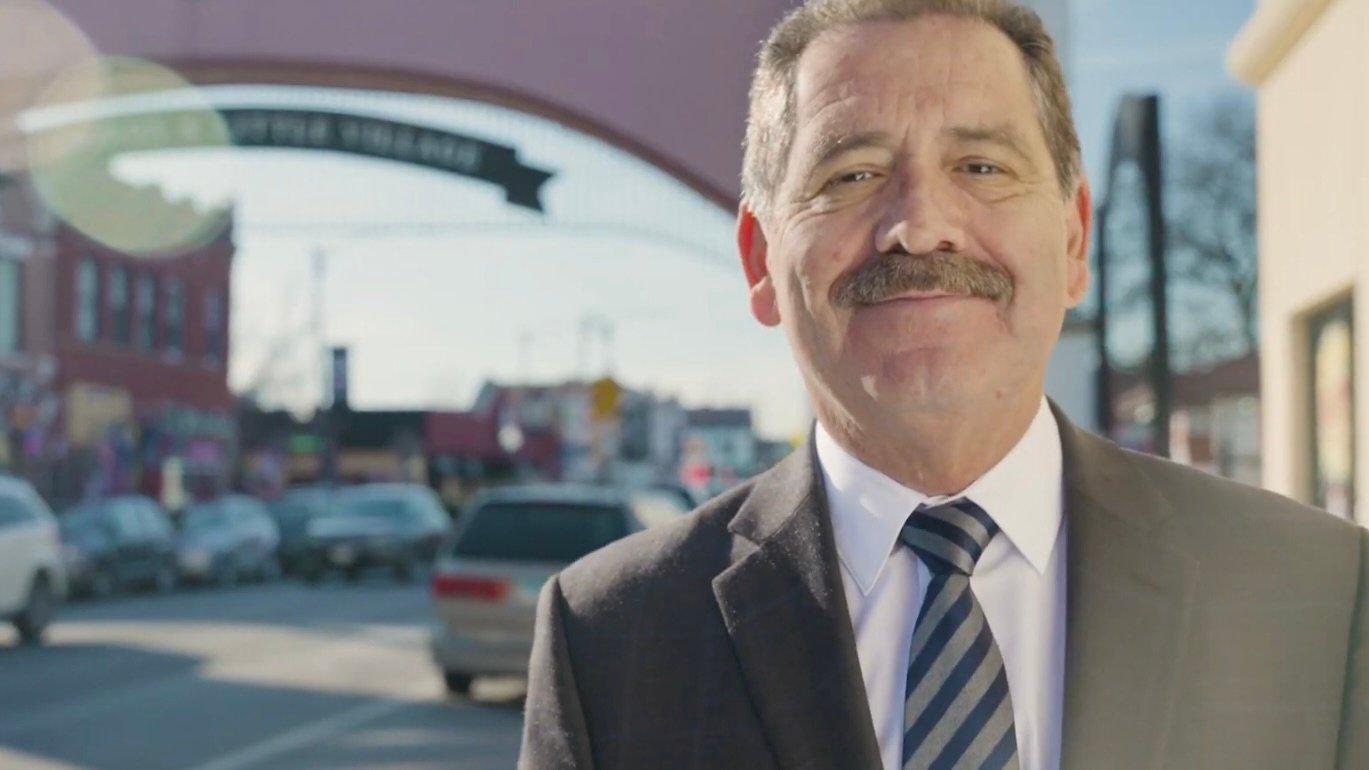 A shot from a new campaign video released by U.S. Rep. Jesus "Chuy" Garcia in front of the arch in Little Village. (Credit: Chuy for Chicago)
García promised to be a mayor for all of Chicago — and promised to be a mayor that "will bring us together and unite us, instead of driving us apart."
Much of Lightfoot's time as Chicago mayor has been marked by intense, and at times deeply personal, confrontations. Lightfoot's re-election campaign has leaned into those skirmishes, saying they are the cost of much-needed progress and blasting the criticism as rooted in sexism and racism.
While he spoke, García was flanked by a number of elected officials, including Ald. Gilbert Villegas (36th Ward), Lightfoot's former floor leader, and Ald. Susan Sadlowski Garza (10th Ward), Lightfoot's handpicked chair of the Council's Workforce Development Committee. 
García was introduced by state Rep. Theresa Mah (D-Chicago), the first Asian American to be elected to the General Assembly. Mah and Lightfoot clashed over a proposal to build Chicago's casino near Chinatown that was eventually rejected.
García's speech did not detail how his policies would different from Lightfoot's, or the other candidates who are already in the race. 
García promised to "get a handle on the violence and crime" in Chicago, but did not offer specifics to how to accomplish that. García also vowed to tackle climate change and prevent gentrification in Chicago.
García did not take questions from reporters after his speech.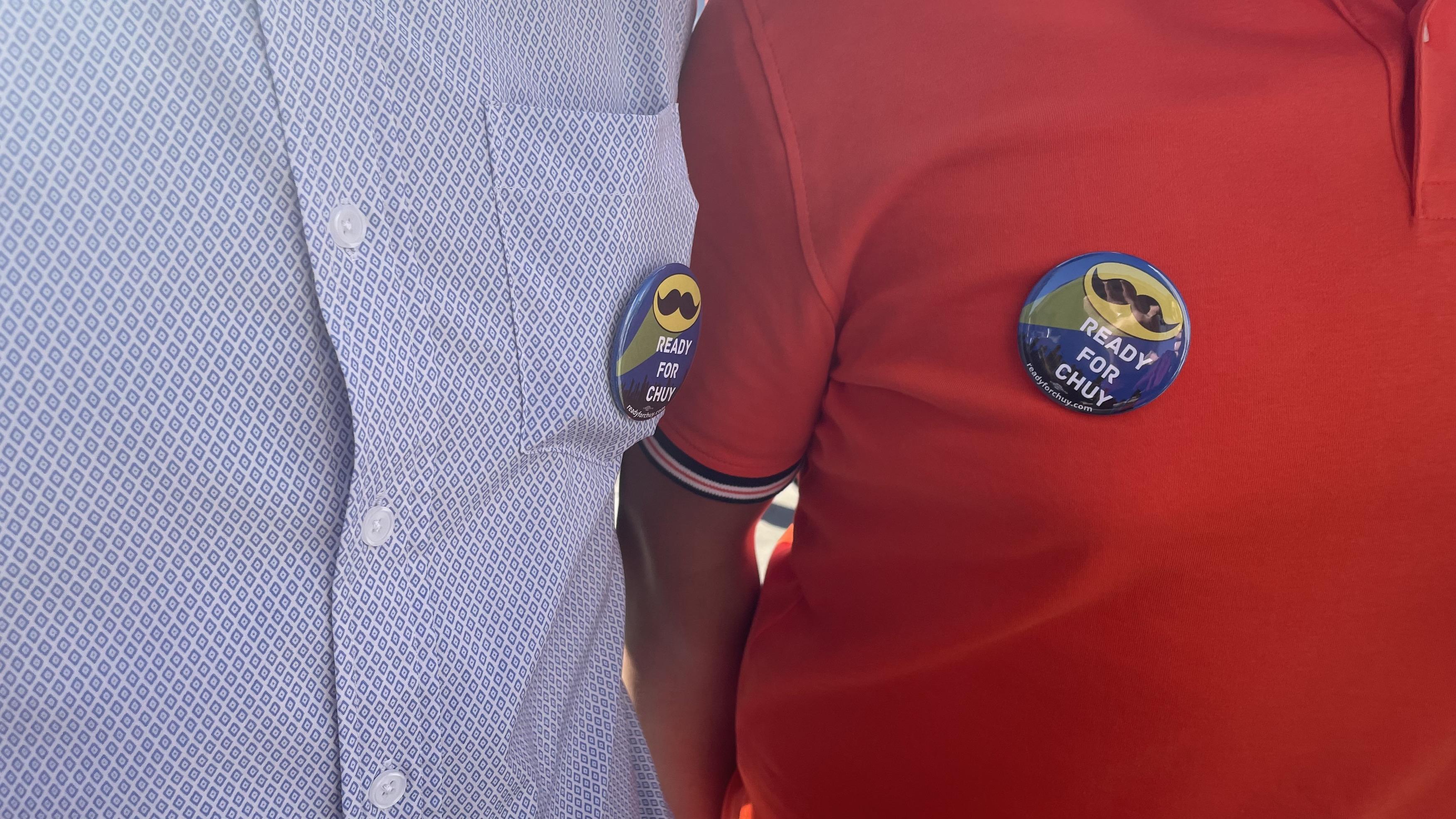 Supporters wearing campaign button's emblazoned with U.S. Rep. Jesus "Chuy" Garcia's famous mustache. (Heather Cherone/WTTW News)
In a statement, Lightfoot's campaign spokesperson Christina Freundlich called García a "career politician" and accused him of "prioritizing his own ambitions" during a time of crisis for Chicago, rather than providing "the tough, principled leadership our city needs."
"Mr. García spent months dithering on whether to get in this race, saying publicly he'd only run if Democrats lost the House," Freundlich said. "Now, a mere 36 hours after voters reelected him to Congress, and as Republicans prepare to use their new slim majority to strip away our rights, Mr. García is abandoning ship."
The Lightfoot campaign released their statement about García's challenge in both English and Spanish, the first time the mayor's campaign has done so.
García has served in government at nearly all levels during his nearly half-century career in Illinois politics, including in the General Assembly, Cook County Board and U.S. House of Representatives. García, first elected in 2018 to represent Illinois' 4th Congressional District, was reelected Tuesday — and it is unclear whether Democrats will continue to control the House.
García first ran for mayor in 2015, forcing then-Mayor Rahm Emanuel into a runoff. García also got into that race relatively late — taking the place of former Chicago Teachers Union President Karen Lewis after she was diagnosed with brain cancer. Lewis died in 2021.
In that race, García had the support of the powerful Chicago Teachers Union and much of organized labor in Chicago.
Many of those organizations — as part of a coalition with progressive political groups — threw their support in the race for mayor behind Cook County Commissioner Brandon Johnson, who announced his bid for mayor last month.
Johnson welcomed García to the race in a statement that did not mention him by name, and said he looked "forward to spirited and engaging discussion among all candidates about the future of our city."
"I am both honored and humbled by the broad-based, multiracial and multigenerational support that I continue to receive for my candidacy," Johnson said. "My vision remains clear: The people and families of Chicago demand change, and I am the one candidate who can deliver on a safe, equitable and inclusive future for us all."
Johnson is backed by all of the groups that have been working for nearly a year to unite behind one candidate to challenge Lightfoot — an effort that has now been thrown into disarray by García's second bid for Chicago mayor.
García is the 10th major candidate to run for mayor, including Lightfoot and Johnson: Willie Wilson, Ald. Raymond Lopez (15th Ward), state Rep. Kam Buckner (D-Chicago), Paul Vallas, Ald. Roderick Sawyer (6th Ward), Ja'mal Green and Ald. Sophia King (4th Ward).
García has 18 days to collect at least 12,500 signatures on his nominating petitions for mayor and submit them to elections officials. Most candidates will submit three times that amount, to ensure they can withstand any challenges, starting Nov. 21.
The election is Feb. 28. If no candidate wins a majority of the vote, the top two finishers will head to a runoff on April 4.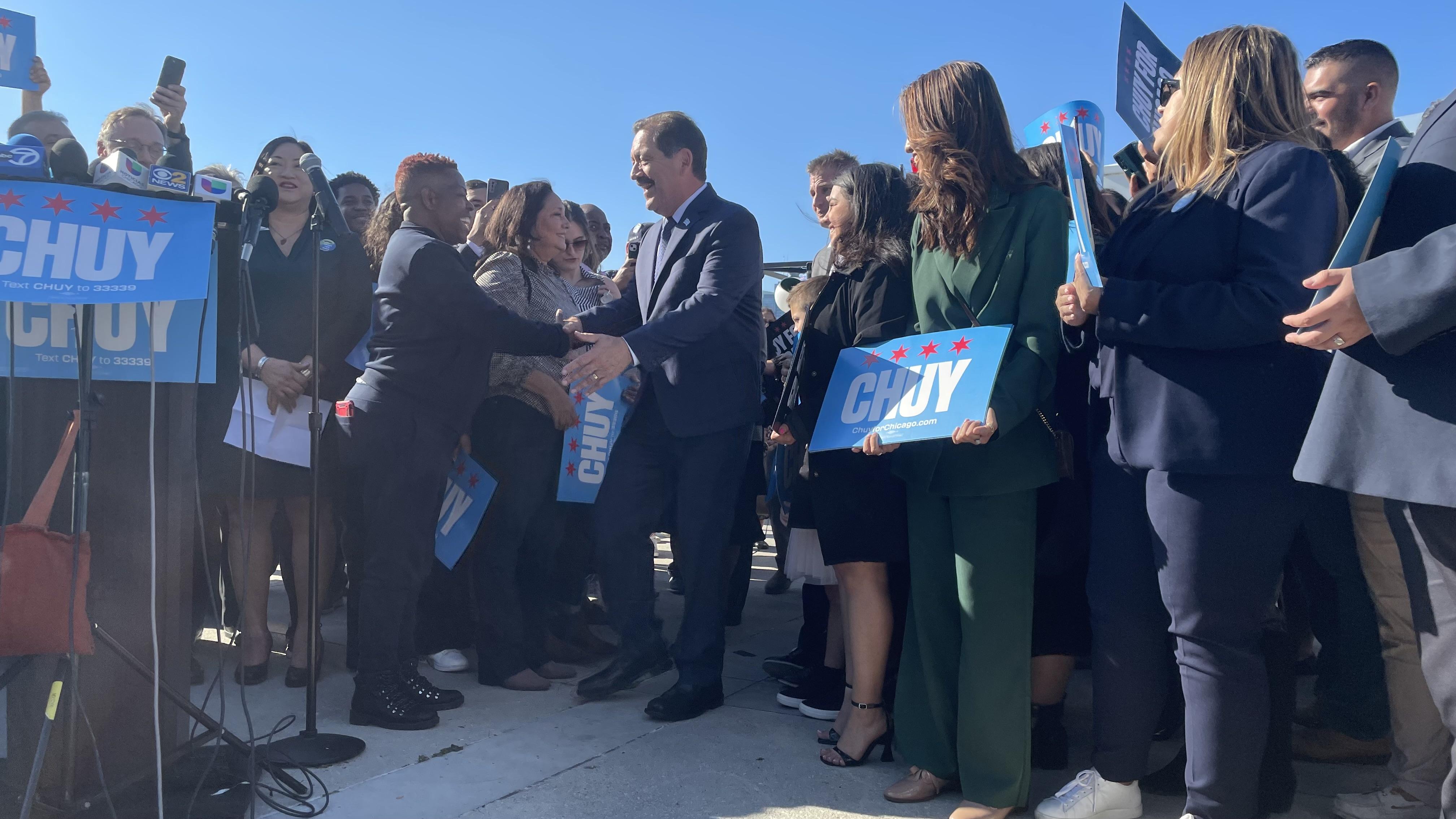 U.S. Rep. Jesus "Chuy" Garcia greets supporters before launching a campaign for mayor of Chicago. (Heather Cherone/WTTW News)
Contact Heather Cherone: @HeatherCherone | (773) 569-1863 | [email protected]
---