CTA President Dorval Carter got an earful from City Council members Thursday – some of whom were angered when he'd skipped previous council hearings.
The transit agency's leader talked about what the CTA is doing to address staff shortages, homelessness, crime and more. And alderpeople told him what they're hearing from constituents and seeing for themselves: long waits, angry riders and a tough road back to regular service.
Carter offered updates on what the CTA is doing to tackle the many issues the agency is juggling – and taking public heat for. But he also had an eye toward mending fences with the alderpeople who blasted him for not appearing earlier despite the struggles the system is facing.
"In addition to improving service, I also want to improve our communications with this body and our 900,000-plus riders. My presence here today is a demonstration of my commitment to do just that," Carter told a meeting of the City Council's Transportation Committee.
That didn't do much for Ald. Jeanette Taylor (20th Ward), who grilled Carter on employee morale, how the agency can better tackle homelessness, and underscored the importance of the system for people like her who don't drive.
"This is a system that you all need to take seriously, need to take care of, and I feel like since 2020 that has not happened," Taylor said. "It is very expensive to own a car, to have car insurance, and gas is $5. We depend on CTA, and the thought that you all have dropped the ball is problematic for me."
The reliability problems that riders have been complaining about, including to alderpeople, aren't just about long waits. They're also about so-called ghost buses and trains that appear on tracker apps but don't appear in real life.  Part of that, Carter says, is about some needed upgrades to the software that are in the works.
But those trackers also rely on the CTA's posted schedule. When the CTA can't provide the service that's scheduled, that can create the much hated ghost buses and trains. That's why CTA also adjusted its schedules to reflect the service it can actually provide based on staffing levels. Carter also echoed what he's said before – they're not making permanent cuts.
"I am not doing service cuts," Carter said. "I've been fortunate to be in a position where I've gotten the funding from the federal government to allow us to maintain the level of services that we can provide. I now need to get the human resources to provide it. There is nothing in my budget, there is nothing in my plans that suggest anything around cutting service. In fact, I'm looking at ways that I can extend and enhance service."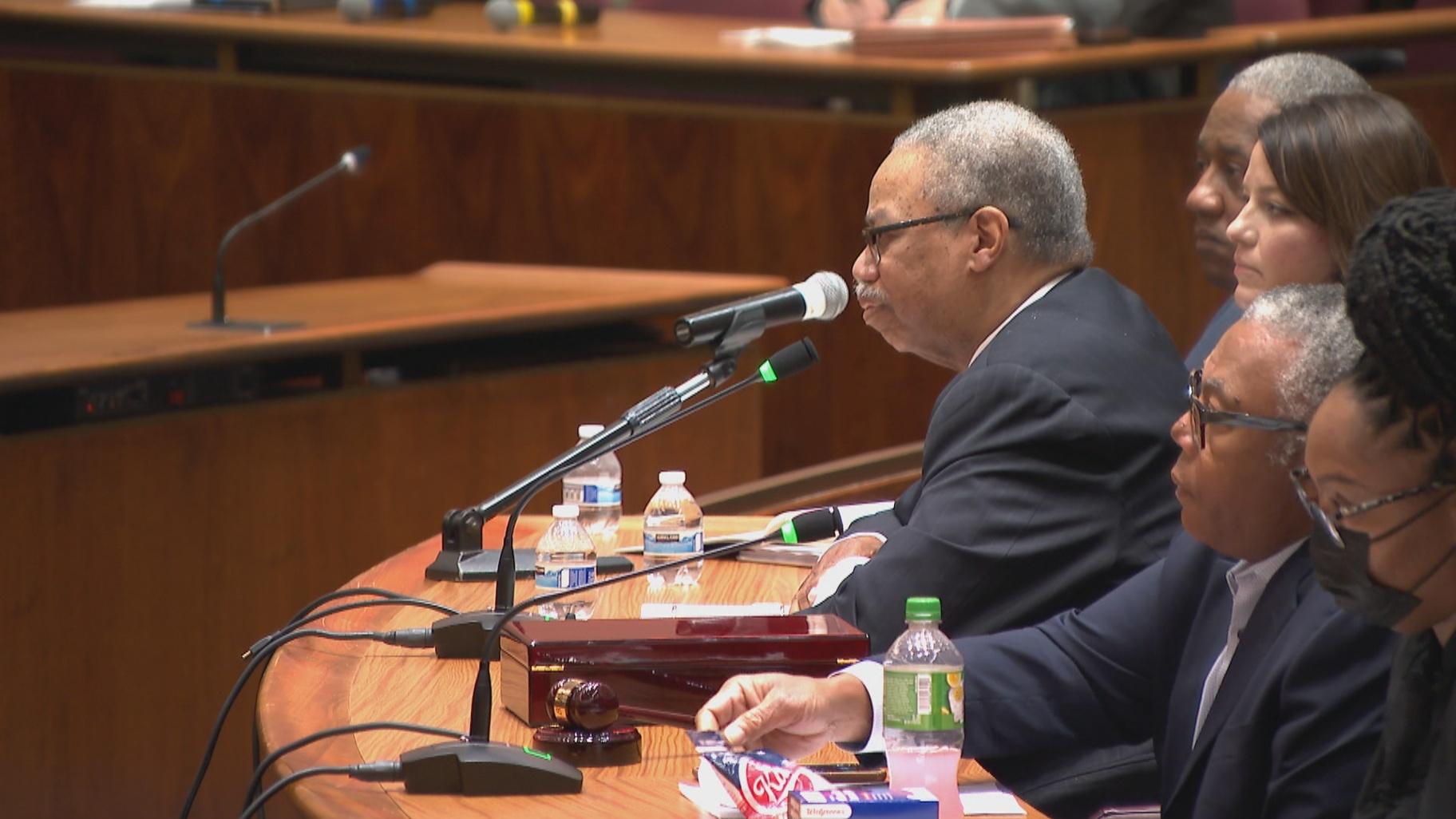 CTA President Dorval Carter addresses the Chicago City Council's Transportation Committee on Nov. 10, 2022. (WTTW News)
But those human resources are in short supply at the CTA. The agency has 600-700 open jobs for bus drivers and 100-200 for train operators. Carter says they've had a mass resignation that started earlier this year and that the agency's struggling to hire fast enough to make up for it. Add to that an average of 15 to 17 people a day out with COVID, and those staff shortfalls account for many of the gaps in service.
Carter says the agency has been working to hire operators, to incentivize people to stay, but that this is a problem public transit agencies are facing around the country.
"No one has a magic bullet that's going to make this go away right away. But it requires a lot of hard work ... to do the things we think we can do to make that system more reliable," Carter said.
Another frequently addressed issue: safety. Alderpeople are hearing from constituents who rely on the CTA to get around who don't feel comfortable taking buses and trains.
Carter touted the additional security the agency has brought aboard, though he heard from alderpeople who say they often see those guards doing more texting than patrolling.
He talked about efforts to coordinate with the Chicago Police Department. And he talked about another area of concern for riders – the number of people living with homelessness and mental health problems.
The CTA just inked an agreement with the city agency that tackles homelessness and Carter says they're working with community groups. But Ald. Brendan Reilly (42nd Ward) says there's much more to be done.
"There needs to be a much better coordinated campaign to engage with our homeless population on CTA infrastructure. It seems disjointed and not well organized," Reilly said.
Asked by Reilly how many people live on the CTA, Carter said it varies from day to day but that he doesn't want anyone living on the system.
There's also a stalled ordinance that would have compelled Carter to testify four times a year before the council. At the hearing, its sponsor, Ald. Andre Vasquez (40th Ward), said he's negotiating with its opponents to whittle that down to two times a year.
Carter says he'll gladly appear however often the City Council mandates.
---