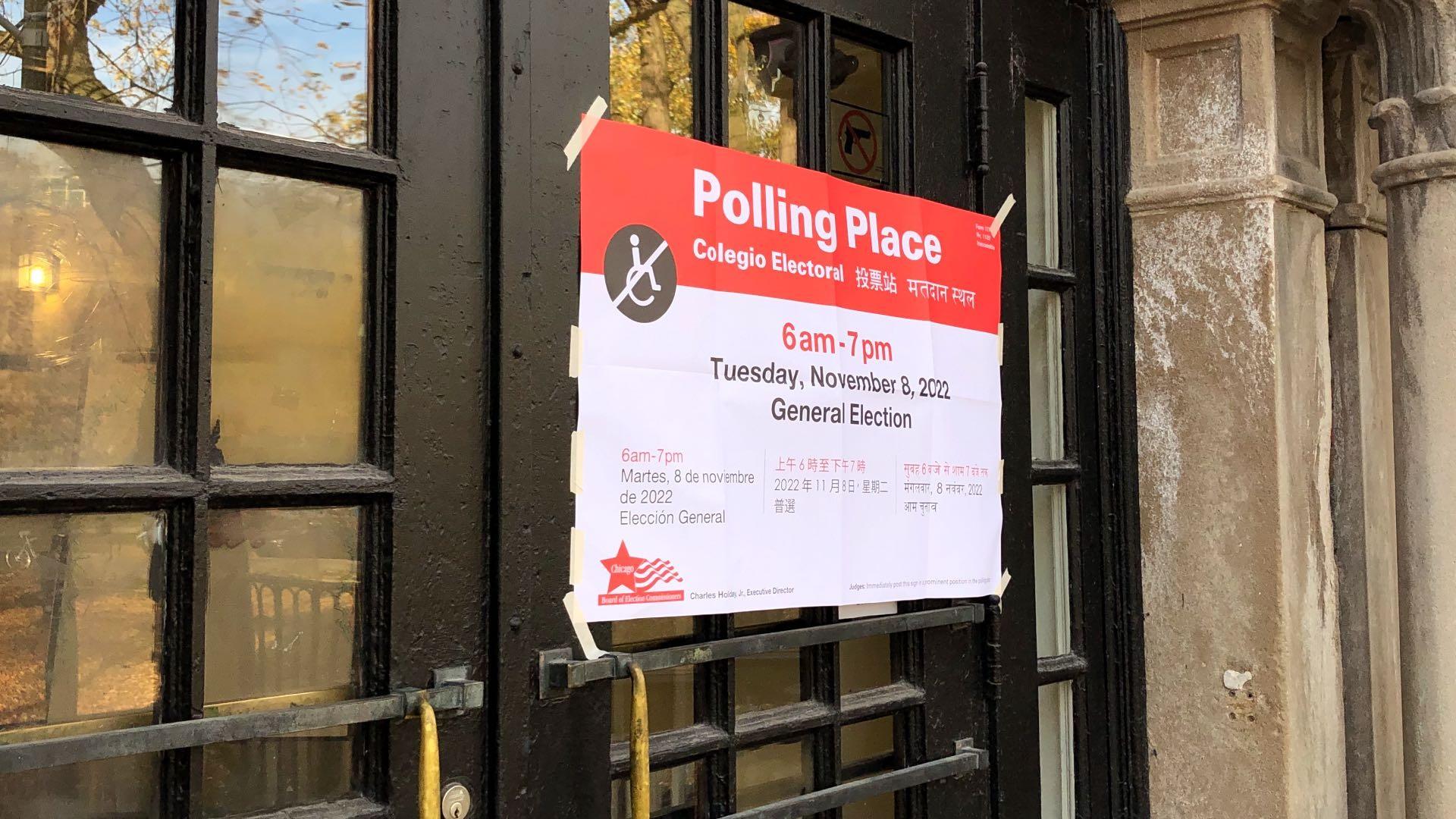 A polling place on the North Side of Chicago is pictured on Nov. 8, 2022. (Patty Wetli / WTTW News)
With just one incumbent on the ballot and four seats up for grabs, the Metropolitan Water Reclamation District Board of Commissioners is guaranteed to welcome a raft of new faces once votes are tallied Tuesday night.
And they all look to be Democrats. With about 90% of the vote tallied in Chicago and suburban Cook County, incumbent Mariyana Spyropoulos and her fellow Democrats Patricia Theresa Flynn and Yumeka Brown have risen to the top in the five-way race for three commissioner seats. Spyropoulos has nabbed roughly 30% of the votes, Flynn has earned approximately 26% and Brown 23%. 
In a bid to fill an unexpired two-year term, Democrat Daniel "Pogo" Pogorzelski has captured more than 75% of the vote over Green Party candidate Toneal Jackson, according to unofficial vote totals.
In a typical election cycle, three of the board's nine commissioners would be up for re-election: Board members serve six-year terms that, similar to the U.S. Senate, are staggered so only one-third of the seats are contested every two years. 
In 2022, the process has been complicated by the appointment of former Commissioner Debra Shore to regional administrator of the EPA's Midwest office, putting a fourth unexpired term on the block. Chakena Perry, appointed by Gov. J.B. Pritzker to temporarily fill the slot, was defeated in the primary election.
Further muddying the waters, two commissioners opted not to run to retain their seats: Barbara McGowan is retiring and Josina Morita is in a race for Cook County Board of Commissioners.
In all, seven candidates are vying for the four MWRD openings. The Green Party, which has made several attempts to place a candidate on the commission, has a shot at both the six-year and two-year terms. The lone Republican on the ballot is in the mix for a six-year term.
The winners, regardless of party affiliation, will be expected to grapple with urgent climate and environmental concerns, including flooding and the persistence of so-called "forever" chemicals in wastewater. Green infrastructure solutions and MWRD's management of its vast waterfront real estate holdings are also coming under increased scrutiny.
This is a developing story. Check back for updates.
Contact Patty Wetli: @pattywetli | (773) 509-5623 |  [email protected]
---