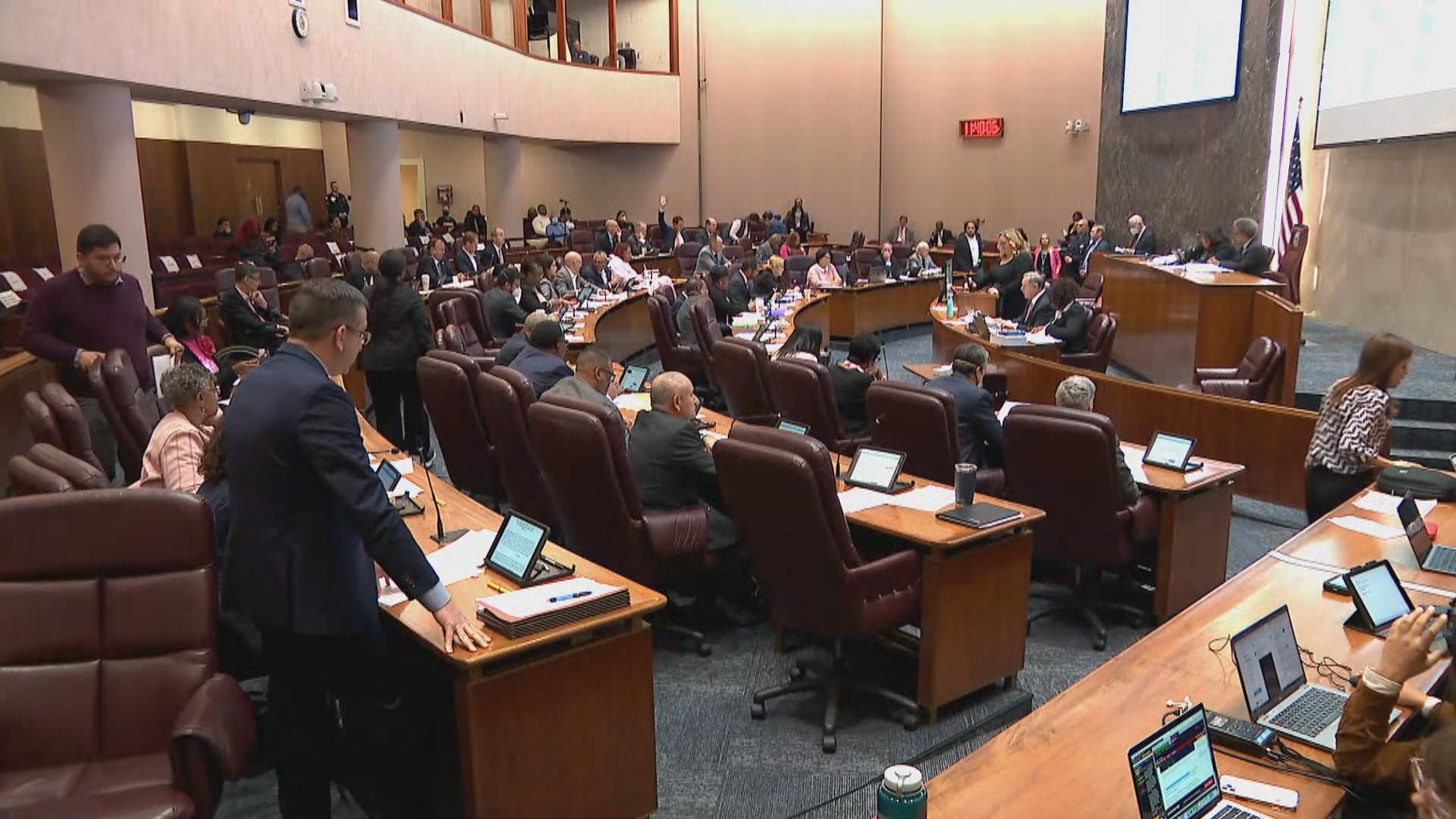 Members of the Chicago City Council meet on Oct. 26, 2022. (WTTW News)
Delivering a stinging rebuke, the Chicago City Council voted 18-29 on Wednesday to reject Mayor Lori Lightfoot's attempt to name an ally as chair of the City Council's Education and Child Development Committee and bypass Ald. Sophia King (4th Ward), who is running for mayor.
The Education Committee has been without a leader since June, when former Ald. Michael Scott (24th Ward) resigned to take a job with Cinespace, a television and movie studio on the West Side. The committee, which has an annual budget of $181,016, has not met in 2022.
Lightfoot asked the City Council to appoint Ald. James Cappleman (46th Ward) to lead the Education Committee. Cappleman is one of 13 alderpeople who has announced they will not run for re-election in 2023, and has been reliable supporter of Lightfoot.
Shortly after his resignation, Lightfoot appointed Scott to the Chicago Board of Education, where he voted to approve a proposal backed by the mayor to build a new high school on land owned by the Chicago Housing Authority.
For decades, the City Council has rubber stamped the mayor's choices to serve as committee chairs. That gives the mayor the ability to reward her allies and some of Chicago's most powerful politicians with a coveted perk, allowing them to hire political supporters without running afoul of rules that normally prohibit plum jobs from being awarded to friends and, in some cases, family members. 
King, who represents Hyde Park and parts of downtown, the South Loop, Douglas, Kenwood, Oakland and Grand Boulevard, served as the Education Committee's vice chair under Scott, and was set to become chair under the City Council's rules.
However, Lightfoot declined to make that promotion official.
After the vote, King said she nevertheless has been acting as the committee chair and asked Chicago Public Schools CEO Pedro Martinez to testify regularly meet with the Education Committee. Martinez, appointed in September 2021, has never answered questions during a City Council meeting.
"That's bringing in the light, that's transparency," King said, invoking Lightfoot's 2019 campaign slogan.
That brought a rebuke from Lightfoot, telling King "not to make it political."
"If you would spend more time attacking problems than people, we'd all be better off," King responded, before Lightfoot ruled her out of order, bringing the confrontation to an end.
When King launched her campaign for mayor, she promised to lead Chicago through collaboration — not confrontation — in an attempt to draw a clear distinction with Lightfoot, who has touted her combative approach while in office.
After the meeting, Lightfoot told reporters she was confident that the City Council would ultimately confirm Cappleman as Education Committee chair, blaming her loss on "politics at work."
In addition to the Education Committee, the City Council's Ethics and Government Operations Committee has been without a leader since August, when former Ald. Michele Smith (43rd Ward) resigned.
Ald. Matt Martin (47th Ward), who served as vice chair under Smith, asked the City Council to appoint him to lead the committee without the mayor's blessing.
The mayor rebuffed Martin's proposal, telling reporters that she sees "no reason to break from that long-standing precedent" that allows the mayor to make "the final picks" for committee chairs.
Inspector General Deborah Witzburg told alderpeople during her department's annual budget hearing that the lack of an Ethics Committee chair has hindered her work. 
Lightfoot created the Ethics Committee after vowing during the 2019 campaign to root out the corruption that has led to the conviction of 37 members of the Chicago City Council since 1969.
Lightfoot told reporters on Oct. 18 that Witzburg's concerns are "nonsense" and called on her to work more quickly to complete probes. 
Contact Heather Cherone: @HeatherCherone | (773) 569-1863 | [email protected]
---