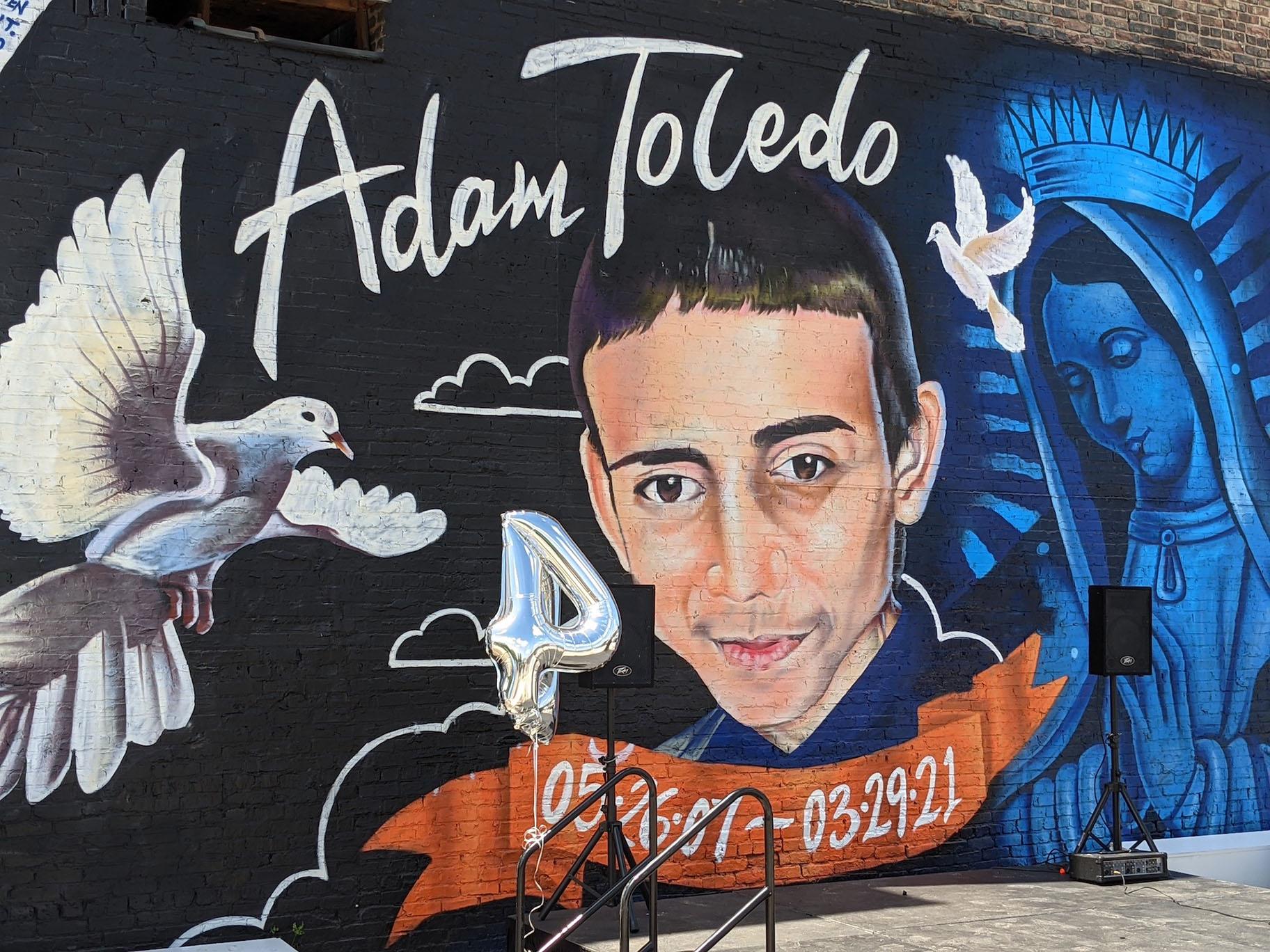 The Chicago Police Board will consider whether to fire the officer who shot and killed 13-year-old Adam Toledo after a foot chase on March 29, 2021, Chicago Police Board President Ghian Foreman ruled Thursday.
The Civilian Office of Police Accountability, known as COPA, recommended that Officer Eric Stillman be fired for shooting Toledo in the instant that the 13-year-old turned toward him and put his hands in the air, according to the video of the incident.
Chicago Police Supt. David Brown objected to that conclusion, instead recommending that Stillman be suspended for five days for failing to activate his body-worn camera when required. Stillman should be cleared of charges that he violated department's use of force policy by shooting Toledo and violated his training on foot pursuits, Brown concluded
That disagreement meant it was up to a randomly chosen member of the Chicago Police Board to determine whether Brown met "his burden of overcoming" COPA Chief Administrator Andrea Kersten's recommendation. Foreman was randomly chosen to decide whether to uphold the superintendent's decision or send the matter to the full police board.
In a four-page ruling, Foreman determined that Brown had not met his burden to overturn Kersten's recommendation that Stillman be fired.
An attorney for Stillman could not be reached by WTTW News.
Foreman's decision means that the Police Board will hold a hearing on the incident that led to Toledo's death, which Foreman said would benefit the whole city.
"Let me be clear — with this ruling I am not saying that the chief administrator's recommendation is right and that the superintendent's is wrong," Foreman wrote. "Nor am I saying that Officer Stillman should be suspended while the case is pending before the Police Board. Rather, I am saying that a Police Board hearing that provides due process to all parties is necessary to determine whether Officer Stillman violated any of the Chicago Police Department's Rules of Conduct and, if so, the appropriate disciplinary action."
Foreman said during Thursday's meeting of the Police Board that he struggled with the decision, and called the process "flawed."
Kersten said in a statement she was pleased a full hearing would take place into the incident.
"As I've said before, this is not about winning or losing, but about facts, evidence and testimony being presented before the full Police Board before a final decision is determined," Kersten said. "Impacted parties and the residents of the city of Chicago deserve to have all the facts and evidence presented in a full, public hearing and we believe this case is deserving of a full evidentiary hearing before the entire Police Board and a review of the rules governing this process is warranted."
Kersten said she agreed with Foreman that the process that leaves this decision to a single member of the Police Board is flawed and should be changed.
Foreman, the president and CEO of the Emerald South Economic Development Collaborative, has been a member of the police board since 2010. In May 2018, former Mayor Rahm Emanuel appointed him to replace Lori Lightfoot as president of the board after she resigned to run for mayor.
In a complaint filed with COPA, Foreman alleged that he was struck five times on his legs by at least one officer during a protest on May 31, 2020, sparked by the murder of George Floyd in the custody of Minneapolis police. The resolution of that complaint has not been made public, and its status is unclear.
Two days after Toledo's death, another Chicago police officer shot and killed 22-year-old Anthony Alvarez after a foot chase. The deaths prompted widespread outrage and fury that the Chicago Police Department did not have a policy setting the rules for foot chases.
After the deaths of Alvarez and Toledo, Brown crafted the Chicago Police Department's first foot chase policy and promised it would protect the safety of officers, the public and those being pursued.
Cook County State's Attorney Kim Foxx declined to file criminal charges against Stillman in connection with the death of Toledo. 
Toledo was carrying a firearm in his right hand, but began dropping it and tried to put his arms in the air as he turned to face Stillman, who then fired one shot at the boy, striking him in the chest, according to video captured by the Stillman's body-worn camera.
Foxx said these actions occurred "within one second." 
Stillman's belief that he was in danger of imminent harm was reasonable "given the totality of the circumstances surrounding the incident," Foxx determined.
Toledo's family has filed a lawsuit against Stillman and the city of Chicago "in our effort to get justice for Adam and the Toledo family."
An attorney for Toledo's family said in a statement that they were "grateful" for COPA's call for Stillman to be fired.
"We look forward to a satisfactory resolution of this matter, justice for the Toledo family, and a safer Chicago community," said attorneys Adeena Weiss Ortiz of Weiss Ortiz and Joel Hirschhorn of GrayRobinson.
The Department of Justice determined in 2017 that officers routinely violated the constitutional rights of Black and Latino Chicagoans and urged the department to adopt a policy regarding foot chases, which have repeatedly led to the deaths of Chicagoans fleeing the police.
Foxx also declined to charge Evan Solano, the officer who shot and killed Alvarez, with a crime.
COPA also recommended that Solano be fired for shooting Alvarez. Brown disagreed with that recommendation, instead suspending him for 20 days. That decision was upheld by Police Board Member Steven Block, a former federal prosecutor. 
Contact Heather Cherone: @HeatherCherone | [email protected] | (773) 569-1863
---