Mayor Lori Lightfoot won a commanding victory in the 2019 race for Chicago mayor after campaigning on a progressive political platform that vowed to remake the city, but she will run for re-election after having spent nearly her entire term at odds with Chicago's progressive political community.
With less than five months before Chicago voters will decide whether to make her the first woman to be re-elected as mayor, Lightfoot has touted her $16.4 billion budget for 2023 as the best way build on what she says are her progressive accomplishments.
"What I have asked this body to do over three prior years, and now again today with a fourth successive budget, is to be bold with me," Lightfoot said during her Oct. 6 budget speech. "To continue to right historic wrongs so that all of our residents who call this beloved city home will benefit and be able to fulfill their God-given potential."
But a coalition of progressive groups that notched a series of victories in the June primary has been working for nearly a year to prevent Lightfoot from being re-elected by uniting behind a single candidate. Nothing in Lightfoot's spending plan is likely to alter that determination — and may give them more ammunition to use against the mayor.
In fact, a coalition of progressive groups declined to even invite Lightfoot to participate in a forum that took place on Sept. 21, just blocks from her Logan Square home.
Instead, Lightfoot campaign workers handed out flyers outside the event that listed six areas of "progressive accomplishments."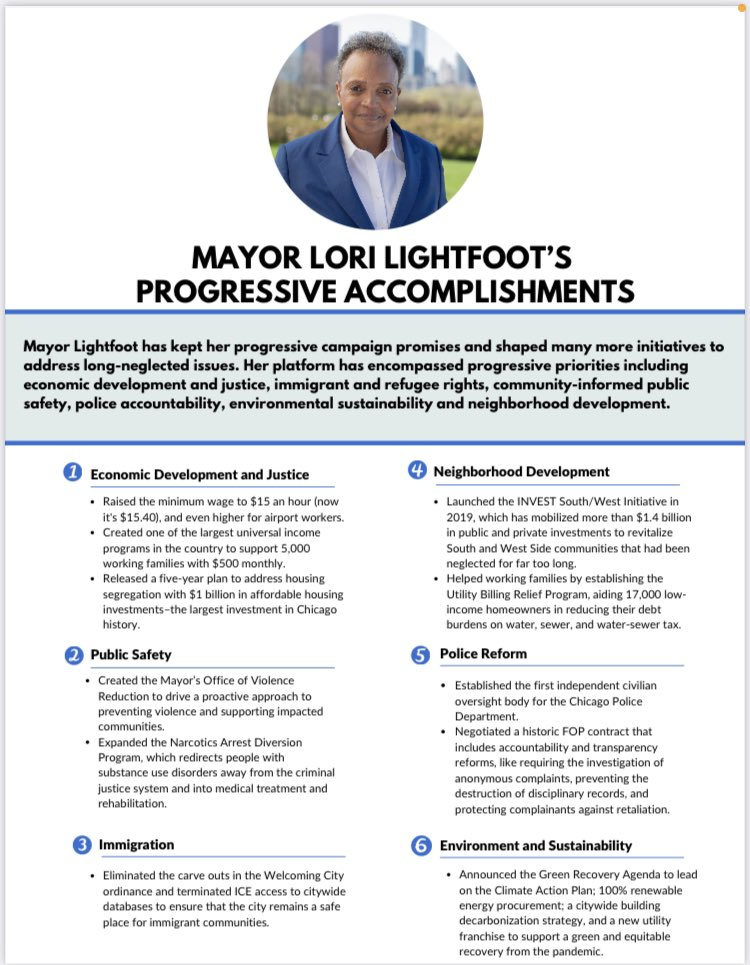 At least three candidates have announced plans to challenge Lightfoot from the left, including Ald. Sophia King (4th Ward), Ald. Roderick Sawyer (6th Ward) and activist Ja'Mal Green. Cook County Commissioner Brandon Johnson is expected to decide soon whether to formally enter the race with the backing of the Chicago Teachers Union, while U.S. Rep. Jesús "Chuy" Garcia has not ruled out a run for the 5th floor office at City Hall.
Lightfoot has long predicted that the Chicago Teachers Union would field a progressive candidate in 2023 in an attempt to unseat her — and has said she is ready to defend her handling of the COVID-19 pandemic, rooting out corruption at City Hall, fighting crime and boosting public investment on the South and West sides.
United Working Families, a political organization closely aligned with the Chicago Teachers Union, also endorsed Johnson and urged him to run for mayor.
But Lightfoot will also face several challengers from more conservative candidates, including businessman Willie Wilson, Ald. Raymond Lopez (15th Ward) and former Chicago Public Schools CEO Paul Vallas. 
Former Gov. Pat Quinn and Ald. Tom Tunney (44th Ward) are also weighing whether to run against Lightfoot.
Budget flashpoints: Homelessness, Environment
The mayor's spending plan was immediately protested by groups that blasted Lightfoot for dropping her support for a measure that would hike the city's Real Estate Transfer Tax from a flat tax to a graduated levy to raise tens of millions of dollars from the sale of properties worth more than $1 million to help those experiencing homelessness. 
While candidate Lightfoot backed that proposal, less than six months after taking office, Mayor Lightfoot said "that's never going to happen," given Chicago's precarious financial position.
In 2023, Chicago expects to bank $221 million in revenue from the real estate transfer tax, an increase of approximately 42% since 2022, according to data presented to the City Council by Chief Financial Officer Jennie Huang Bennett and Budget Director Susie Park.
Ald. Carlos Ramirez Rosa (35th Ward) said he was very frustrated that the sale of a property in Chicago for $300,000 is taxed at the same rate as a property worth $10 million — four years after Lightfoot backed the change.
That would have supercharged the revenue flowing into Chicago's coffers, especially as the value of real estate soared during the COVID-19 pandemic, said Ramirez Rosa, the dean of the City Council's Democratic Socialist Caucus.
"We are leaving money on the table, and this is money we desperately need to serve homeless and unhoused Chicagoans," Ramirez Rosa said.
Ald. Maria Hadden (49th Ward), a member of the City Council's Progressive Caucus, said the city had "missed the boat" to help Chicagoans who are unhoused with funds generated by the wealthiest Chicagoans buying and selling new homes.
"We need a coordinated response to homelessness," Hadden said.
Changing Chicago's real estate transfer tax would require a change in state law or the passage of a binding referendum.
Ramirez Rosa was also one of several alderpeople to call for the 2023 budget to create a Department of Environment. Lightfoot promised to do just that during the 2019 campaign, blasting former Mayor Rahm Emanuel for disbanding it as part of Chicago's 2012 budget.
But when it came time to put together her first budget, Lightfoot instead created an office of environment and sustainability within the mayor's office, with just one employee, the city's chief sustainability officer.
As part of the 2023 budget, Lightfoot proposed creating an office for climate and environmental equity to "address the city's most harmful environmental challenges," she said. That office would create two new positions and have a total of seven employees.
Ald. Harry Osterman (48th Ward) said that was not good enough, especially given the toll intense and frequent storms are taking on Chicagoans and their property.
"It is only going to get worse," said Osterman, who added that a department would be accountable to the City Council. 
Lightfoot's 2022 spending plan would not have passed without the support of progressive members of the City Council — and whether the 18-member caucus can reach a deal with the mayor in 2023 will shape the final outcome for the last budget in what Lightfoot hopes is her first term.
Contact Heather Cherone: @HeatherCherone | (773) 569-1863 | [email protected]
---