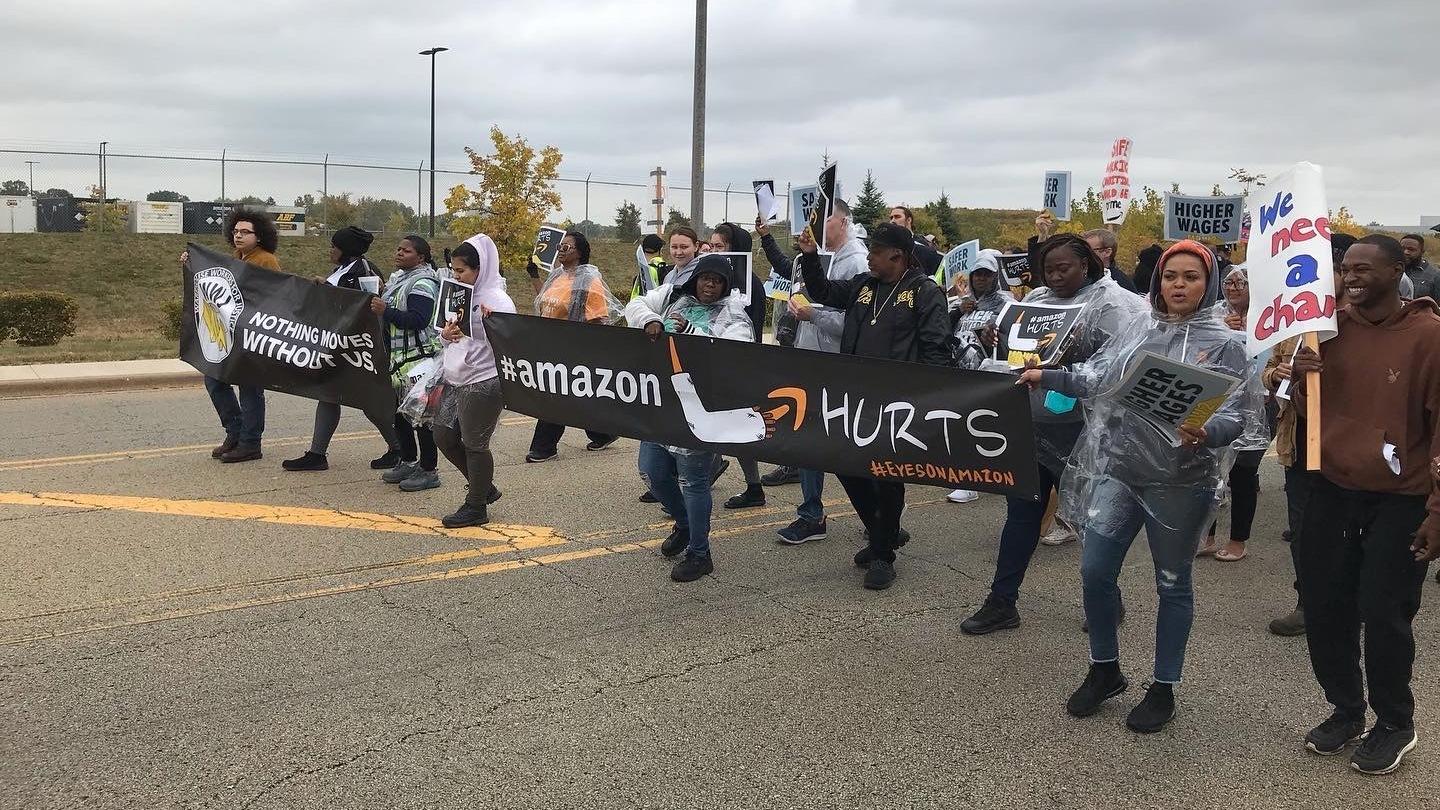 Amazon workers walk out of a Joliet facility on Oct. 11, 2022. (Credit: Warehouse Workers for Justice)
Employees at Amazon's MDW2 warehouse in Joliet walked off the job Tuesday afternoon, saying the company has not provided a safe work environment or adequate pay.
The action was timed to coincide with the company's Prime Day promotional sale, which launched Tuesday.
"It's us that put our bodies and minds behind this behemoth that is Amazon and keep it going, and it's not us that see the benefit of it," MDW2 employee Cesar Escutia said.
Organizers told WTTW News about 50 people walked out of MDW2, which they say is a "cross-dock" facility key to ensuring that products reach fulfillment centers, and then Amazon customers, around the Midwest. Escutia says the facility's importance is not reflected in its working conditions.
"There are a great many people in there who wear masks, not necessarily to protect themselves from any kind of virus or disease, but because there's so much dust and small particulates," he said.
Escutia also accused the company of not taking a recent on-the-job injury seriously. "I feel like there was just an effort to bandage me up and send me back out when I needed rest," he said.
MDW2 is the facility where employees accused Amazon of failing to respond properly after racist death threats were scrawled on bathroom walls in May. Workers publicly shared pictures of graffiti they say was written in two stalls of the women's bathroom reading "N*****S GONNA DIE" AND "F**K THESE N*****S AT MDW2."
The workers who walked off the job say the company has installed metal detectors, but only scans employees leaving and not those entering.
"We value employee feedback and are always listening," Amazon spokesperson Barbara Agrait told WTTW News in a statement. "We're investing $1 billion over the next year to permanently raise hourly pay for frontline employees and we'll continue looking for ways to improve their experience."
A company spokesperson previously told WTTW News regarding the hostile work environment charges, "Amazon works hard to protect our employees from any form of discrimination and to provide an environment where employees feel safe. Hate or racism have no place in our society and are certainly not tolerated by Amazon."
More than 30 employees have filed hostile work environment charges with the federal Equal Employment Opportunity Commission regarding the death threats and other claims of racism. After filing the EEOC claims, workers say they've faced retaliation from Amazon. Amazon did not respond to questions about those allegations.
But the organizers of Tuesday's walkout say the problems also range from sexual harassment to on-the-job physical harm. They say more than 600 workers have signed a petition demanding improved policies and a minimum pay rate of $25 an hour.
"We've been supporting Amazon workers at MDW2 since the end of May who felt like Amazon really was not putting their safety first," said Tommy Carden of Warehouse Workers for Justice, which helped organize the action.
Carden said since then, WWJ heard complaints of additional problems at the facility.
"Workers have tried to resolve the issues they've seen firsthand by going to different managers or trying different forms of action, and it hasn't worked. Today was a step that workers at MDW2 took to be heard," Carden said.
"I hope that other workers will be emboldened, because there are a great many workers in there who are afraid of … repercussions," Escutia said. "This isn't just airing frustrations. I do want good wages, I do want a clean and safe working environment, and if (Amazon wants) to take the initiative in order to prevent future frustrations, by all means I want that."
Note: This story was updated Oct. 12 with comment from Amazon. 
---