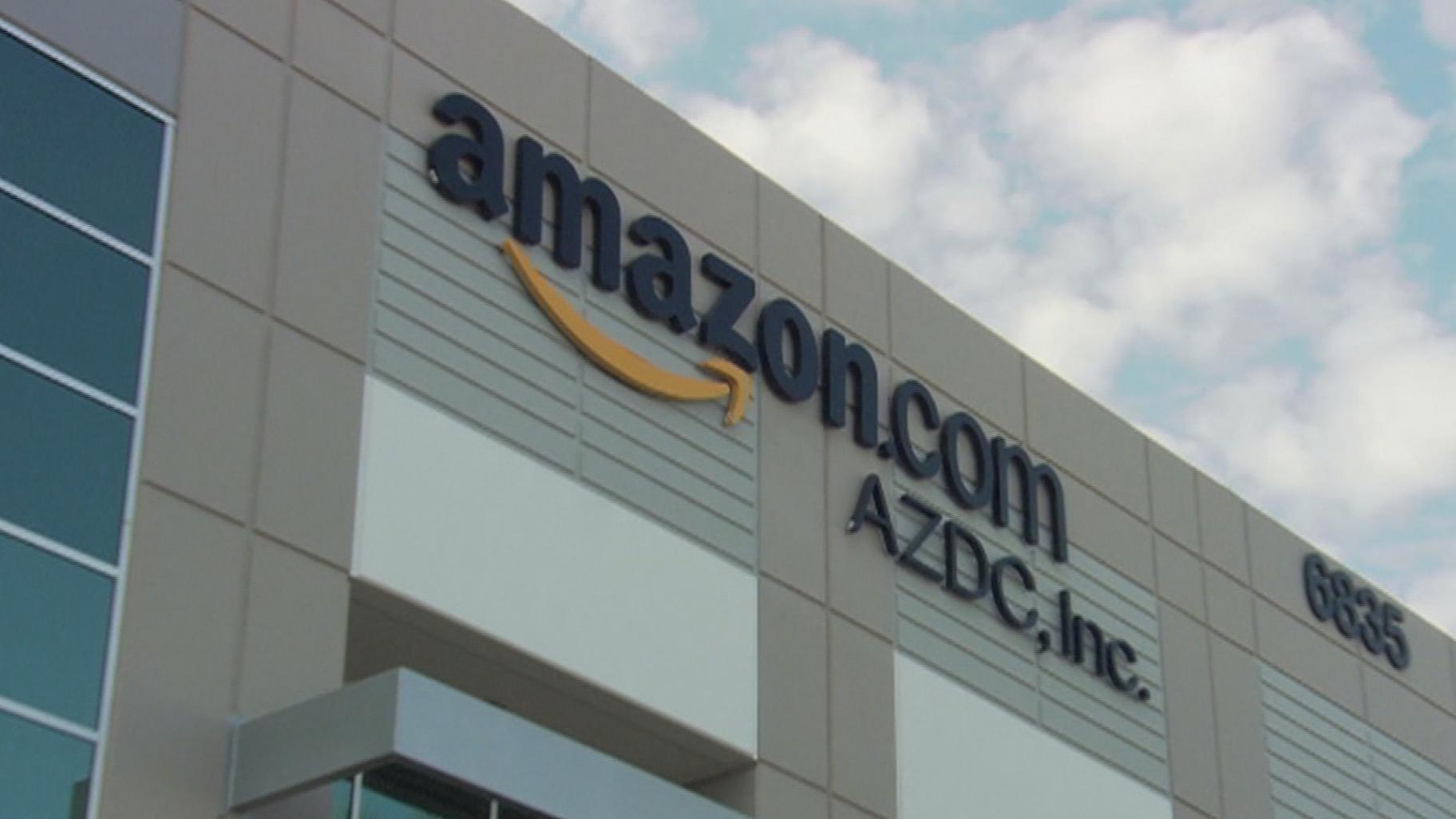 File photo. (WTTW News)
Twenty-six current and former employees at an Amazon warehouse in Joliet say the mega-retailer has allowed a racially hostile work environment, including death threats against Black employees and workers who are allowed to wear Confederate flag clothing.
The allegations are described in a complaint just filed with the federal Equal Employment Opportunity Commission and the Illinois Department of Human Rights.
Included in the filing are pictures of graffiti employees say was scrawled in two stalls of the women's bathroom reading "N*****S GONNA DIE" AND "F**K THESE N*****S AT MDW2," the designation used for the Joliet facility.
Former MDW2 employee Tori Davis says the threat came just 10 days after the mass shooting at a Buffalo grocery store, where the alleged shooter killed 10 Black people and is believed to be motivated by unfounded racist ideology.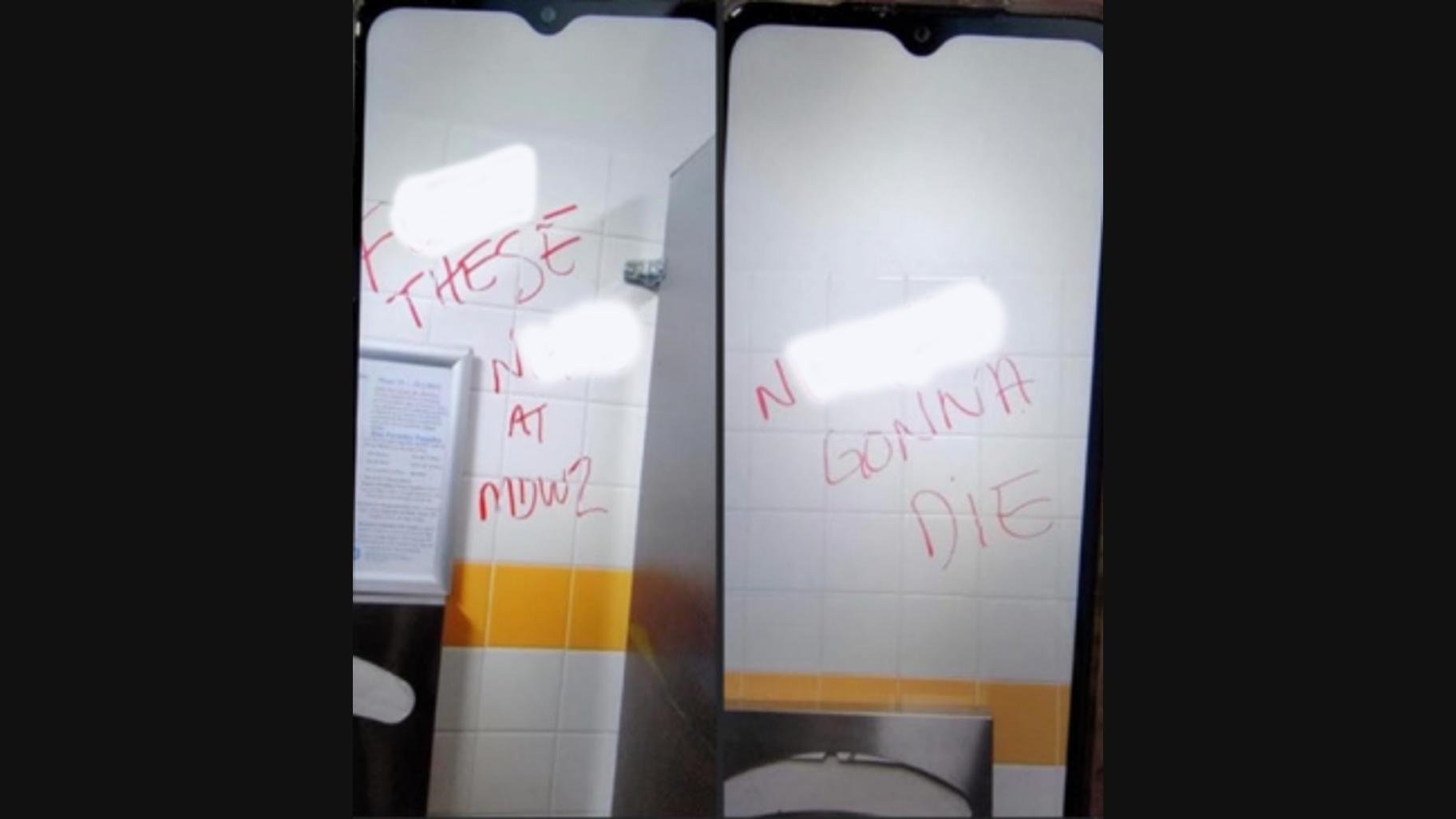 An image included in an EEOC complaint against Amazon shows racial slurs written in a bathroom of the Joliet facility. The racial slurs have been blurred out by WTTW News. (Complaint Provided)
Davis says she and other Black employees asked management to beef up security at the facility, but were told only that they could choose to go home without pay.
"When you don't know who targeted you, and you still have to be in the same environment with no further security measures, it makes you nervous," Davis said at a Tuesday morning press conference. "We were put in a predicament where we still were in fear every day following the situation."
The complaint alleges that Amazon painted over the threats before law enforcement could investigate, including a third piece of graffiti in the men's room that employees couldn't photograph before it was removed. Davis says Amazon fired her this month after she told the company she'd take legal action if it didn't address complaints of racism, and that she is appealing her termination.
"Amazon works hard to protect our employees from any form of discrimination and to provide an environment where employees feel safe. Hate or racism have no place in our society and are certainly not tolerated by Amazon," Amazon spokesperson Richard Rocha told WTTW News in a statement.
Other allegations of racism in the complaint include multiple employees being allowed to wear Confederate flag clothing, despite complaints to management from several Black coworkers, and that the company wouldn't honor requests from employees who wanted to swap shifts so they could celebrate Juneteenth.
"There is no sign more serious and more terrifying than a death threat in a workplace where White workers are allowed to wear Confederate flag outfits with impunity," said attorney Tamara Holder, who's representing the Amazon employees. "We have truly reached a low point in America where we have to go to work in fear that we may not come home to our families."
Holder said a lawsuit remains a possibility, but that the first step is to file the complaint with the EEOC and see how Amazon responds. 
"Amazon has a vested interest in protecting its employees – if it doesn't just see that it should do the right thing," Holder said.
Amazon has also faced complaints of racism from employees at its Gage Park warehouse. Employees at that location staged a walkout in May alleging management has harassed employees of color and wrongfully fired two Black employees.
"Amazon believes in equal employment opportunity for all employees and has a policy against discrimination of any kind," an Amazon spokesperson told WTTW News at the time.
That walkout was organized by the group Amazonians United Chicagoland, which is active at two local Amazon facilities. The group said about 20 workers walked out during the May protest.
"We are speaking up so that our coworkers everywhere can also come together, and hopefully build the courage to also speak up and walk out," said employee Ted Miin during the walkout.
Contact Nick Blumberg: [email protected] | (773) 509-5434 | @ndblumberg
---