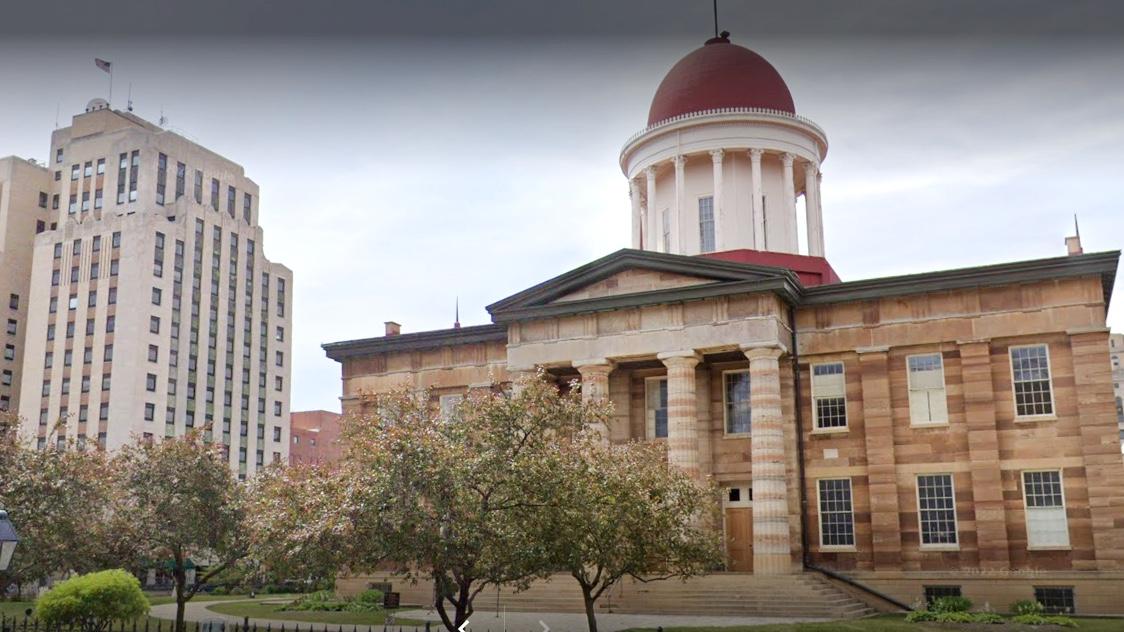 The Old State Capitol in Springfield. (Google Streetview)
The National Park Service has announced Illinois' Old State Capitol in Springfield as one of 17 sites newly added to the National Underground Railroad Network to Freedom.
The Network to Freedom was established in 1998 to tell the story of resistance against the institution of slavery in the U.S. It has since grown to encompass more than 700 sites, programs and facilities that have verifiable associations to the Underground Railroad.
"Joining the Network is part of our ongoing effort to uplift more voices in history and share a more rich and accurate picture of the past," Justin Blandford, Old State Capitol site superintendent, said in a statement. 
The scope of the Network to Freedom goes far beyond the safe houses or stations most commonly associated with the Underground Railroad. The types of sites accepted to the Network also include properties people escaped from, transportation routes and destination settlements.
The Old State Capitol qualified for its role in legal challenges of the Fugitive Slave Act. Court records and trial transcripts, such as those documented in Illinois, provide a rich source of information about operations of the Underground Railroad in different communities, according to the National Park Service.
Between 1841 and 1872, the building served as the seat of Illinois Supreme Court, during which time justices heard several cases linked to Illinois' Underground Railroad. In at least two case, "conductors" were fined for assisting freedom seekers.
According to the Illinois Department of Natural Resources, which operates the Old State Capitol as a historic site, a third case decided by the court had a far different outcome.
It was brought by a Black man named Thornton, who argued he was wrongfully arrested by a local constable and should be freed. Because the local constable had no evidence to the contrary, the Illinois Supreme Court dropped the charges against Thornton and discharged him from custody.
"Illinois had an important and complex role in the abolitionist movement and the fight for freedom, and we need to share that history — the good and the bad — to understand where we've been and who we should aspire to be," Gov. J.B. Pritzker said in a statement.
There are now 26 sites in Illinois that have been accepted to the Network to Freedom. Ohio and Maryland both have 96 sites, followed by New York with 68 and Pennsylvania with 58.
The Old State Capitol is open daily from 9 a.m. to 5 p.m. 
Contact Patty Wetli: @pattywetli | (773) 509-5623 |  [email protected]
---