An explosion at a South Austin apartment building led to a partial structure collapse and multiple injuries, the Chicago Fire Department announced Tuesday morning.
The fire department said in a tweet that the explosion occurred at West End and North Central avenues sometime Tuesday morning and eight people had been transported to local hospitals. What sparked the explosion remains unknown, officials said.
"We don't know what caused this incident," Deputy Fire Commissioner Marc Ferman said. "It's still under investigation."
Ferman said fire officials did have the gas to the building shut off.
Seven of the victims were inside the building, while the eighth was in another building across the street. Ferman said they suffered "burns to traumatic injuries." The CFD said at least three of those victims were in "serious to critical" condition.
"This is a devastating event and we are heartbroken for all of our residents," building owner Roman Viere said in an emailed statement. "Our first concern is the health, well-being and safety of our residents. We are doing everything we can to cooperate with emergency services, and we are ready to do whatever we can to support our residents."
According to Ferman, preliminary searches are complete, and fire officials were clearing debris and conducting a final search around 11:30 a.m. 
"We're still ongoing with our operations right now," he said Tuesday morning. "Right now we feel like we're confident we got everybody out."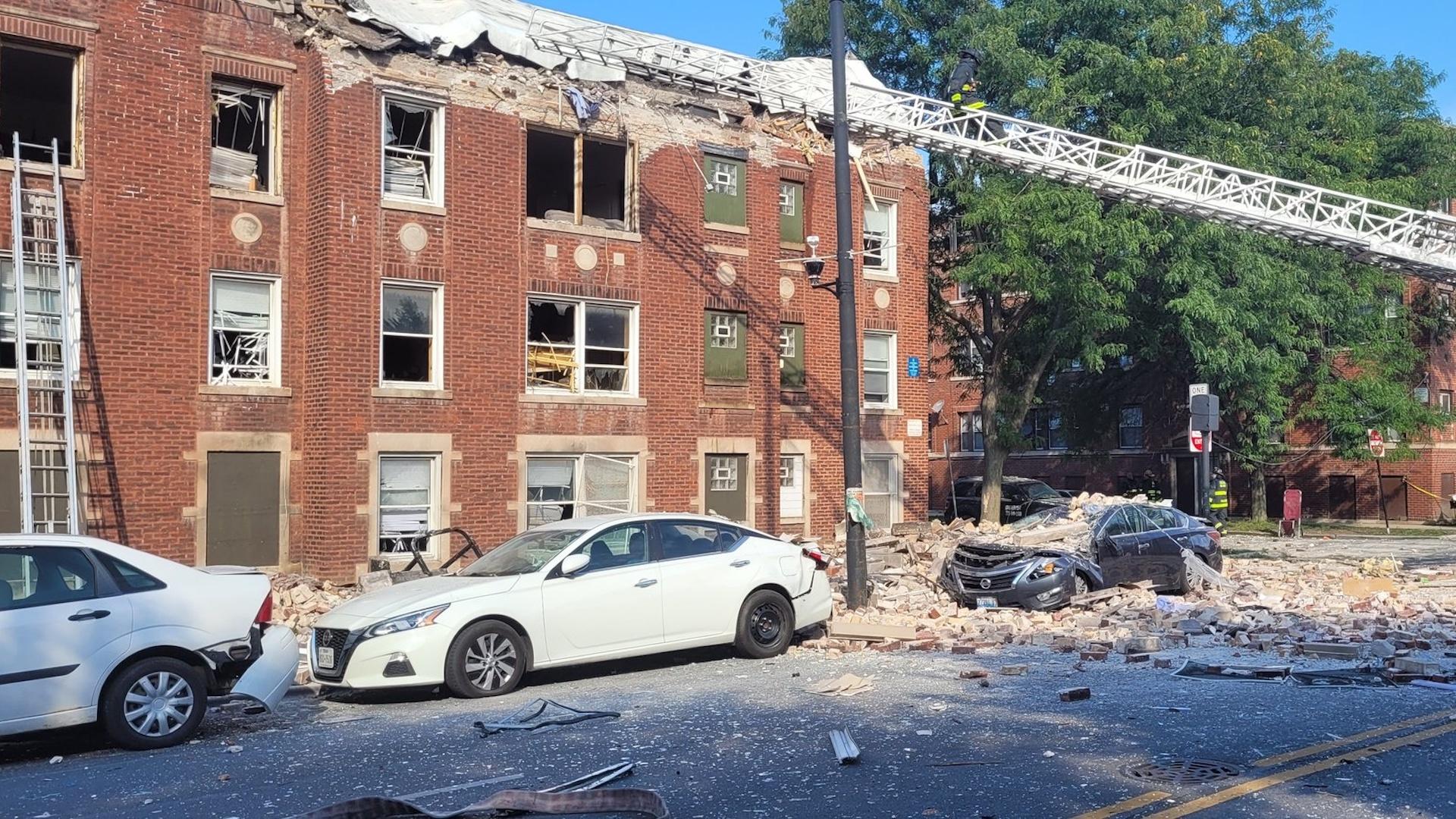 Chicago firefighters respond to a building explosion at West End and North Central avenues Tuesday morning. (Chicago Fire Media / @CFDMedia)
There's also an unknown number of displaced residents, Ferman said.
The American Red Cross worked Tuesday to provide serives to residents affected by the explosion. 
"We do have set up right now for this um explosion disaster, a family reunification center in a church in the neighborhood and Circle Urban Ministries 118 N. Central Ave. and that will also become a shelter tonight. We've cots and blankets and food and resources and volunteers to help people," said Joy Squier, chief communications officer for the American Red Cross Illinois Region. 
While Circle Urban Ministries does not accept online donations, people drop off in-package hygiene items or donations in person.
Those affected can call the Disaster Support line at 877-597-0747. To volunteer for the Red Cross visit redcross.org/local/illinois.html.
— Chicago Fire Media (@CFDMedia) September 20, 2022
---
Jennifer Cotto contributed. 
Contact Matt Masterson: @ByMattMasterson | [email protected] | (773) 509-5431
---