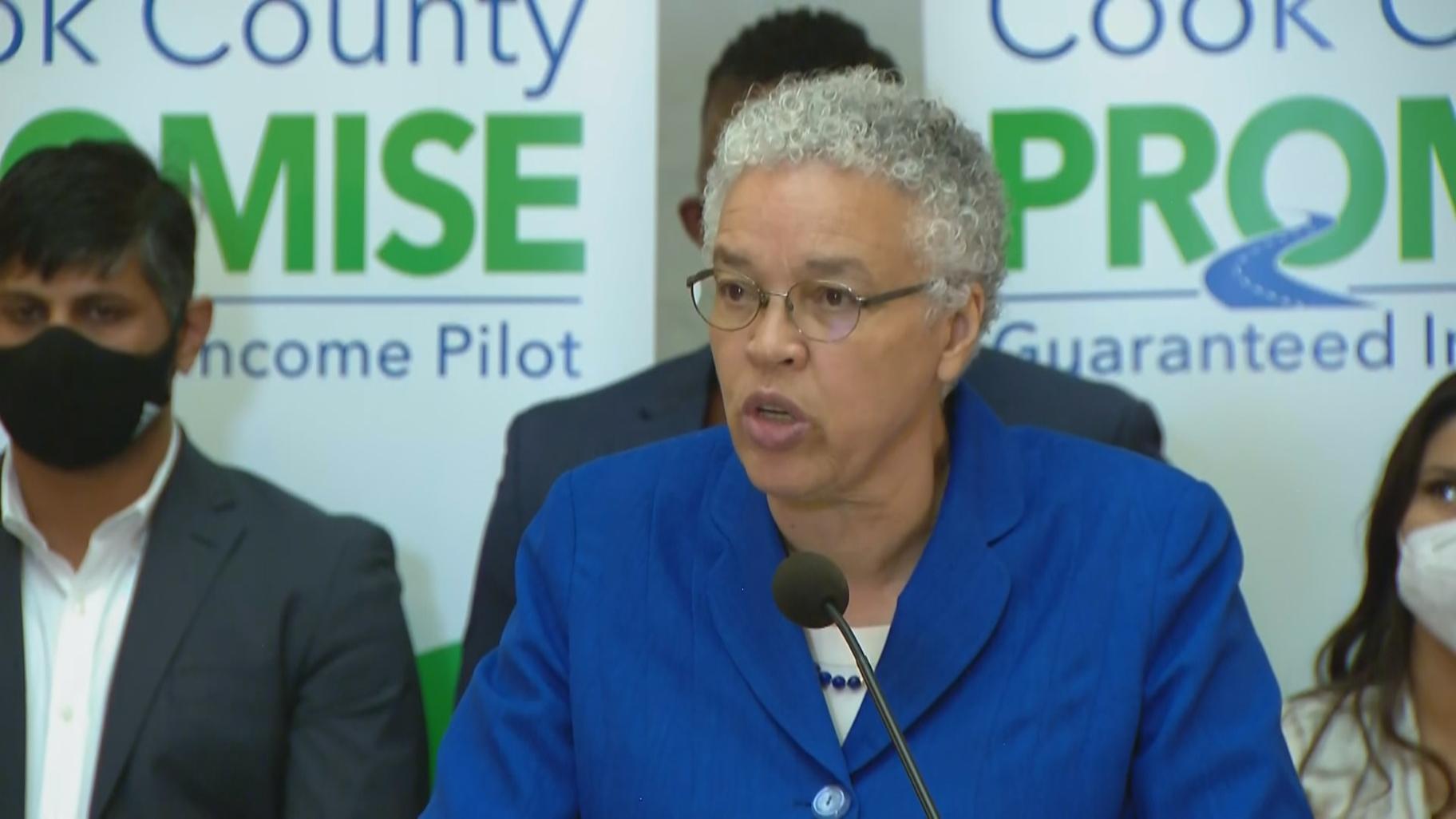 Cook County Board President Toni Preckwinkle speaks about the county's cash assistance program on May 18, 2022. (WTTW News)
Cook County residents suffering from the economic catastrophe unleashed by the COVID-19 pandemic can apply starting Oct. 6 to enter a lottery to get $500 per month for two years, Cook County President Toni Preckwinkle announced Wednesday.
The program, which is expected to include 3,250 households, will launch a test of a basic-income program with $41.5 million from the federal COVID-19 relief package signed into law by President Joe Biden in March 2021, Preckwinkle said. It is the largest program in the nation.
Preckwinkle has said she is confident that making cash assistance payments directly to people struggling to make ends meet can help reduce poverty in Cook County and should be made permanent.
The deadline to apply is Oct. 21, officials said. More information is available online.
Those selected to participate in the program will get the first $500 payment in December, officials announced. 
"Cook County is proud to be leading the way for government in the American guaranteed income movement," said Preckwinkle, who is running for re-election in November. "With this historic investment, we aim to show the nation what guaranteed income at scale can achieve."
A separate program for Chicago residents drew approximately 176,000 applications before it closed on May 13. The city's $31.5 million program will send 5,000 Chicago families $500 per month for 12 months, officials said.
In 2021, Cook County officials used $8 million in federal COVID-19 relief funds to send $600 cash assistance payments to 14,000 residents hit hard by the economic catastrophe triggered by the pandemic.
To be eligible for the cash assistance program, participants must live in Cook County, be older than 18, and live in a household that earns no more than 250% of the federal poverty level, or $69,375 for a family of four, officials announced.
That would make approximately 36% of all Cook County residents eligible to apply for the pilot.
Participants already selected for the Chicago basic-income pilot program or the Evanston program cannot be selected to the Cook County program, officials said.
Cook County selected GiveDirectly, a firm operating in Africa and the United States, and Denver-based AidKit to administer the program, county officials announced. Those firms are also administering Chicago's program.
The University of Chicago's Inclusive Economy Lab and the university's Crown Family School of Social Work, Policy, and Practice and Inclusive Economy Lab will complete a study on the impacts of the pilot and residents' experiences to help officials understand how the cash assistance program worked and how to determine how to make the program permanent.
More than 70% of the participants in the city's program are women, and more than 68% are Black, according to data released by the mayor's office on Tuesday. Most live on the city's South and West sides, officials said.
Participants have a median annual income is $14,000, according to city data.
Contact Heather Cherone: @HeatherCherone | (773) 569-1863 | [email protected]
---