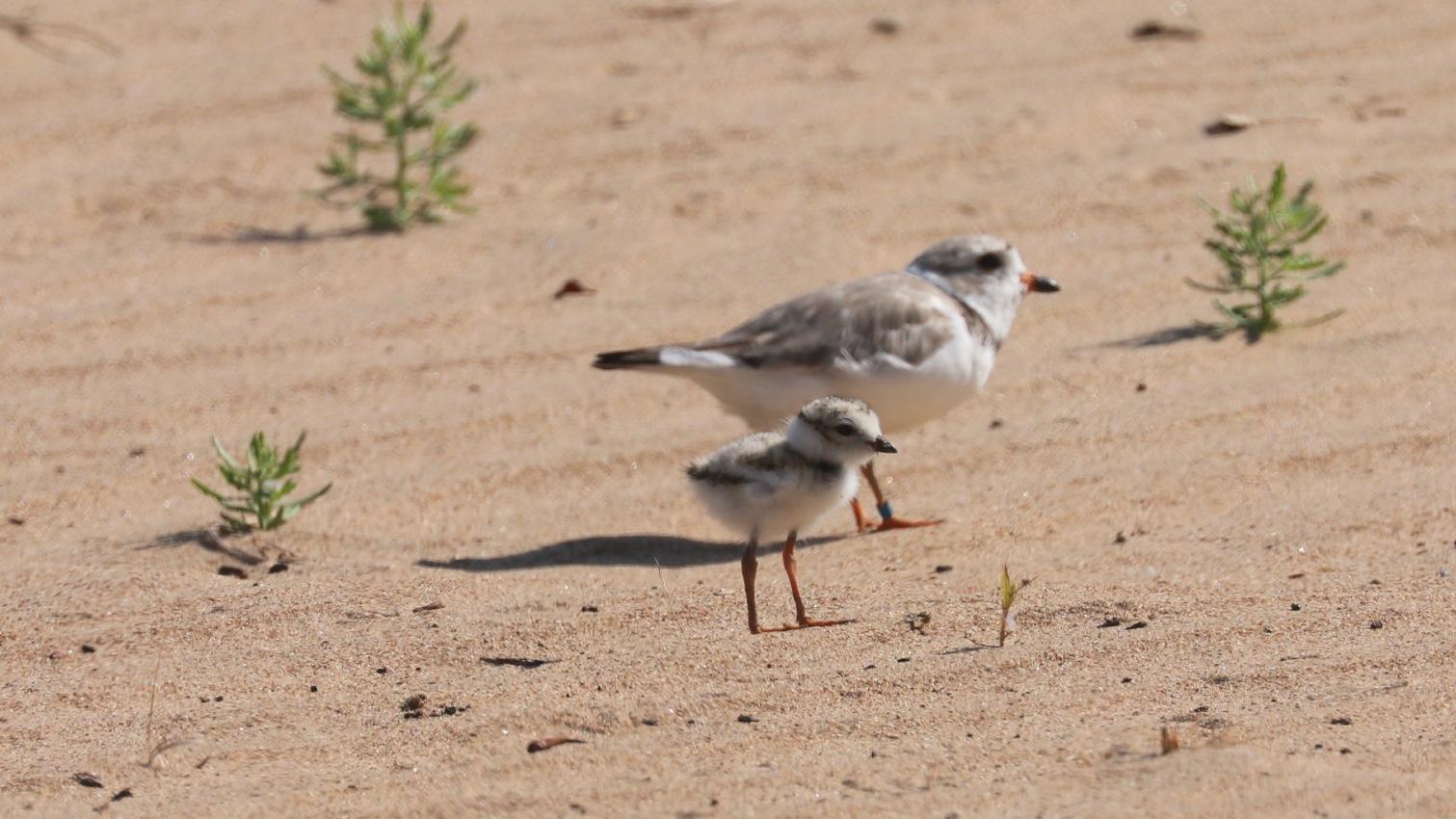 A file photo of a Great Lakes piping plover parent and chick. (Courtesy of Susan Szeszol)
The 2022 season may have been heartbreaking for Chicago's piping plover lovers (RIP, Monty and Rose), but the news from across the Great Lakes was among the most encouraging in decades when it comes to the endangered shorebirds.
The Great Lakes Piping Plover Recovery Effort reported 73 nests and 65 hatched broods — still a long way from the historic highs of 500-800 plover pairs but holding steady in the 70 range. Seven nests were lost, far fewer than the 19 nests lost in 2021.
But the really big news, according to Stephanie Schubel, Great Lakes Piping Plover banding coordinator, has been the number of fledged chicks: 137 so far with another dozen yet to fledge (learning to fly). That preliminary tally is the most ever fledged in a season since the Great Lakes piping plover population was listed as federally endangered in 1986.
Another important stat is the average number of fledglings per nest. The 2022 rate, currently at 1.93 fledglings per nest, has blown away the goal of 1.5 set by the recovery team.  
"The future depends on these young ones, and we have high hopes for the return of many of these fledglings to the breeding grounds next season," Schubel shared on social media. 
At this point in the summer, many piping plovers are beginning to migrate south to their wintering grounds. Montrose Beach has already hosted one of these travelers.
Piping Plovers are on the move from their northern coastal breeding territories to their southern coastal wintering grounds. Montrose Beach is an inviting stopping point to rest and refuel, as this unbanded juvenile found, …
: Kevin Lin (Montrose Beach, July 26, 2022) #plover pic.twitter.com/UCO87asMsa

— Chicago Piping Plovers (@ChicagoPiping) July 27, 2022
Anyone who spots a visiting plover should report it to the recovery team. 
Contact Patty Wetli: @pattywetli | (773) 509-5623 |  [email protected]
---