For three springs and summers, a dedicated army of volunteers took turns at two-hour shifts on Montrose Beach, monitoring and safeguarding a pair of endangered piping plovers, their nests and eventual chicks.
They were preparing to do the same in 2022 when nature intervened.
One half of the plover couple, Rose, never returned from her wintering grounds. Though her mate, Monty, did make the epic journey north from Texas in April, he died suddenly in early May. His cause of death has yet to be determined.
On Wednesday evening, under skies that occasionally made good on their threat of rain, more than 100 members of the plover brigade, many dressed in their bright orange monitor T-shirts, gathered for a memorial on the stretch of beach Monty and Rose called home.
They came not so much to mourn the loss of the beloved birds but to celebrate the wonder of their time in Chicago.
"They existed with grace, strength, persistence and resilience," said Tamima Itani, who coordinated the plover monitors and in the process earned the nickname "Plover Mother." "My deepest gratitude to Monty and Rose for spreading joy and love. With every wing beat, Monty and Rose and their offspring brought people together."
The tale may have come to an abrupt end, but the Cinderella story of Monty and Rose continues to inspire hope.
---
Video: Louise Clemency, supervisor of the Chicago field office of the U.S. Fish and Wildlife Service, speaks at a memorial for Monty and Rose on May 25, 2022. (Patty Wetli / WTTW News)
Across the entire Great Lakes, there are just 70 breeding pairs of piping plovers, the vast majority of them nesting in the area around Michigan's Sleeping Bear Dunes. Prior to 2019, Chicago hadn't seen a plover couple since the 1950s. 
"Piping plovers evolved to nest on big, empty beaches; big, wide empty beaches without people. Monty and Rose chose to nest in the middle of a Chicago beach, with people and volleyballs and kayaks and killdeer and skunks and so many things going on around them," said Louise Clemency, supervisor of the Chicago field office of the U.S. Fish and Wildlife Service. "And they were successful."
The odds may have been stacked against the plovers, but "they figured out a way to make it work," said Itani. The same could be said of the monitors, who drew up the playbook as they went along.
"I was a very new birder. What helped me was how naive I was," Itani told WTTW News. "I was determined to prove everyone wrong."
She recalled Monty and Rose's very first attempt at a nest back in 2019, located outside the beach's protected dune habitat. A women's ultimate Frisbee league had a game scheduled that night and a men's league the next night.
"We pulled every garbage can off the beach to outline" the plovers' territory, Itani said, crediting the Frisbee players for being good sports.
While Itani had some birding experience — and had even met Monty and Rose as fledgling chicks, something she only realized in fall 2019 — other monitors had none.
"I didn't have binoculars my first shift," said Brenda Janish. "I did for my second."
Monitors worked in teams, keeping tabs on Monty and Rose and later on the marshmallow-sized chicks, which added to the chaos.
"When there were three or four chicks, it was like whack-a-mole," said Raed Mansour. "We'd be yelling back and forth, 'I see chick one. I see chick two.' We needed walkie-talkies."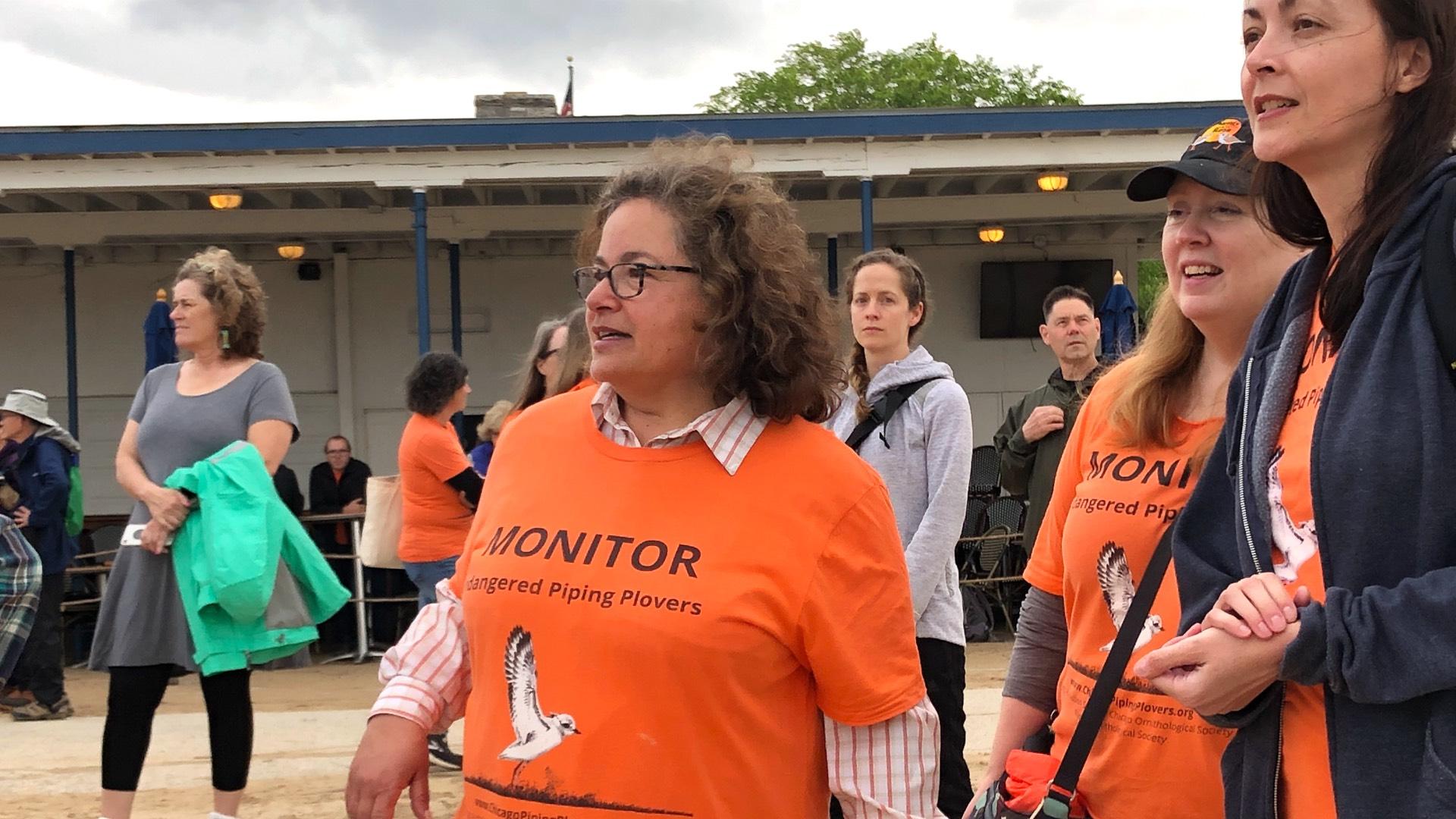 "Plover Mother" Tamima Itani, left, at the memorial for Monty and Rose. (Patty Wetli / WTTW News)
Over time, monitors got to know the plovers' individual personalities. 
Rose was all business and a "bad-ass," Janish said. Where Monty could be "spazzy," charging at every perceived threat to his brood, Rose was strategic in targeting specific dangers, she said. 
But Monty's parenting skills were unparalleled, Janish said.
In 2021, two of the four chicks went missing, likely lost to predators. "Monty was just frantic," said Janish, and wouldn't leave the side of the remaining two. "He would nap with them and he didn't want to let them out of his sight."
One of those chicks, Imani, returned to Montrose Beach this week.
"I was watching Imani forage near where his father took his last breath," said Leslie Borns, long-time steward of Montrose Beach Dune. "Life goes on."
If the legacy of Monty and Rose can be found in their chicks, it also extends to the community of urban conservationists the plovers galvanized.
"Monty and Rose is a household name because of you guys. Monty and Rose have a brand ... they've got a feature film. What you guys did ... your energy infected a whole city," Edward Warden, president of the Chicago Ornithological Society, told the assembled monitors. "What we have done is unprecedented. This is really abnormal, insane and incredible." 
Whether a new piping plover couple nests at Montrose next year, or in 5 years or 10 — or maybe it's not plovers but a different species that makes a surprise appearance in Chicago — the city has proven itself a worthy refuge for wildlife, Warden said. "It doesn't end here."
The challenge now is to build on that momentum, broadening the movement to include people from more diverse backgrounds and fanning out from the lakefront.
"What Monty and Rose did was open people's eyes to why conservation is needed, and why we all need to play a role," Itani said. "You realize how hungry these birds are for habitat."
For many at Wednesday's memorial, the journey that began in 2019 is far from over.
"Let this be the template for conservation going forward," said Mansour. "Let's protect the river, the lakefront, our parks, our forests. Let's bring hope and faith and joy and wonderment to all of Chicago."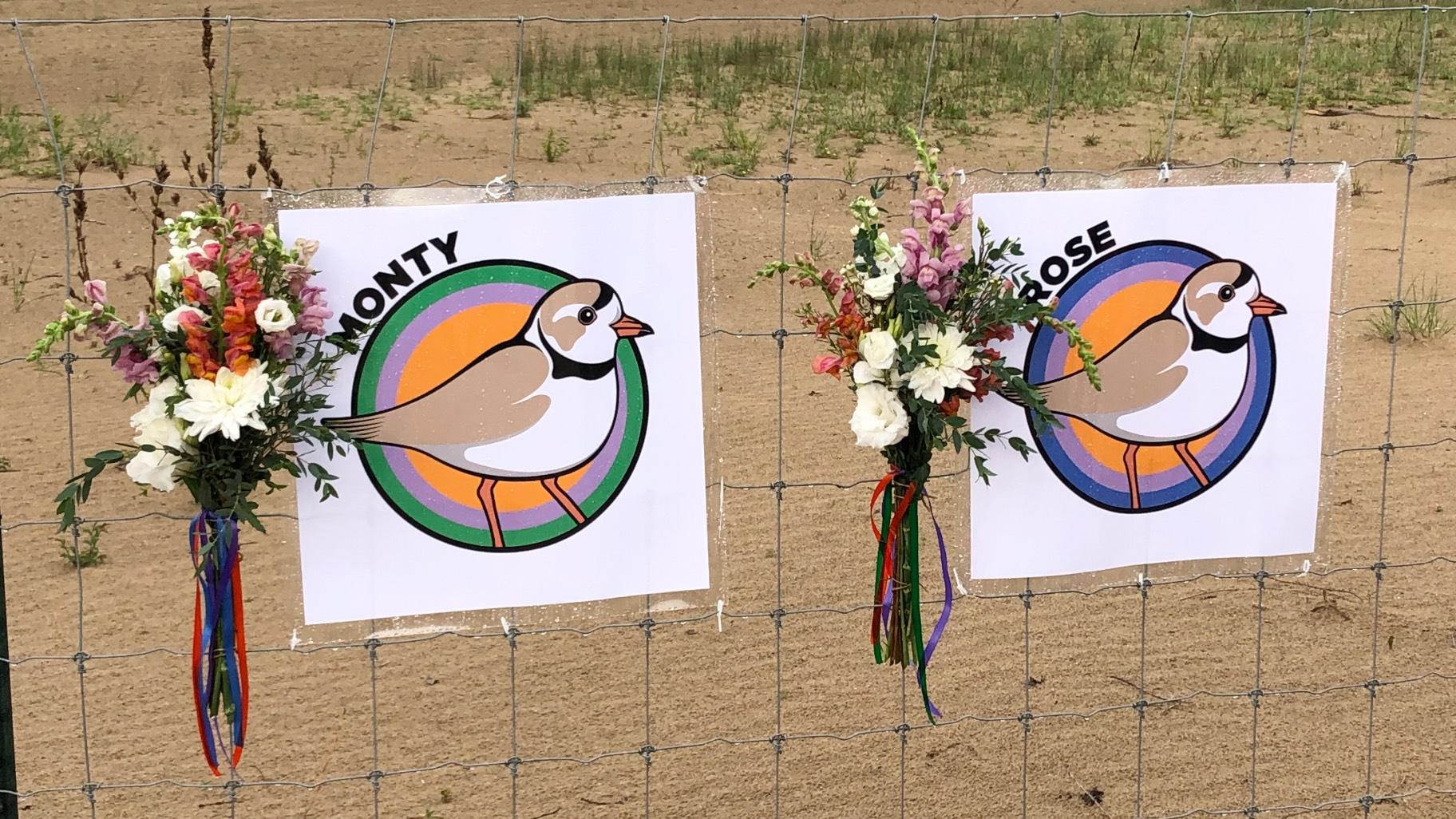 A memorial for piping plovers Monty and Rose at Montrose Beach. (Patty Wetli / WTTW News)
Contact Patty Wetli: @pattywetli | (773) 509-5623 |  [email protected]
---