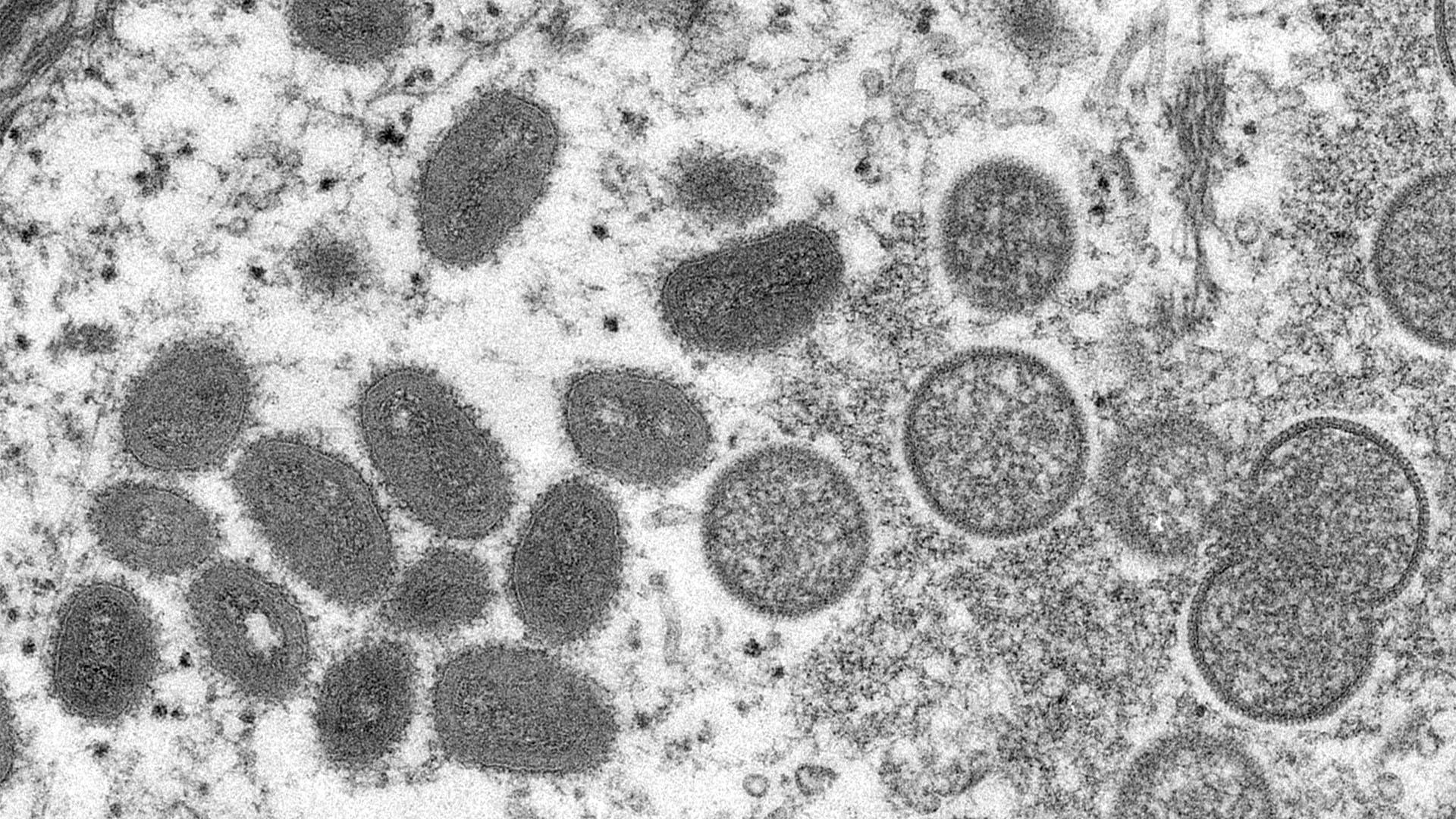 This electron microscope image shows mature, oval-shaped monkeypox virions, left, and spherical immature virions, right, from a human skin sample associated with a 2003 prairie dog outbreak. (Cynthia S. Goldsmith, Russell Regnery / CDC)
Chicago will get another 18,000 doses of the monkeypox vaccine this week, but officials acknowledged Friday it will not be enough to stop the virus that poses an increasing threat to Chicago's gay community.
Monkeypox cases in Chicago have doubled to 202 confirmed illnesses in the past 11 days, Chicago Department of Public Health officials said Friday, an indication that the virus that can cause intensely painful lesions is spreading unchecked, mostly among men who have sex with other men. Illinois is in the top five states with the most monkeypox in the United States, officials said.
"Chicago is an epicenter for this outbreak," said Dr. Allison Arwady, the commissioner of the Chicago Department of Public Health. 
At one point, Arwady mistakenly referred to COVID-19 during the news conference at City Hall while discussing the monkeypox outbreak, an indication that Chicago's public health system is being stretched by the threat posed by two viral outbreaks. COVID-19 continues to pose a "high" risk to Chicagoans, according to the Centers for Disease Control.
Chicago's first monkeypox case was diagnosed on June 3, officials said.
Chicago will get an additional 15,400 doses of the monkeypox vaccine from the federal government as soon as soon as Saturday, Arwady said. Another 2,600 doses of the vaccine will come from the state of Illinois, under an agreement announced Friday by Gov. J.B. Pritzker.
That will more than triple the number of Chicagoans inoculated against monkeypox in Chicago, Arwady said.
"While we are pleased to be receiving these additional doses, we simply need more vaccine in Chicago," Arwady said, echoing Pritzker's call for more vaccine.
Those who have been exposed to someone diagnosed with monkeypox can and should be vaccinated immediately, as well as men who have sex with men who have intimate contact with other men in a social setting, multiple or anonymous partners or give or receive money or other goods or services in exchange for sex, Arwady said.
"I am concerned about the moment we are in," said David Ernesto Munar, the CEO of Howard Brown Health, which is helping city health officials vaccinate those who are at risk of contracting monkeypox. "We simply do not have enough vaccine."
Officials acknowledge that a series of upcoming festivals could supercharge the spread of monkeypox in Chicago, including Lollapalooza, which starts Thursday, and Market Days in Northalsted, which takes place Aug. 6 and Aug. 7.
Those attending those events and others should "consider how much close, personal, skin-to-skin contact is likely to occur" and "avoid any rashes or sores you see on others and consider minimizing skin-to-skin contact when possible," according to guidance from Chicago health officials.
Ald. Tom Tunney, whose 44th Ward includes Northalsted and Lakeview, urged Chicago's gay community to "be responsible about having sex." Tunney was the first openly gay person to be elected to the Chicago City Council in 2003.
"We as a community have got to come together," Tunney said. "We need to get ahead of this."
The monkeypox vaccine is a two-dose regimen, but Chicago officials will use all of the additional doses to get initial doses to those at greatest risk, Arwady said, adding that one dose provides significant protection against the virus.
"Second doses will continue to be provided for those who are known contacts of cases or who are immunocompromised; second doses will be scheduled for all others when the city receives adequate vaccine supply," according to a statement from the Chicago Department of Public Health.
The virus, which originates in wild animals like rodents and primates, is spread to people via infected animals, with most cases occurring in central and west Africa. However, person-to-person transmission is possible through close physical contact with monkeypox sores, items that have been contaminated with fluids or sores or through respiratory droplets following prolonged face-to-face contact, officials said.
Monkeypox belongs to the same virus family as smallpox and can cause fever, body aches, chills and fatigue. People with a serious monkeypox infection may develop a rash and lesions on the face and hands that can spread to other body parts.
Anyone who has symptoms or develops an unusual rash should isolate themselves and see a doctor, officials said.
Contact Heather Cherone: @HeatherCherone | (773) 569-1863 | [email protected]
---