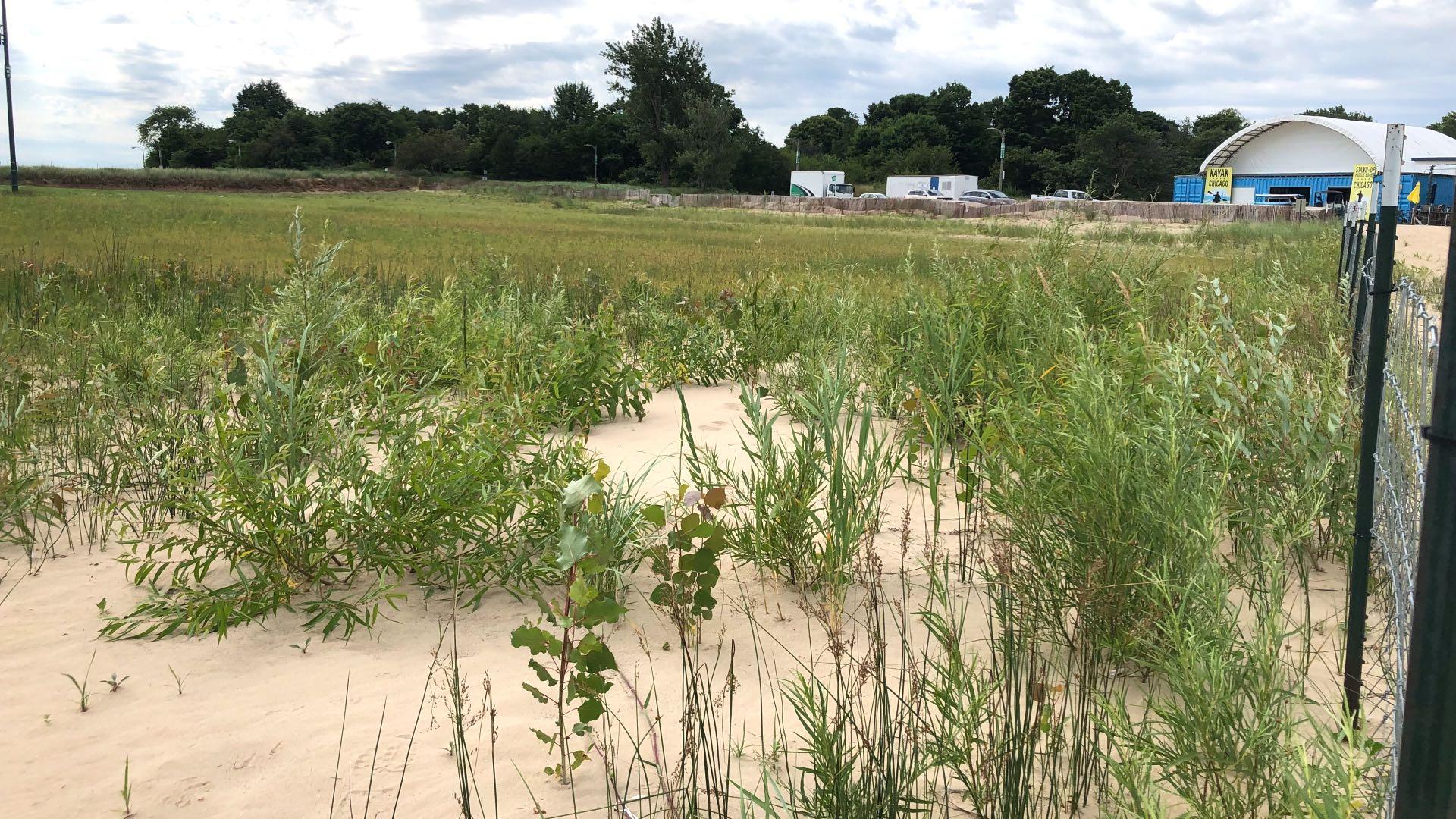 Supporters of Montrose Dunes Natural Area say the site looks neglected, with invasive species taking hold. (Patty Wetli / WTTW News)
It's been a tough year for supporters of Montrose Dunes.
First came the losses of beloved piping plovers Monty and Rose, and now some people are concerned about what they say are deteriorating conditions at the high-quality habitat where the endangered plovers raised their three successive broods of chicks between 2019 and 2021. 
"It's so unkempt. It just feels kind of abandoned," said Melissa Foster, a participant at former volunteer work days held at the dunes.
A little more than a year ago, conservationists were celebrating the addition of three acres of beach to the protected Montrose Dunes Natural Area. Today that section is full of invasive plants, Foster said.
"The times when I volunteered, it was to pull cottonwood seedlings. And now I see them marching across the dunes," she said. "If they (the Park District) don't care about maintenance, is it willful? Do they want to negate the progress?"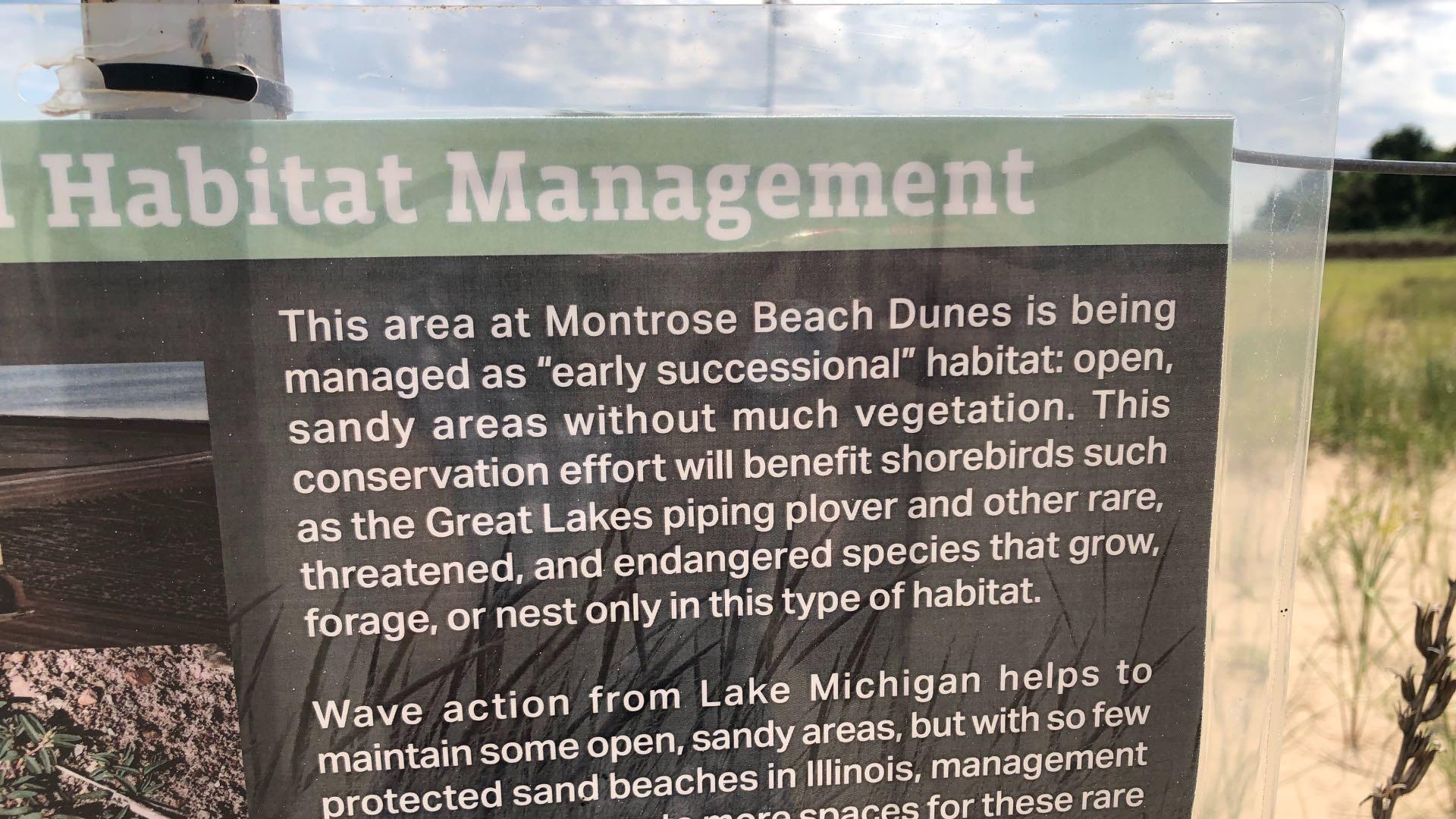 The signage describing the management process at Montrose Dunes is "so ironic," said Melissa Foster, given the invasive vegetation marching across the sand. (Patty Wetli / WTTW News)
Since the dune began spontaneously establishing itself in 2000, it's been nurtured and cared for by volunteers in conjunction with natural resource agencies. Leslie Borns, the dedicated steward of the dunes for more than two decades, is no longer serving in that role, both Borns and Chicago Park District officials confirmed.
Montrose Dunes isn't currently listed among the Park District's stewardship sites, and no upcoming volunteer work days are scheduled. For comparison, the district's other stewardship sites hold volunteer work days once or even twice a month. 
Employees of Cardno (recently acquired by Stantec), which holds the Park District's landscaping contract, were seen onsite at the dunes in mid-July, though not in the section referenced by Foster.
"Our contractor has been and will continue to manage Montrose Dunes under the direction of our trained ecologists," Michelle Lemons, Park District spokesperson, told WTTW News via email. "We have been actively managing the site all year. We did suspend certain activity during migration and nesting season so as not to disturb Monty (RIP), Imani [a Monty and Rose 2021 chick] and other shorebirds."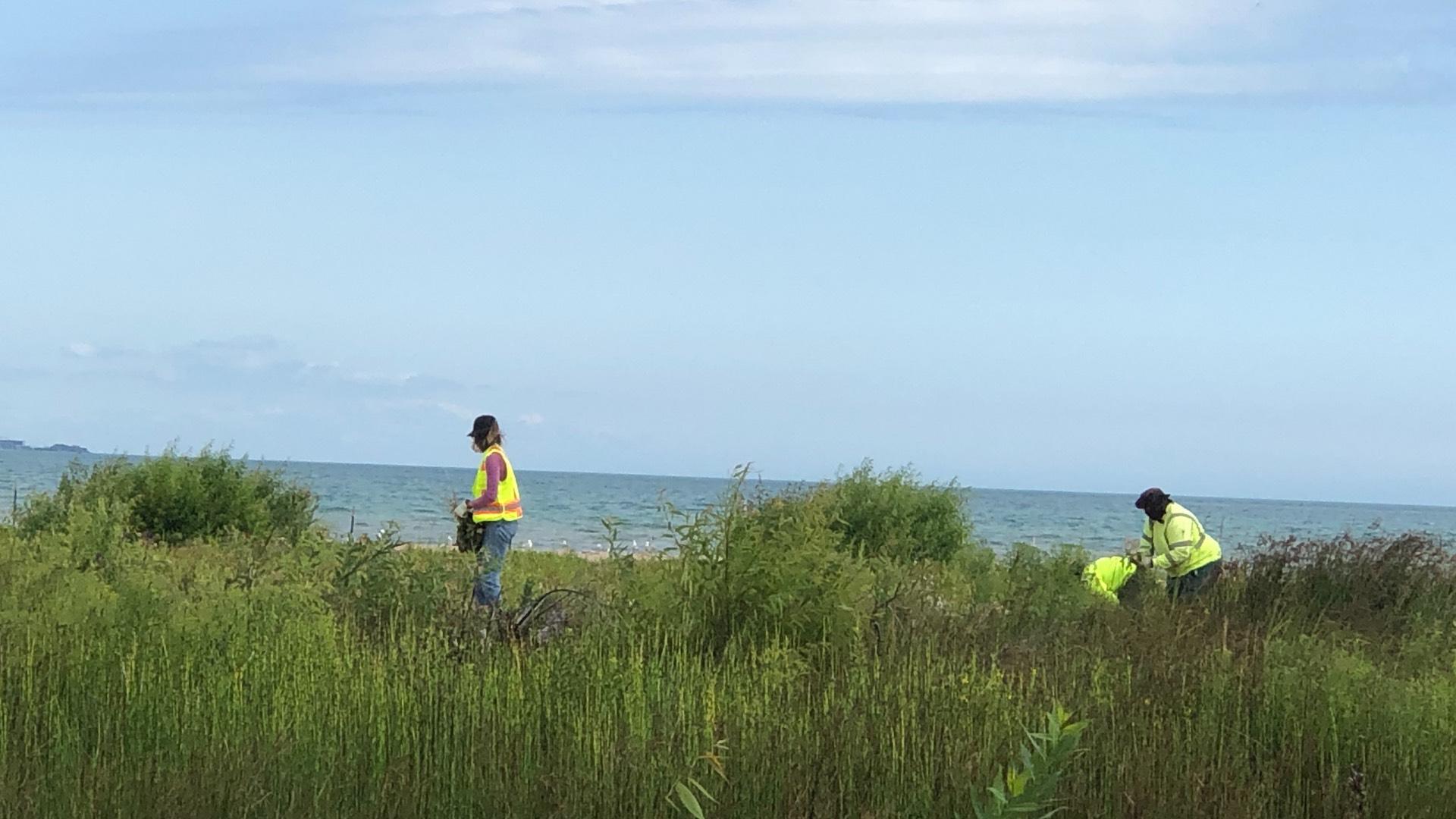 Contractors were on site at the dune in mid-July. (Patty Wetli / WTTW News)
For Foster, who called the dunes a "soul space," the reliance on contractors and lack of community engagement at the site is as worrisome as any invasive species. 
"The way it was, people had a real sense of ownership," she said.
It was that ownership, Foster said, that led to protests against a music festival being held at Montrose the first year Monty and Rose nested. It was that ownership that led to the outpouring of support for the habitat addition to the dunes.
"If they don't let volunteers go in, you don't have that really strong host of advocates," Foster said. "All the people that volunteered, I think we feel barred, and there's a sense of frustration."
In response to such criticism, Lemons said: "The Chicago Park District values its nature stewards and volunteers. These individuals are vital in helping us maintain and support our treasured natural areas. Based on interest and excitement from individuals and groups to come back and volunteer at Montrose Dunes, we hope to bring back workdays soon."
Contact Patty Wetli: @pattywetli | (773) 509-5623 |  [email protected]
---