Monday was like Christmas in July at the Field Museum, where staff pried open crates recently arrived from Sweden, full of cargo that the word "precious" doesn't begin to describe.
As they freed each package from protective layers of paper and bubble wrap, researchers got their first look at some of the rarest geological specimens on Earth, a collection of fossilized meteorites older than the dinosaurs and the keepers of untold secrets.
"It's a peek into solar system history," marveled Philipp Heck, curator of meteoritics and polar studies at the Field Museum.  
Video: Field Museum, staff unpacked crates of newly arrived fossilized meteorites on July 11, 2022, holding 460-million-year-old secrets. (Patty Wetli / WTTW News)
A major collision in our solar system's asteroid belt 467 million years ago sent space rocks raining down on Earth.
"This was not one bad day," like the meteoric end of the Cretaceous period, said Heck. 
This was a sustained hail of rocks and resulting dust that would last for a million years, the effects of which aren't well understood by scientists but are thought to have led to an increase in the planet's biodiversity, he said.
The rocks landed everywhere, most of them in places where they were smashed to bits or eventually lost to erosion and geologic upheavals.
But some fell in a spot that turned out to be fortuitous.
They were buried in an ocean that, as sea levels dropped, became what's now Sweden. And that's where they stayed, perfectly preserved in limestone, until the Swedes began quarrying the rock containing the now fossilized meteorites.
It actually took nearly a century for owners of the Thorsberg quarry, in operation since the late 1800s, to realize what they had on their hands. Though workers first noticed the fossils in the 1980s, it's possible, or even likely, that meteorites were unknowingly excavated prior to the discovery. Yes, Field scientists said, that means somewhere in Scandinavia, there could be people with meteorites in their kitchen countertops or floors. 
Video: Jim Holstein, collections manager at the Field Museum, unwraps one of the newly arrived fossilized meteorites. (Credit: Patty Wetli)
Terry Boudreaux is one of the foremost collectors of meteorites in the world. Some eight or 10 years ago, he had an opportunity to view some of the pieces quarried at Thorsberg and found them fascinating.
So when he received a call from Heck, asking if Boudreaux and his wife Gail — significant donors to the Field — would be interested in helping the museum obtain some specimens, the couple took the request one step further: They agreed to fund the purchase of all 115 fossilized meteorites being offered by the quarry.
"I think they tell the story of how we got here," Boudreaux said of his fascination with meteorites. "Everybody is composed of stardust."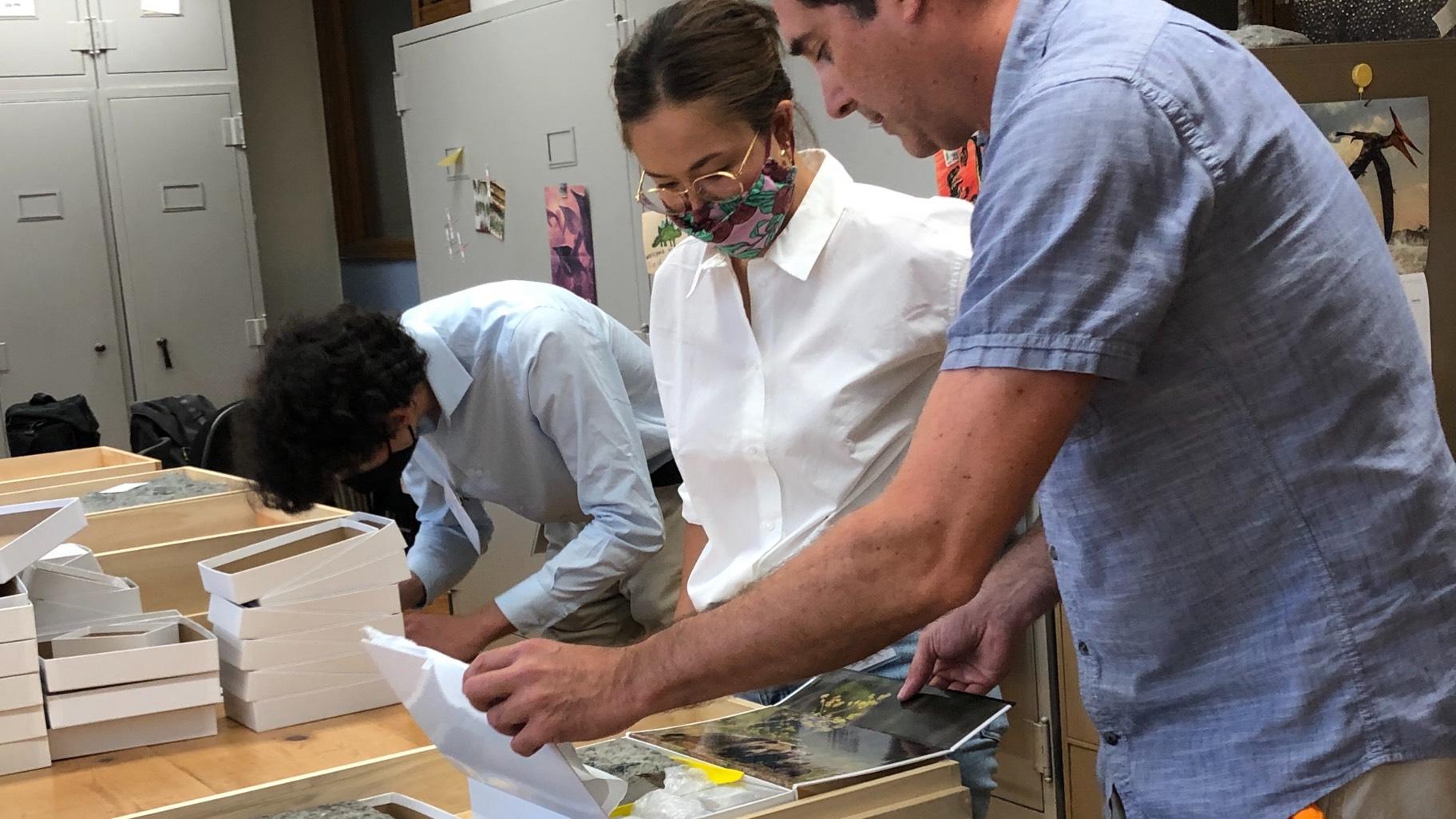 Unboxing day at the Field Musem. Postdoctoral fellow Maria Valdes (l) and Jim Holstein, collection manager of meteoritics and physical geology, unwrap newly arrived fossilized meteorites. (Patty Wetli / WTTW News)
The Field now lays claim to the world's largest collection of fossil meteorites, and once staff have finished cataloguing, digitizing and storing the rocks, the real work begins.
Maria Valdes, a postdoctoral fellow at the Field, is interested in the chemistry of space rocks and how they can contribute to our understanding of the evolution of the solar system.
She's keen to see if, within the 115 Thorsberg specimens, there might be a type of meteorite not previously identified, and what that might tell us about the "parent" rock (presumably asteroid).
Fossilized meteorites are exciting for another reason, Valdes said. 
Thousands of tons of micrometeorites fall to earth annually. This space dust — as opposed to space rocks — is nearly impossible to study. But the limestone slabs obtained from Thorsberg have also undoubtedly preserved micrometeorites. These particles may be invisible to the naked eye, yet they're enormous in terms of the potential they hold for scientific discovery, said Valdes.
At some point in the future, some of the larger Thorsberg specimens will be placed on display at the Field Museum. Of the museum's 14,000 meteorite specimens, four are currently on view in the Grainger gallery.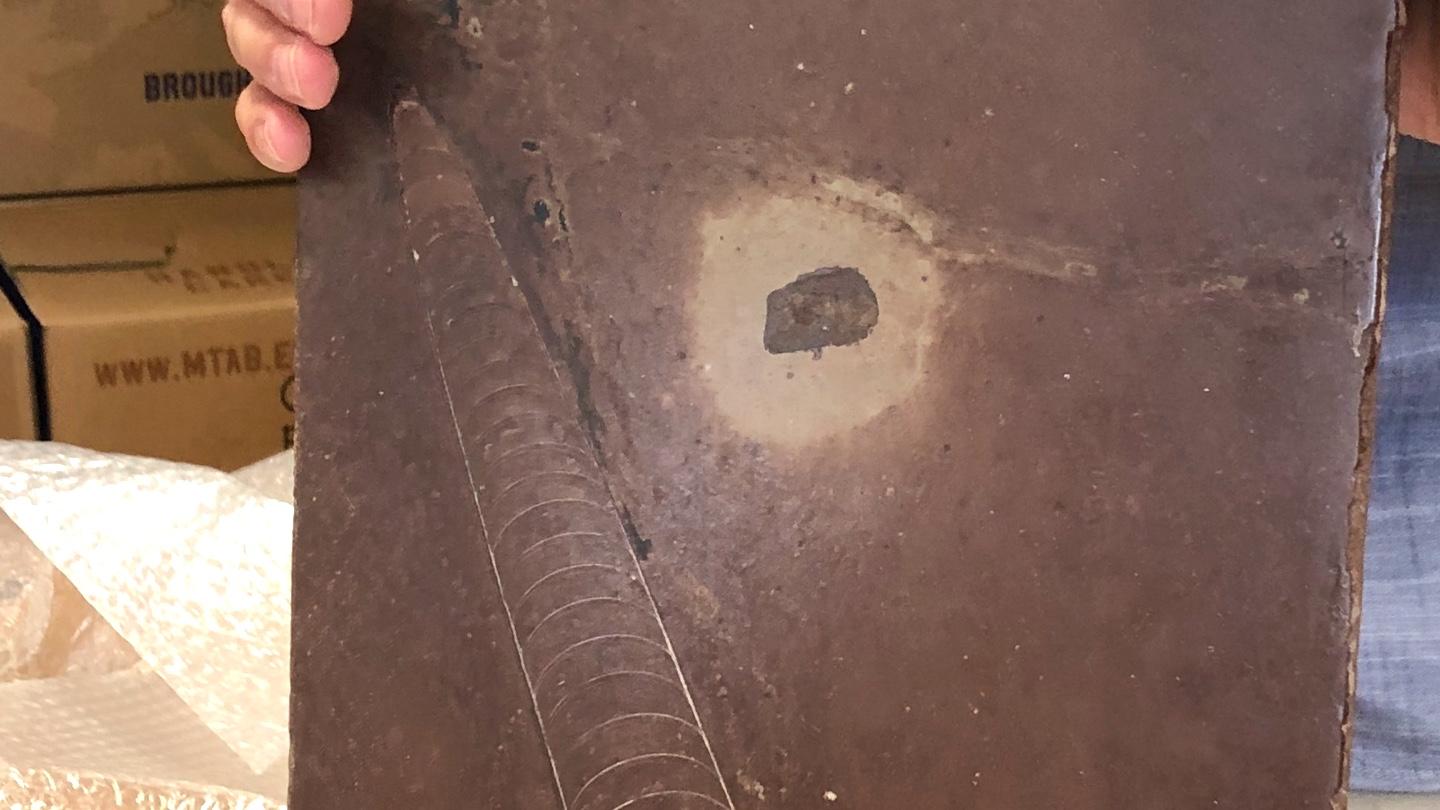 A fossilized meteorite, with its characteristic "halo," created when chemicals in the meteorite reacted with the limestone. This specimen also contains the fossil of a 460-million-year-old sea creature. (Patty Wetli / WTTW News)
Note: This story was originally published July 11, it has been updated to include our "Chicago Tonight" conversation. 
Contact Patty Wetli: @pattywetli | (773) 509-5623 |  [email protected]
---