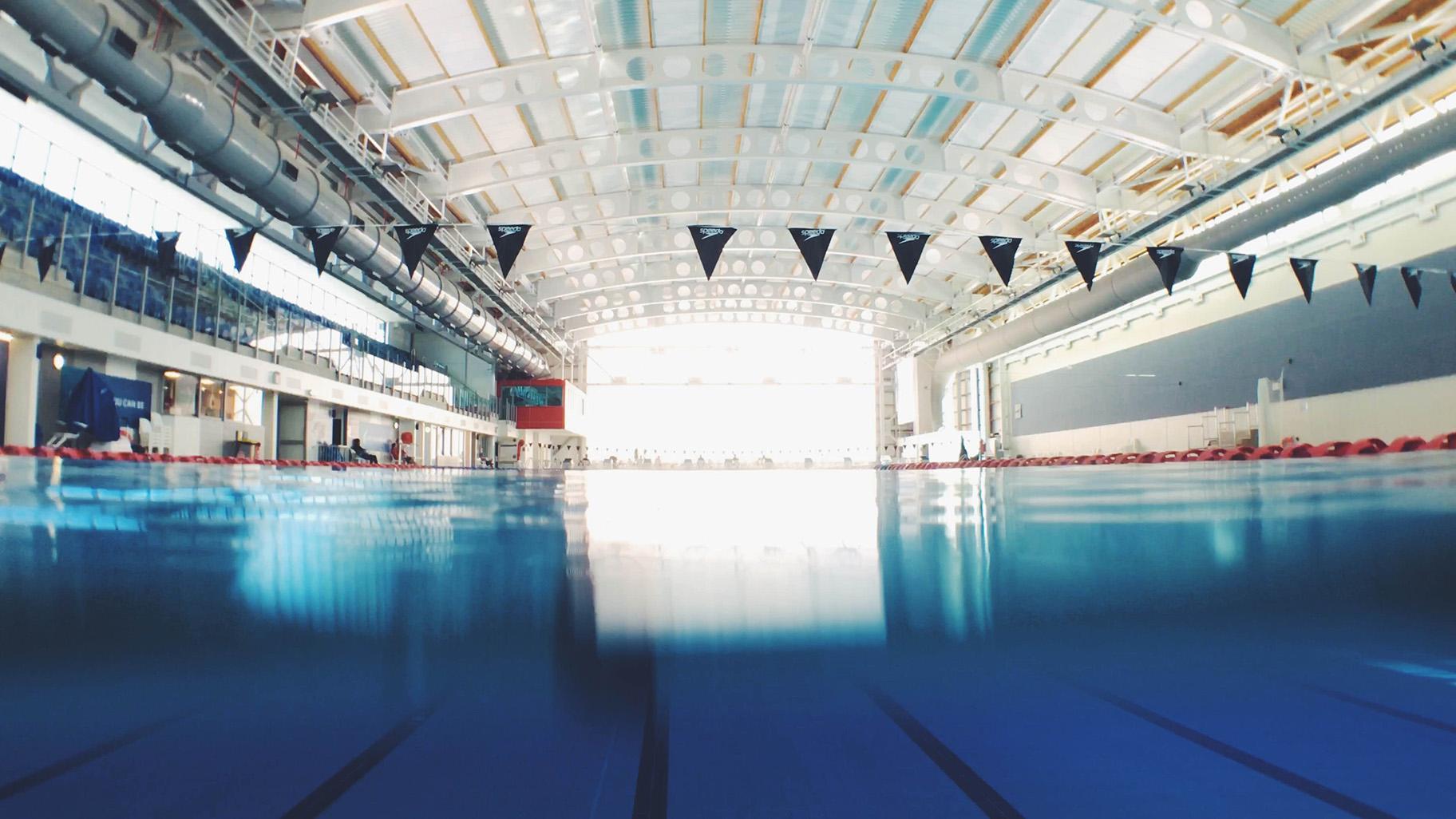 An empty lap pool with pennants overhead. (Artem Verbo / Unsplash)
A recent decision made by World Swimming's governing body, regarding the participation of transgender athletes, has raised concern from LGBTQ+ advocates.
Advocates say changes made to the International Swimming Federation's (FINA) inclusion policy place an unfair burden on young, gender non-conforming athletes to commit to gender affirming procedures and irreversible treatments before reaching puberty, something critics say could pose health risks such as weakened bones or impaired sexual function.
The policy, put in place by FINA, effectively prohibits transgender athletes from participating in the women's division of elite swimming competitions, as of June 20, making an exception only for those who transition prior to the onset of puberty.
"Starting from the sports sector is just a small minuet of what the government is trying to do to us," said Zahara Bassett, chief executive officer of Chicago-based Life is Work. "These people are trying to take over our human choices. Why is it a problem for a trans identified person to compete in something they are good at? If they were losing, we wouldn't be having this conversation."
Supporters of the new policy say evidence has proven athletes who have undergone male puberty, even if they have since taken testosterone suppressants, have a lasting and irreversible performance advantage. Critics say the policy is discriminatory toward the trans community and forceful, as the policy makes it nearly impossible for an athlete to transition within the requirements of FINA.
The policy passed with a 71% majority by members of 152 national federations at the FINA Extraordinary General Congress in Budapest. FINA's policy has since caused a domino effect in the world of sports with rugby, cycling and soccer affiliations reevaluating their gender inclusion policies.
"The ban itself is a direct attack," Bassett said. "It's an act of violence towards the trans identity. It's a devalidating act basically telling us that we're not worthy enough of whatever we choose and how we choose the body that we want to be in."
The newly adopted "gender inclusion policy" does, however, make an exception for swimmers to compete "if they can establish to FINA's comfortable satisfaction that they have not experienced any part of male puberty beyond Tanner Stage 2 or before age 12, whichever is later."
Tanner Stage 2 is defined as the onset of puberty, more specifically, when "the testicular volume reaches greater than or equal to 4 mL (or long axis greater than or equal to 2.5 cm), according to the National Library of Medicine.
However, according to new guidelines from the World Professional Association for Transgender Health provided to the Associated Press ahead of publication in a medical journal, hormone treatments should begin no earlier than the age of 14, and surgeries should not be conducted until ages 15-17.
Critics say the policy is asking gender-curious kids to receive an "irreversible treatment" too young, as they may come to "outgrow their gender-questioning." According to the Associated Press, starting hormone treatment too young can also have health risks such as weakened bones or impaired sexual function.
"This is not saying that people are encouraged to transition by the age of 12. It's what the scientists are saying, that if you transition after the start of puberty, you have an advantage, which is unfair," James Pearce, the spokesperson for FINA president Husain Al-Musallam, told The Associated Press. "They're not saying everyone should transition by age 11; that's ridiculous. You can't transition by that age in most countries, and hopefully you wouldn't be encouraged to. Basically, what they're saying is that it is not feasible for people who have transitioned to compete without having an advantage."
The policy goes on to state that trans athletes who attempt to compete regardless of the new policy, or those who appear to be trans or intersex, can be subject to a series of testing prior to competition, including: a chromosome test, body and muscle mass index test or a genital exam.
"Basically, if they think you're manly, then congratulations you're also up for grabs too," said Grayson Breen, an LGBTQ+ advocate at Chicago's Youth Outlook. "Like, if they think you're intersex, then you basically have to have your genitalia checked too to prove it wasn't made by a surgeon, that it was man made, prove all of your levels as well, like you're all going to be regulated."   
The FINA policy states that the onset of male puberty gives transgender women an irreversible, physical advantage over athletes who were assigned female at birth, according to FINA's medical team comprised of "independent experts in the fields of physiology, endocrinology, and human performance, including specialists in sex differences in human performance and in transgender medicine."
The policy was released just six months after a joint statement by the International Federation of Sports Medicine and European Federation of Sports Medicine Associations questioned the International Olympic Committee's ability to take into account "that high testosterone concentrations, either endogenous or exogenous, confer a baseline advantage for athletes in certain sports," such as swimming.
Following FINA's decision, the International Rugby League followed suit by prohibiting transgender women from competing in women's matches until studies can be conducted and a cohesive inclusion policy is established. Similarly, the International Cycling Union updated their eligibility requirements for transgender athletes and FIFA, the international governing body of soccer, said they are "currently reviewing its gender eligibility regulations in consultation with expert stakeholders."
Those in favor of the move say the policy is a necessary one.
"It's not about banning anybody, but it's about making sure we have appropriate categories in sports," said Nancy Hogshead-Makar, former Olympic swimmer, and CEO of ChampionWomen which describes itself as an advocacy organization for girls and women in sports. "Categories are how we achieve inclusion in sport. If we didn't have any categories, the 20 to 30-year-old men would win every single event. We segregate by age, by weight, by ability say when it comes to Paralympics, we segregate by ability when it comes to special Olympics. We don't allow NBA players to come and play with high school athletes. That's how you get different people to participate and win and find success in sport."
The policy went into effect just months after Lia Thomas marked a milestone for transgender athletes, becoming the first openly transgender woman to win the NCAA Division I women's swimming title.
The NCAA, US Swimming and the Olympic committee have not yet followed suit by enforcing this policy, however they are each exploring their position individually. Further policy changes could have a major impact on Thomas' career, along with future athletes who began or will begin their transition after the age of 12, or the onset of puberty. 
As of now, the NCAA supports a "sport-by-sport approach to transgender participation that preserves opportunity for transgender student-athletes while balancing fairness, inclusion and safety for all who compete."
However, 18 states have policies that limit transgender participation in college sports. Schools not affiliated with the NCAA, may choose how to implement these policies at their own discretion.
NCAA athletic officials from the University of DePaul and Northwestern University declined to comment to WTTW News on the topic. Paul Kennedy, associate athletic director at Northwestern University, said, "there are others with significantly more direct experience in the matter than we have at Northwestern, we'll politely decline at this time."
For those athletes, like Thomas, who do not meet the requirements to compete in the women's divisions, FINA proposed an "open competition category," for athletes to participate in regardless of "their sex, their legal gender, or their gender identity." FINA employees will spend the next six months navigating how the open category would be set up and run.
"If they [establish the open category] with the idea that, 'we want nonbinary athletes to have a spot to compete,'" Breen said, then she would support the open category. "But, doing it with the idea that, 'OK, we're going to segregate trans women, trans men and intersex folks,' it whole heartedly is not the same thing."
Carbon Ratchford, assistant to the executive director of Brave Space Alliance and a former competitive swimmer, called the policy invasive and discriminatory.
"Every person is different, so telling transgender athletes that they have to have a certain body to muscle mass index and certain testosterone levels when that varies among ciswoman is unfair," Ratchford said. "There are ciswomen with high testosterone levels. There are ciswomen with higher muscle mass to body index levels and they are not put through the same scrutiny. So, if you're not going to scrutinize everybody who falls outside of these very narrow variables, then you shouldn't scrutinize anybody."
Ratchford said they would feel violated if a referee required a genital exam before a match.
"I don't want any referee checking my genitals before a swim match," Ratchford said. "For a lot of trans athletes it's already so dysphoric wearing a swimsuit. The idea alone of just putting on a swimsuit and going into whatever locker room and going out into the world in a swimsuit is such a daunting process and you want to add a genital check to that?"
In a statement FINA, acknowledged the sensitivity of the policy, saying, "that some individuals and groups may be uncomfortable with the use of medical and scientific terminology related to sex and sex-linked traits, [but] some use of sensitive terminology is needed to be precise about the sex characteristics that justify separate competition categories."
---