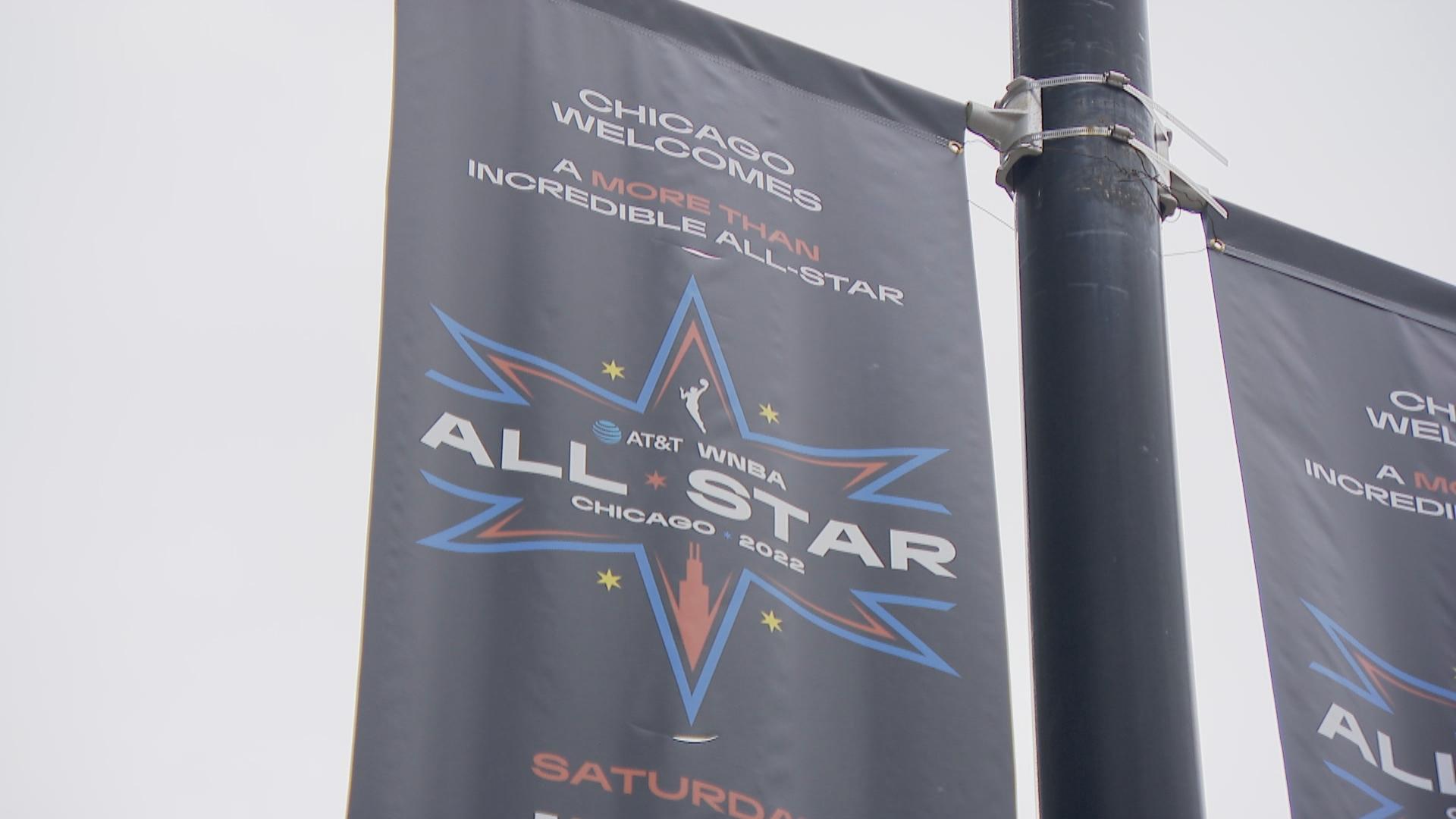 (WTTW News)
The Chicago Police Department did not advise the WNBA to limit outdoor events held Saturday and Sunday in conjunction with the league's all-star game, including a concert by Chicago-native Chance the Rapper, because of concerns about gun violence, a department spokesperson told WTTW News.
WNBA Commissioner Cathy Engelbert told reporters before Sunday's game at Wintrust Arena that the league decided to close Chance the Rapper's free concert to the public because of "security concerns" amid a nationwide wave of mass shootings and a spike in gun violence in Chicago.
"Because of all the security concerns across this country, we couldn't open it totally to the public," Engelbert said. "This year because we wanted to do it right across the street in McCormick Place, we consulted with security experts, Chicago PD, our WNBA security experts, and that's what we decided to do. Again, security concerns had limited the actual live crowd that could be there."  
However, Chicago Police Department spokesperson Tom Ahern said the WNBA never consulted with the police department. There were no threats made to the all-star game or linked events, Ahern said.
"The Chicago Police Department did not advise the WNBA to cancel or not to hold outdoor events," Ahern said. "If there were concerns, the Chicago Police Department would have handled them appropriately."
Ron Howard, a spokesperson for the WNBA, declined to respond directly to a list of questions from WTTW News and did not respond to the statement from the Chicago Police Department.
However, Howard sent a statement Engelbert released after the WNBA all-star game.
"To be clear: we had a fantastic weekend in Chicago, featuring our first ever WNBA Live festival, and we had zero public safety incidents," Engelbert said. "As a league, we take precautions in every location where we operate in order to ensure the safety of our players, fans and staff."
Mayor Lori Lightfoot and Lt. Gov. Juliana Stratton attended the game on Sunday.
Lightfoot told reporters several times last week that Chicago was prepared to host the all-star game and the Taste of Chicago less than two miles away in Grant Park, as well as a full slate of summer events.
During a news conference before the game, Engelbert was asked several times about why there were not more opportunities for Chicagoans to participate in the all-star celebration at the home stadium of the WNBA-champion Chicago Sky.
The skills and three-point competitions took place Saturday at McCormick Place and were closed to the public. Wintrust Arena was not available on Saturday to the WNBA because of a previously booked Pampered Chef conference.
The public was permitted into the outdoor WNBA Live, touted by league officials "as an action-packed weekend of events for fans" outside McCormick Place between Indiana and Prairie avenues to see the WNBA championship trophy, buy gear and test their basketball skills.
However, only participants in the Nike Nationals youth basketball tournament, which took place July 10 through July 12 at McCormick Place, guests of WNBA sponsors and players were admitted into Chance the Rapper's concert, which took place on the main stage of the WNBA Live.
A representative for the rapper, born Chancelor Bennett, did not respond to a request for comment WTTW News sent to his management team.
Contact Heather Cherone: @HeatherCherone | (773) 569-1863 | [email protected]
---