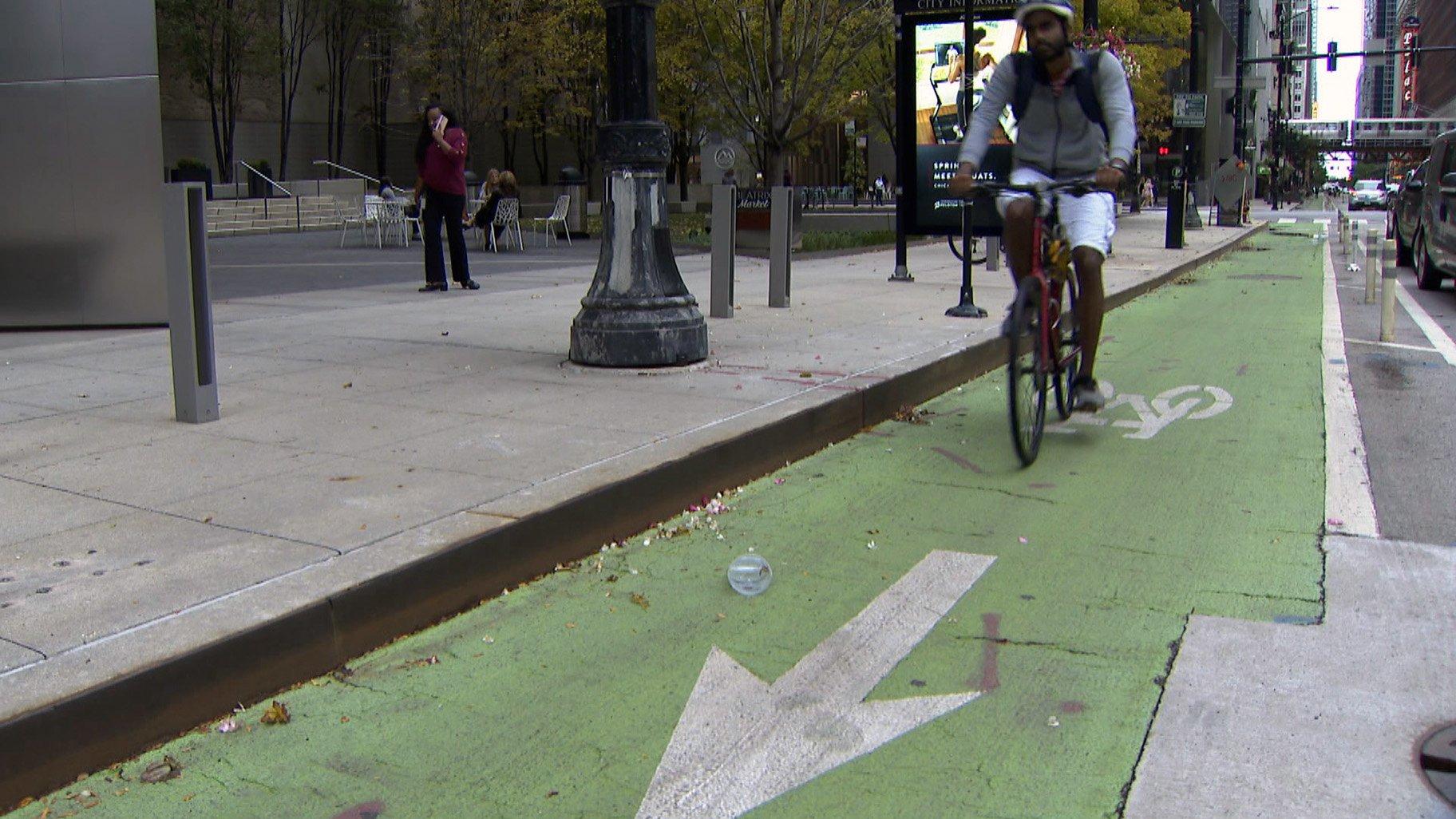 (WTTW News)
All of Chicago's protected bike lanes will be bounded by a concrete curb by the end of 2023, the Chicago Department of Transportation said Tuesday.
Work is set to begin this week when crews install new pre-cast curbs on Kinzie Street between Wells Street and Milwaukee Avenue, a half-mile or so stretch of roadway that the city says was Chicago's first protected bike lane.
The city plans to upgrade 15 miles of existing protected lanes and add 10 new miles by the end of this year, and upgrade the remaining existing lanes protected by bollards or other means by the end of next year.
According to CDOT, Chicago will have 45 miles of protected bike lanes by the end of 2022, about 70 percent of which will have concrete curb barriers. Another 13 miles or so will be upgraded in 2023. The protected lanes still represent a small portion of the 400-plus miles of bike lanes and paths CDOT expects the city to have by the end of the year.
The funding is set to come from the city's Chicago Works capital plan. A CDOT spokesperson said it will cost about $7 million, though final costs may vary.
"Barrier protected lanes are the best way to make biking a safer and more comfortable transportation option for everyone, and this year we're adding more than ever," CDOT Commissioner Gia Biagi said in a release. "(We) will continue working with community stakeholders on building neighborhood bike networks to ensure that Chicago is a city where everyone has the option to ride a bike." 
Creating a unified, concrete-protected network of bike lanes has been a major focus for safety advocates in recent weeks, catalyzed by the deaths of two toddlers killed by drivers.
During a rally and march memorializing three-year-old Lily Shambrook, struck and killed by a driver while riding in her mother's bike carrier, and two-year-old Rafi Cardenas, struck and killed by a driver while crossing the street on his scooter, attendees walked through the streets chanting "paint is not protection, we want concrete!"
Five pedestrians and cyclists have been killed by drivers on Chicago streets this month alone, four of them children. This week, 15-year-old Joshua Avina died from his injuries days after being struck by a delivery truck driver while cycling in Clearing last week. Earlier this month, 11-year-old Jalon James died in a hit-and-run crash while crossing the street in North Lawndale. And just hours after the cyclist and pedestrian safety rally after two toddlers were killed, 75-year-old Peter Paquette was struck and killed by a driver while crossing the street in North Center.
"Public safety is not only about our emergency response departments, it's also about creating infrastructure that makes the public way safer for all," Mayor Lori Lightfoot said in the press release announcing the new concrete protected curbs. "I look forward to working with the Chicago Department of Transportation and Commissioner Biagi on this project and the many more to come."
Here are the bike lanes the city says will be among those upgraded to concrete curbs this year:
• Kinzie Street from Milwaukee Avenue to Wells Street
• Lake Street from Pulaski Road to Damen Avenue
• Logan Boulevard from Rockwell Street to Diversey Parkway
• Milwaukee Avenue from Addison Street to Irving Park Road, from Chicago Avenue to Division Street, and from Kinzie Street to Ohio Street
• Independence Boulevard from Douglas Boulevard to Harrison
• Douglas Boulevard from Independence Boulevard to Sacramento Drive
• 119th Street from Ashland Avenue to Halsted Street at the Major Taylor Trail